We've wrapped on our first "shelf" from the YA Cafe Podcast, and we want to give you a complete list of diverse YA novels for the classroom library. We've reviewed each of these extensively on our podcast, and given our points of view as teachers AND book addicts. 🙂 Be sure to subscribe to the podcast for more great reviews, and you can also check out all the books from our second season!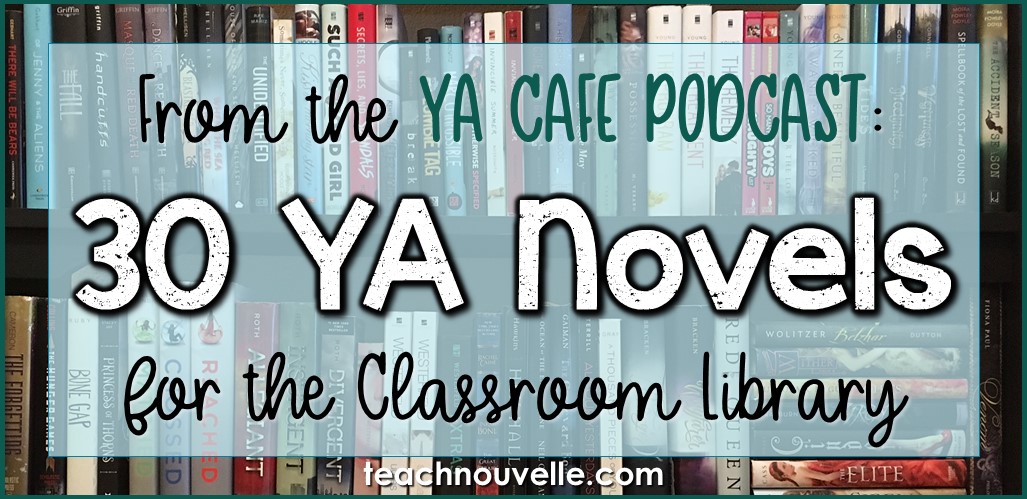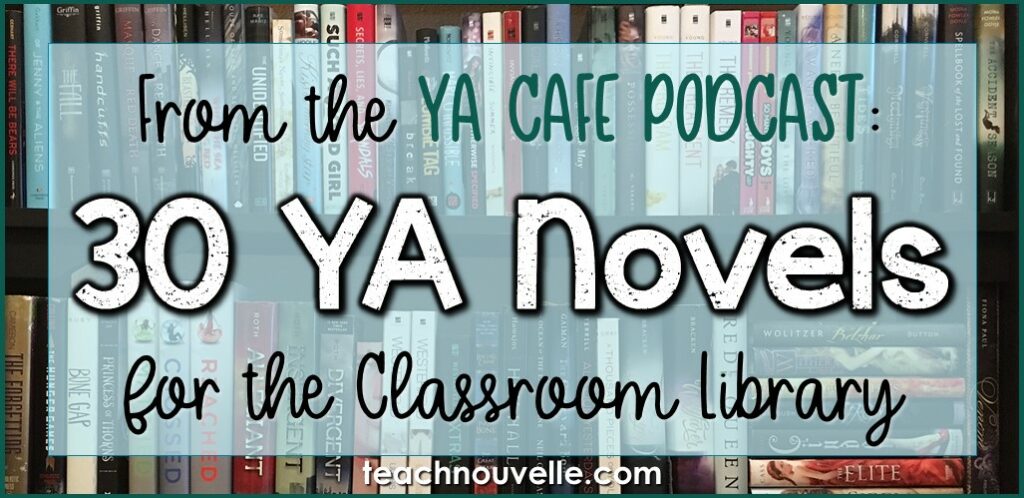 This post uses affiliate links. This doesn't affect the price of your purchase, but Amazon
does give us a small kickback. We use this money to maintain
our site and produce our podcast. Thank you for your support!
Our goal is to bring you a short and relevant review of new diverse YA novels each week. When we review, it's really important to us to keep students in mind. Here are some of the questions we ask ourselves (and try to answer in our reviews:
Does this book provide representation of diverse voices?
Will this book enrich our students' understanding of the world?
Is this book interesting to teens?
Could teachers possibly use this as a class novel or in excerpts as part of a lesson?
Not everything we review is a resounding "yes" on all four counts, but we always consider the value of the novel to students AND to you!
Diverse YA Novels from Season One
The Gentleman's Guide to Vice and Virtue
by Mackenzi Lee presents a few months in the life of Henry Montague, our first-person narrator we grow to know as Monty. Monty, a consummate rake and rebel, embarks on his Grand Tour of Europe to get out all of his boyish tendencies before returning home to learn how to run his father's estate. Along on the tour are his best friend Percy and his younger sister, Felicity. Monty's biggest hope for his Tour is to act a bit on his impossible crush on Percy, and indulge in some drinking, gambling, and escaping along the way. This book has it all: highwaymen, pirates, and girls reading books.
In today's episode, we discuss Turtles All the Way Down
by John Green with children's librarian, Erin Warzala. Turtles All the Way Down tells the story of Aza, a girl who wants to solve the mystery of a missing billionaire, even as she struggles against her own inner struggles. She teams up with her best friend and a boy from her past as they uncover the harsh reality of the situation.
This episode is a three-for-one special as we talked about Secrets, Lies, and Scandals by Amanda K. Morgan, One of Us is Lying by Karen M. McManus, and People Like Us by Dana Mele. We chose these three books because we felt they shared a lot of DNA. All three begin with a murder, and our teen protagonists have to extricate themselves from murder allegations. Each features a core group of teens in the tradition of I Know What You Did Last Summer or Pretty Little Liars. There's suspense, intrigue, and of course the probability that everyone knows more than they're saying.
Secrets, Lies, and Scandals
 by Amanda K. Morgan came out in July of 2016 and features five teens who get in an altercation with their terrible professor after a session of their summer psychology course. He ends up dead, and they have to figure out how to avoid getting in trouble for murder.
One of Us Is Lying
 by Karen M. McManus came out in May of 2017 and follows four teens who were in detention with a fifth student who ended up dead. It's revealed that he was murdered, and all four of them are the prime suspects in the investigation.
And lastly, the new release is Dana Mele's People Like Us
. After the back to school dance, a group of six friends stumble upon a dead student in the lake. We stick with one narrator, Kay, as she tries to unravel what happened and remove herself as a suspect for murder.
This is our first Book vs. Movie episode of the podcast. Simon vs. the Homo Sapiens Agenda by Becky Albertalli and its new movie adaptation both follow Simon. He's a sixteen-year-old boy who knows he's gay and isn't ashamed of it, but isn't yet ready to come out to his family, friends, or kids at school. He does have one confidant, an email pen pal, Blue. When a smarmy classmate discovers Simon's emails, he says he'll out him unless Simon can set him up with his friend, Abby. Simon has to figure out how to appease his blackmailer, Martin, manage some tensions within his friend group, and make room in his life for his growing affection for Blue.
The Hazel Wood
by Melissa Albert is the story of a 17-year-old girl named Alice, who has never been able to outrun her bad luck. She and her mother Ella have had to leave places at the drop of a hat, and Alice has caught occasional glimpses of what is following them. When Alice's grandmother (a famous but reclusive author of a collection of dark fairy tales) dies, Ella says they will finally be free of what's chasing them. And no, they'll have nothing to do with her grandmother's creepy estate, The Hazel Wood. When Ella is kidnapped, Alice's only clue is a message her mother is left behind, to stay away from The Hazel Wood. Now Alice must join forces with one of her grandmother's fans, Ellory Finch, and journey into the very bad luck she spend her life outrunning.
The Radical Element: 12 Stories of Daredevils, Debutantes & Other Dauntless Girls
is a follow-up to Spotswood's 2016 collection, A Tyranny of Petticoats: 15 Stories of Belles, Bank Robbers & Other Badass Girls
. Once again, she presents a diverse collection of historical fiction pieces with brave young women who tackle questions of identity, ambition, and justice. In Spotswood's words, "they are mundane and they are magical. There is a power – a quiet badassery – in girls taking charge of their own destinies. These girls will not allow society to define them. Instead, they define themselves, claiming their identities even though it was often not historically safe – and, disappointingly, is not always currently safe – to do so." We find some common themes and motifs in these stories, along with vast differences that help us better appreciate each story's place in American History.
In The Summer of Jordi Perez, Abby scores the internship of her dreams: working at a vintage clothing shop in LA. She hopes to turn this internship at Lemonberry into a paid part-time job (because how else will she be able to afford their awesome dresses otherwise?) and maybe gain a little inspiration for her fashion blog, +style. But when she discovers that she has to share this internship with Jordi Perez, Abby realizes that means some competition for the job. Can Abby somehow have the clothes, score the job, and get the girl? This is a summer rom-com folks, so probably yes, but with shenanigans along the way.
At the beginning of Picture Us In The Light
, seventeen-year-old Danny receives news that he's been accepted into the Rhode Island School of Design. To anyone looking on, this seems like great news. Except that Danny has a huge secret – he hasn't been able to draw in a year. But even as Danny's struggling to overcome his own artist's block, some of his parents' secrets come to light and threaten to topple everything they've worked for. Danny must find a way to face the past in order to make room for his future.
In Tomi Adeyemi's debut novel, Children of Blood and Bone, we meet Zélie, who was only five years old when King Saran ordered the Raid that wiped out the maji and killed her mother. Now, Zélie has a chance to bring magic back to all of Orïsha and strike at the monarchy, and realize the power flowing through her own veins.
In Lindsay Champion's debut novel Someday, Somewhere
we get a split perspective of a serendipitous meeting, and a whirlwind romance, of Ben and Dominique. Ben is a violinist at Brighton Conservatory in New York City, and Dominique is a high school student, dancer, and cinema buff from New Jersey. She pretends to be a student at New York University's Tisch School of the Arts to create reasons to be in the city, and to run into Ben. As the novel unfolds we watch Dom train back and forth from New Jersey as she wonders if Ben will ever discover the truth about her.
Sign up for our YA Reads Newsletter
for more great recommendations
delivered to your inbox!
In Leila Sales' newest novel, If You Don't Have Anything Nice to Say: A Novel
, Winter Halperin gets caught up in a storm of online shaming after she posts a racist comment about the winner of the National Spelling Bee. She tries to defend herself, tries to apologize, claims she can't be racist because she "has black friends"… it's a whole thing. But when her college acceptance is rescinded and her future put on hold, she is forced to reckon with her actions.
Need something else? You can find ALL my recommendation lists for inclusive classroom materials here. Poems, TV episodes, TED talks, short stories, and so much more!
In Siobhan Vivian's newest novel, Stay Sweet
, Amelia is looking forward to her last year at the Meade Creamery Ice Cream Stand. As Head Girl, she's going to make sure she's got every shift with her best friend, Cate, and she knows they'll have an awesome time. But when tragedy strikes and the creamery founder, Molly Meade, passes away, the future of the ice cream stand is uncertain. Molly's great nephew, Grady, moves to town looking to put his business school training to use. Can Amelia help Grady understand the legacy of Molly Meade and the friendships the Creamery Girls form, or will his presence change everything?
In the new novel, All of This Is True
, we unravel the story of a group of friends and an author they're obsessed with. When Miri, Soleil, Penny, and Jonah get a chance to meet the author Fatima Ro, they have to make sure it's perfect. They have to make sure she notices them. Told in alternating sequences of interviews, text messages, and excerpts from Fatima's new book, All of This is True gives us a vision of obsession, betrayal, and the blurred line between fiction and reality.
Amy Ross's novel Jek/Hyde
offers a new vision of the gothic novella, "The Strange Case of Dr. Jekyll and Mr. Hyde" by Robert Louis Stevenson. In the midwestern town of London, science and research loom large. Lulu and Jek have been best friends forever but he's recently become distant, closing himself off in his lab. He's made a new friend, a bad boy, Hyde who seems to push their usual parties out of control, Lulu's hearing strange rumors about Hyde, and she begins to worry for Jek's safety … and her own feelings.

In Tiffany D Jackson's newest novel, Monday's Not Coming
, Claudia is the only one who seems to care that her best friend Monday hasn't shown up for school. She tries talking to her parents, her teachers, the cops, and even Monday's own dysfunctional family. Can Claudia help solve the mystery of her best friend's disappearance?
How I Resist: Activism and Hope for a New Generation is an anthology of essays, poems, art, interviews, and short fiction all centered around the idea of activism. Editor Maureen Johnson calls it a "resistance book for teens". The contributor list is absolutely amazing, and each contributor finds their own way and means to answer the question, "how do you resist?"
Mariam Sharma Hits the Road
by Sheba Karim follows a trio of friends on a summer road trip. Mariam, Ghaz, and Umar travel from New Jersey to New Orleans and have a flurry of that ventures and detours along the way. It's a Pakistani-American spin on an old trope and a great addition to your summer reading list.
The Art of Escaping
by Erin Callahan is about 17-year-old Mattie, who flies under the radar despite her parents' push to be more exceptional and well-rounded. The thing is, she's only ever really had a passionate interest in escapology. When she works up the courage to seek out the daughter of a legendary escape artist, a new world is open to her – one of handcuffs and straightjackets and death-defying stunts for a live audience. But when Will, her high school basketball team's golden boy, sees her perform, she feels like her secret is about to come crashing down around her. But Will has secrets too, and Mattie learns that everyone's hiding their truest truths.

Trail of Lightning
 by Rebecca Roanhorse begins the saga of The Sixth World. In this post-apocalyptic landscape, the Dinétah have survived the rising waters of climate change and are shaping the world anew. Gods, heroes, and monsters walk freely in the new world. Maggie, a monster hunter with supernatural abilities, has been called in to find a missing child, and what she finds is more horrifying than anything she's encountered before. The plot thickens and Maggie must team up with a young medicine man, Kai, to try and solve the growing mystery.
In Zen and Gone
 by Emily France, we meet sisters Essa and Puck who live in Boulder, Colorado. Essa's taking the bulk of raising Puck since their mom spends most of her time high. Puck is precocious, vivacious, and mischievous, and Essa gets very little time to relax. Her only chance to be herself is her practice at the Zendo and her weekend trips to do some orienteering. When a new guy, Oliver, moves to town, Essa tries to include him, despite what a city-slicker he is. Puck stows away on the trip, though, and doesn't emerge until the group is well into the middle of nowhere. Suddenly, tragedy strikes and it's a race against the clock for survival.
Share this list on Pinterest: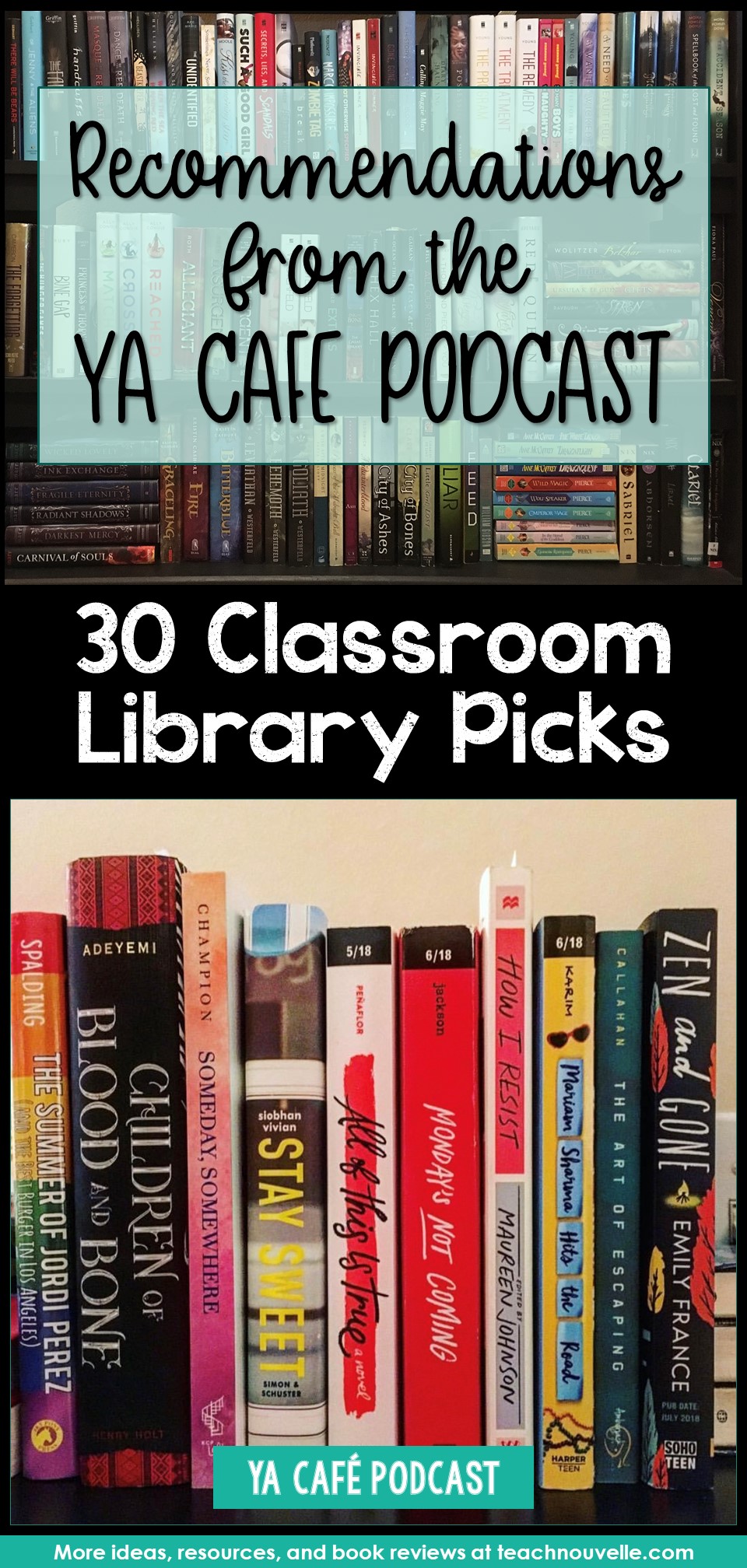 In Carrie Fountain's I'm Not Missing
, Miranda and Syd are best friends, brought even closer together by their shared trauma of being abandoned by their mothers. When Syd disappears and all Miranda finds is a note that says, 'I'm gone; I'm not missing,' Miranda is heartbroken that she's been left again. She wants answers, but Syd isn't responding to her texts. And as she grows closer to Nick Allison, she uncovers some truths that make her wonder how much she even knew her best friend.
In Emily Skrutskie's new sci-fi novel Hullmetal Girls
, humanity has spent centuries in a fleet of starships searching for a new planet. We follow two protagonists, one from a background of poverty, the other from a background of privilege, as they are transformed into cyborg weapons for the fleet's oppressive army. They have to learn to work together and decide whether to stand with their programming and the General Body or the rebellious Fractionists—and try not to kill each other along the way.
When Life Gives You Demons
by Jennifer Honeybourn is a new spin on the teenage monster hunter trope. This time, Shelby has been training to be an exorcist, a secret she's kept from everyone but her uncle and absent mother. So, yeah, on top of bio (the worst) and geometry (the worst), she has to come home and study Latin. Stuff happens, Shelby learns stuff – it's a summer romp within a terrifying subgenre of supernatural fiction.
In Justina Chen's newest novel, Lovely, Dark, and Deep,
Viola Li has her life plan figured out—she wants to become a journalist in the most dangerous parts of the world, the opposite of her risk-averse parents. But when she suddenly develops a light sensitivity that leaves her unable to go outside or even sit under a bright light, all her dreams start to seem impossible. Viola has to figure out a way to keep her some control over her life as she struggles to navigate relationships with her parents, sister, and new potential-boyfriend, all while trying to avoid the blistering light that can be dangerous and even lethal.
In The Forest Queen
, sixteen year old Silvie has been born into a life of nobility and privilege. She has spent her entire life hating and fearing her cruel brother John and hiding from his wrath with her closest friend, a commoner nicknamed Bird. When Silvie and Bird come across another person turned away from her own home, Little Jane, they make a plan to escape into the forest. With Little Jane and midwife Mae Tuck, they build a community in the forest and in harmony with nature. Silvie only wanted to save herself, but as their community grows, she has to choose whether to continue to live in secret apart from the kingdom, or to stand up to her family and everything the nobility stands for.
Fresh Ink: An Anthology
 is a collection of short stories, a graphic novella, and a never before published play by the legendary Walter Dean Meyers. Thirteen voices, some brand new and some you already know and love (including YA authors Nicola Yoon, Jason Reynolds, and Malinda Lo) come together to share their perspectives. This incredible anthology was edited by our episode's guest, Lamar Giles, YA author and co-founder of We Need Diverse Books.
In Natalie C. Parker's new book, Seafire,
 we are brought into a world where the seas and colonies are under the control of a brutal warlord. The protagonist Caledonia Styx leads her all-female crew in raids against his fleet. When her second in command shows mercy to a single enemy sailor whom she claimed saves her life Caledonia must choose between everything she's ever believed about the enemy, and trusting her own crew.
Toil & Trouble: 15 Tales of Women & Witchcraft
 is an anthology of short stories featuring witchy girls. Like Spotswood's other anthologies, the fifteen tales span the ages, geography, and culture, and feature a wide range of diverse protagonists.
That's our first "Shelf", or 'season' of the podcast, folks! Which of these diverse YA novels have you added to your classroom library? Find us on social media @yacafepodcast, and happy reading!