Welcome to the YA Cafe, where you'll find conversations and reviews about Young Adult books for teachers, readers, and caffeine addicts everywhere. In today's episode, we talk about Turtles All the Way Down by John Green.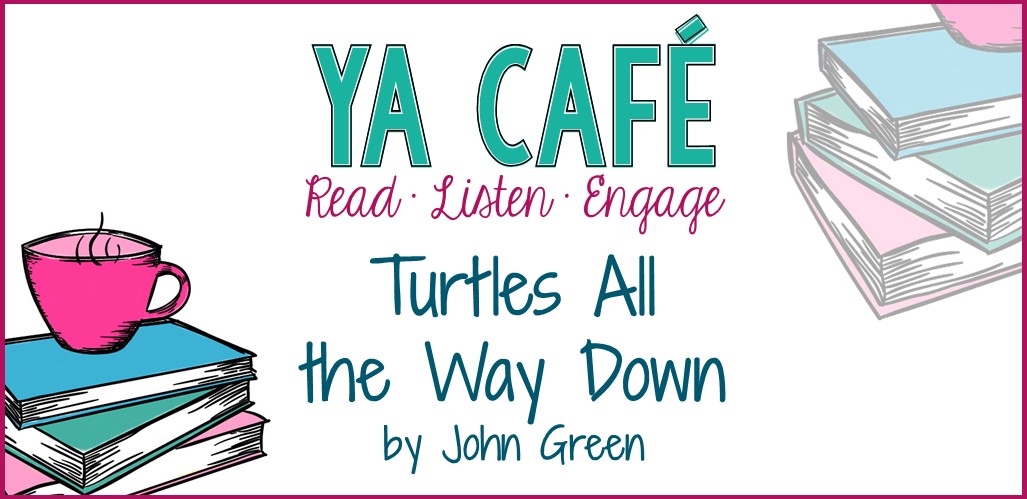 In today's episode…
In today's episode, we discuss Turtles All the Way Down
by John Green with our friend, Erin Warzala. Erin is a children's librarian in Indiana (where John Green is from) and she's read most of John Green's books.
In Turtles All the Way Down, Aza is a sixteen-year-old girl who gets wrapped up in this mystery of a missing billionaire. She and her best friend, Daisy, want to find him and claim the hundred-thousand dollar reward. It turns out that Aza knows the billionaire's son, Davis, and even though they haven't seen each other in a while, they reconnect pretty easily. But even as Aza's trying to solve a mystery with her bestie and maybe get close to a boy, she struggles against the tightening spiral of her own thoughts.
These Show Notes use Amazon Affiliate Links for your convenience.
If you decide to purchase this book, please consider doing so through our affiliate links.
Your support makes this podcast possible.
Episode highlights…
Spoiler-Free
*4:45 – In which Danielle gently compares this book to The Fault in Our Stars
*7:40 – The Awesomeness of Daisy
*10:40 – Fanfiction: Fantasy & Reality
Things We Like a Latte: Simon vs. the Homo Sapiens Agenda by Becky Albertalli
, The Big Sick – an Amazon Original Movie
, Everything Sucks (Netflix)
Spoiler-Informed
*15:15 – Missing billionaires and mental illness tropes
*17:00 – The thing about hand sanitizer
*22:20 – Economic disparity and friendship
Want book recommendations delivered to your inbox?
Sign up for the YA Reads Monthly Newsletter!
More ideas and resources for teachers and librarians…
If you're looking for an abridged version of The Tempest to share with your students after they read this novel, check out this 30-minute version. Students can work on analyzing common themes in Turtles All the Way Down and Shakespeare's work, and build on Davis' use of it from the book.
Get in touch with us on Instagram and Twitter at @yacafepodcast or email us at yacafepodcast@gmail.com. We look forward to hearing from you!
Credits…
Hosts: Danielle Hall (who blogs at teachnouvelle.com)
            & Amanda Thrasher (a booklover extraordinaire)
Guest: Erin Warzala, children's librarian
Producer: Leila Hobbs
Music: Matt McCammon