Are you teaching short stories for high school, and all you have is a dusty anthology of "classic" stories? An easy way to create great conversations amongst your high school readers is to incorporate YA short story anthologies! These collections can add literary value and help students discover new authors and genres they can continue to enjoy throughout their lives.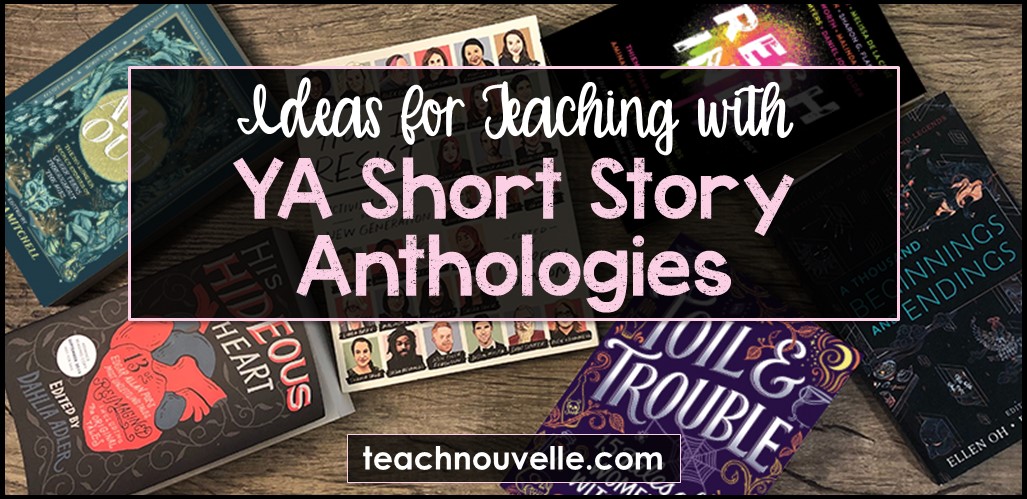 In this post, I share some great recommendations for collections of short stories for high school English students to add to your lesson plans. This is a great resource if you're looking to expand your classroom library, and you can even incorporate them into reading time and your short story unit. If you're looking for tips on building your short story unit, or how to include them year-round, I've got you covered! You'll get tips on how to find stories that your students will LOVE, and easy reading & writing activities to keep them engaged. You will be nurturing lifelong readers, and simplifying your grading, it's a win-win 😉
If you're inspired to add any of these literary treasures to your classroom library, please consider doing so through Bookshop and using my affiliate link. By shopping at Bookshop.org you'll be supporting indie bookstores, and using my affiliate link gives me a small kickback (at no extra cost to you) to help keep the blog running.
Short stories for high school classroom libraries
Fresh Ink
Edited by Lamar Giles
The fact that you are here, reading this list shows you are going above and beyond to reach all of your students. They are so lucky to have a teacher who is spending their free time hunting down awesome short-length stories! Putting great text like Fresh Ink in your classroom library is a way to remind the most marginalized of your students "I see you, I accept you, I love you".
Fresh Ink is a collection of short stories for high school, a graphic novella, and a never-before-published play by the legendary Walter Dean Myers. Thirteen voices, (including YA authors Nicola Yoon, Jason Reynolds, and Malinda Lo) come together to share their perspectives.
I was fortunate enough to get to discuss this book with its editor, Lamar Giles, in episode 26 of the YA Cafe Podcast. In our chat, Lamar shared about the experience of putting this collection together, and they shout out some of their favorite stories. Lamar is also a founding member of We Need Diverse Books, and he tells an incredible story about a trip to BookCon that inspired him and Malinda Lo to start the #WeNeedDiverseBooks hashtag.
Unbroken: 13 Stories featuring Disabled Teens
edited by Marieke Nijkamp
This collection is so important! "Each story is fictional, but they are all #ownvoices. Each author identifies as disabled along a physical, mental, or neurodiverse axis—and their characters reflect this diversity." from Goodreads.com
Statistically, you will have a student with disabilities in your class at some point. Remember, not all disabilities are visible! It's so vital for ALL students to them to see themselves represented in literature. By putting these stories in front of your students, you are literally changing their life. Maybe they have never read a book with a protagonist "like them".
This anthology is equally important for students without disabilities. Those students need stories like these to see disabilities becoming normalized, and to help them build empathy.
If you are looking for full-length novels that feature characters with disabilities, I recommend this list curated by Natasha Razi.
This blog uses affiliate links for your convenience. If you decide to purchase recommended gifts or books, please consider doing so through our affiliate links (at no additional cost to you). Your support makes this blog possible.
His Hideous Heart
edited by Dahlia Adler
Get ready to make classic American literature like Poe more accessible to today's students! They will LOVE this fresh take on his timeless stories. I'm so thrilled to have gotten an ARC from Flatiron Books. Isn't it such an eye-catching cover? I'm a big Edgar Allan Poe fan, and I find the whole concept of the re-imaginings so captivating.
This would be a spooktacular paired reading activity for the Halloween season 🙂 Students could compare and contrast an original Poe story with one from the retelling, or students could write a retelling of their own. I love retellings so much that I have a blog post dedicated to inclusive retellings of classic tales.
Grab your copy of His Hideous Heart today!
(Don't) Call Me Crazy
edited by Kelly Jensen
One of the most talked-about (and talked around) issues in America right now is mental health. Teen suicide rates are the highest they have been in 20 years, and although mental health "awareness" is rising, many negative stereotypes remain.
You are doing SO much for your students, just by being in their life. Through your words and your actions, you are showing your students you accept them and empowering them to seek help if they need it. One way to make your classroom a "safe space" for students with mental health issues is to provide them with some much-needed positive representation. This anthology and great stories like Turtles All the Way Down by John Green provide an empathetic depiction of teens living with a mental illness.
The Radical Element
edited by Jessica Spotswood
In episode 8 of the YA Cafe Podcast, we talk about The Radical Element: 12 Stories of Daredevils, Debutantes & Other Dauntless Girls. It's a follow-up to Spotswood's 2016 collection, A Tyranny of Petticoats: 15 Stories of Belles, Bank Robbers & Other Badass Girls. Once again, she presents a diverse collection of historical fiction pieces with brave young women who tackle questions of identity, ambition, and justice. In Spotswood's words, "they are mundane and they are magical. There is a power–-a quiet badassery–-in girls taking charge of their own destinies. These girls will not allow society to define them. Instead, they define themselves, claiming their identities even though it was often not historically safe–-and, disappointingly, is not always currently safe—to do so."
Both TRE and ATOP are exceptional collections of short stories for high school classroom libraries. Be sure to check out Jessica Spotswood's novels too! I especially love The Cahill Witch Chronicles, and Wild Swans (read my full review here).
Black Enough: Stories of Being Young and Black in America
edited by Ibi Zboi
Some of the best short stories assembled by National Book Award Winner, Ibi Zboi, are a must-have for every classroom library. Representation matters and this book provides a vital mirror, or window for students. The point of view of black kids on every spectrum, be it socio-economic, gender, sexuality, or environment, are celebrated in these 17 stories.
A Thousand Beginnings and Endings
edited by Ellen Oh and Elsie Chapman
Fifteen bestselling and acclaimed authors reimagine the folklore and mythology of East and South Asia in classic short stories that are by turns enchanting, heartbreaking, romantic, and passionate. Each classic short story in this collection has a unique way of engaging students who love folklore and mythology. Even though these stories have classic roots, the storytellers have re-imagined the plots and characters. Sometimes, characters are given modern technology, or they have moved the stories to a new setting (like space!). These are true re-imaginings by some of today's most popular authors. Students will love what they read and be inspired to craft their own re-imaginings.
If you have students who enjoy fantasy books rooted in Asian mythology, we covered two fantastic novels on the podcast: Spin the Dawn by Elizabeth Lim and Empress of All Seasons by Emiko Jean.
I also have a blog post on including more Asian American authors and protagonists in your classroom library.
My True Love Gave to Me: 12 Holiday Stories
edited by Stephanie Perkins
With rockstar contributors like Holly Black, Rainbow Rowell, and Jenny Han this is sure to fly off your bookshelves. And most importantly, this collection of stories has something for each student, no matter what winter holiday they celebrate.
Here We Are: Feminism for the Real World
edited by Kelly Jensen
"LET'S GET THE FEMINIST PARTY STARTED!"
"Have you ever wanted to be a superheroine? Join a fandom? Create the perfect empowering playlist? Understand exactly what it means to be a feminist in the twenty-first century? You've come to the right place."
"Forty-four writers, dancers, actors, and artists contribute essays, lists, poems, comics, and illustrations about everything from body positivity to romance to gender identity to intersectionality to the greatest girl friendships in fiction. Together, they share diverse perspectives on and insights into what feminism means and what it looks like. Come on in, turn the pages, and be inspired to find your own path to feminism by the awesome individuals in Here We Are." (from Goodreads.com)
This book is jam-packed with intersectional goodness. Students of all ages will laugh, cry, and feel seen in ways they may never have before.
How I Resist
edited by Maureen Johnson
This is an anthology of essays, poems, art, interviews, and short fiction all centered around the idea of activism. Editor Maureen Johnson calls it a "resistance book for teens". The contributor list is jaw-dropping, and each contributor finds their own way and means to answer the question, "how do you resist?" We featured this book in episode 16 of the YA Cafe Podcast, with our guest, teacher/activist Chris Peck. He and Danielle highlighted their favorite stories from the collection and shared some ideas for how to use this book in the classroom.
Young people are motivated to make the world a better place and enact social change. As teachers, it's our job to give them the tools to recognize inequality and fight back against it.
Students are more involved when they feel like their voice matters. These resources for Teaching Social Justice with Lit Circles are a great way to engage students and create a dialogue.
Are you enjoying these short stories for high school ELA? Sign up for my YA Reads Newsletter to get monthly book recs delivered to your inbox!
Toil & Trouble: 15 Tales of Women and Witchcraft
edited by Jessica Spotswood and Tess Sharpe
Hey, I told you we are Jessica Spotswood super fans! 😉 We featured Toil & Trouble in episode 28 of the YA Cafe Podcast and remain utterly enthralled with all the wonderful stories it contains.
A few months after the T&T episode we had the chance to chat with Jessica Spotswood herself! She joined us in episode 56 to discuss another great witchy book, These Witches Don't Burn by Isabel Sterling.
We asked her about her experiences compiling these incredible collections, and she said,
"It is amazing, and it is also a lot of work. I'll be honest, there's a ton of emails, so it definitely requires some organizational skills. I love making lists, so I really enjoy that part of it, and I'm so inspired by working with these authors whose work I admire. That's a huge way that I determined who to work with, honestly, was like, "Who's short story am I dying to read myself, as a reader?" So it's been amazing to get to work with all these authors that I really love, admire, respect."
It's a Whole Spiel: Love, Latkes, and other Jewish stories
edited by Katherine Locke
An introduction by Mayim Bialik? Stories from Nova Ren Suma, Alex London, David Leviathan, and more? Yes, please! I love this positive representation and celebration of Jewish pride. It's truly a unique and much-needed anthology short story collection for high school students.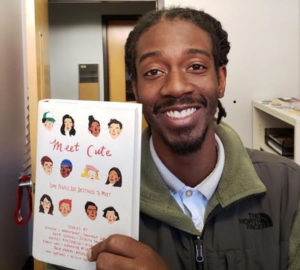 Meet Cute
edited by Jennifer Armentrout
This suggestion comes from our friend H.D. Hunter. He took part in the End of Year Round-Up on the YA Cafe Podcast where we asked teachers, authors, and writers for their recommendations. His pick was Meet Cute, and his favorite story was The Department of Dead Love by Nicola Yoon. In that episode he says,
"I think anytime you have an anthology or a collection, there are always stories that stick with you more than others. And I have a little bit of a bias leaning towards Sci-Fi… So, Department of Dead Love, it almost reminds me of Eternal Sunshine of the Spotless Mind. You have this, sort of speculative, contemporary environment where there are excavators and autopsy people who can look into the reasons the relationships ended, and they can also help counsel the people who are a part of the relationships into having better closure with what happened."
All Out: The No-Longer-Secret Stories of Queer Teens throughout the Ages
edited by Saundra Mitchell
This book features such an incredible line-up of contributors! It's a "who's who" of our podcast favorites, such as; Natalie C. Parker (Seafire), Robin Talley (Pulp), Tehlor Kay Mejia (We Set the Dark on Fire), Mackenzi Lee (The Gentleman's Guide to Vice and Virtue), and Anna Marie-McLemore (Blanca & Roja).
The unique thing about this collection is that all 17 stories are period pieces. It's so vital to see these historical representations of queer identity. Too often queer stories have been "straight-washed", or completely excluded from history.
Celebrating Pride month is wonderful, but remember, students need LGBTQ+ voices year-round. Your students will feel so seen and safe knowing that you are an ally.
Check out my list of our favorite YA novels that feature LGBTQ+ protagonists, and this post on supporting LGBTQ+ students in the classroom.
What's Next?
After diving into the vast and varied worlds explored in these anthologies, your students will be probably be itching to write their own short stories 🙂 A unique way to teach short stories for high school is through a workshop-style setting. If you want to hold an awesome Writers Workshop for your students, this blog post will help you get started! It has tips for each step, like setting up, giving feedback, and how to manage the reading load.
If you're looking to purchase any of these titles, please consider using my Bookshop affiliate link. But if you're over your book budget for the year, don't despair! Learn how to get FREE advanced review copies (ARCs) from publishers! How cool is that? Your students will feel so special getting the chance to read books before they are available on the shelves 🙂
What are your favorite short stories for the classroom library or high school classrooms? Let me know!