From sci-fi to fantasy to historical fiction, this list of short stories has something to interest every reader during Hispanic Heritage Month!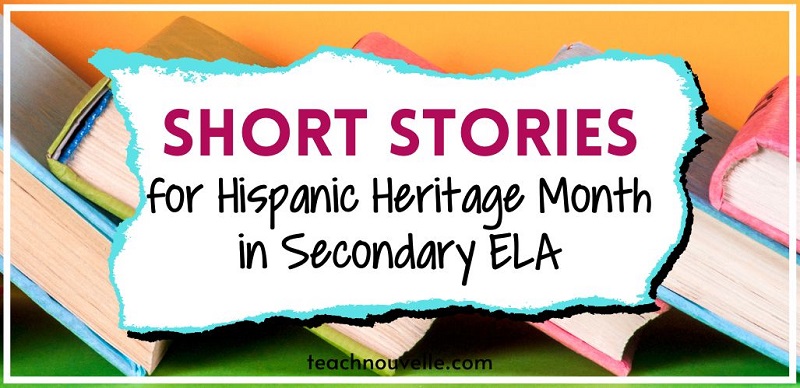 Happy Hispanic Heritage month, y'all!
I LOVE using short stories to help make a curriculum more diverse! Why? Because I think their length makes short stories uniquely helpful for helping students gain insight into new perspectives. A student could read several short stories in the same time as one novel, and being exposed to those different authors and different POVs helps emphasize the diversity within a culture or nationality. (If you are familiar with the amazing TED Talk "The Danger of A Single Story" by Chimamanda Ngozi Adichie you'll know exactly the point I am making.) There isn't one singular Latinx story or one universal Hispanic perspective, but many.
But of course, there are so many wonderful ways to celebrate Hispanic Heritage Month and broaden your student's understanding of Latinx culture, short stories are just one piece of the puzzle! If you are looking for MG and YA novels by Latinx authors for lit circles or your classroom library, check out my Bookshop affiliate list. You'll be supporting independent bookstores by using Bookshop, and you'll be supporting this blog.
Short Stories to Read During Hispanic Heritage Month
"No Me Dejas" by Mark Oshiro
(This story can be found for free on Slate.com)
This story takes place inside a futuristic hospital. Our unnamed protagonist is preparing for "the Transfer," a procedure that will allow him to receive all of his dying grandmother's memories. During the procedure, he experiences a rapid succession of memories that causes him to relive traumatic moments of his grandmother's life, and when he awakes, his grandmother dies. He is confused and filled with questions.
Discussion questions for setting: How does the author use setting to differentiate between his emotional response to the hospital versus his feelings about his grandmother's life? What emotions do the descriptions of the hospital convey, versus the descriptions of his grandmother's life?
Puro Amor by Sandra Cisneros
(The story is available for free (online) from the Washington Post.)
Students may already be familiar with Cisneros' work from her 1984 novel, The House On Mango Street. You can expect more lush prose from this short story. Pur Amor is a loosely based in-reality exploration of the relationship between Frida Kahlo and Diego Rivera. It alludes to their real-life personas but is fictional, not autobiographical.
It is truly a beautiful read. With phrases like "the sky was the color of pewter and the clouds hurried by like women on their way to the market," Cisneros' words are as evocative as Kahlo and Rivera's art. It would be an excellent mentor text for simile/metaphor and descriptive language.
Sandra Cisneros has so many great stories for the classroom that you can use during Hispanic Heritage Month or year-round! If you're teaching her other favorite "Geraldo No Last Name," check out this lesson on diction.
"The Jacket" by Gary Soto
(This short story is available for free at CommonLit.org.)

Students may already know Gary Soto from his classic story "Seventh Grade" which has been anthologized in many collections. In "The Jacket," Soto shares the experience of getting a new jacket from his mother that really missed the mark of what he wanted. "I wanted to cry," Soto's narrator says, "because it was so ugly and so big that I knew I'd have to wear it a long time."
The conflict of this story ends up being Person vs. Self as it's really the narrator's assumption of how others are viewing the jacket that keeps him from enjoying his school years. We never directly see anyone bully him, and yet he is bullied in his mind. You can also zoom in on word choice and study how Soto uses colors to make comparisons and connections in the text.
In addition to using it during Hispanic Heritage Month, this story would also work well in a personal narrative or memoir unit. You can ask students to think about a time they got a gift they didn't want. Read more ideas for personal narrative mentor texts here.
"Healing Rosa" by Tehlor Kay Mejía

(This short story is available in the anthology All Out: The No-Longer Secret Stories of Queer Teens Throughout the Ages.)
There's usually magic wrapped up in Mejía's writing, and this short story is no different. It shows a brief snapshot of time after the narrator's abuela (a healer or witch, depending on whom you ask) dies. The narrator's family wants her to be done with healing (magic), but there's one last person she needs to save: her love, Rosa.
This story is so atmospheric and lovely. It would be an excellent opportunity to study of author's purpose and craft: Mejía is a pro at sharing "just enough" of what happens before a short story to give you context. She knows how to skip to the most interesting part. This would also be an excellent mentor text if you want your students to write their own short stories.
Tehlor Kay Mejía has some fantastic MG & YA novels. Check out my recommendations on this list of books by Latinx authors.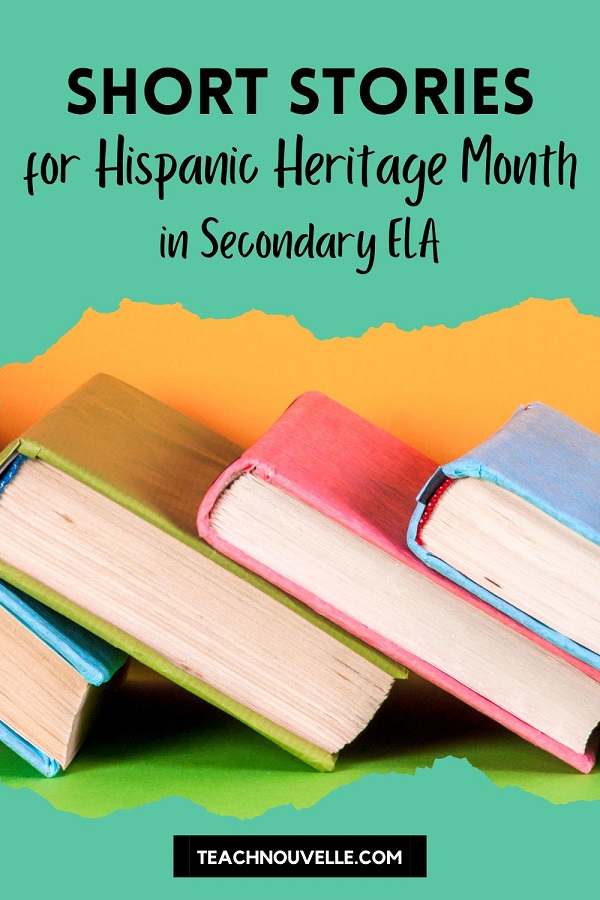 I hope this post gave you some fresh ideas for celebrating Hispanic Heritage Month in your ELA classroom. I promise that it's worth the extra time to look outside our standard anthologies and reading lists to find fresh, inclusive stories that will help reach every student. If you want more ideas for teaching short stories year-round, check out this post 🙂
How do you celebrate and support Hispanic Heritage Month in your classroom?
There are so many great choices, I'd love to hear what your students responded to the post! Comment below or reach out on IG @nouvelle_ELA!
Happy teaching!