Happy Hispanic Heritage Month, y'all! We celebrate this every year from September 15th to October 15th, and we can also bring it to our bookshelves. I recommend visiting the National Hispanic Heritage Month website: they have some great resources for teachers. Keep reading for amazing Latinx YA books that you can share with your students to celebrate.
While it's important to celebrate cultural and national heritage during specific festivals or annual events, how inclusive is your classroom library year-round? Books are both windows and mirrors. Can your students see genuine representations of themselves, or "walk a mile in someone else's shoes"?
Don't feel discouraged if your classroom library or curriculum isn't inclusive, yet. Your students are lucky because they have you to advocate for them and to continue pushing for diversity in the materials that they read, watch, and listen to.
Equity in education is a much bigger issue than *just* the shelves of your classroom library, but it can be a great place to start. If you feel intimidated or unsure of where to begin, visit this blog post. The incomparable Dr. Sheila Frye will walk you through performing an audit of your classroom library, understanding the data, and then using it to transform your collection. This will take some time, but it doesn't have to be costly: Check out these tips on getting FREE books for your classroom library 🙂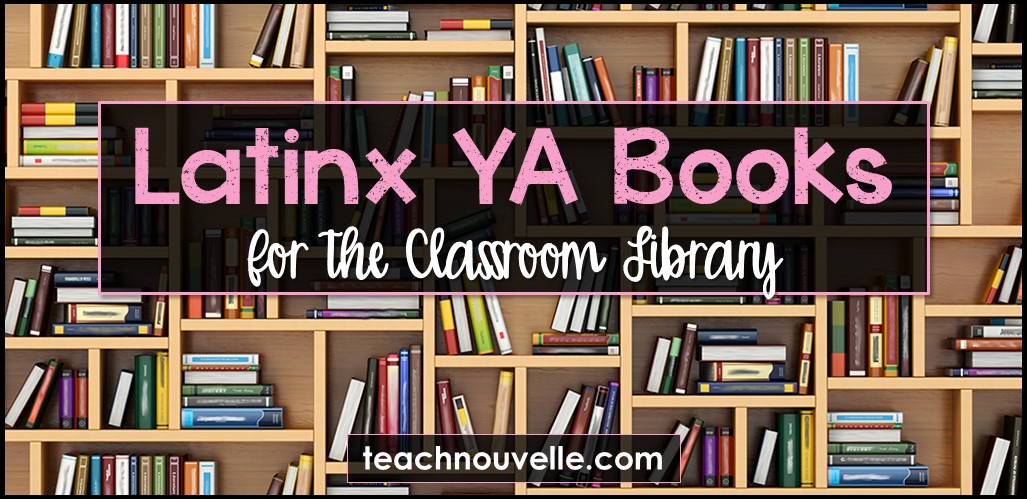 If you want to purchase any of these wonderful Latinx YA books for your classroom library, check out my affiliate list on Bookshop. Shopping on Bookshop helps support independent bookstores, and using my affiliate links helps support my blog 🙂
About these Latinx YA books:
Many of the following suggestions have elements of magical realism, a term stemming from the Latin American literary tradition (think Gabriel García Márquez, Jorge Luis Borges, and Isabel Allende). People often confuse this genre with fantasy, but we can help our students make distinctions. First, magical realism has a stronger grounding in reality with a few magical elements woven in. Part of the distinction is also how the elements integrate with our world. Fantasy will either take place in a different world or appear as an altered or parallel reality of our own.
I'm not the arbiter of what is and isn't magical realism, and there's much more to say on the subject. My first two recommendations highlight the major differences.*
Latinx YA Books for Your Classroom Library:
Miss Meteor by Tehlor Kay Mejía and Anna-Marie McLemore (HS)
When Lita Perez asks her ex-best friend to help her win the Miss Meteor beauty pageant, Chicky knows that this is an underdog story for the ages. Never in the history of their small-town pageant have the judges picked a winner who looks like Lita and Chicky. But for Lita, being in the Miss Meteor pageant has been a lifelong dream, and she's running out of time. Can both girls show the town who their true selves?
This book is a GEM, and I expected nothing else from this powerhouse duo. The characters are so full of heart. Most importantly, this book is a romp for ALL students. I know from loving other Latinx YA books like Mejía's We Set the Dark on Fire and McLemore's Blanca y Roja that representation matters so much to these authors. Their books are about more than Queer kids being queer or Latinx kids being Latinx, and Miss Meteor rises to that challenge. These teens have adventures, aspirations, and laughs that far exceed one label.
*I consider this book magical realism because of the way the magical element is carefully sprinkled onto our world.
Lobizona by Romina Garber (HS)

Manuela Azul's knowledge of her existence goes like this: She's an undocumented immigrant and a child of an Argentinian crime lord. She must protect herself, her mother, and her surrogate grandmother by rarely leaving the apartment and never drawing attention to herself, her weird dreams, or her star-shaped eyes.
Then, her grandmother suffers a vicious attack, and ICE arrests her mother. With nowhere else to go, Manu goes on a quest for answers that takes her deep into the Florida Everglades and dimensions beyond. She finds out that werewolves and brujas are real, two sides to a magical coin, and she's teetering on the coin's edge. What is her role in this unknown world, and will she have to go back into hiding to stay alive?
This is a splendid book for fans of fantasy. It has a magical school and a magical sport for fans of Harry Potter. It also has romance and a story of friendship and family.
*This book is fantasy because of the transportative, disruptive nature of Manu being thrown into the magical world.
Cemetery Boys by Aiden Thomas (HS)
Yadriel wants nothing more than to carry on his Latinx family's legacy as brujx. However, his family won't accept his gender identity and keep trying to steer him toward bruja traditions for the upcoming Día de los Muertos. With his cousin and best friend Maritza, Yadriel sets out to perform a ritual that will prove to them that he's meant to be a brujo. When the ritual goes sideways, Yadriel summons Julián Díaz by accident. In life, Julián had a terrible reputation and looks to kill… in death, he wants to figure out who killed him. Can Yadriel help Julián, set the ritual right, and make his family see his truth once and for all?
Students will adore this book. It is heartfelt and funny. There's an honest conversation about sexuality and gender identity that sounds like it's written for teens, not at them. This is a book written "by, for, and about" Trans Latinx kids AND for others to enjoy, too. I feel so lucky to be alive in a world where this book exists, and y'all need it for your classroom libraries, stat.
The Resolutions by Mia Garcia (HS)
This New Year, Jess has a plan to keep her four best friends together: The four of them will make New Year's resolutions for each other. She, Nora, Ryan, and Lee all have each other's best interests at heart and give resolutions to help them embrace life or get over old relationships. But good intentions don't always work out as planned…
It's a fun spin on the old "new year, new me" trope, and I loved the split POV's. Check out the YA Cafe Podcast episode on The Resolutions for more details. As always, the first half of the episodes are spoiler-free 🙂
They Both Die at the End by Adam Silvera (HS)
"On September 5, a little after midnight, Death-Cast calls Mateo Torrez and Rufus Emeterio to give them some bad news: They're going to die today.
Mateo and Rufus are total strangers, but, for different reasons, they're both looking to make a new friend on their End Day. The good news: There's an app for that. It's called the Last Friend, and through it, Rufus and Mateo are about to meet up for one last adventure—to live a lifetime in a single day." (from GoodReads)
Since "seizing the day" is a classic literary theme, this book would be easy to pair with another text. I suggest "Carpe Diem" by Robert Frost, "First Fig" by Edna St. Vincent Millay, or even "Live Like You Were Dying" by Tim McGraw if you wanted something more out of the box.
Want more ideas for
using music in ELA?
The First Rule of Punk by Celia C. Perez (MG)
The first rule of punk? Be yourself. And that's what Malu is trying to do. But it's hard when your punk rock style violates your new school's dress code. It's even harder when your mom, a straight-laced college professor, doesn't understand you, and your dad now lives a thousand miles away. But over time Malu finds some friends, forms a band, and starts making 'zines. Her jolly group of misfits is always running afoul of the school's strict administration, and hijinks ensue. It's a funny and touching read.
Aristotle & Dante Discover the Secrets of the Universe by Benjamin Alire Sáenz (HS)
"Aristotle is an angry teen with a brother in prison. Dante is a know-it-all who has an unusual way of looking at the world. When the two meet at the swimming pool, they seem to have nothing in common. But as the loners spend time together, they discover that they share a special friendship—the kind that changes lives and lasts a lifetime. And it is through this friendship that Ari and Dante will learn the most important truths about themselves and the kind of people they want to be." (from GoodReads)
This novel doesn't have a traditional plot structure. Instead, it feels more like an authentic glimpse into someone's life. A snapshot of a moment in time told in Sáenz's wonderful, lyrical prose.
For more inclusive YA books with LGBTQ+ protagonists, you can check out these blog posts: High School Novel recs, Middle-Grade novel recs.
Don't Ask Me Where I'm From by Jennifer De Leon (HS)
This YA new release is a perfect addition to any discussion of the immigrant experience (tips on that here!). Want more details? I have a full review of Don't Ask Me Where I'm From up on my blog.
Enjoying these recommendations of
Latinx YA books for your classroom library?
Sign up for my YA Reads Newsletter
and receive monthly book recs delivered right to your inbox 🙂
America Vol. 1: The Life and Times of America Chavez by Gabby Rivera (HS)
Y'all, I LOVE superheroes. I have a whole blog post about using superheroes in American Lit, and America Chavez has a place in any Hero's Journey unit. Chavez is Marvel's first queer, Latina superhero, so she has a unique story. The graphic novels also feature stunning artwork by Joe Quinones, which is sure to engage even the most reluctant readers.
I also recommend Gabby Rivera's TED Talk, which I included in my TED Talks for Young Writers blog post.
I Am Not Your Perfect Mexican Daughter by Erika L. Sanchez (HS)
"Perfect Mexican daughters do not go away to college. And they do not move out of their parents' house after high school graduation. Perfect Mexican daughters never abandon their family. But Julia is not your perfect Mexican daughter." (from GoodReads)
This Latinx YA novel is a poignant depiction of a young girl, caught between the weight of her family's expectations, and her yearning to become her own person. All while dealing with grief from the loss of her sister, Olga, who, in their parent's eyes, was "the perfect Mexican daughter."
Shadowshaper by Daniel Jose Older (HS)
"Sierra Santiago was looking forward to a fun summer of making art, hanging out with her friends, and skating around Brooklyn. But then a weird zombie guy crashes the first party of the season. Sierra's near-comatose abuelo begins to say 'Lo siento' over and over. And when the graffiti murals in Bed-Stuy start to weep…. Well, something stranger than the usual New York mayhem is going on.
Sierra soon discovers a supernatural order called the Shadowshapers, who connect with spirits via paintings, music, and stories. Her grandfather once shared the order's secrets with an anthropologist, Dr. Jonathan Wick, who turned the Caribbean magic to his own foul ends. Now Wick wants to become the ultimate Shadowshaper by killing all the others, one by one. With the help of her friends and the hot graffiti artist Robbie, Sierra must dodge Wick's supernatural creations, harness her own Shadowshaping abilities, and save her family's past, present, and future." (description from GoodReads)
For more suggestions of inclusive YA fantasy novels including Latinx YA novels, check out this blog post 🙂
Sal and Gabi Break the Universe by Carlos Hernandez (MG)
Sal and Gabi might seem like an unlikely duo. Gabi is the student council president, while Sal finds himself in the principal's office three times during the first week of school. Sal is a magician, a master of sleight of hand, but Gabi's sharp eyes see something else: She believes Sal can conjure things (and people!) out of thin air. How is Sal performing his illusions? Could his "magic" come with serious consequences? I'm not telling, you must read the book to find out 😉
With the Fire on High by Elizabeth Acevedo (HS)
Since getting pregnant at fourteen, Emoni has done everything she could for her daughter and her abuela. Between being a full-time mom and a full-time student, Emoni doesn't have time to think about her future. She loves cooking and people say her food is magic, but can she squeeze in more school? Shouldn't she get a job instead? When her school offers a culinary elective with an immersion trip to Spain in the spring, it feels like a dream to Emoni. Can she let her talent shine and still keep her family afloat?
We covered With the Fire on High on the YA Cafe Podcast, listen for free on RadioPublic, or find us on your preferred podcast platform 🙂
Acevedo is a superstar and students will like everything she writes. Be sure to check out The Poet X (a Latinx YA novel in verse, you can listen to her read an excerpt here) and her newest novel, Clap When You Land.
Final Thoughts: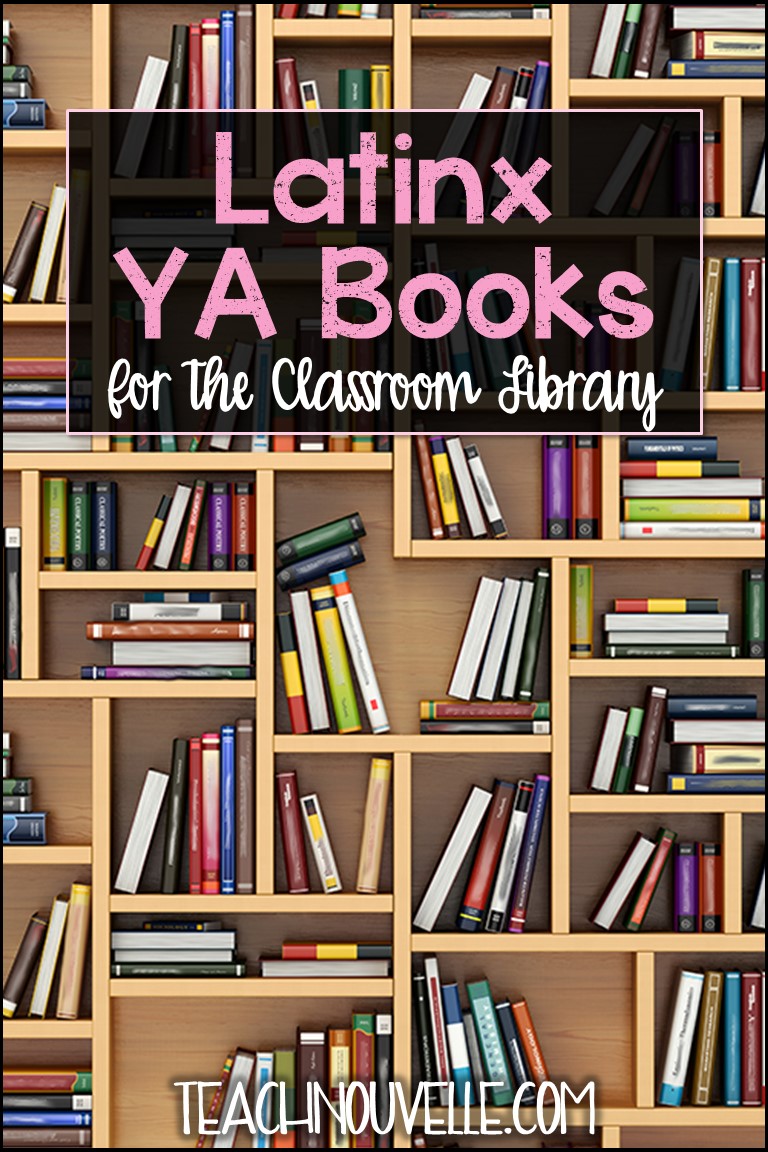 I hope this post gave you some inspiration and helped you discover some new favorite Latinx YA books for your classroom library 🙂 Don't forget you can find all of these books on my Bookshop list, Latinx YA Books for the Classroom Library.
Have you read any of these already? Do you have a favorite Latinx YA book to recommend to me? I'd love to hear from you! Comment below, or reach out to me on IG @nouvelle_ela.
Happy teaching!