PRIDE month is almost here! Woo-hoo! In celebration, here are 21 diverse LGBTQ+ YA novels for your high school classroom library, broken down by genre. Building your classroom library to represent more voices is a great way to build empathy, teach peace, and draw in all of your students.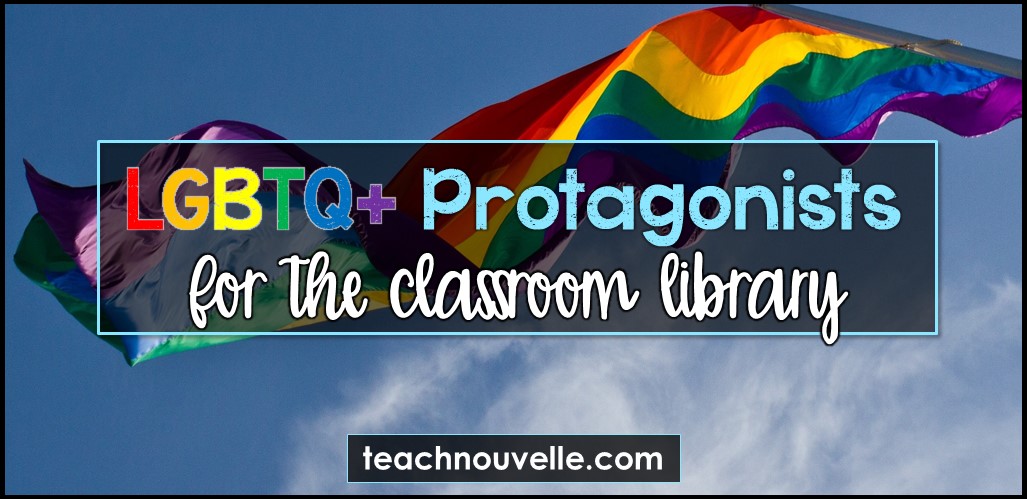 Creating an inclusive classroom library filled with LGBTQ+ YA novels is one small way you can make your LBGTQ+ students feel safe. I have some other tips for creating a safe space for LGBTQ+ students in this post on the Secondary ELA Coffee Shop.
I also have recommendations for short texts by LGBTQ+ authors, LGBTQ+ books for middle-grade students, and YA/MG books featuring trans and non-binary protagonists.
Contemporary LGBTQ+ YA Novels
The Summer of Jordi Perez by Amy Spalding
In The Summer of Jordi Perez, Abby scores the internship of her dreams: working at a vintage clothing shop in LA. She hopes to turn this internship at Lemonberry into a paid part-time job (how else could she afford their awesome dresses otherwise?). Maybe it will help her gain a little inspiration for her fashion blog, +style. But when she discovers that she has to share this internship with Jordi Perez, Abby realizes that means some competition for the job. Can Abby somehow have the clothes, score the job, and get the girl? This is a summer rom-com folks, so probably yes, but with shenanigans along the way. (Featured on the YA Cafe Podcast, episode 7)
Simon vs. The Homosapiens Agenda by Becky Albertalli
This endearing YA romance follows Simon. He's a sixteen-year-old boy who knows he's gay and isn't ashamed of it, but isn't yet ready to come out to his family, friends, or kids at school. He does have one confidant, an email pen pal, Blue. When a smarmy classmate discovers Simon's emails, he says he'll out him unless Simon can set him up with his friend, Abby. Simon has to figure out how to appease his blackmailer, Martin, manage some tensions within his friend group, and make room in his life for his growing affection for Blue. (Featured on the YA Cafe Podcast, episode 4)
This blog uses affiliate links for your convenience.
If you decide to purchase recommended gifts or books, please consider doing so through our affiliate links (at no additional cost to you).
Your support makes our podcast, The YA Cafe, possible.
If I Was Your Girl by Meredith Russo
 Amanda is a normal high school girl and for the first time, she has the chance to live like one. She's a transgender teen who moves back in with her estranged father after the bullying and attacks at her old school become too much.
At her new school no one knows she used to look like a boy, she's just the pretty new girl. And it isn't long before she has a group of good friends, a boyfriend on the football team and something that looks like the life she's always wanted. Amanda's father is still struggling with fear for this new daughter he thought was a son. And most of all, Amanda tries to come to terms with keeping a secret from her new friends. (Featured on the YA Cafe Podcast, episode 42)
This new year, Jess has a new plan to keep her four best friends together. The four of them will make New Year's resolutions for each other. She, Nora, Ryan, and Lee all have each other's best interests at heart and give resolutions to help them embrace life or get over old relationships. But, those good intentions don't always go as they planned. (Featured on the YA Cafe Podcast, episode 35)
Mariam Sharma Hits the Road by Sheba Karim
This book is a road trip romp about the 3 F's; friends, family, and fried food 😉 It follows a trio of friends on a summer road trip. Mariam, Ghaz, and Umar travel from New Jersey to New Orleans and have a flurry of that ventures and detours along the way. It's a Pakistani-American spin on an old trope and a great addition to your summer reading list. (Featured on the YA Cafe Podcast, episode 17)
Picture Us in the Light by Kelly Loy Gilbert
At the beginning of Picture Us in the Light, seventeen-year-old Danny receives news that he's been accepted into the Rhode Island School of Design. To anyone looking on, this seems like great news. Except that Danny has a huge secret – he hasn't been able to draw in a year. But even as Danny's struggling to overcome his own artist's block, some of his parents' secrets come to light and threaten to topple everything they've worked for. Danny must find a way to face the past in order to make room for his future. (Featured on the YA Cafe Podcast, episode 8. You can also read a full review with ideas for using this book in the classroom here.)
Not Otherwise Specified by Hannah Moskowitz
Everywhere Etta turns, she feels like she is not enough. Not "gay enough" because she dated a boy. Not "thin enough" to be anorexic (she's in recovery), and not thin enough (or white enough) for ballet. But all that changes when she meets a girl in her therapy group, Bianca, who shares her dream of attending an exclusive New York dance academy. Can these two shattered girls put each other back together, or will they leave each other more broken than before?
Spy Stuff by Matthew J. Metzger
After he transitions, Anton is forced to change schools do to relentless bullying, and this fresh start enables him "pass" as a boy, with his secret known only by a few administrators. In this new, kinder environment Anton is able to make a large circle of friends, of whom is Jude. Jude is perfect. He's funny, handsome, and sweet, but he's straight. Or so Anton assumes. As their friendship grows closer, their feelings get more intense, and one day Jude asks Anton out on a date.
How can Anton work up the courage to share his full self with Jude? Will Jude be open and accepting unlike the kids at Anton's old school (and unlike Anton's father)? This story is a sweet romance that explores labels and assumptions, and how much bravery it takes to be ourselves.
The Miseducation of Cameron Post by Emily M. Danforth
The day after her first kiss (another girl!), Cameron's parents are killed in a car crash. Cameron is sent to rural Montana to live with her conservative Aunt and her stuck-in-the-past Grandmother. Grieving and confused, Cameron focuses on blending in and keeping her head down. She manages to keep her secret until the stunningly gorgeous cowgirl, Coley Taylor, moves to town. They become fast friends, and then something more. When her Aunt finds out Cameron's secret (that she is attracted to girls), she resorts to extreme measures to "cure" her niece.
The book paints a powerful picture of the love and loss and confusion and determination. Emily Danforth's writing is so gripplingly realistic that it makes it very easy for students to empathize with the characters, and understand their complex feelings and motivations.
Enjoying these recommendations of LGBTQ+ YA Novels?
Sign up for our YA Reads Newsletter
for more great recommendations
delivered to your inbox!
LGBTQ+ Fantasy, Sci-Fi, and Reimaginings
Blanca & Roja by Anna-Marie McLemore
This novel is a twist on the classic fairytale, Snow White and Rose Red, and shares the tale of a family under a curse. Unto each generation will be born two sisters, and at their coming of age, one of them will be turned into a swan. Blanca is the older, gentler, sweet sister, and Roja is a bit rougher around the edges. The girls must work through a curse that tries to pit them against one another, reaching through the thorns to hold on to their love for each other. (Featured on the YA Cafe Podcast, episode 30)
In Seafire, we are brought into a world where a brutal warlord controls the seas and colonies. The protagonist Caledonia Styx leads her all-female crew in raids against his fleet. When her second in command shows mercy to a single enemy sailor whom she claimed saves her life Caledonia is forced to choose between everything she's ever believed about the enemy and trusting her own crew. (Featured on the YA Cafe Podcast, episode 27 with guest Emily Skrutskie)
Need something else? You can find ALL my recommendation lists for inclusive classroom materials here. Poems, novels, TED talks, short stories, and so much more!
The Priory of the Orange Tree by Samantha Shannon
This novel is an epic fantasy set in a world with sharp divisions. For those in the West, dragons are their most hated enemy, and the only thing keeping them safe is a Queen's dynasty that has lasted 1,000 years. In the east, sea dragons are gods, guarding and guiding the kingdom. When the enemy of humanity begins to stir, every nation must make a choice on how to fight it and what to believe. Told in third person, Priory follows the queen's attendant, a prospective dragon rider, a loyal diplomat, and a disgraced alchemist to tell the story of a world at a crossroads.
While it's not strictly YA, we think it's a great fit for high-school-aged readers who like an (800 page!) challenge. (Featured on the YA Cafe Podcast, episode 46 with guest Somaiya Daud!)
Girls Made of Glass and Snow by Melissa Bashardoust
In this Snow White reimagining, two stories intertwine. We watch Mina, an ambitious young girl, strive to gain acceptance at court. Her magician father expects her to use her beauty to get a good marriage for herself, but he insists that no one will ever love her nor can she love anyone. The reason? He created her heart out of glass. Still, she doesn't need love – just a crown and adoration.
In another time, fifteen-year-old Lynet climbs trees and spies on people. Her father treats her as a delicate bird, but she'd much rather go out hunting and on adventures. The only person who truly understands her is her stepmother, Mina. Lynet has loved Mina since the moment she met her at two years old and has always considered her more of a mother than the one she never met.
But Lynet's fifteen now, and her father expects her to behave like a future queen. For Lynet to realize his hopes for her, she'll have to displace Mina and forsake their love and friendship. If only one of them can be queen, how can Lynet ever make Mina and her father happy? And how does her happiness fit into the equation? 
You can read the full review and ideas for using this book in the classroom here.
As I Descended by Robin Talley
This is a Macbeth retelling y'all, and I LOVE it. We have a power couple, Maria & Lily, feuding with campus superstar Delilah. She basically runs the school, but she doesn't know that Maria & Lily would stop at nothing to unseat her, including harnessing a supernatural power lurking beneath their prep school's floors. "But when feuds turn to fatalities, and madness begins to blur the distinction between what's real and what is imagined, the girls must decide where they draw the line." Eeeeee!
Find even more recommendations for inclusive retellings in this post!
The Abyss Surrounds Us by Emily Skrutskie
…I don't just raise monsters.
…I am one.
Lesbian pirates? Genetically engineered sea monsters? Sign us up! In a distant future, the ocean has covered most of the United States. Cassandra and her family train Reckoners, giant sea beasts which protect the vessels from pirates on the Neo-Pacific. While on a solo mission, Cassandra's ship is boarded by the pirate queen, Santa Elana, and her villainous crew. Cassandra and her Reckoner pup are kidnapped. With no hope of escape, will Cassandra and her charge be killed, or will the pirate queen keep them prisoners forever?
Historical LGBTQ+ YA Novels
We Set the Dark on Fire by Tehlor K. Mejia (alternate history)
This novel provides a dark vision of an alternate history on the island world of Medio where a wall separates the prosperous inner region from the salted, barren earth of the outer island. Every young man of wealth and means negotiates for two wives – a Primera, who is to be his ambitious, intellectual equal, and a Segunda, who will be the lovely and beautiful opposite of everything he is. Daniela has trained as a Primera in Medio, and will marry an influential politician's son. When a rebel organization discovers her biggest secret, she must agree to spy on her new household or lose everything she's worked for.
Can Dani keep her grip on the life she's always wanted, or will the spiderweb of Medio claim another victim? (Featured on the YA Cafe Podcast, episode 45 with guest Erin Callahan)
In Pulp, senior Abby Zimet becomes obsessed with 1950's lesbian pulp fiction. She believes meeting the mysterious author of a famous novel will help her figure out her crumbling life. We also read the perspective of Janet Jones, a teenager in 1955 who begins to write her own pulp fiction novel. In her time, living openly as a lesbian is difficult and dangerous, much less writing lesbian fiction. Although living through very different times, Abby and Janet share the sweetness and struggles of first love. (Featured on the YA Cafe Podcast, episode 34)
The Gentleman's Guide to Vice and Virtue by Mackenzi Lee
Monty, a consummate rake and rebel, embarks on his Grand Tour of Europe. The goal? Get out all of his boyish tendencies before returning home to learn how to run his father's estate. Along on the tour are his best friend, Percy and his younger sister, Felicity. Monty's biggest hope for his Tour is to act a bit on his impossible crush on Percy, and indulge in some drinking, gambling, and escaping along the way. This book has it all: highwaymen, pirates, and girls reading books. (Featured on the YA Cafe Podcast, episode 1)
The Unintentional Time Traveler by Everett Maroon
It all starts when Jack Bishop agrees to become part of a clinical trial studying epilepsy. The condition is a shadow on his life and prevents him from realizing every teenager's dream: driving a car. Along with his seizures come wild, dream-like visions. As a result, when Jack is suddenly transported back in time and into the body of a young girl named Jacqueline, he assumes it must be a hallucination. Jack has a tough time at first adjusting to his new body and his new surroundings. Soon, he begins to feel as much like himself as "Jacqueline" as he did as "Jack".
Overall, this journey through time is also a journey of personal discovery. It challenges gender norms and keeps the reader fully engaged along the way.
Thrillers
Death Prefers Blondes by Caleb Roehrig
By day, Margo Manning frolics as your average vapid socialite heiress. However, by night she is the leader of a highly-skilled group of drag-wearing thieves. Together, they pull off notorious heists and make hundreds of thousands of dollars. It's a perfect balance for Margo until a series of disasters cause her two lives to twine together in increasingly dangerous ways. Can Margo keep herself and her friends safe from the threats that her high crime lifestyle has brought into their world? We'll see! (Featured on the YA Cafe Podcast, episode 43)
For even more thriller recommendations,
check out our list of 15 YA Thrillers for the Classroom Library 🙂
In a dystopian alternate future, a "whipping boy" system keeps classes apart. Wealthy families ("Patrons") can appoint a "Proxy" child who will be punished in the place of their own. Knox's parents are some of the richest in the City, and as such he has never lacked for anything. Syd, on the other hand, was born an orphan and is deemed a "debt" to society. Whenever Knox makes a mistake, Syd is punished, severely. When Knox's consequence-free joyride through life results in the accidental death of one of his friends, Syd is sentenced to a brutal punishment.
The only way for Syd to escape is to join forces with Knox. With the authorities in hot pursuit, they flee across the country, meeting other rebels and outlaws along the way. This novel is action-packed and sure to keep readers guessing until the very end!
What are your favorite LGBTQ+ YA novels? Drop a recommendation in the comments!
I want to see your #classroomlibrary! Be sure to find me on IG @nouvelle_ela and send me a shelfie 🙂
Happy reading!