This week we are joined once again by our friend Anna aka @never_withouta_book to discuss Elizabeth Acevedo's newest book, With the Fire on High. (Transcript)

In today's episode…
With the Fire on High by Elizabeth Acevedo
Since getting pregnant at fourteen, Emoni has done everything she could for her daughter and her abuela. Between being a full-time mom and a full-time student, Emoni doesn't have time to think about her future. She loves cooking and people say her food is magic, but can she really squeeze in more school? Shouldn't she get a job instead? When her school offers a culinary elective with an immersion trip to Spain in the spring, it feels like a dream to Emoni. Can she find a way to let her talent shine and still keep her family afloat?
These Show Notes use Amazon Affiliate Links for your convenience.
If you decide to purchase this book, please consider doing so through our affiliate links.
Your support makes this podcast possible.
Episode highlights…
Spoiler-Free
*2:15 We expected this to be a novel in verse (spoiler alert: it's not) but we LOVED it anyway
*5:41 Her relationship with her father, and with her baby's father
*4:24 This felt like a very different portrayal of teen pregnancy than we were used to
*10:56 We loved the sense of place that Elizabeth Acevedo was able to create
Things We Like a Latte
Danielle – Attending YALLWEST
Anna – American Gods on Starz
Amanda – Crazy Ex-Girlfriend season 4, on Netflix
COMING UP NEXT TIME: THESE WITCHES DON'T BURN BY ISABEL STERLING
PRE-ORDER YOUR COPY TODAY!
Spoiler-Informed
*19:29 Amanda thought this book had elements of magical realism, Anna compared it to Like Water for Chocolate 
*21:08 Angelica, her 'YA Best Friend TM'
*22:12 "The boy", Malachi, didn't impress us much
Want book recommendations delivered to your inbox?
Sign up for the YA Reads Monthly Newsletter!
More ideas and resources for teachers and librarians…
We LOVE food, and probably a lot of your students do too 😉 If you are looking for another book that has a food-related plot, we highly recommend The Summer of Jordi Perez (and the Best Burger in Los Angeles) which we featured in episode 7 of the podcast.
One really cool element of this book is that it includes recipes (that we can't wait to try!), and if that sounds appealing to you then check out this listicle from BookRiot, YA Books with Recipes.
We also LOVED Elizabeth Acevedo's first book, the National Book Award winning novel in verse, The Poet X , and we especially recommend the audiobook which is narrated by Elizabeth Acevedo herself.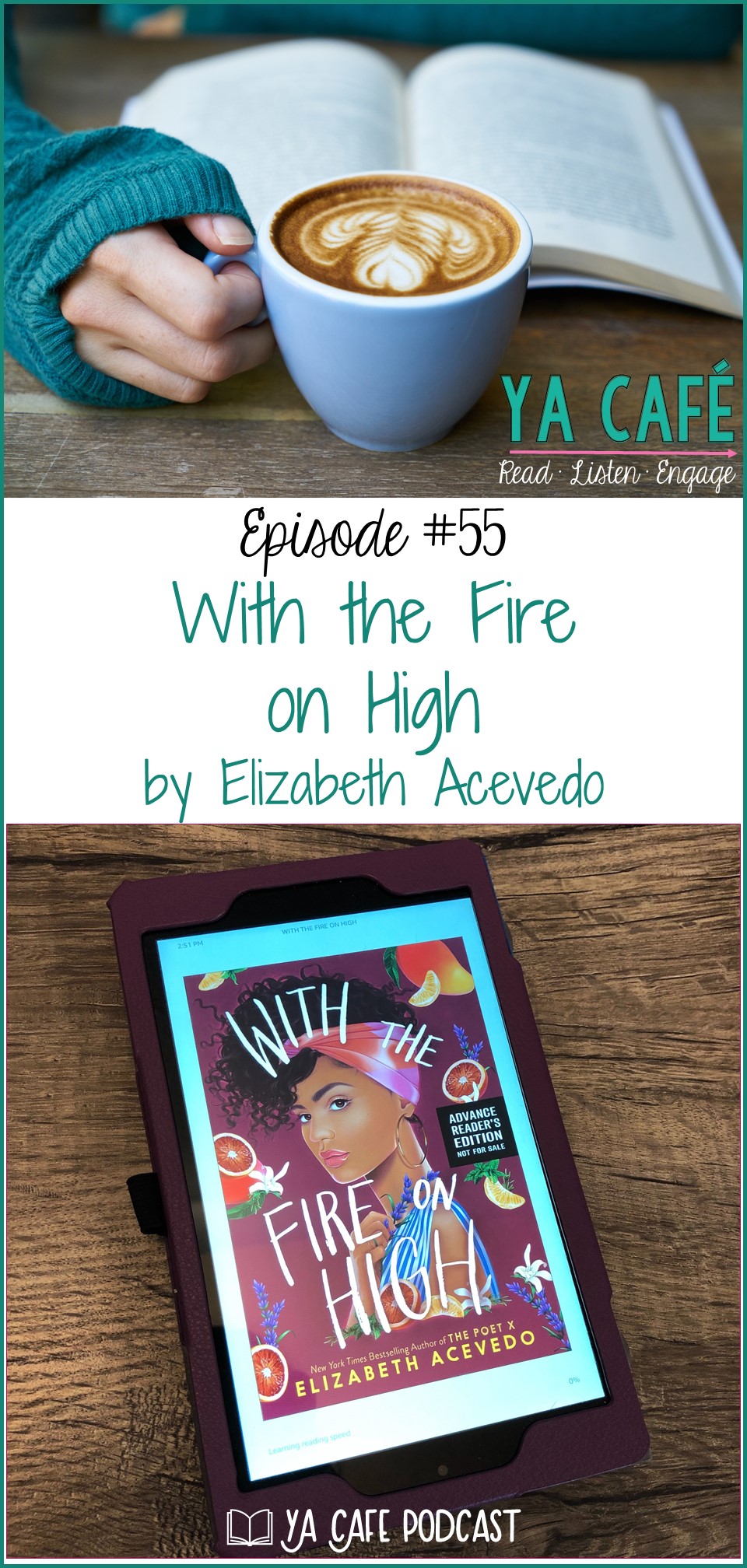 Get in touch with us on Instagram and Twitter at @yacafepodcast or email us at yacafepodcast@gmail.com. We look forward to hearing from you!
Credits…
Hosts: Danielle Hall (who blogs at teachnouvelle.com)
          & Amanda Thrasher (a booklover extraordinaire)
Guests: Bookstagrammer Anna from @never_withouta_book
Producer: Leila Hobbs
Music: Matt McCammon
Thank you to HarperCollins for the eGalley!