We're chatting with Anne Marie Wells, a fellow reader and foodie friend, about The Summer of Jordi Perez by Amy Spalding. Check out more on this week's episode of the YA Cafe.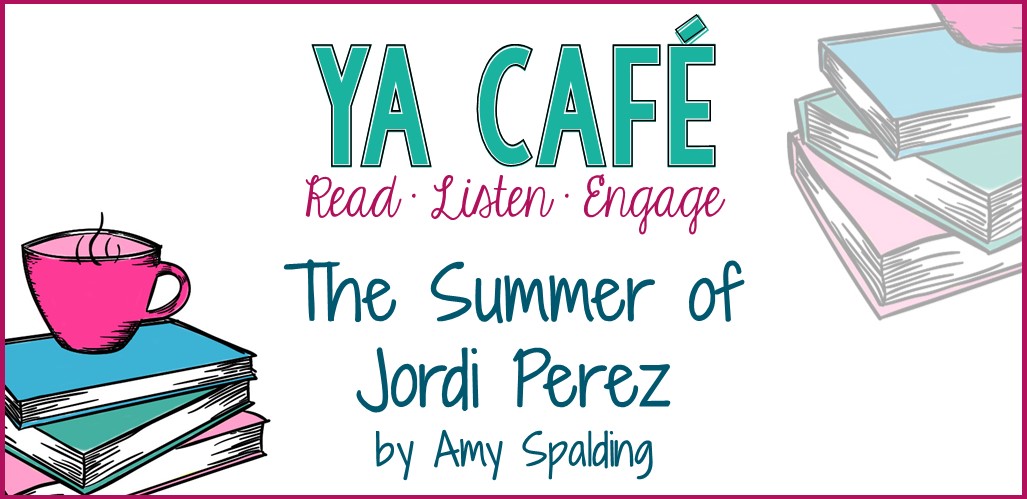 In today's episode…
In The Summer of Jordi Perez, Abby scores the internship of her dreams: working at a vintage clothing shop in LA. She hopes to turn this internship at Lemonberry into a paid part-time job (because how else will she be able to afford their awesome dresses otherwise?) and maybe gain a little inspiration for her fashion blog, +style. But when she discovers that she has to share this internship with Jordi Perez, Abby realizes that means some competition for the job. Can Abby somehow have the clothes, score the job, and get the girl? This is a summer rom-com folks, so probably yes, but with shenanigans along the way.
These Show Notes use Amazon Affiliate Links for your convenience.
If you decide to purchase this book, please consider doing so through our affiliate links.
Your support makes this podcast possible.
Episode highlights…
Spoiler-Free 
*2:18 – We need more LGBTQ+ stories that aren't just "coming out stories"
*4:16 –  Jax and Abby's relationship and the importance of male/female friendships
*7:20 – Behind the scenes of a cookbook photoshoot
Things We Like A Latte
Danielle – Caterpillars Can't Swim
by LeeAnn Shaw
Amanda – Karaoke and a lost alpaca named Bambi
Anne Marie – The Sun Is Also a Star
by Nicola Yoon
Spoiler-Informed
*14:24 – Verdict: What's the best burger in LA?
*18:50 – The Third Option [btw, Danielle was referencing Batman correctly, despite Amanda hating all over her nerd cred.]
*22:21 – Jordi's gallery show
*27:04 – Abby's friends and family and their lack of support.
Want book recommendations delivered to your inbox?
Sign up for the YA Reads Monthly Newsletter!
More ideas and resources for teachers and librarians…
This is mostly a fun read for teens and doesn't necessarily warrant a deep-dive in the classroom, but it's still worthwhile to explore some teaching options.
This would make an excellent choice for Literature Circles with other books about family, friendships, and trust, like Audrey, Wait! by Robin Benway and Sometimes Never, Sometimes Always by Elissa Janine Hoole.
You could use this book in conjunction with discussions of topics like Parental Pressure or perhaps in a research project about the sociology of social media.
This book is also a great recommendation for fans of Simon vs. the Homo Sapiens Agenda by Becky Albertalli and The Boyfriend List by E. Lockhart.
Get in touch with us on Instagram and Twitter at @yacafepodcast or email us at yacafepodcast@gmail.com. We look forward to hearing from you!
Credits…
Hosts: Danielle Hall (who blogs at teachnouvelle.com)
          & Amanda Thrasher (a booklover extraordinaire)
Guests: Anne Marie Wells
Producer: Leila Hobbs
Music: Matt McCammon
[Thank you to Skyhorse Publishing for sending us a copy of this book!]