It's Native American History Month! How are you celebrating and honoring Native culture in your classroom? One great way is through books. In today's post, Megan Tipler from @tiplerteaches brings us recommendations for using Indigenous literature for Secondary ELA.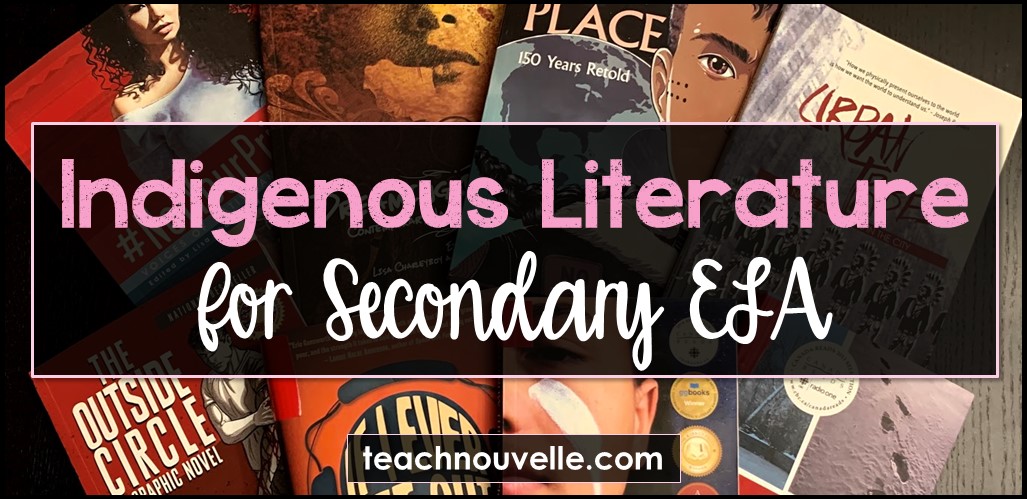 This post uses Indiebound Affiliate Links. We earn a small percentage of each sale (at no additional cost to you) and use the money to sustain this blog. 🙂
According to data compiled by the Cooperative Children's Book Center, only 1% of children's books released in 2018 were written about Indigenous characters. That number deteriorated even further when we looked at how many books were written BY Indigenous authors. Even though there are hundreds of nations and tribal affiliations across Turtle Island – with a variety of diverse experiences, customs, and practices – Indigenous authors are woefully under-represented in published works.
It's also important to remember that even though this is Native American History Month, Indigenous peoples are not a thing of the past. They have a rich history, but equally as important is their present and future. With that in mind, we wanted to spotlight some #ownvoices stories.
Indigenous Literature for Secondary ELA:
Global warming and natural disasters have devastated the planet. Communities have been wiped out, and millions have died. Those that remain have lost their ability to dream – except Indigenous peoples. Despite attempts by Indigenous leaders to reach an agreement with the government, officials are desperate to restore the ability to dream to the rest of the population and believe that the solution lies in the bone marrow of Indigenous peoples. The government employs Recruiters to hunt and detain Indigenous peoples to harvest their marrow at facilities modeled after residential schools.
The book opens with the narrator Frenchie and his brother Mitch trying to elude the Recruiters. Ultimately, Mitch sacrifices himself so Frenchie can escape. As he continues north on his own, he encounters a passing group led by an Anishinaabe man named Miigwans. French is rescued and invited into the group. Each member of the group has a nuanced and complex backstory, and as the novel progresses we get to know each member's history through their coming-to-stories. Dimaline skillfully presents a narrative about the loss, survival, and the resilience of Indigenous peoples despite the dangers of colonialism. One of the most powerful parts of this book is her ability to proclaim Indigenous peoples as part of the future and provide hope to future generations.
We featured The Marrow Thieves in episode 54 of the YA Cafe Podcast, so be sure to check that out. And remember, our podcast episodes are always broken into "Spoiler-Free" and "Spoiler-Informed" sections 🙂
The novel opens with Saul Indian Horse, a recovering alcoholic, recounting his harrowing past. At the beginning of this startling and heartbreaking narrative, he describes his family trying to elude authorities to prevent their children from being forcibly enrolled in residential schools. Saul is eventually captured and separated from his Ojibway roots. The schools try to break the spirit of Indigenous students and destroy their connection to traditional ways of life. The students at St. Jerome's experience "hell on earth" and witness abuse in all forms at the hands of the people who are supposed to care for them.
A young priest arrives and appears to offer salvation in the form of hockey. Saul's vision and aptitude quickly gain him recognition and praise. Saul's talent takes him away from the school and the book follows his journey through the ranks of the minor hockey system and his confrontation with virulent discrimination. As his frustrations grow, he begins his descent into alcohol abuse and eventually ends up at the treatment center. Along the way, he discloses and shocking revelation and begins to process the ways it has affected him. Reading this book forces you to run the entire gamut of emotions alongside Saul.
This graphic novel is an unflinching and authentic look at the impacts of intergenerational trauma. The novel chronicles the lives of two brothers, Pete and Joey, as they navigate the perils of foster care, crime, and drug addiction. Pete is stuck in a vicious cycle of gang violence and his bouts of rage seem to cause more problems than they help. Powerful imagery and evocative dialogue are used throughout the novel to complement the emotionally charged narrative. Pete is frequently seen with a mask when he loses control, and his unbridled anger eventually causes him to end up in jail. Meanwhile, Joey winds up in foster care when his heroin-addicted mother relinquishes care.
The story is punctuated with information about historical trauma that Indigenous peoples have faced and the contemporary challenges it created. The author examines the power of culture, tradition, and connection in the rehabilitation and healing process.
Sign up for our YA Reads Newsletter
for more great recommendations
delivered to your inbox!
If I Ever Get Out of Here by Eric Gansworth
Lewis Blake is the only Native kid in the "brainiacs" class, and it's lonely. These kids don't know how to tease each other like his friends from the reservation. As Lewis haphazardly tries to maneuver between two worlds, he ends up ostracizing himself from the rest of the class. Before the start of seventh grade, he decides to cut his braid off in the hopes of fitting in and having a better year. When he learns that a new student is joining his class, he hopes for another Indian, but instead, he gets George Haddonfield. He's surprised to find that George is actually nice to him. Seemingly against the odds, the two develop a close friendship and Lewis realizes that despite their external differences, they have a lot in common, particularly a shared love of music.
As Lewis begins to spend time with George and his father at their home on the military base and realizes how starkly different their lives are. Poverty affects Lewis' thinking and experiences, and he begins to feel shameful about the dilapidated home he shares with his mom and Uncle on the reservation and fabricates excuses to keep George from visiting. What will happen when George sees the real him?
This memoir details Margaret Pokiak Fenton's experiences at a residential school in Northern Canada. It's supplemented with occasional illustrations and first-hand photos. Introduced to us by her Inuvialuit name of Olemaun, we learn of her eagerness to go to school as a child, despite protestations from her parents. Faced with her never-ending requests, her father relents and allows her to make the journey to school. Despite the oppressive environment and warning from her family, she is desperate to learn how to read. At the school, Olemaun (now known as Margaret), becomes a target for cruelty from a nun who she calls the Raven. Despite being persistently humiliated, she refuses to compromise her dignity. Even though her strong will draws the ire of the Raven, she is resilient. Eventually, Marget's ingenuity allows her to signal to her parents she wants to return home. After two years at the school, an uncomfortable reunion with her family causes Margaret to question her identity.
The memoir concludes with an exploration of how the schools were a form of cultural annihilation. A picture book version of her story titled When I Was Eight is also available for younger readers. Margaret and her daughter-in-law Christy have also written A Stranger at Home and Not My Girl, which details Margaret's experiences when she returned home.
Louise "Lou" Wolfe is aghast at her boyfriend Cam's racism. He disparages Native people and invalidates her feelings when she objects, so she decides to dump him over email. With the onset of her Senior year approaching, Lou decides her time would be better spent working with the school paper, the Hive. She is paired up with a new student, and possible love interest, Joey. As they start working together they find themselves immersed in the controversy over the school's production of The Wizard of Oz. The new drama director has used inclusive casting and focuses on choosing the most talented actors. This has resulted in a Black Dorothy, a Latinx Scarecrow, and an Indigenous Tin Man – who just so happens to be Lou's brother Hughie. In White, suburban Kansas that kind of diversity means outrage, and Parents Against Revisionist Theater is formed.
Prejudices bubble to the surface and hostility spreads in the community. Eventually resulting in vandalism, anonymous threats, and outward anger to all those involved in the play. Although Lou tries to protect her brother from divisiveness and racist sentiments, Hughie finds out the playwright was famously anti-Indigenous and has to process whether he should continue his involvement in the play. Throughout this narrative, the author effectively presents how Lou deals with continuous microaggressions as a young, Indigenous woman. And, how she and her family respond to subtle and explicit forms of racism in the community. Bonus points for Leitich Smith's mention of Eric Gansworth's If I Ever Get Out of Here.
Apple in the Middle by Dawn Quigley
This novel is a direct response to the lack of authentic texts written by Indigenous authors. As a teacher, Dawn Quigley read hundreds of YA novels but struggled to find books that accurately reflected the Indigenous experience. She wrote a poem called Arise, which called on Native people to stop letting non-Indigenous voices speak for them and inspired her journey of writing. In the book, Apple Starkington is raised by her White father and step-mother after her Indigenous mother dies. After a racist comment made to her grade school, she renounces her Indigenous roots and tries her hardest to look white. Pair that with her social awkwardness and her father's unwillingness to discuss her mother's family, she never really feels like she fits.
One summer, her father sends her to the Turtle Mountain Indian Reservation to visit her Indigenous relatives. Unfiltered and vulnerable, Apple learns about the dynamics of the reservations and what it means to be Indigenous. An incident at the end of the book challenges Apple to figure out how she can bridge both her worlds. Her search for belonging is a story that resonates with readers who have tried to figure out their place in the world.
Are you enjoying our recommendations
of Indigenous Literature for Secondary ELA?
Join the YA Cafe Podcast in our chat
about books on Radio Public.
This short but impactful graphic novel takes place in Winnipeg, a city that boasts the largest Indigenous population in Canada. Best friends Miikwan and Dez are two teenagers trying to negotiate life in the city, while also dealing with their inner turmoils. Despite their close friendship and their cultural bonds, both girls have experienced trauma in their lives. Miikwan is dealing with the grief of losing her mother and Dez worries about her sick kokum (grandmother) and the possibility of being separated from her by a government social worker. Both girls are haunted by the legacy of systemic violence against Indigenous peoples, particularly women and girls. Throughout the story, we see the powerful presence of female ancestors providing unseen support to the girls while dark, lurking creatures personify the ill intentions of the men who gawk at and approach them.
The story masterfully deals with the topic of Missing and Murdered Indigenous Women, Girls and Two-Spirit People (MMIWG2S) in an accessible and age-appropriate way. An afterword by the author provides additional information about MMIWG2S and suggestions for further reading. Bonus: In one of the first panels of the dynamic graphic novel, the author/illustrator also sneaks in a nod to A Girl Called Echo, a graphic novel by Indigenous author Katherena Vermette.
This unique graphic anthology explores the past, present, and imagined futures of Indigenous peoples. A phenomenal multiplicity of Indigenous writers and illustrators creates a powerful and poignant journey through history told from the perspective of Indigenous peoples. Preceding each piece is a timeline of events and an explanation from the author that allows for a flawless blend of storytelling and fact. Although each story can standalone, there is beauty and power in their interconnectedness. In the foreword, Alicia Elliot notes that Indigenous peoples have lived in a post-apocalyptic world since colonization swept across the land. Despite historical trauma and forced attempts to renounce culture, Indigenous voices and stories have persevered.
This trio of anthologies edited by Lisa Charleyboy and Mary Beth Leatherdale are all equally stunning and showcase the diversity and breadth of Indigenous voices. All three pieces belong in classrooms and libraries across North America.
#NotYourPrincess: Voices of Native American Women was released in 2017 and is devoted to championing Indigenous women and their experiences. This anthology was inspired by Beyonce's Lemonade album and her ability to craft the story of contemporary black women, their history, how they were affected by colonization, and their impact in modern society. They hoped to emulate a similar experience in a different form for Indigenous women. The dynamic collection is also sectioned into four parts: "the ties that bind us", "it could have been me", "i am not your princess" and "pathfinders." Each piece highlights the strength, resilience, and power of Indigenous women and invites repeated readings as an immersive experience. Young, Indigenous women will see themselves reflected in powerful and meaningful ways, and non-Indigenous readers will gain new insights and question their preconceived assumptions.
We featured #NotYourPrincess in our post about inclusive nonfiction for the classroom library.
Dreaming In Indian: Contemporary Native American Voices was released in 2014 with the intent of challenging stereotypes and dispelling the myth of a homogeneous Indigenous culture. While the book addresses tougher topics, it is also a celebration of Indigenous culture. The editors did a call out for youth submissions and received a wide variety of work from content creators across Turtle Island. They divide the book into four sections: "Roots," "Battles," "Medicines," and "Dreamcatchers" to suit the complexity of topics addressed. This eclectic and vibrant collection is a balance of highly visually appealing forms and text-based creations. The finished product is an emotionally resonant and dynamic package.
Urban Tribes: Native Americans in the City was released in 2015 with the aim of exploring how Indigenous peoples can retain their sense of cultural identity in an urban setting. This anthology promotes the understanding of contemporary Indigenous peoples and confronts the idea that they are a thing of the past and only exist in history books. More than 30 indigenous youth provided contributions in various forms. Similar to Dreaming In Indian, this anthology is organized into four sections: "Tribal Citizens", "Shattering Stereotypes", "Building Bridges", and "Native Renaissance." By structuring the text in this way, they're able to address everything from racism to relationship building and revitalization. The final result is a tool that can provide knowledge and facilitate understanding.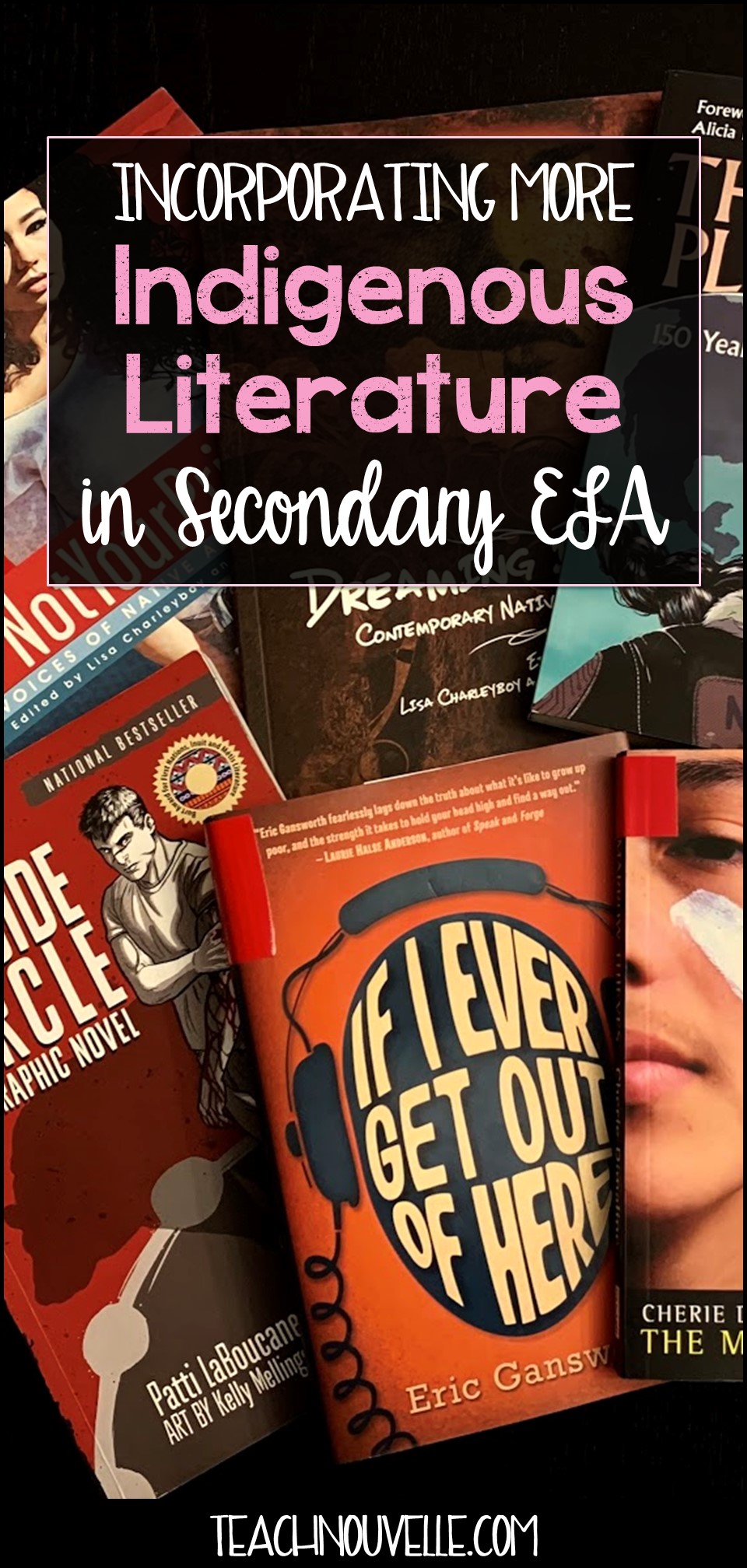 I hope you enjoyed Megan's favorite examples of Indigenous literature for Secondary ELA! She was also kind enough to share her HUGE Google spreadsheet of Indigenous literature. It's arranged by grade level, and highly searchable. Thanks, Megan for all your hard work!
Do you have a favorite Indigenous book or author? What other ways are you celebrating Native American History Month? Comment below or reach out on IG, @nouvelle_ela to share what's happening in your classroom.