Our friend Courtney joins us to chat about A River of Royal Blood by Amanda Joy. It's perfect for fans of Children of Blood and Bone or Three Dark Crowns! (Transcript)

In today's episode…
A River of Royal Blood tells the story of two rival princesses, Eva and Isadore, in a land of magic and mystery. Eva, our POV character, has always known that when she comes of age, she and her sister will fight to the death for the crown. Even though she wants to rule and be a good queen, Eva has never believed she'd have a chance because she's never been able to use her magic of Blood and Marrow. It's a terrifying magic with a sinister past, and Eva's father could never find someone to teach her. When a mentor finds her, Eva's given the opportunity to develop her magical skill and perhaps defeat her sister after all.
These Show Notes use Amazon Affiliate Links for your convenience.
If you decide to purchase this book, please consider doing so through our affiliate links.
Your support makes this podcast possible.
Episode highlights…
Spoiler-Free
*3:43 We are fired up for the rest of this series!
*5:08 We were expecting this to be split POV
*7:56 Comparing Eva to Amari from Children of Blood and Bone
Things We Like a Latte
Danielle – Carmen Sandiego on Netflix
Courtney – Michael B. Jordan for three reasons: Raising Dion on Netflix, his new line of Coach handbags inspired by Naruto, and his upcoming film adaptation of Kingdom of Souls by Rena Barron
Amanda – Untitled Goose Game
COMING UP NEXT TIME: SICK KIDS IN LOVE BY HANNAH MOSKOWITZ
PRE-ORDER YOUR COPY TODAY!
Spoiler-Informed 
*15:32 Arguing about which book is more violent, this one or Red Queen by Victoria Aveyard
*1838 Isadore, and the sisters' relationship
*22:18 The twist!
Want book recommendations delivered to your inbox?
Sign up for the YA Reads Monthly Newsletter!
More ideas and resources for teachers and librarians…
Like we said at the beginning of the post, this book is PERFECT for fans of Children of Blood and Bone by Tomi Adeyemi (which we featured in episode #9 of the podcast), and the Three Dark Crowns series by Kendare Blake. If you're looking to add to your #tbr or your classroom library you can also check out our big list of inclusive YA Sci-Fi and Fantasy recommendations.
We really appreciated how Eva's character in A River of Royal Blood was aware of her privilege, and how she was using her power and magic to enact change in her kingdom. In a recent interview with Frolic, Amanda Joy reflected on the changing literary landscape of YA, saying "Our teen readers are in the midst of recognizing their own power and long to see characters that are just as empowered. We also live in a time where there's lots of disappointment with our systems of power and it's gratifying to read about characters breaking down oppression in a fantasy world."
We can't wait to read more about Eva's journey of empowerment in book two!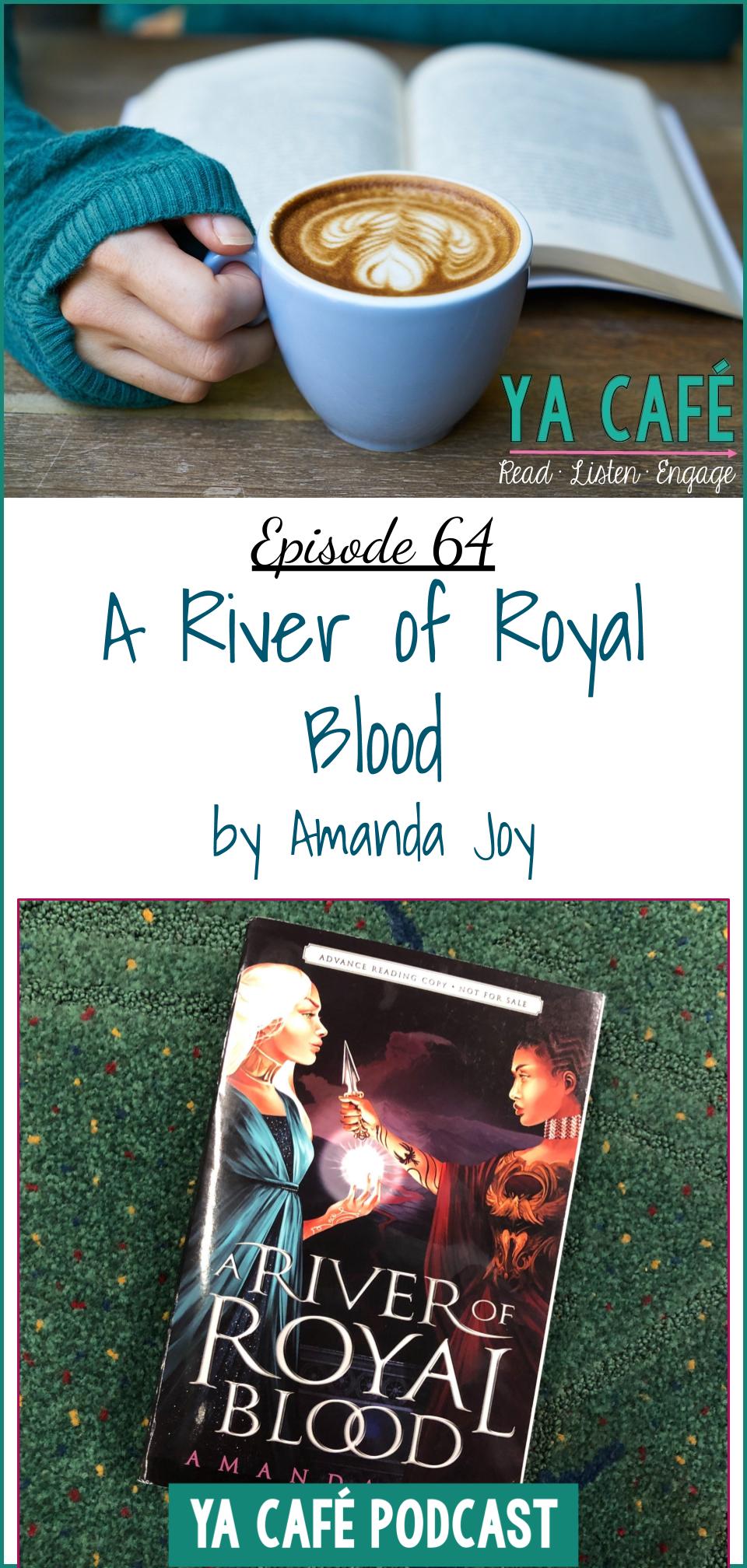 Get in touch with us on Instagram and Twitter at @yacafepodcast or email us at yacafepodcast@gmail.com. We look forward to hearing from you!
Credits…
Hosts: Danielle Hall (who blogs at teachnouvelle.com)
          & Amanda Thrasher (a booklover extraordinaire)
Guest: Courtney, find her on IG @coco_chasing_adventures
Producer: Leila Hobbs
Music: Matt McCammon
Thank you to Putnam Books for Young Readers for the ARC!