Many students adore fantasy and sci-fi, but most of our class novel choices are contemporary or historical fiction. Here are some great titles you can add to your classroom library to make sure you're providing students with well-rounded choices. These diverse ya fantasy and sci-fi novels also feature authors and protagonists from a range of backgrounds and identities.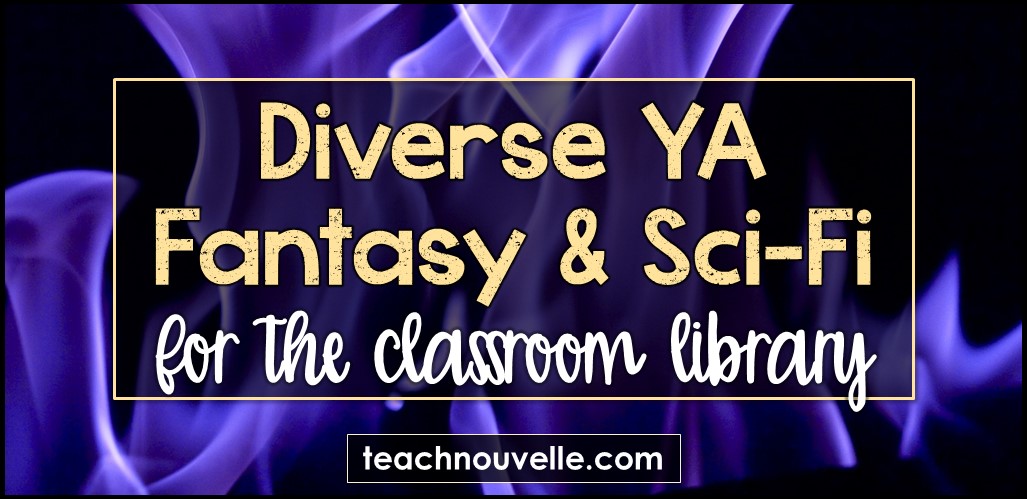 Diverse YA Fantasy & Sci-Fi
1. The Belles by Dhonielle Clayton
Camellia Beauregard is a Belle, a giver of beauty in the gray world of Orleans. Only sessions with Belles can transform the citizens into anything work looking at – if they can pay for it. Simply being a Belle isn't enough for Camellia; she also wants to be chosen as the Queen's Favorite. But when she arrives at Court, Camellia begins to unravel the sinister secrets lurking just beneath the smiling masks. Can she stay true to her dreams while keeping herself safe? Or is it time to forge a new outlook?
This opulent dystopian fantasy will appeal to fans of Matched and The Uglies. (MS/HS)

After seventeen-year-old Felicita's dearest friend, Ilven, kills herself to escape an arranged marriage, Felicita chooses freedom over privilege. She fakes her own death and leaves her sheltered life as one of Pelimburg's magical elite behind. Living in the slums, scrubbing dishes for a living, she falls for charismatic Dash while also becoming fascinated with vampire Jannik. Then something shocking washes up on the beach: Ilven's death has called out of the sea a dangerous, wild magic. Felicita must decide whether her loyalties lie with the family she abandoned . . . or with those who would twist this dark power to destroy Pelimburg's caste system, and the whole city along with it.
Okay, so I used the summary above from Goodreads. Why? Because I've read this book a half dozen times. I love it so much that there's no way I could write just one paragraph about it (or even three or four). This book is lush like a fairy tale, but dark like a dystopian stretched across a South-African-inspired setting. It is grungy and gritty with an imperfect love-hate interest with poor communication skills. It's sweeping and beautiful with sweet moments that stick with you forever. Anyway, I strongly recommend this book as a choice for your classroom library unlike anything your students have read before. You can also read my interview with Cat Hellisen here. (HS)

Born under a horoscope promising a marriage of death and destruction, Maya has grown up cast to the side of her father's court. When her father, the Raja, arranges her marriage to Amar to quell rebellion, Maya finds a life she never dreamed of. She is now queen of a realm with mysterious locked doors, tight-lipped servants, and a tree that only bears memories. Can Maya unravel an ancient mystery and save the man she's coming to care for?
This is a lush fantasy that reads like a fairy tale. Perfect for fans of Cruel Beauty by Rosamund Hodge or Wintersong by S. Jae-Jones. (HS)
This blog uses affiliate links for your convenience.
If you decide to purchase recommended gifts or books, please consider doing so through our affiliate links (at no additional cost to you).
Your support makes our podcast, The YA Cafe, possible.

Fifteen bestselling and acclaimed authors reimagine the folklore and mythology of East and South Asia in short stories that are by turns enchanting, heartbreaking, romantic, and passionate. This short story collection is the perfect way to engage students who love folklore and mythology. Even though these stories have classic roots, the plots and characters have been reimagined. Sometimes, characters are aided by modern technology or the stories have been moved to a new setting (like space!). These are true reimaginings by some of today's most popular authors. Students will love what they read and inspired to craft their own reimaginings. (MS/HS)

Mari's world is split into two kinds of people—magical creatures and spirits called Yokai, and the humans who oppress and enslave them. Although she is a yokai, Mari has trained her whole life to conquer the four seasons and become the empress, hiding her identity. But leaving her safe mountain town for the capital city has shown her how harsh life truly is for the other yokai, and the prince shows a tenderness that gives her hope for the future. Can Mari conquer the seasons, and if she does, can she betray the prince she's come to care for?
This is a great pick for students who enjoy action-packed books like The Hunger Games, but want a bit more of a fantasy vibe. We featured this book on episode 33 of the YA Cafe Podcast. (MS/HS)

6. Mirage by Somaiya Daud
Eighteen-year-old Amani has grown up on a poor moon under the rule of an oppressive empire. She dreams of a life where she and her family can safely farm and barter for what they need to survive, and maybe even have a little leisure time left to read her precious poetry. But when Amani is kidnapped and taken to the Royal Palace, she learns she must act as the body double for the cruel princess and put her very life on the line for a regime that seeks to wipe out her culture.
This is a book of court intrigue, rich prose, and a connection to spirituality and tradition. I have previously reviewed it on my blog, and we were lucky enough to chat with Somaiya Daud on episode 46 of the YA Cafe Podcast. (HS)

In Girls Made of Snow and Glass, two stories intertwine. We watch Mina, an ambitious young girl, strive to gain acceptance at court. Her magician father expects her to use her beauty to get a good marriage for herself, but he insists that no one will ever love her nor can she love anyone. The reason? He created her heart out of glass. Still, she doesn't need love – just a crown and adoration.
In another time, fifteen-year-old Lynet climbs trees and spies on people. Her father treats her as a delicate bird, but she'd much rather go out hunting and on adventures. The only person who truly understands her is her stepmother, Mina. Lynet has loved Mina since the moment she met her at two-years-old and has always considered her more of a mother than the one she never met.
But Lynet's fifteen now, and her father expects her to behave like a future queen. For Lynet to realize his hopes for her, she'll have to displace Mina and forsake their love and friendship. If only one of them can be queen, how can Lynet ever make Mina and her father happy? And how does her happiness fit into the equation?
This is way more than a feminist reimagining of Snow White: it's a bold story of women, power, and family. You can also read my full review here. (HS)

Z Chilworth lost their whole family in a car crash, but for some reason, they survived. Kind of. Now, they're a zombie, trying to make their way in a society that hates them. When they meet Aysel, Z finally senses a kindred spirit. Aysel knows what it's like to be misunderstood and cast out – she's hiding her status as an unregistered werewolf. When a local psychiatrist is murdered and the blame falls on werewolves, the town becomes even more hostile to monsters and witches. Can Z and Aysel unravel the mystery before the anger turns on them?
This paranormal romp is set in an alternate-reality 90's. It has excellent LGBTQ+ representation that is central to the story, but not actually the whole plot. Instead, we get to see queer kids be heroes in their own action stories! Woo-hoo! (MS/HS)
Need something else? You can find ALL my recommendation lists for inclusive classroom materials here. Poems, novels, TED talks, short stories, and so much more!

In every generation on the island of Fennbirn, three queens are born, but only one can keep the crown. The sisters grow up, knowing that on their sixteenth birthday, the battle for the crown (and their lives!) begins. This dark fantasy pits violent magic and merciless cunning against each other as the sisters face the culturally-ingrained battle royale. There is romance and intrigue and a lot of action.
Ever since hearing Kendare speak at #PDXBookFest, I've been absolutely captivated by the idea of this story. Also, teens lined up to ask her questions about the rich mythology she created. I know your high schoolers will also love this book! (HS)

Everyone in the universe knows his name. Everyone in the universe fears him. But no one realizes that notorious outlaw Ia Cocha is a seventeen-year-old girl. When Ia gets caught, she is conscripted to join the Commonwealth's military academy and use her talents as a pilot to work for the very government that destroyed her home. When the young Flight Master Knives is tasked to watch over it, it seems like all her hopes of escape are gone. Infamous for getting out of tricky situations and close calls, will Ia be able to escape her tightest bind yet?
This sci-fi is jam-packed with action! Great choice for students who loved Divergent. (HS)

By day, Alice is your average Atlanta high school student, juggling school, friends, and an overprotective mom. By night, she trains and fights Nightmares in the dark dream world of Wonderland. When her mentor is poisoned, Alice will have to travel deep within Wonderland to save him. Can she use everything she's learned in both lives to help her find the antidote, save her mentor, and escape with her head intact?
An urban fantasy reimagining of the classic tale. (HS)

12. Blanca & Roja by Anna-Marie McLemore
Blanca & Roja is a twist on the classic fairytale, Snow White and Rose Red, and shares the tale of a family under a curse. Unto each generation will be born two sisters, and at their coming of age, one of them will be turned into a swan. Blanca is the older, gentler, sweet sister, and Roja is a bit rougher around the edges. The girls must work through a curse that tries to pit them against one another, reaching through the thorns to hold on to their love for each other.
We discussed this fairy-tale reimagining on episode 30 of the YA Cafe Podcast. Students will love the romance and adventure of this novel. (MS/HS)
Sign up for our YA Reads Newsletter
for more great recommendations
delivered to your inbox!
In Tomi Adeyemi's debut novel, Children of Blood and Bone, we meet Zélie, who was only five years old when King Saran ordered the Raid that wiped out the maji and killed her mother. Now, Zélie has a chance to bring magic back to all of Orïsha and strike at the monarchy, and realize the power flowing through her own veins.
We featured this book on the YA Cafe Podcast, episode 9. (HS)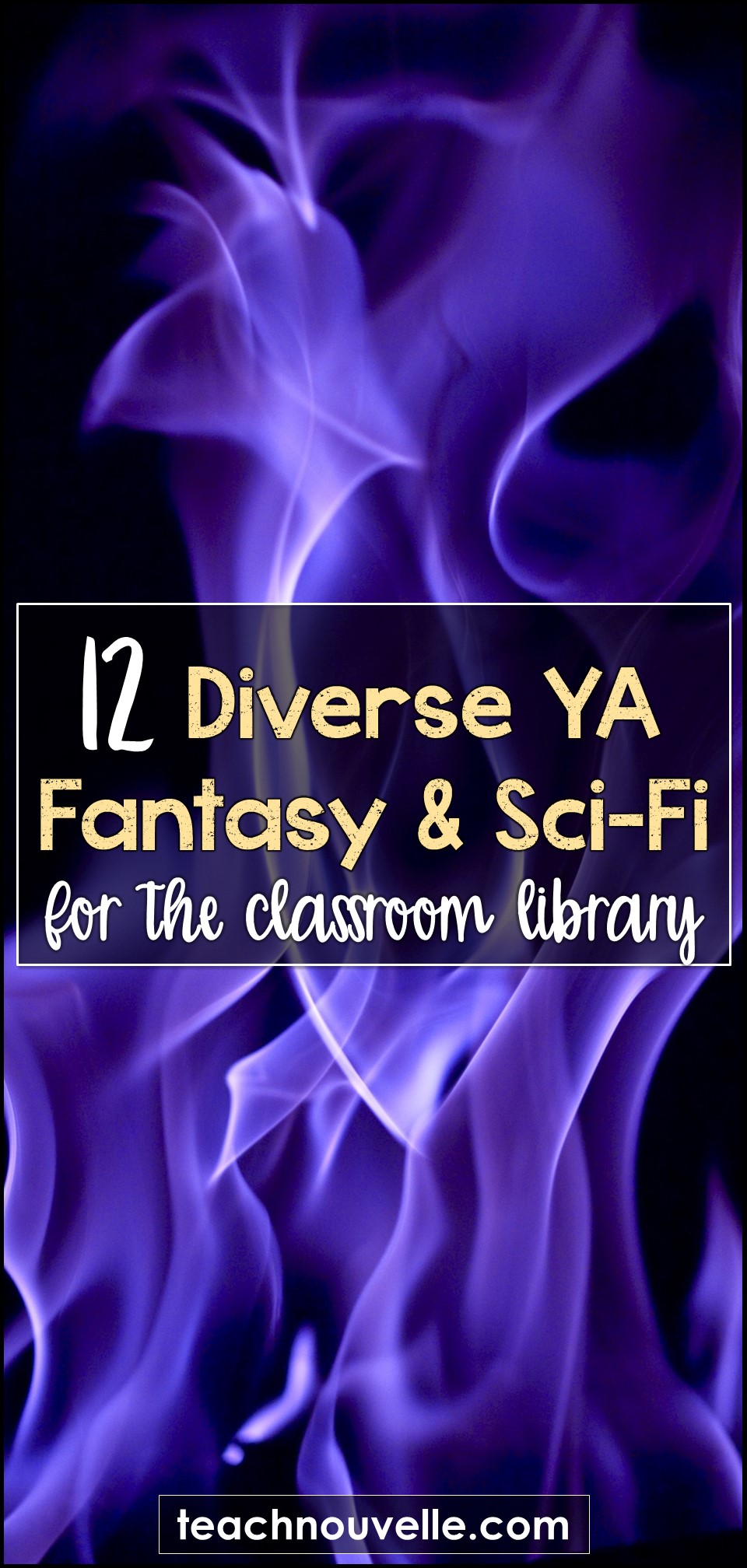 In addition to creating well-rounded readers, it's important to add diverse YA fantasy and sci-fi books to your classroom library shelves so that students see a range of protagonists facing adventure head-on! This helps build confidence and empathy and empowers the next generation.
Happy teaching!