Anna-Marie McLemore's Blanca & Roja is a twist on an old tale: two sisters challenge the story they've been told, and the roles they've been given. (Transcript)

In today's episode…
Blanca & Roja
is a twist on the classic fairytale, Snow White and Rose Red, and shares the tale of a family under a curse. Unto each generation will be born two sisters, and at their coming of age, one of them will be turned into a swan. Blanca is the older, gentler, sweet sister, and Roja is a bit rougher around the edges. The girls must work through a curse that tries to pit them against one another, reaching through the thorns to hold on to their love for each other.
We have discussed McLemore's work on the show before – her story Glamor appeared in the Radical Element anthology discussed in episode 6 and we were obsessed! Her story Love Spell appeared in the Toil & Trouble anthology discussed in episode 28.
Our guest today is Jeimy Gonzalez, an English teacher in Florida. Jeimy also joined us in episode 4, our Book vs. Movie episode about Love, Simon and Simon vs. the Homo-Sapiens Agenda.
These Show Notes use Amazon Affiliate Links for your convenience.
If you decide to purchase this book, please consider doing so through our affiliate links.
Your support makes this podcast possible.
Episode highlights…
Spoiler-Free
*3:54 Does this book fit into the magical realism genre? We have feelings.
*7:33 We chat about this books' vague sense of time and place, and how that influenced the story.
*9:43 This book has a very unique voice on gender identity – how the author's personal life may have shaped that.
*11:50 Colorism and 'passing', in this story and the author's other works.
Things We Like A Latte
Danielle – Ignite the Stars by Maura Milan 
Jeimy – An Absolutely Remarkable Thing by Hank Green
Amanda – Wicked Girls Saving Ourselves by Seanan McGuire (song)
COMING UP NEXT WEEK: The Hate U Give
 by Angie Thomas
A very special book vs. movie episode.
Pre-order your copy today!
Spoiler-Informed
*19:48 The recurring theme of "light vs. dark".
*23:09 We dig deeper into the other two narrative voices, Page & Yearling/Barclay.
*26:15 The Mary's vs. The Mary Magdalene's, how the characters in this book subvert fairy tale norms.
Want book recommendations delivered to your inbox?
Sign up for the YA Reads Monthly Newsletter!
More ideas and resources for teachers and librarians…
We think retellings are a great way to use something familiar to introduce new ideas, and Blanca & Roja has a unique writing style which will challenge and (hopefully) fascinate students. Another favorite that we featured on the podcast is Betsy Cornwell's The Forest Queen (ep 25), which is a genderswapped Robin Hood with a focus on social justice.
And if your students aren't falling in love with fairy tales? Never fear! Danielle has some great tips on how to recommend books to students, and help them to find something that they truly enjoy.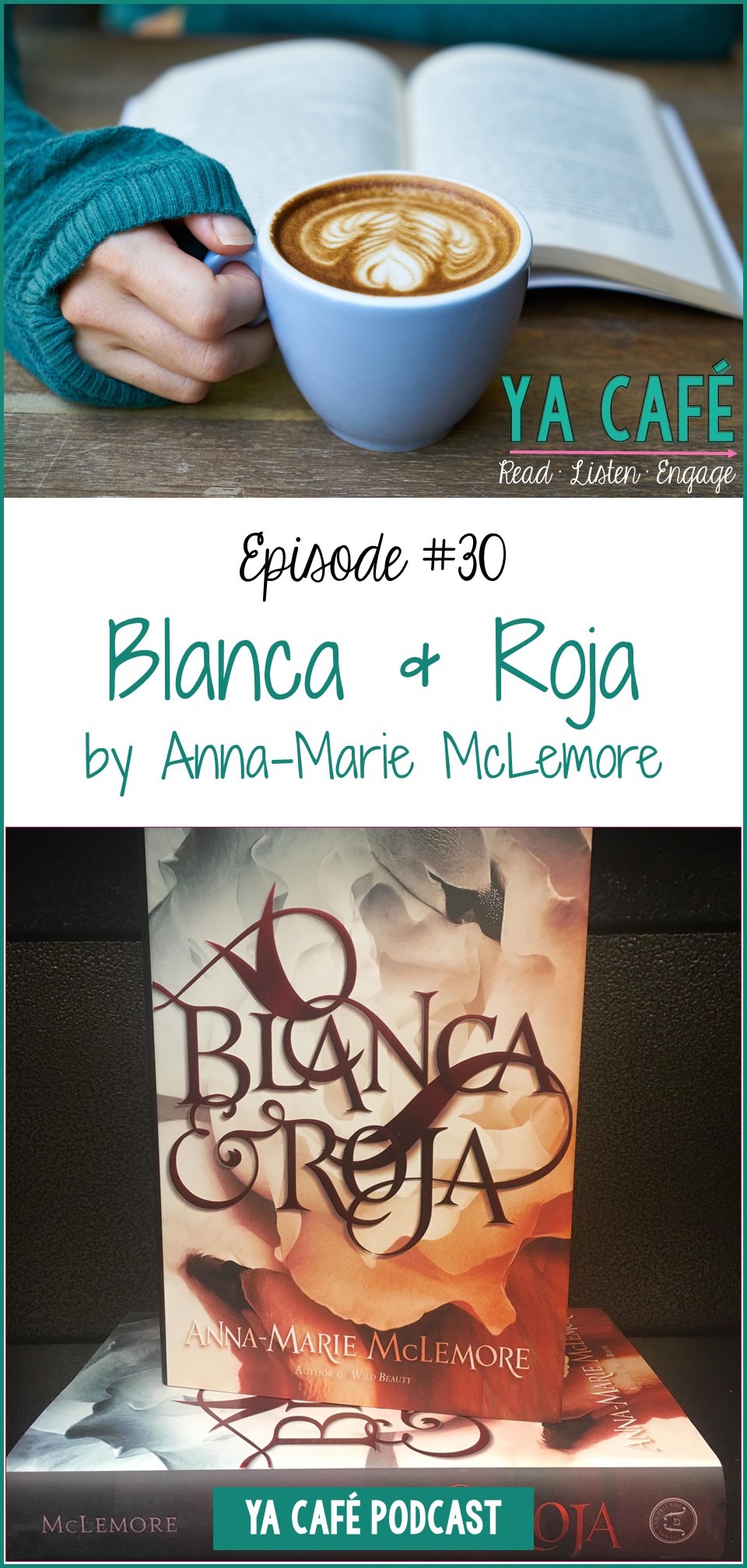 Get in touch with us on Instagram and Twitter at @yacafepodcast or email us at yacafepodcast@gmail.com. We look forward to hearing from you!
Credits…
Hosts: Danielle Hall (who blogs at teachnouvelle.com)
          & Amanda Thrasher (a booklover extraordinaire)
Guests: Jeimy Gonzalez, teacher
Producer: Leila Hobbs
Music: Matt McCammon
Thank you to Macmillan Publishing for the ARC!