Welcome to our new podcast, The YA Cafe, where you'll find conversations and reviews about Young Adult books for teachers, readers, and caffeine addicts everywhere. The YA Cafe is a round-table discussion of a new YA title each week. Our show is roughly split in half, with the first half being spoiler-free. Even if you haven't read the book, you can hang out with us and decide if this new title is for you. Although we read a bit of everything, we especially love novels with a diverse cast of characters.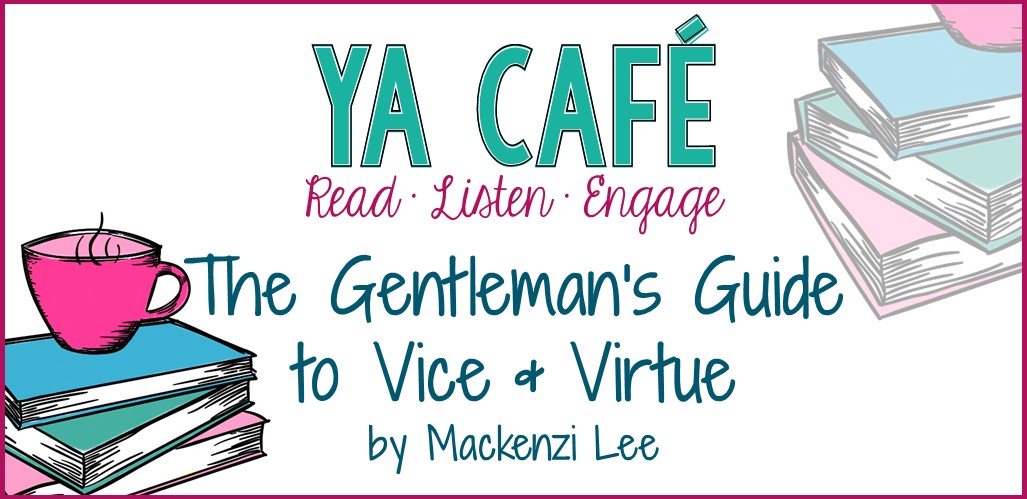 In today's episode…
The Gentleman's Guide to Vice and Virtue
by Mackenzi Lee presents a few months in the life of Henry Montague, our first-person narrator we grow to know as Monty. Monty, a consummate rake and rebel, embarks on his Grand Tour of Europe to get out all of his boyish tendencies before returning home to learn how to run his father's estate. Along on the tour are his best friend Percy and his younger sister, Felicity. Monty's biggest hope for his Tour is to act a bit on his impossible crush on Percy, and indulge in some drinking, gambling, and escaping along the way. This book has it all: highwaymen, pirates, and girls reading books.
We'll talk characterization, narrative voice, feminism in historical fiction, and the representations of race and sexuality in this novel. And of course, we'll talk about pirates.
These Show Notes use Amazon Affiliate Links for your convenience.
If you decide to purchase this book, please consider doing so through our affiliate links.
Your support makes this podcast possible.
Episode highlights…
Spoiler-Free
*2:40 – Monty's narrative voice
*4:10 – A look at Felicity's role and opportunities in the novel.
*5:55 – Representations of race in the novel.
Things We Like a Latte: Harry Potter Yoga & Crazy Ex-Girlfriend
Spoiler-Informed
*12:10 – Monty begins to see the world outside of himself.
*16:55 – The epic bank scene & some helpful flirting.
Want book recommendations delivered to your inbox?
Sign up for the YA Reads Monthly Newsletter!
More ideas and resources for teachers and librarians…
One of the things we talk about while discussing The Gentleman's Guide is how Felicity has a life outside of Monty's perspective. We imagine what the next book (which follows Felicity) will be like. This is all part of Creative Reading. If you want to teach your students how to read creatively and imagine the different ways an author could have written a scene or a character, check out these Creative Reading Task Cards.
We also covered the much anticipated sequel, The Lady's Guide to Petticoats and Piracy, in episode 29 🙂
Get in touch with us on Instagram and Twitter at @yacafepodcast or email us at yacafepodcast@gmail.com. We look forward to hearing from you!
Credits…
Hosts: Danielle Hall (who blogs at teachnouvelle.com)
             & Amanda Thrasher (a booklover extraordinaire)
Producer: Leila Hobbs
Music: Matt McCammon