Do you struggle to get students interested in nonfiction? Keep pushing! Fostering a love of reading nonfiction books can help students become lifelong learners. If you're looking for engaging, inclusive nonfiction for your secondary ELA classroom, look no further! This list has a little bit of everything from memoirs to history.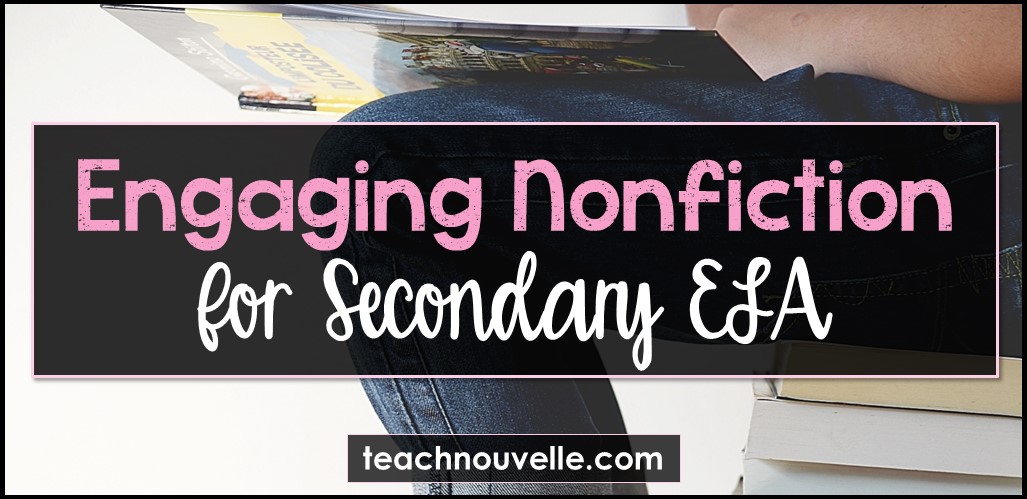 I have compiled tons of recommendation lists that focus on novels, but I know that sometimes the biggest struggle can be finding nonfiction titles for secondary ELA. I hear you, and I'm here to help! 🙂 The list is broken down by genre to help you peruse, and I hope you enjoy it!
Engaging Nonfiction for Secondary ELA:
Memoirs: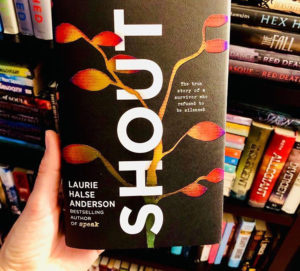 Shout by Laurie Halse Anderson 
Twenty years after her groundbreaking novel, Speak, Anderson has given us Shout, her memoir. A longstanding advocate for victims of sexual assault, she bravely shares her own trauma with the reader. Told all in beautiful free verse, it's part reflection, part call to action, and 100% a great addition to your high-school classroom library.
Although its might be hard to imagine that it could happen to one of your students, teen girls between the ages of 16 and 19 are 4 times more likely to be sexually assaulted than a member of the general population. RAINN's statistics show that among children under 18, 1 out of 53 boys and 1 out of 9 girls are victims of sexual assault. As a teacher, you can help your students feel empowered and understood by including books like Speak and Shout in your classroom library.
I Am Malala by Malala Yousafzai and Christina Lamb
By now you are probably familiar with her name and her story, but if not I'll include the description from Goodreads below:
"When the Taliban took control of the Swat Valley in Pakistan, one girl spoke out. Malala Yousafzai refused to be silenced and fought for her right to an education.
On Tuesday, October 9, 2012, when she was fifteen, she almost paid the ultimate price. She was shot in the head at point-blank range while riding the bus home from school, and few expected her to survive.
Instead, Malala's miraculous recovery has taken her on an extraordinary journey from a remote valley in northern Pakistan to the halls of the United Nations in New York. At sixteen, she has become a global symbol of peaceful protest and the youngest nominee ever for the Nobel Peace Prize.
I AM MALALA will make you believe in the power of one person's voice to inspire change in the world."
There is also a Young Readers edition of the book, by Yousafzai and Patricia McCormick which might be a better choice for middle-school classroom libraries, or reluctant readers.
Being Jazz by Jazz Jennings
Jazz Jennings's activism has kept her in the spotlight for most of her life. At 7 she was interviewed by Barbara Walters and since then she's had her own reality TV series, a YouTube channel, and much more!
Her memoir reflects her experiences growing up as a trans girl. Her parents were always accepting of her, but she still faced a lot of obstacles. She shares many experiences of bullying and discrimination from adults and her peers.
Jennings also wrote a lovely illustrated version of her memoir called, I Am Jazz, geared toward kindergarten and elementary schooler's.
Some Assembly Required: The Not-So-Secret Life of a Transgender Teen by Arin Andrews
Similar to Being Jazz, this is also a memoir by a transgender teen. But Arin's experiences are uniquely his own. Providing more than one perspective is vital for giving adequate representation. Students need to hear more than one story! Trans people are not monolithic, and while their experiences may have similarities, they are not the same.
A recent study by the CDC shows that almost 2% of high school students identify as transgender, and troublingly 35% of those students attempted suicide in the past year. As a teacher, you can make your students feel safe and accepted. Providing inclusive classroom library choices is a great first step. The Trevor Project has free resources for middle and high school teachers looking to help make their schools and classrooms a safe space for all LGBTQ+ individuals.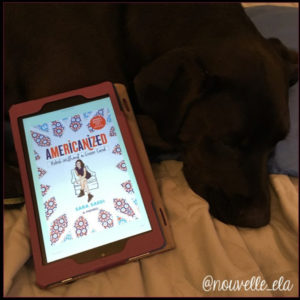 Americanized: Rebel Without a Green Card by Sara Saedi
"At thirteen, bright-eyed, straight-A student Sara Saedi uncovered a terrible family secret: she was breaking the law simply by living in the United States. Only two years old when her parents fled Iran, she didn't learn of her undocumented status until her older sister wanted to apply for an after-school job, but couldn't because she didn't have a Social Security number." (Description from Goodreads). 
This memoir is fun, heartfelt, and honest. Check out my longer review up on my blog 🙂
This blog uses affiliate links for your convenience.
If you decide to purchase recommended gifts or books, please consider doing so through our affiliate links (at no additional cost to you).
Your support makes our podcast, The YA Cafe, possible.
Nonfiction with a Social Justice Focus:
Lies My Teacher Told Me by James Loewen (Young Readers edition adapted by Rebecca Stefoff)
I am so happy that Stefoff adapted this incredible book for YA readers! I read the original by James Loewen and was floored at how much misinformation I was still carrying around from teachers, textbooks, and our culture in general. This book covers people and events from the 1400s to today, and it will be eye opening for students and adults alike.
Stamped: Racism, Antiracism, and You: A Remix of the National Book Award-winning "Stamped from the Beginning" by Jason Reynolds and Ibram X. Kendi
Best-selling YA author Jason Reynolds is adapting the incredible Stamped from the Beginning by Ibram X. Kendi for a YA audience, and I am SO excited. The original is an incredible collection of information, but very dense. I can't wait to see how Reynolds works his magic to make this text more accessible. Books are vital tools for disrupting white supremacy, and as teachers we can empower our students with the knowledge to fight injustice.
This book releases March 10th 2020. Pre-order your copy today!
Nonfiction for STEM: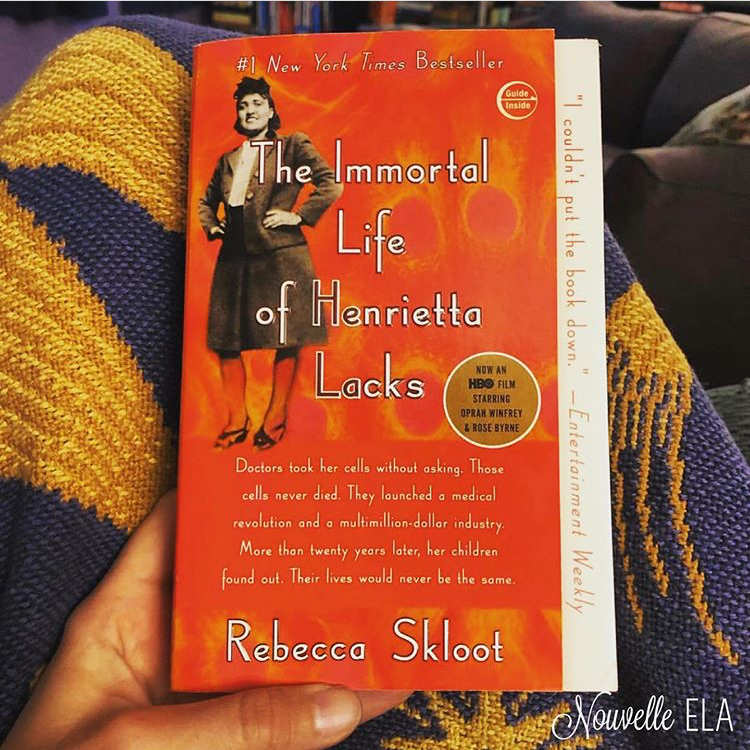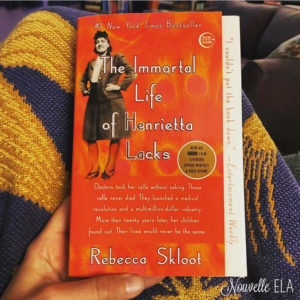 The Immortal Life of Henrietta Lacks by Rebecca Skloot 
Although her name is unknown to most Americans, Henrietta Lacks' contribution to science has benefited us all. Without her knowledge or consent, Doctors took cervical cells from Lacks and began to experiment on them. "HeLa cells were vital for developing the polio vaccine; uncovered secrets of cancer, viruses, and the atom bomb's effects; helped lead to important advances like in vitro fertilization, cloning, and gene mapping; and have been bought and sold by the billions." (From Goodreads).
While it covers the incredible scientific advances made possible by the HeLa cells, this book focuses on telling Lacks' and her family's story. Because the doctors and scientists were acting without informed consent, this book provides a unique perspective on medical and scientific ethics.
Collections of Short Nonfiction:
Open Mic: Riffs on Life Between Cultures in Ten Voices edited by Mitali Perkins
It's so rare to find nonfiction that is laugh out loud funny! I think this book is an excellent choice because besides providing awesome, multi-cultural representation, it helps students to build empathy for their fellow students who may not look, or speak like them.
Remember, unless you are a Native American, you are an immigrant. It's vital for students to learn about immigration, especially in this hostile, politically charged climate we are living in. Be sure to check out my blog post on Sharing Immigrant Voices in ELA for more resources and book suggestions.
Looks Like Daylight by Deborah Ellis
To write this book, Ellis spent two years traveling across the US and Canada, talking to Native/First Nations children. The result is a breathtaking collection of 45 interviews.
"Many of these children are living with the legacy of the residential schools; many have lived through the cycle of foster care. Deborah briefly introduces each child and then steps back, letting the kids speak directly to the reader, talking about their daily lives, about the things that interest them, and about how being Native has affected who they are and how they see the world." (From from Goodreads).
It's so powerful for students to hear from kids their own age. Using this kind of nonfiction for secondary ELA allows students to broaden their horizons by hearing a point of view that is often ignored.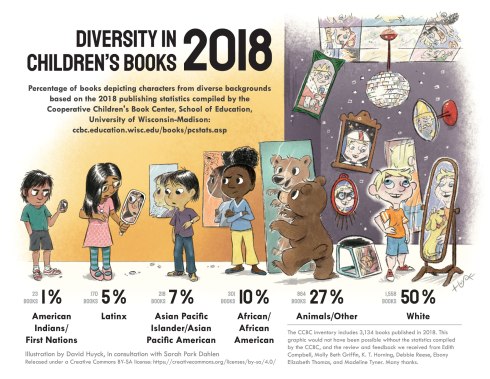 (Huyck, David and Sarah Park Dahlen. (2019 June 19). Diversity in Children's Books 2018. sarahpark.com blog. Created in consultation with Edith Campbell, Molly Beth Griffin, K. T. Horning, Debbie Reese, Ebony Elizabeth Thomas, and Madeline Tyner, with statistics compiled by the Cooperative Children's Book Center, School of Education, University of Wisconsin-Madison: http://ccbc.education.wisc.edu/books/pcstats.asp. Retrieved from https://readingspark.wordpress.com/2019/06/19/picture-this-diversity-in-childrens-books-2018-infographic/.)
#Notyourprincess: Voices of Native American Women by Lisa Charleyboy and Mary Beth Leatherdale
Hooray for #ownvoices! Native American stories are under-represented in publishing, and too often white authors are telling Native stories. This book is a collection of interviews, poems, essays, and art, all from Native American women.
If you are looking to include more books by Native American authors in your classroom library, we covered two great novels on the YA Cafe Podcast: Trail of Lightning by Rebecca Roanhorse and The Marrow Thieves by Cherie Dimaline
How I Resist edited by Maureen Johnson
How I Resist is an anthology of essays, poems, art, interviews, and short fiction all centered on activism. It isn't soley nonfiction, but it has a lot of nonfiction content. Editor Maureen Johnson calls it a "resistance book for teens". The contributor list is amazing! Each contributor finds their own unique way to answer the question, "how do you resist?"
We featured it on the YA Cafe Podcast in episode #16, with guest, teacher/activist Chris Peck. We chatted about some of our favorite selections from the book and shared our thoughts on how to incorporate it into the classroom. Listen for free!
Sign up for our YA Reads Newsletter
for more great recommendations
delivered to your inbox!
Historical Nonfiction:
Undefeated: Jim Thorpe and the Carlisle Indian School Football Team by Steve Sheinkin and Connie Hsu
It's always SO great to find books that engage those students who are more interested in playing sports than reading, isn't it? I think this book could be a great choice to pair with some additional nonfiction reading. While this book doesn't ignore the horrific treatment of students at the Carlisle Indian School, it also doesn't cover it in depth. The story's focus is on Jim Thorpe, and American football's development.
I think it would be great to contextualize this story by having students read about the history of the Carlisle Indian School.
And if you are looking for more YA books about sports, I've got you covered 🙂
Need something else? You can find ALL my recommendation lists for inclusive classroom materials here. Poems, novels, TED talks, short stories, and so much more!
Remember: The Journey to School Integration by Toni Morrison
This book is not 100% nonfiction, but I think it has a place on this list (and in your classroom library!). Woven in between incredible period photographs are Morrison's memories, and reflections on the journey from segregation to integration. I believe it's vital to humanize this era for our students, who may only be familiar with it from their textbooks. Reading Remember is a moving journey for teens and adults alike.
The Stonewall Riots: The Fight for LGBT Rights by Tristan Poehlmann
Pride: Celebrating Diversity and Community by Robin Stevenson
Queer Heroes: Meet 53 LGBTQ+ Heroes from Past and Present! by Arabelle Sicardi
Learn more about these three titles by visiting my post LGBTQ Books for Middle Grade. They would all be perfectly at home in a high school classroom library as well 🙂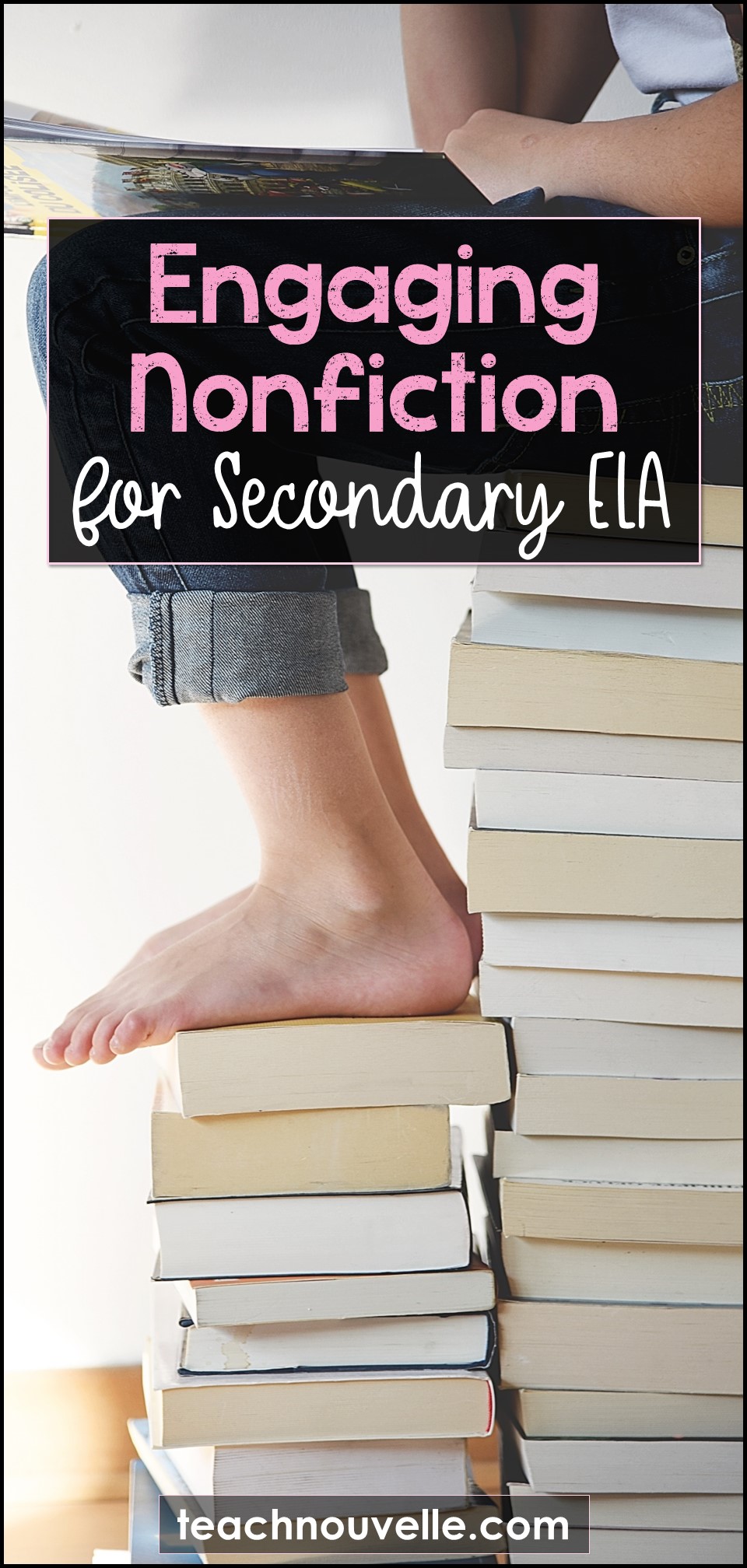 Students may have the misconception that nonfiction is "boring", but this list will help you change their minds! What titles do YOU recommend when it comes to nonfiction for secondary ELA? I'd love to hear your favorites, comment below or reach out to me on IG @nouvelle_ela.