Teaching about immigration can be intimidating for a someone without personal experience, but it's an important topic to tackle with our students. Learning about immigration stories builds empathy and a desire to be a catalyst for positive change. Here are some resources I've used in my classroom to spark conversations.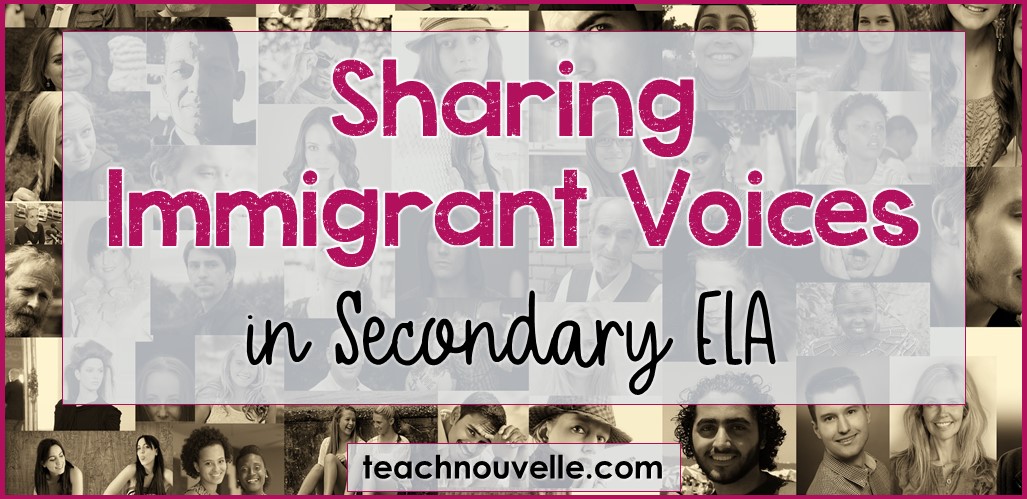 This post uses affiliate links. This doesn't affect the price of your purchase, but Amazon
does give us a small kickback. We use this money to maintain
our site and produce our podcast. Thank you for your support!
15 Resources for Teaching about Immigration
Articles about Immigration:
The Impossible Choice My Father Had to Make (The New York Times)
"Before we blame these parents for the situation their families are in, we should think about how they got there in the first place." In this opinion piece, Reyna Grande argues for a wider consideration of why immigrants make the tough choice to cross borders illegally. Grande's memoir is called The Distance Between Us, and you could excerpt this for students as well.
Actress Diane Guerrero Recounts Her Family's Deportation Ordeal (The New York Times)
In this book review of actress Diane Guerrero's new book, My Family Divided, critic Concepción de León considers the careful balance between applauding childhood resiliency and mourning it. This is a pretty layered article, but you could also have students read snippets of Guerrero's new book to develop a deeper understanding of her story.
YA Fiction about Immigration
According to my papers, I'm not even supposed to be here. I'm not a citizen. I'm a "resident alien." The borders don't care if we're all human and my heart pumps blood the same as everyone else's.
American Street is an #ownvoices book about a Haitian immigrant seeking a better life in America – une belle vie. This is a great book for talking about The American Dream with students, and how that idealogy is formed. What sacrifices do people make? What are their expectations vs. the reality?
This is a work of fiction, but there's a lot here.
 (from Goodreads) "One moment changed their lives forever.
A band plays, glasses clink, and four teens sneak into the Mexican desert, the hum of celebration receding behind them.
Crack. Crack. Not fireworks–gunshots. The music stops. And Pato, Arbo, Marcos, and Gladys are powerless as the lives they once knew are taken from them.
Then they are seen by the gunmen. They run. Except they have nowhere to go. The narcos responsible for their families' murders have put out a reward for the teens' capture. Staying in Mexico is certain death, but attempting to cross the border through an unforgiving desert may be as deadly as the secrets they are trying to escape…"
This is a YA thriller that will captivate and astound.
The Dangerous Art of Blending In by Angelo Surmelis
(Trigger warning for domestic abuse) "Seventeen-year-old Evan Panos doesn't know where he fits in. His strict Greek mother refuses to see him as anything but a disappointment. His quiet, workaholic father is a staunch believer in avoiding any kind of conflict. And his best friend Henry has somehow become distractingly attractive over the summer.
Tired, isolated, scared—Evan's only escape is drawing in an abandoned church that feels as lonely as he is. And, yes, he kissed one guy over the summer. But it's his best friend Henry who's now proving to be irresistible. It's Henry who suddenly seems interested in being more than friends. And it's Henry who makes him believe that he's more than his mother's harsh words and terrifying abuse. But as things with Henry heat up, and his mother's abuse escalates, Evan has to decide how to find his voice in a world where he has survived so long by avoiding attention at all costs."
Once again, this is a deeply personal #ownvoices book. This really shows the diversity of the immigrant experience, and highlights problems with the protections offered by our justice system.
Disappeared by Francisco X Stork
(from Goodreads) 
"Four months ago: Sara Zapata's best friend disappeared, kidnapped by the web of criminals who terrorize Juàrez.
Four weeks ago: Her brother, Emiliano, fell in love with Perla Rubi, a girl whose family is as rich as her name.
Four hours ago: Sara received a death threat…and her first clue her friend's location.
Four minutes ago: Emiliano was offered a way into Perla Rubi's world—if he betrays his own.
In the next four days, Sara and Emiliano will each face impossible choices, between life and justice, friends and family, truth and love. But when the criminals come after Sara, only one path remains for both the siblings: the way across the desert to the United States."
Love, Hate and Other Filters by Samira Ahmed
American-born Maya Aziz has the same concerns as any 17-year-old: school, boys, and going to the college of her dreams (NYU) to pursue her goal of becoming a filmmaker. Her Indian parents would prefer their daughter go to college closer to home (Chicago), and definitely would prefer her meet and marry a good Muslim boy. Tensions abound, but they know they can work through it, as a family. But when a hate crime is committed hundreds of miles away, the impact still reverberates close to home. How will this affect Maya's relationships? Her health? Her college plans? (read my full review & classroom applications here)
Picture Us in the Light by Kelly Loy Gilbert
At the beginning of Picture Us In The Light
, seventeen-year-old Danny receives news that he's been accepted into the Rhode Island School of Design. To anyone looking on, this seems like great news. Except that Danny has a huge secret – he hasn't been able to draw in a year. But even as Danny's struggling to overcome his own artist's block, some of his parents' secrets come to light and threaten to topple everything they've worked for. Danny must find a way to face the past in order to make room for his future. (listen to our episode about this book on the YA Cafe Podcast)
The Book of Unknown Americans by Cristina Henriquez
 (from Goodreads) "A dazzling, heartbreaking page-turner destined for breakout status: a novel that gives voice to millions of Americans as it tells the story of the love between a Panamanian boy and a Mexican girl: teenagers living in an apartment block of immigrant families like their own." This is a captivating work of fiction, so real that you'd think it was a memoir. The narrative is honest and rich, and it will definitely hook students!
YA Nonfiction for Teaching about Immigration
Denied, Detained, Deported: The Dark Side of American Immigration by Ann Bausum (nonfiction)
 Ann Bausum creates a bridge from the lessons of the past to the present with fascinating analysis of how our past has influenced modern events and current views on immigration.
This is a great choice to round out your study of immigration with students and make sure they're getting more than one narrative. Denied, Detained, and Deported is a collection of well-researched stories that show a darker side of the immigration experience. These aren't stories where hope paid off. These aren't stories with a happy ending. Moreover, Bausum works to show us how our history can shape our future.
Sign up for our YA Reads Newsletter
for more great recommendations
delivered to your inbox!
Someone Like Me: How One Undocumented Girl Fought for Her American Dream
by Julissa Arce
 This is another excellent choice for a memoir to add to your classroom library. Students will enjoy Arce's optimism and engaging narrative voice. This is a great choice for younger students, too.
Americanized: Rebel Without a Green Card by Sara Saedi (memoir)
(Goodreads description) "At thirteen, bright-eyed, straight-A student Sara Saedi uncovered a terrible family secret: she was breaking the law simply by living in the United States. Only two years old when her parents fled Iran, she didn't learn of her undocumented status until her older sister wanted to apply for an after-school job, but couldn't because she didn't have a Social Security number.
Fear of deportation kept Sara up at night, but it didn't keep her from being a teenager. She desperately wanted a green card, along with clear skin, her own car, and a boyfriend." (read my full review and classroom applications here)
TED Talks for Teaching about Immigration
Title: Hiding in Plain Sight by Leezia Dhalla | TEDx San Antonio
Duration: 10:14
In this talk, Leezia Dhalla delves into her personal experience as an undocumented American to explain why nearly 12 million immigrants choose to live in the United States without the social, economic, and legal protections afforded to documented residents. This is another personal story from an evocative speaker, and students will definitely listen up.
Immigrant Voices Make Democracy Stronger by Sayu Bhojwani | TEDx NYC
Duration: 12:43
This TED Talk is about the impact of immigrants running for political office. This is definitely a discussion-starter for the classroom! One of the most powerful things we can share with students is a real example of civic duty in action, and how change happens in government.
My Immigration Story by Le Tan | TEDx Womens2011
Duration: 12:16
This is another personal story from a very compelling speaker. She says, "And I realized, at the same time, that it is OK to be an outsider, a recent arrival,new on the scene — and not just OK, but something to be thankful for, perhaps a gift from the boat.Because being an insider can so easily mean collapsing the horizons, can so easily mean accepting the presumptions of your province." This is a really compelling discussion starter for students – what is more clearly seen from the outside? Additionally, what can immigrants share about the state of our systems?
Final Thoughts:
This is something students are clamoring for, and I get questions from teachers every day, asking for ideas for teaching immigration. These brave voices have shared their stories, and now it's time for us to pass them on to students.