This content has been archived. It may no longer be relevant
Books to Read, Love, and Share: Americanized by Sara Saedi
Description from Goodreads:
At thirteen, bright-eyed, straight-A student Sara Saedi uncovered a terrible family secret: she was breaking the law simply by living in the United States. Only two years old when her parents fled Iran, she didn't learn of her undocumented status until her older sister wanted to apply for an after-school job, but couldn't because she didn't have a Social Security number.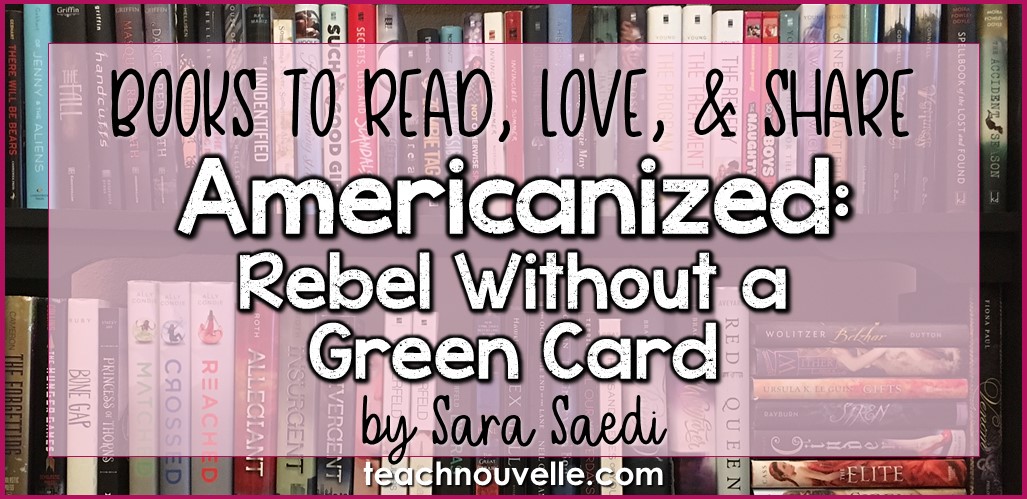 Fear of deportation kept Sara up at night, but it didn't keep her from being a teenager. She desperately wanted a green card, along with clear skin, her own car, and a boyfriend.
Americanized follows Sara's progress toward getting her green card, but that's only a portion of her experiences as an Iranian-"American" teenager. From discovering that her parents secretly divorced to facilitate her mother's green card application to learning how to tame her unibrow, Sara pivots from the terrifying prospect that she might be kicked out of the country at any time to the almost-as-terrifying possibility that she might be the only one of her friends without a date to the prom.
Thoughts & Classroom Applications
Americanized by Sara Saedi is upbeat, frank, and refreshing. Honestly, I think high school students will appreciate Saedi's candor about her own experiences as a teen. Her love of family shines as the through line in this autobiography.
I did find it initially strange that the author referenced 90's culture with ease and nostalgia, but also used current references and slang. Students will have to be truly culturally literate to understand more than half of the references – the book seems more geared towards 40-year-olds who live in both cultural worlds. In that regard, students may struggle.
You could easily choose chapters of this book to read as a model memoir. I thought the chapter on her parents' "divorce" was particularly charming, even though it depicted the very real lengths that some immigrants must go through to get along with the system.
If you'd like to purchase this book for your classroom, I'd love it if you could use this Amazon Affiliate link: Americanized: Rebel Without a Green Card
. I get a small kick back from each purchase that I use to maintain my website. 🙂
Happy teaching!