Looking for engaging and rigorous Halloween school activities for your Secondary ELA classroom? Look no further! These mini-lessons will build close reading skills, practice inferencing, and get students thinking creatively.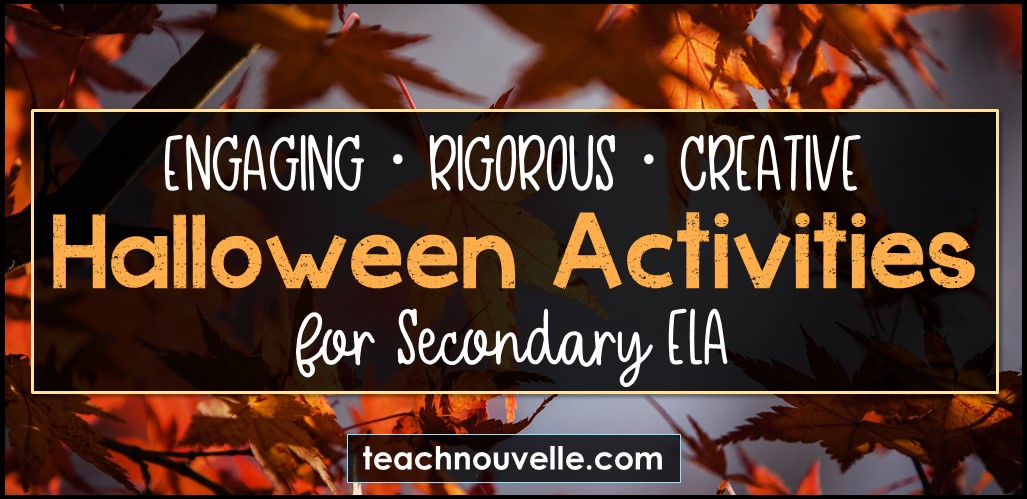 Whether you are a Halloween lover or a Halloween tolerate-er, it will be on the forefront of your students' brains this time of the year. They are likely dreaming up their costumes, gossiping about the hip parties, and totally ignoring your lessons!
Here are 10 Halloween school activities for secondary ELA that will allow you to use that excitement in your classroom:
1. Analyze Symbolism & Allegory with Candy
It seems like, as soon as the calendar flips to October, students have candy on the brain! You can "lean in" to this energy. If you're reading a story with heavy symbolism (such as "Masque of the Red Death" by Edgar Allan Poe), here's the perfect anticipation activity! Teach students about symbolism with Tootsie Roll Pops. Students assess the evolution of concrete to abstract attributes (hard on the outside, soft on the inside – get it?) and come up with an overall meaning for the symbol. You can read more about how I set up this activity here.
2. Watch this movie trailer re-cut for tone analysis!
"Scary Mary" is a re-cut of the 1964 Mary Poppins trailer in which it's made to look like a horror film. It's a brilliant example of tone and suspense. It will surprise students that a change in music and a juxtaposition of certain scenes can make even the happiest of characters seems menacing.
3. Write a creepy short story!
In my Halloween ELA activity, Abandoned Places students read about ten abandoned places from across the world. Then, they use one of them as the setting for a piece of Flash Fiction, a very short low-stakes writing activity. Stories are short enough that students can do a gallery walk to read others' work or share them in small groups.
Check out this 2022 post with even more Halloween school activities!
This song has serious apocalyptic vibes and is perfect to analyze! You could use it as a jumping-off point for other creative writing (short stories, poetry, etc.) or have students connect it to other texts they've read or watched. Check out these other songs to use in ELA, year-round!
5. Read "Demystifying Fear"
This nonfiction passage is a perfect Halloween school activity for spooktacular critical thinking! Students learn about the physiological origins and effects of fear and then assess why some people enjoy being scared. This resource comes with a vocabulary-in-context activity.
Get more high school reading comprehension passages here!
6. Watch "The Monsters Are Due on Maple Street"
Sharing this classic episode of The Twilight Zone is one of my favorite Halloween ELA activities. Their expectations are successfully subverted, and we can have great conversations about hysteria and the classic allegory for the Red Scare. It's also only 25 minutes long, so they can finish it in my 42-minute periods. TV can be a great tool for engaging reluctant readers and teaching students about plot, characterization, allusion, etc. I even wrote a blog post about my 15 favorite TV episodes for ELA! 🙂
7. Investigate "who dunnit?" with "Black Cat" by Edgar Allan Poe
I made a Pre-Reading Inferences Challenge for my students where they go through a simulation as a young detective investigating the mystery of the black cat. The events follow the story, but without the first-person narrator, it becomes a mystery that students solve using clues and evidence they find along the way. At each step, students share their inferences with me (The Police Chief) and I make sure they're on track before they proceed. Afterward, we read the story and they confirm whether they were correct.
8. Compare Halloween costumes
Halloween is a great time to get students thinking about cultural appreciation vs. appropriation.
This video from Teen Vogue features six young women of diverse heritage giving specific examples of Halloween costumes that "co-opt their culture". This video will help students identify cultural appropriation and analyze how the wearers' privilege (or lack of privilege) impacts how the garments are viewed. After watching this video, students could reflect on costumes they have worn in the past and brainstorm some costumes for the future that are not appropriative.
9. Reimagine some classic Poe stories
To me, reading spooky stories is a perfect fit on a list of Halloween ELA activities. I suggest checking out the new anthology, His Hideous Heart, edited by Dahlia Adler. Each short story reimagines a classic Poe tale. This is a great add to your classroom library! You could do a read-aloud or have students read the story of their choice in groups and discuss it. If you want to extend this concept, have students compare the reimagining to the classic tale. Students can decide how the reimagining impacts the story and what novelty it brings to the table.
10. Play a digital adventure game!
Want to encourage collaboration and critical thinking with a creepy vibe? Check out my new reading adventure series, Burnbridge Breakouts. Students find clues, solve puzzles, and work together to solve the town mystery over the course of ten games. Each game comes with a thematically related reading assignment, too! Play the first game free!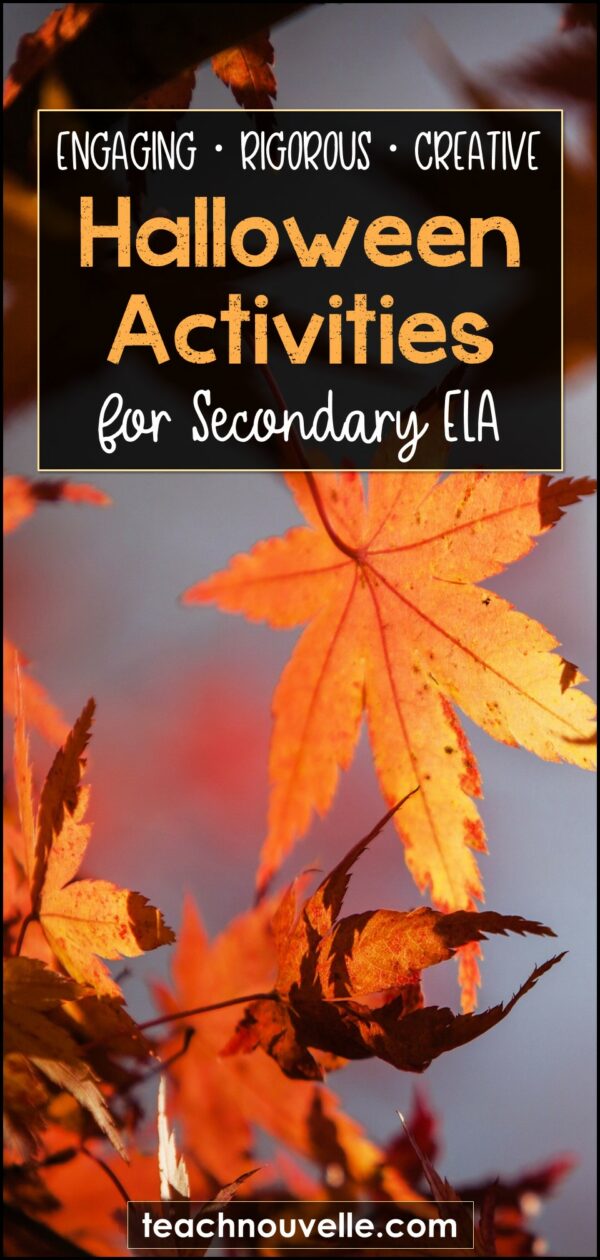 These Halloween school activities for ELA are some easy ways to boost student engagement AND keep it rigorous. Every hint of costume or candy may distract them, but you can get them back on track with these ideas. What else do you have brewing (see what I did there? Like witches!) this season?
Let me know in the comments or tag me on IG @nouvelle_ela! I can't wait to hear from you!