These 5 short texts for teaching suspense and pacing will help make your lessons on literary elements less daunting and more memorable!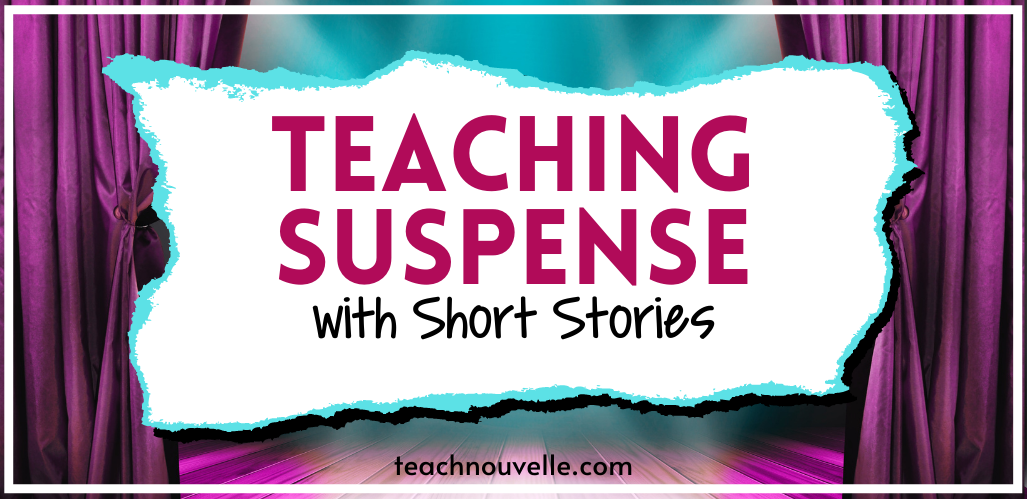 While they're both fundamental elements of storytelling, students will often struggle with identifying elements of suspense, or examples of pacing in a specific work. As you may have noticed, I love using short stories and other short texts when teaching literary elements! I find that using shorter texts can make a new concept easier to digest for students, and they're also perfect for reviewing multiple elements in a short amount of time.

Note: A big difference in teaching suspense in middle school as opposed to high school is how graphic or frightening your content can be. This post features example texts for teaching suspense that aren't overly scary. You can find many more stories for teaching pacing and suspense in last week's post featuring horror short stories.

Teaching Suspense & Pacing with Short Stories
"Click Clack the Rattle Bag" by Neil Gaiman (MS/HS)
I love this story for teaching pacing. Gaiman does it with such ease that you don't even notice how cleverly the story is being stretched out until you go back and re-read. As the events of the story are unfolding, the two characters are walking upstairs. Their brief conversation is broken up by careful observations of their surroundings, turning what could have been a two paragraph description of a monster into an 8 page story. The careful pacing is vital to creating the suspense.
I don't want to give any spoilers away, but this delightfully creepy story will turn the readers' expectations on their heads. Besides teaching suspense and pacing, the ending provides an outstanding example of situational irony. And as I noted, you could use this story with middle schoolers or high schoolers. It's chilling, but not graphic.
You can read it for free, here, or better yet, have students first listen to the story being read by the author himself.
"Choctaw Bigfoot, Midnight in the Mountains" by Tim Tingle (MS/HS)
In this story, Turtle Kid and their dozens of cousins listen to a story from Uncle Kenneth, and everyone knows you can't believe a word Uncle Kenneth says. Uncle Kenneth's tale of the Choctaw Bigfoot, Naloosha Chitto, unfolds with a harrowed tourist family and interventions from the cunning Bohpoli, a race of "little people."
Kenneth's story will keep your students on the edge of their seats, as he uses several red herrings to build suspense. He also uses humor and charm. The frame story can help us to have great conversations with students about how stories are told and transformed, and how listeners take part. The dozens of cousins make predictions and ask questions, and our students can, too!
You can find this story in the middle grade anthology Flying Lessons and Other Stories edited by Ellen Oh.
Find more contemporary short stories for middle school in this post 🙂
Other short mediums for teaching Pacing and Suspense:
6. "Darkness Falls" – The X-Files (Season 1, episode 20) (HS)
"Come on Scully, it'll be a nice trip to the forest." Something is killing logging crews in the Pacific Northwest, and it's up to Mulder and Scully to find out who, or what, is responsible for the deaths. It's not "eco-terrorists" as the logging company suspects, but a swarm of prehistoric insects the logging crews inadvertently released when they cut down a protected, old-growth tree.
Besides being a masterclass is building suspense, it's also an allegory for how our destruction of natural resources can end up destroying ourselves. There are countless real-life examples of this, from how deforestation contributes to climate change, or how factory farming creates pandemics. You could have students pick their own example to research and write about.
Note: While this episode doesn't show a lot of gore, it's extremely suspenseful, and could be especially terrifying to students with insect-phobias.
Want to give your short story unit a makeover? Check out the resources in my shop 🙂
In this piece, an increasingly anxious narrator describes the actions of his neighbor, punctuated with the repeated question, "What's he building in there?" As the narrator's suspicion heightens, even seemingly innocuous actions he is describing take on a sinister appearance. With each repetition of "What's he building in there?" the listener might begin to wonder who is more threatening, the neighbor, or the narrator?
Although Wait's released it on his album Mule Variations, this is less of a song and more of a spoken word piece, accompanied by bizarre sound effects. The audio works on its own, but I recommend showing the video as well, if possible.
This "song" might work well paired with a Poe poem that also features repetition, such as The Raven or The Bells.
Lock Up (8th grade + up)
This short film is very effective at demonstrating suspense. I don't want to spoil the plot, but it's only 3:34, so you can easily find out for yourself.
Here are some ideas of post-viewing discussion questions: What do we learn about the protagonist in the first 45 seconds, and how does that information help increase the suspense? What is the effect of cutting back and forth to the surveillance camera footage? What visual and audio effects did the filmmaker use to create suspense?
Content warning: This film doesn't show any blood or weapons, but it is highly suspenseful and features some startling (but brief) jump cuts at the end. I think this film is okay for 8th grade and up, but you know your students best.
Want more short films you can use in ELA?
Last thoughts: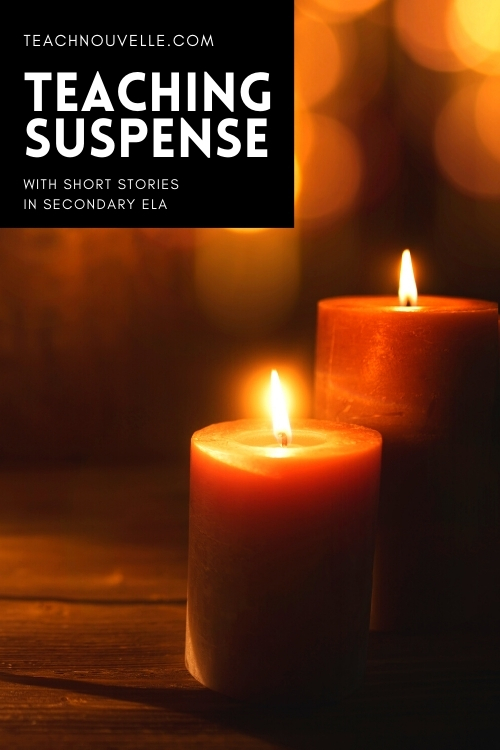 I hope this post gave you some new ideas for teaching elements of suspense and pacing. If you have favorite examples of pacing or suspense in a short story, poem, song, etc. that your students respond well to, shout it out in the comments below!
Want to read more about teaching literary elements? In these posts, I share texts and ideas for teaching symbolism, setting, figurative language, conflict, characterization, metaphor, and irony.
Happy teaching!