Are you looking to revitalize your short story unit? Are your students just not getting irony? I'm here to help! Here are 5 fresh texts for teaching irony with short stories.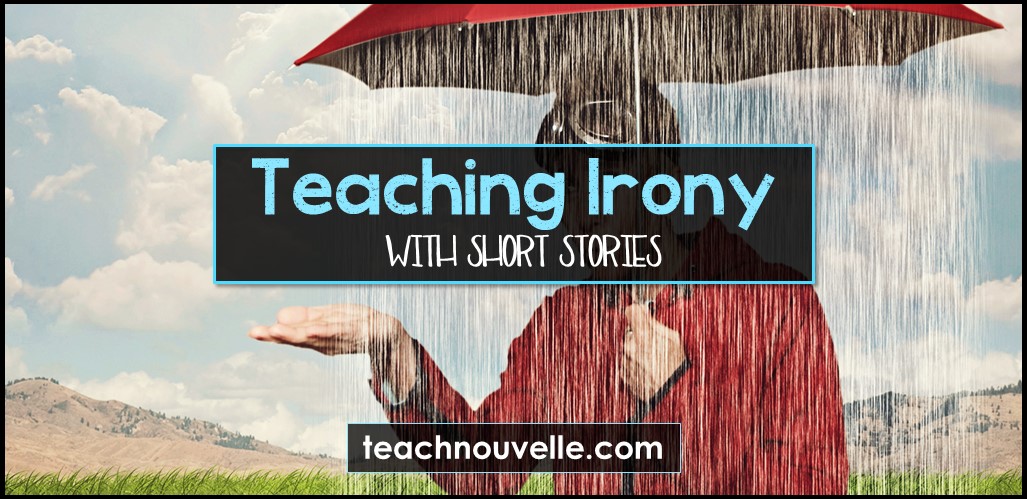 Sure, "Gift of the Magi" and "The Lottery" are classics for teaching irony, but they offer little in the way of inclusive representation. There is nothing wrong with these stories, but we can serve our students better by including a wider selection of voices and identities.
I'm not asking you to stop teaching "The Lottery" or "Gift of the Magi", but encouraging you to add some more inclusive short stories and supporting materials to your curriculum.
Many teachers are working to diversify their curriculum to include more voices. I've been working with Dr. Sheila Frye (from Teaching Literacy) on a project called "Rethinking the Classics" to help teachers find supplemental texts and curriculum updates.
So far, we have covered The Giver, The Odyssey, The Outsiders, and The Great Gatsby, and we have many more to come. Do you have a specific required text that you'd like to make more inclusive? Reach out to me @nouvelle_ela and I'll see if I can help 🙂
Short Stories for Teaching Irony:
"Click Clack the Rattle Bag" by Neil Gaiman (MS/HS)
I don't want to give any spoilers away, but this delightfully creepy story will turn the readers' expectations on their heads. The ending provides an outstanding example of situational irony. And as I noted, you could use this story with middle schoolers or high schoolers. It's chilling, but not gory or graphic.
You can read it for free, here, or better yet, have students first listen to the story being read by the author himself.
"Sentry" by Frederick Brown (MS/HS)
This "twist" at the end of this story is another compelling example of situational irony. Brown also uses some intriguing descriptive language. I think students will be immediately engaged by the sci-fi setting, and they won't have time to get bored, it's only a page long!
Need more inclusive short stories? Here are some for Hispanic Heritage Month, AAPI authored, and LGBTQ+ authored. I also share short story assessment ideas too!
"Paper Menagerie" by Ken Liu (HS)
In this award-winning short story, a young man remembers his Chinese mother's efforts to connect with him through origami. Her origami, a symbol of her culture and love, is infused with a magic that makes it come to life. I don't want to say much more about this story because it's such a lovely read (and short!), so I'll leave it at this: it is one of identity, class struggle, and family.
Non-traditional texts:
If you are looking for ways to lessons to help students analyze short texts, like songs, short films, and more, our 15 Pop Culture Analysis Activities resource has got you covered! Below are two suggestions not included in this resource…enjoy!
TV: "Top Banana" from Arrested Development (Season 1, Episode 2) (HS)
A show constructed to showcase ironies great and small, Arrested Development follows a rich family whose patriarch is in jail for corruption. The family must pull together to stay afloat. In this second episode of the series, Michael tries to convince his family members to seek gainful employment. Over the course of 25 minutes, they succeed, celebrate too early, and fail before they can get the job done.
You'll find great fodder here for discussing characterization, the impact of an omniscient narrator, the effect of camera cut-aways and montages (Gob trying in vain to throw the letter into the ocean), and all types of irony. AD started its life as a network show, so it's got nothing more objectionable than some very light innuendo at the beginning (between Michael and Maeby) and one instance of 'S-O-B'. All around, this episode is a win.
Looking for more ideas on using TV in ELA?
"Let's get down to business, to defeat the Huns
Did they send me daughters when I asked for sons?
You're the saddest bunch I ever met
But you can bet before we're through
Mister, I'll make a man out of you."
This is one of my favorite songs to use in ELA. Mulan is my favorite Disney movie, so of course I bust out this song when teaching irony. This song is a fun example of dramatic irony, since the audience knows Mulan is a woman, and Li-Shang doesn't. But this song could get more mileage if you were so inclined — there's a powerful message about determination and bravery, even in the face of doubters (Sorry, Li-Shang, but you're a doubter, bud.).
Plus, since the new remake just dropped on Disney+, now is the perfect time to introduce our students to the classic version that we grew up with.
Want more ideas on using song lyrics in ELA?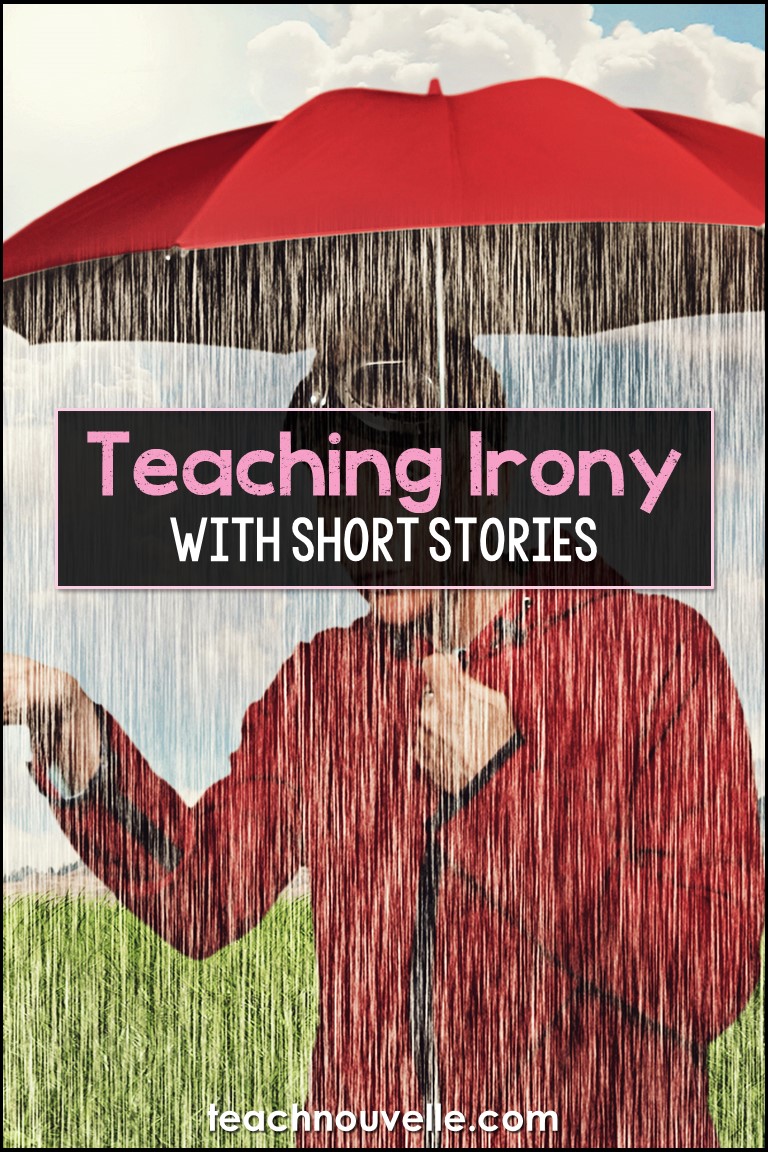 Want to read more about teaching literary elements? In these posts, I share texts and ideas for teaching symbolism, setting, figurative language, suspense and pacing, conflict, metaphor, and characterization.
I hope this post about teaching irony added some helpful resources to your teaching toolkit! Do you have a tried-and-true text you use when you're teaching irony with short stories? Share in the comments so we can all learn 🙂