Teaching metaphors with short texts is a great way to make your literary lessons more approachable & engaging. Here are five of my favorites!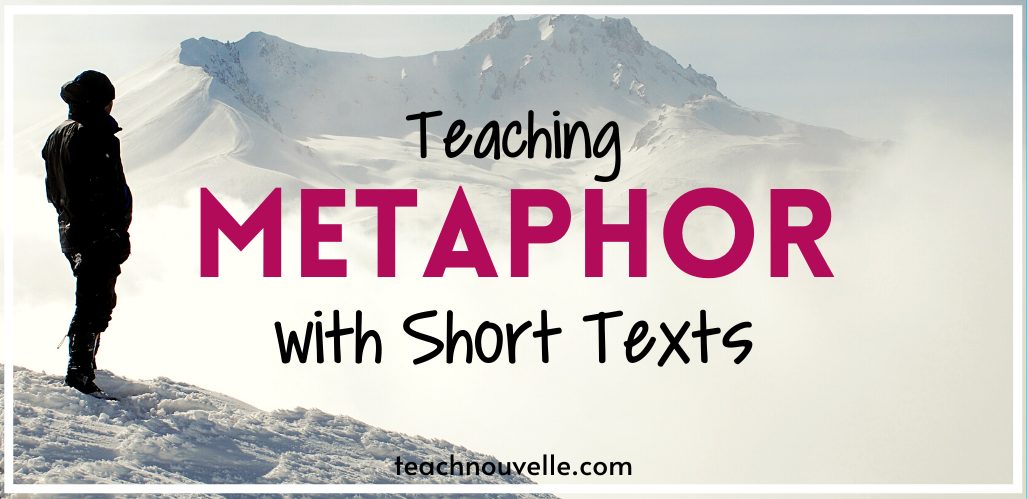 Teaching metaphor is like, um, hm, if only there was some way to describe it 😉 Even if your students can't tell an allusion from a simile, I'm here to help with this blog series on teaching literary elements. This week, my focus is teaching metaphors with short texts. I'll be shouting out some great texts and giving teaching tips to go along with them.
What are you waiting for? Let's dive right into it!
How to teach similes and metaphors
As English teachers, we often approach teaching metaphor as a contrast to simile – "a comparison using 'like' or 'as'." I like to expand this approach to focus on simile as a passing literary technique: something that happens in a single sentence. When I talk about metaphor, I start with single sentence examples but quickly move on to teaching extended metaphor.
Here are five short texts I love for teaching metaphors.
"I thought if I could touch this place or feel it

This brokenness inside me might start healing"
"Home" in literature is almost always a metaphor, not just a physical place. In this song, the narrator describes feeling lost and longing to return to a simpler, less confusing time in her life, symbolized by returning to her childhood home. This text is very approachable and may already be familiar to some students. It's a great scaffolding text to prepare students to read some classic poetry such as, "The Self-Unseeing" by Thomas Hardy, "Home is so Sad" by Philip Larkin, or "The Props assist the House" by Emily Dickinson. This is an example of CCSS.RL.9-10.7, comparing the development of a theme in two mediums.
Check out these other recommendations for using songs in ELA!
2. Movie: Frozen
Visual metaphors abound in Disney's Frozen. From Anna & Elsa being separated figuratively (and literally!) by doors in the beginning to Elsa's gloves and when she wears them/pulls them off.
I think this YouTube video pointing out the visual metaphors and symbolism present during the song "Let It Go" will be especially helpful to students. It's a voiceover of the film-clip (with no music!), so it allows students to focus on the visual metaphors without getting distracted by the catchy lyrics.
"Let It Go" is also an opportunity to address the difference between simile and metaphor. Elsa makes the connection very clear when she says, "The wind is howling like this swirling storm inside / Couldn't keep it in, heaven knows I've tried," but the extended metaphor goes even deeper.
3. Poem: "Rabbit Is Up To His Tricks" by Joy Harjo
This recommendation comes from Indigenous teacher and Bookstagrammer Victoria @floury_words, who wrote this amazing post hosted on my blog, Indigenous Texts for Secondary ELA.
–spoken word version (runs 6:03, poem begins at 2:33).
"In a world long before this one, there was enough for

everyone,

Until somebody got out of line.

We heard it was Rabbit, fooling around with clay and the

Wind."
In the spoken word link to this poem, Harjo explains that in her Nation the trickster is the rabbit. It's a different character in each culture, but each culture has one. She craftily uses the character of the rabbit as a metaphor for society. This poem would be great for teaching literary devices such as tone, repetition and metaphors as well as trickster stories (CCSS.ELA-LITERACY.RL.9-10.10). Additionally, it is important to note that Joy Harjo is the first Native American poet laureate in the United States. Spoken word and poetry slams have been very successful events at my school, but shouldn't be the only time Indigenous or BIPOC voices are heard).
4. Musical: Hamilton
Metaphors abound in Hamilton. The song "My Shot" has countless examples, such as, ("I'm a diamond in the rough, a shiny piece of coal"), the many meanings of the word "shot" (opportunity, literal gunshot, and "shooting" alcohol), and there are many obvious visual metaphors as well, such as in the song "What Comes Next?" when the King sings "I'm so blue" and the stage lights switch to blue. But arguably the strongest metaphor in Hamilton is musical. How rap/hip hop stylistically represent the Colonists, and a mix of classical and traditional Broadway ballads represents the British.
This fascinating video goes into a deep analysis of how rap serves as a metaphor in Hamilton, and I think it will help students understand and analyze the more subtle metaphors. Note: This video has a few instances of strong language, so I think it's best for 9th grade and up. As always, you know your students best.
Teaching Metaphors with Short Stories
5. (Short Story) "Lamb to the Slaughter" by Roald Dahl
This one is an oldie but a goodie. Right from the title, we know there's a metaphor at work. That means that you can have students brainstorm in anticipation. What does it mean to be a "lamb to the slaughter"? What does that suggest about a potential "lamb"? Who are the kinds of people that would be a lamb?
My students LOVE this story, especially when we do a mock-trial. I have a ton of "Lamb to the Slaughter" teaching ideas here 🙂
Final thoughts: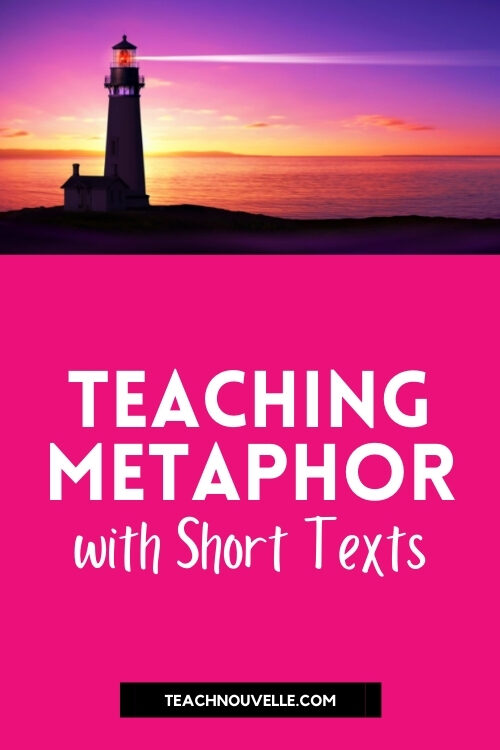 I hope that this post gave you some new tools for teaching metaphors with short texts, and I hope you're excited to try out some of these ideas with your students. Let me know how it goes! I love hearing teaching stories and seeing photos. Comment on this post or reach out on Instagram @nouvelle_ela
Want to read more about teaching literary elements? In these posts, I share texts and ideas for teaching symbolism, setting, figurative language, suspense and pacing, conflict, characterization, and irony.
I also have short story ideas for middle and high school and some awesome short story resources in my store 🙂

Happy teaching!