No dusty old classics here! There are my favoite new short stories for middle school, and some non-traditional texts to engage and inspire.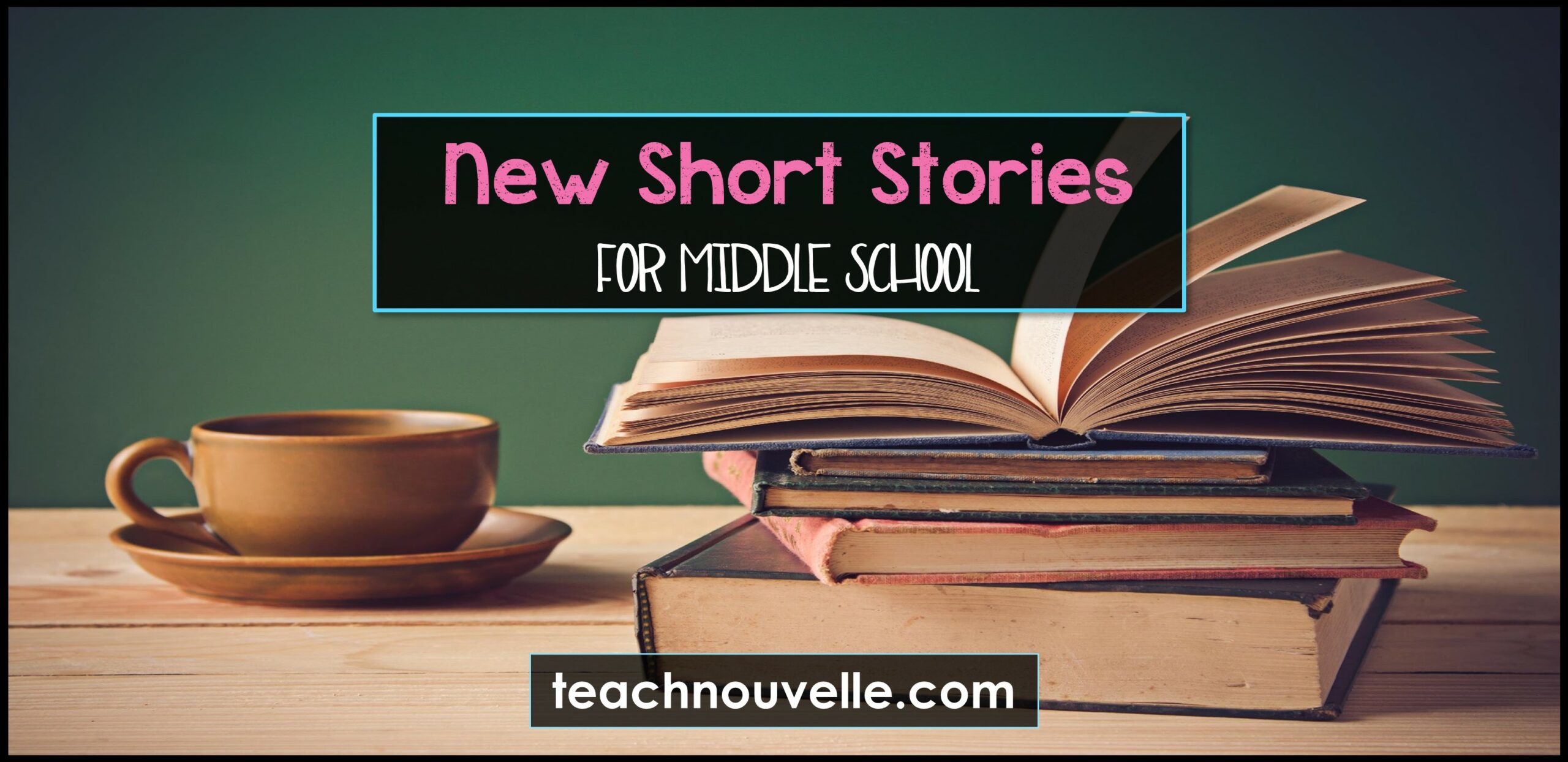 Are you struggling to get your students excited about reading? Do even your most engaged students zone out when you bring out the reading list of "classics"?
Sometimes all students need is a fresh story. Something that feels relevant to them and their peers. We can revitalize our content, without sacrificing our standards. And I'm here to help!
Today I'm sharing with you some of my favorite new short stories of middle school and ideas for how to use them, but if you want this type of content for high schoolers, I've got you covered too 🙂
Modern Short Stories for Middle School:
Short Story: "How to Be Chinese" by Celeste Ng
Bestselling author of Little Fires Everywhere (now a TV smash hit on Hulu!), Celeste Ng, is a prolific short story writer. This story focuses on a young Chinese girl, adopted as an infant by a single, White, American woman. The protagonist (Mackenzie), feels out of place everywhere. She's never even met another Chinese person, besides the servers at the Chinese restaurant that she visits with her mom each year on her birthday. When Mackenzie starts college she joins the Chinese Student Association, but she feels out of place there too.
I love this story because it's very short, only about 5 pages, and told in these brief glimpses into Mackenzie's life, which I think makes it highly engaging for a reluctant reader. The theme of feeling "othered" is very common in a coming-of-age story, so it would be easy to find a core text to pair this with. I also like that the story doesn't have a firm resolution. This allows students room for "creative reading;" speculating what will happen next and how the characters will grow.
"How to Be Chinese" is available for free online from GulfCoastMag.org.
Grab all of my short story recommendations in this resource!
Short Story: "What it Means When a Man Falls from the Sky" by Leslie Nneka Arimah
This short story by Nigerian writer Leslie Nneka Arimah is a science fiction short story in her collection of the same name. Set in the late 20th century, the story's premise is that new mathematical discoveries have granted mathematicians seemingly superhuman skills like flying or emotional manipulation. They quickly discover unintended consequences.
This story works for middle school because students can explore real-world issues through the lens of science fiction. This story is one of grief, and students can talk about how we process grief and how we can make space for our feelings when a loved one dies. Reading about characters having these experiences can both make students feel less alone and develop their empathy for others going through traumatic situations.
If you want to explore this subject further, I have a blog post about grief in the classroom, and a YA Cafe Podcast episode featuring author H.D. Hunter where we discuss a few YA and MG books on grief, and trauma-informed teaching.
Short Story: "The Kettle on the Boat" by Vanessa Gebbie 
You can find this short story by UK writer Vanessa Gebbie in One World: A Global Anthology of Short Stories. It is character-driven and suspenseful, as a child narrates a single trip across the water with her family. Students could analyze the mother, father, and child as much from what we don't know about them as what we do. After students read, they can zoom in on the characterization in the moments after they dock.
Song: "Pray for Me" by The Weeknd feat. Kendrick Lamar
"Tell me, who's gon' save me from myself,

when this life is all I know?

Tell me who's gon' save me from this hell?

Without you, I'm all alone."
Okay, so this isn't a short story, but it's a song that feels like a personal essay. It presents a conflicted hero: someone who worries about losing himself in his responsibilities. And yet, the protagonist finds the power within himself (and his community) to rise up. This song accompanies the powerful trailer for Marvel's Black Panther, and so you could do a combined song and video analysis. I love discussing superheroes as literature, and this song is the perfect inner monologue of a hero. Students can dig deep in examining his motivations and hesitations.
What are some funny short stories for middle school?
TV Episode: "The Great Divide" from Avatar: The Last Airbender (23 min)
Avatar: The Last Airbender is a delightful show and I love using it in middle school. Because it aired on Nickelodeon, it is clean with short episodes. However, there is a lot of emotional depth and thematic variance in the storytelling. This episode is a Rashomon-style storytelling event, where two or more storytellers recount the same event very differently. The Rashomon trope is an excellent avenue for exploring point of view with students. This show is on Netflix as of July 2020.
More Resources for Finding New Short Stories:
Anthologies:
The organization We Need Diverse Books has published two excellent short story anthologies for middle grade, The Hero Next Door (2019) and Flying Lessons (2017). Both feature a diverse collection of tales, from some of today's best kid-lit writers. RandomHouse also produced a free educator's guide and virtual book club guide for Flying Lessons that has a ton of great tips and ideas for lesson planning.
I have a blog post dedicated to inclusive short story anthologies. While they're mostly geared towards high schoolers, but there many selections that have middle school appropriate content.
Magazines: 
Periodicals can be a great way to find new short stories for middle school. You might be familiar with the Cricket Magazine family, but did you know that they offer discounted subscriptions for teachers? They even come with a Teachers Guide that helps you find fresh ways to incorporate their flash fiction into your class!
Final Thoughts: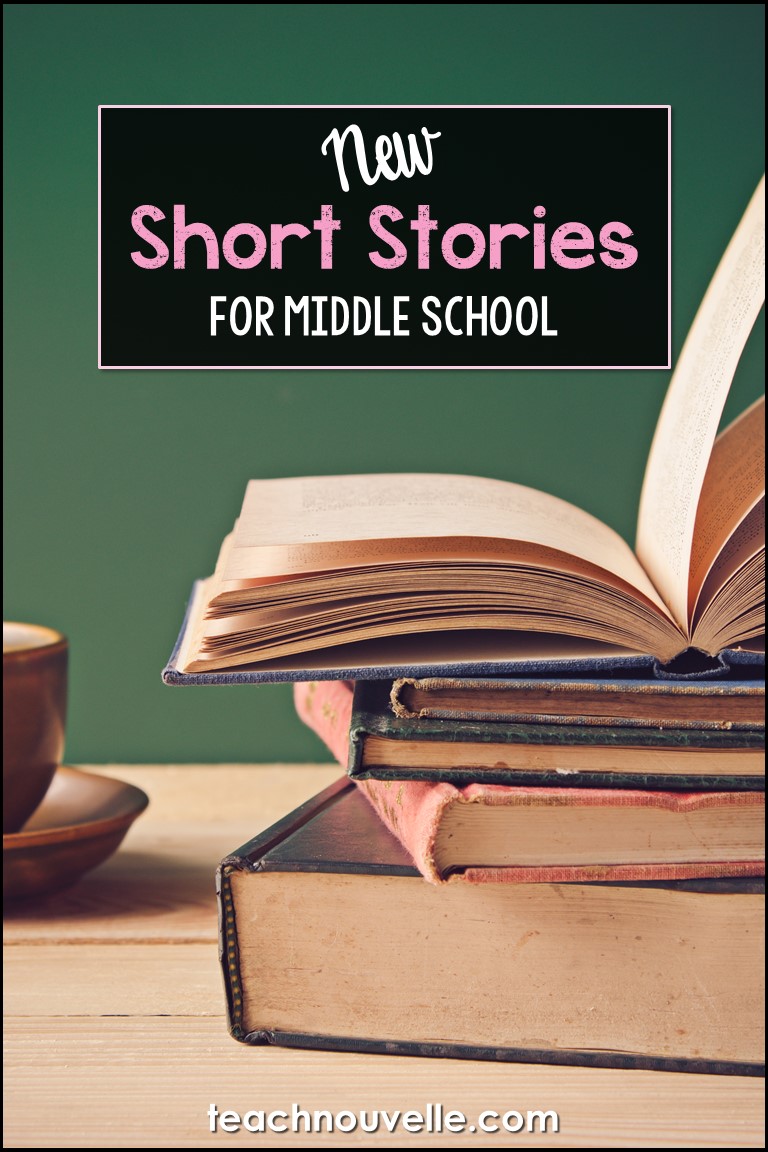 I hope you're excited to read and share these new short stories for middle schoolers, and that this post gave you some ideas to make your lessons more engaging and inclusive. I've been working with Dr. Sheila Frye (from Teaching Literacy) on a project called "Rethinking the Classics" to help teachers find supplemental texts and curriculum updates. So far, we have covered several middle-school titles, like The Giver, To Kill a Mockingbird, The Odyssey, and The Outsiders, and we have many more to come. I also have many resources for teaching short stories available in my store.
Do you have a specific required text that you'd like to make more inclusive? Reach out to me @nouvelle_ela and I'll see if I can help 🙂