Teaching with music is a great tool for engaging students, and the Broadway canon has so much great material to choose from. Here are my 4 favorites for ELA.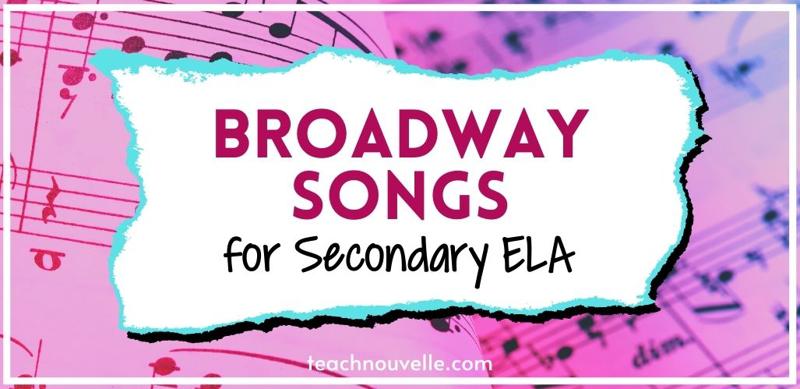 I think that by providing our students with a wider variety of texts we can engage every student in the classroom, and music is a big part of my teaching toolbox. Check out my posts 15 Songs and 15 More Songs for even more ideas.
Today I want to talk about one specific genre of music: Broadway showtunes. With the popularity of recent musicals like Hamilton, Dear Evan Hansen, and tick, tick, BOOM, musical theatre is growing in relevance to teens and tweens. Let's use that interest to help them engage with their Secondary ELA lessons 🙂
Teaching with Music – Broadway songs
"Hey yo, I'm just like my country:

I'm young, scrappy and hungry

And I'm not throwing away my shot."
If you're not already using Hamilton in your classroom, what are you waiting for?! Lin Manuel-Miranda's 'revolutionary' (get it?) approach to the founding fathers can spark a lot of genuine interest and excitement in students. Use this song to illustrate so many poetic devices: rhyme, meter, rhythm, simile, metaphor, repetition, etc. Students could match the lyric snippet with the device. Or students could do a 'scavenger hunt' for the poetic devices. If you'd like to do a more focused study of a device, you could talk about the dramatic irony in this song – we the listener know that Hamilton dies in a famous duel by "throwing away his shot".
Metaphors abound in Hamilton. "My Shot" has countless examples, such as, ("I'm a diamond in the rough, a shiny piece of coal"), the many meanings of the word "shot" (opportunity, literal gunshot, and "shooting" alcohol), and there are many obvious visual metaphors as well, such as in the song "What Comes Next?" when the King sings "I'm so blue" and the stage lights switch to blue. But arguably the strongest metaphor in Hamilton is a musical one; rap/hip hop stylistically represents the Colonists, and a mix of classical and traditional Broadway ballads represents the British.
This fascinating video goes into a deep analysis of how rap serves as a metaphor in Hamilton, and I think it will help students understand and analyze the more subtle metaphors.
Note: This video has a few instances of strong language, so I think it's best for 9th grade and up. As always, you know your students best.
This hilarious example of a "patter song," is a fun way to demonstrate how aspects such as word choice, alliteration, consonance, and assonance all contribute to the rhyme scheme and overall feeling of the song.
If you like tongue-twisters, try reading the lyrics out loud!
"I know that your powers of retention

Are as wet as a warthog's backside

But thick as you are, pay attention

My words are a matter of pride."
Get it? Pride? Because he's a LION! Har, har, har! I love this song, and it's very versatile text to choose when you're teaching with music. There are a ton of word play examples in this song, along with rich opportunities for vocabulary study. I think it's one of the best songs for teaching diction and word choice, along with figurative language. It's really got it all.
This song is essentially one big, unsubtle metaphor for Evan's feelings of loneliness and disconnectedness. He is "waving through a window," feeling unseen and unheard. He sings, "Step, step out of the sun if you keep getting burned. Step out, step out of the sun because you've learned" because he has been hurt ("burned") in the past, so in order to protect himself from that pain he isolates himself.
Evan, the protagonist of this musical, is depressed and suicidal, and this song could be a tough listen for students (or teachers) struggling with mental health issues. I encourage you to share the national suicide prevention hotline (call or text 988) as well as the Trevor Project's call/text/chat counselors who specialize in working with LGBTQ+ youth.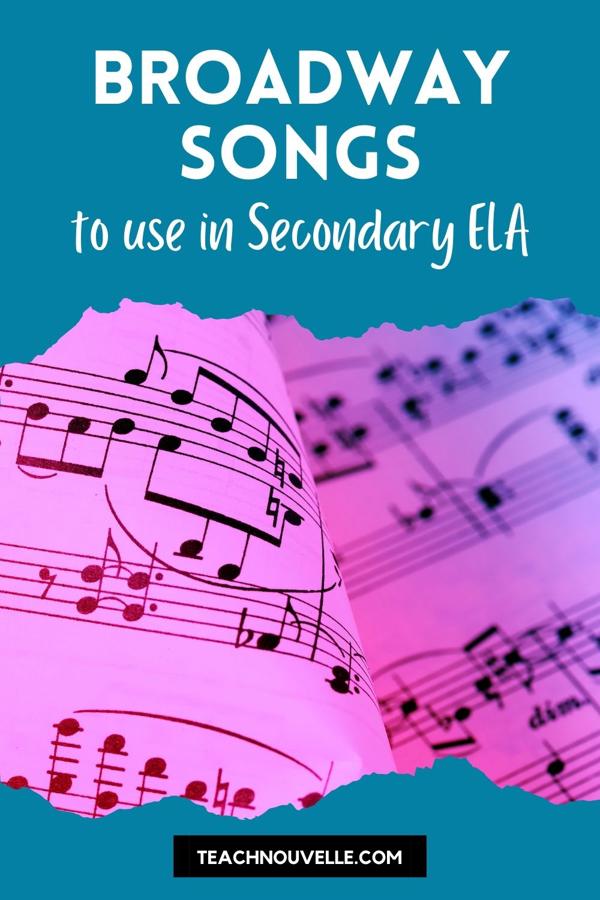 Final thoughts:
I hope this gave you some new ideas for teaching with music! How do you use music in ELA? Share your experiences in the comments!
If you're looking for other ways to engage your theatre and drama-loving students? Try these posts:
Happy teaching!
P.S. If you enjoyed my thoughts on teaching with music you want to receive teaching ideas like this (plus free resources and more!) delivered right to your inbox, sign up for my weekly newsletter 🙂