What can I say about this school year that hasn't already been said?  Teachers, whether you're teaching online, virtually, or a blend of both, are making the best out of an impossibly difficult situation. And in case no one's told you this today, you're doing great. Your students are lucky to have you, but you don't have to go it alone, I'm here to help! Ready to get started? Great! Let's explore some new ways of teaching poetry in distance learning.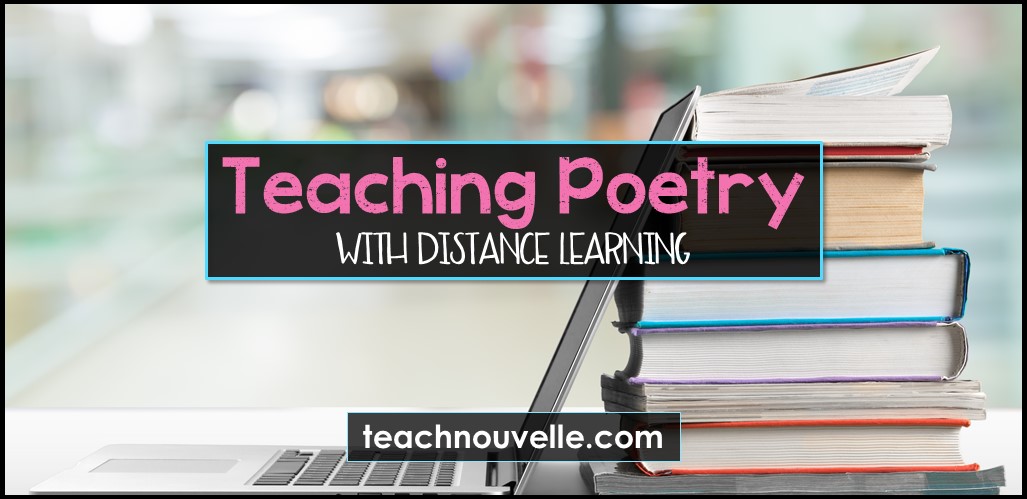 I know that even on the best day, many students struggle to connect with poetry. And during virtual school? An ever tougher sell. So today I am sharing six resources, ideas, and activities to help engage and inspire your distance learning students.
And if you aren't teaching virtually this year, don't stop reading! All of these resources can be used in a typical classroom setting, as well as online.
Teaching Poetry in Distance Learning:
Digital Escape Room
What's not to love about escape rooms? They foster teamwork, boost students' confidence, and help bolster executive functioning. With distance learning, often the ability to work together in teams is lost, but that doesn't mean that escape rooms can't still be a great learning tool!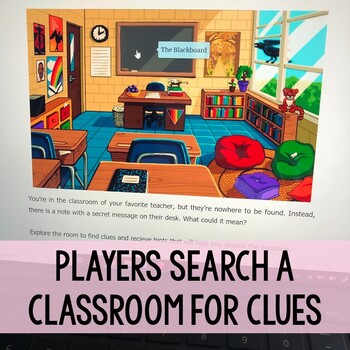 I recently finished a Digital Escape Room Poetry Review. It has a close reading activity with built in scaffolding for differentiation, and it helps students identify poetic devices and figurative language.
But my favorite part about this game is the stunning original art by Erin Kacerovskis. It will keep students engaged, and excited to see what comes next.
Poetry Read Aloud
So many options for this! You could give students a specific theme, or literary device, or simply allow them to pick their favorite poem to read aloud. Here are some ideas for great read aloud poems to get you started.
If possible, give students the option of sharing a recording of themselves reading their poem aloud, rather than requiring them to do a live reading on Zoom/Teams. Many students are dealing with an unpredictable home-life during their school day, so going "live" can be daunting.
Poetry "Story Starters"
I intended these poetry and song lyric writing prompts to inspire short fiction, but I think they would work very well for poetry prompts too. You can ask students to pick up where the snippets leave off, continuing the same theme and writing style, or you can let students be inspired by the prompt and write a poem in the style of their choosing.
With both paper and digital versions included, this resource works can be used for distance learning and classroom settings.
Haiku Movie Synopsis
Students probably learned about the Haiku in elementary school, so add a fun new twist by challenging them to summarize their favorite movies in the famous 5-7-5 structure. You can "up the ante" by having students read their Haikus out loud and letting their classmates guess the answer. This will quickly turn into a great game of movie riddles, all while exploring this classic form. Here's a fun example:
"Hobbit gets a ring
Simply walks into Mordor
Has hairy feet. Ew."
I think it's much easier for students to write a Haiku from this sort of prompt, where they can pick something that excites them and that they already know a lot of details about.
Poetry Bellringers 
This is an excellent review activity! Students get to practice identifying poetic devices, analysing a poet's purpose, and even writing their own poems in a specific style. My Bellringers can be used digitally or in-person, and you can get a FREE week of them here 🙂
Poetry from "the horses' mouth"
I love listening to authors reading their own work, and I think it's an ideal way to help students connect with the art. Here are a few of my favorite clips of poets reciting their own work:
Maya Angelou reading "Still I Rise", "Phenomenal Woman" and more.
Joy Harjo, first Native American Poet Laureate, reading her poem "An American Sunrise."
Billy Collins – Everyday Moments, Caught in Time from TED. This clip is longer than the others (14 mins), but it's so good. Collins' is known for being an "approachable" poet, which makes him a great choice for introducing poetry to jaded high-schoolers, and in this TED talk he recites five of his poems, are each set to fanciful animations. You could play the whole talk, or pick one of them five poems, whatever works best for you!
Want more ideas for using TED talks in the classroom?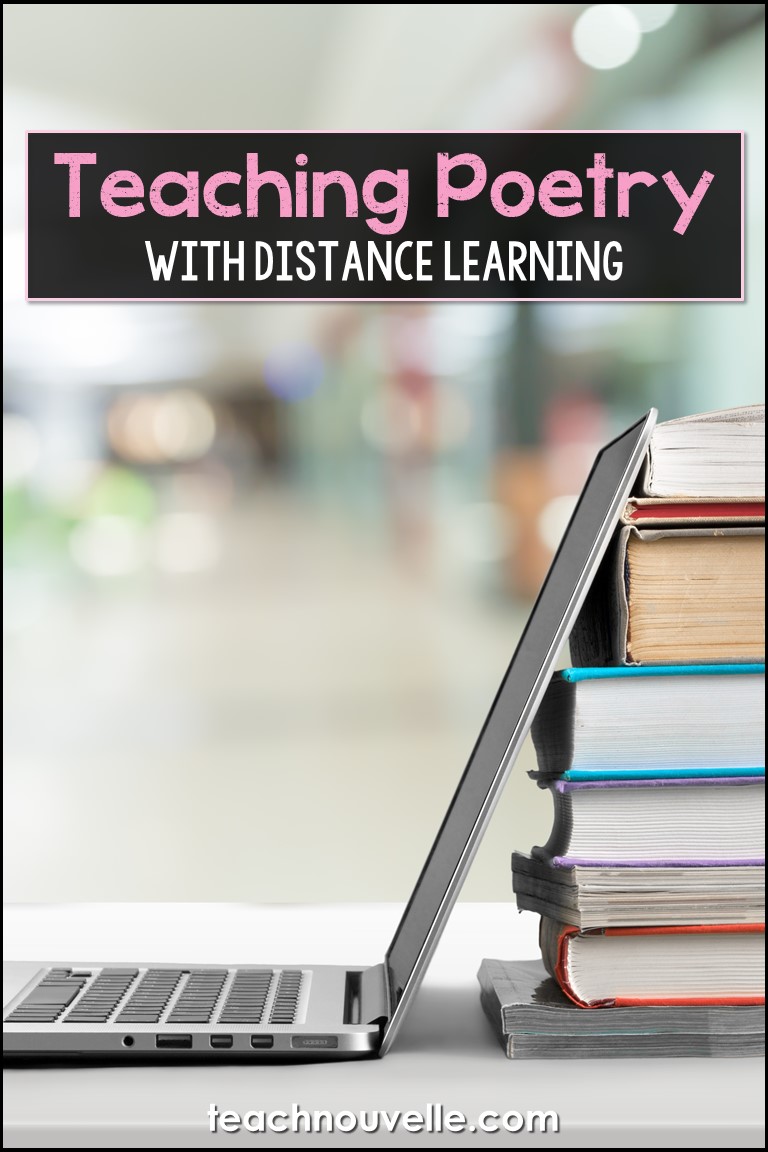 I hope this post has given you some fun new ways of teaching poetry in distance learning! Which activity are you going to try first? Let me know in the comments, or reach out on Instagram @nouvelle_ela.
Happy teaching!