It can be tough to get students engaged with poetry, but I have found a solution! Poetry Bellringers. I created this resource as a way to share several classic poems with students in a short amount of time.  There's no over-analysis here – each activity is short and targeted. Also, since each activity is a Bellringer, or happens within the first few minutes of class, they can be used in conjunction with other poetry activities.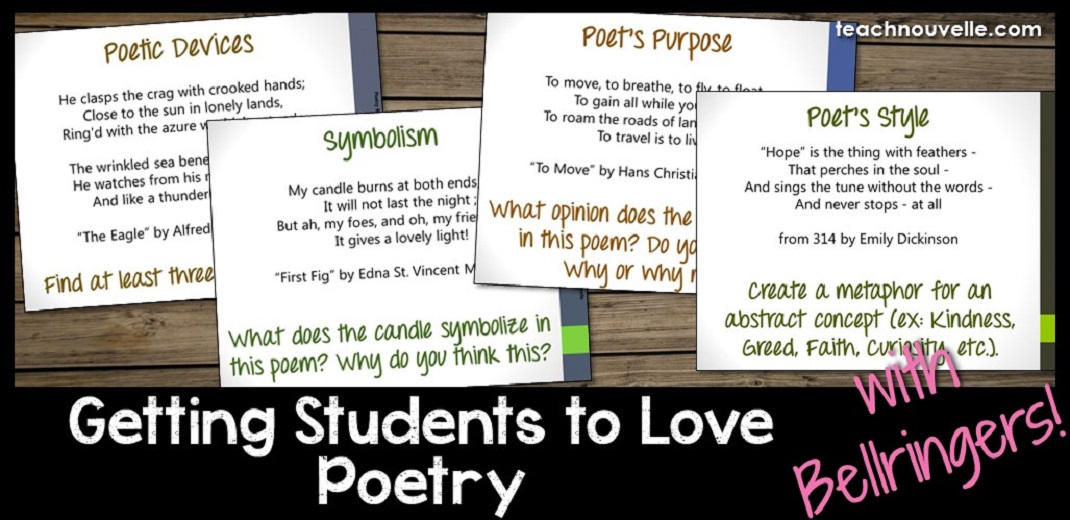 What Poetry Bellringers Look Like:
Each of these thirty bellringers has a snippet of a classic poem, or the whole thing if the poem is short. Then, each bellringer has a different creative or analytical prompt. Students could identify poetic devices in one poem, illustrate another, create a new poem in the same style, etc.
Major Benefits:
Exposure – If you use one a day for a four-week Poetry Unit, your students would be exposed to twenty poems!
Energy – After the Bellringer phase of class, you could extend your study and conversation about a certain poem, or you could move on. If you decide to move on (which I do), students won't feel like they've beaten a poem to death.
Intrigue – If you're only presenting a snippet, students are free to explore the rest of the poem or poetry by the same poet on their own. This promotes autonomy in learning.
Enthusiasm – My students LOVE to share their creative responses. I once had a student write an amazing "Death is before me" copycat poem about having had to run the mile in gym class that day.
Differentiation:
Since there are thirty total possibilities, it's easy to differentiate for your different levels. Last year, I assigned some more abstract concepts to my Honors group and stuck with Identification and Create-Your-Own with my struggling readers. I only did twelve in my unit last year, and gave students the rest to work on for review/extension.
Organization: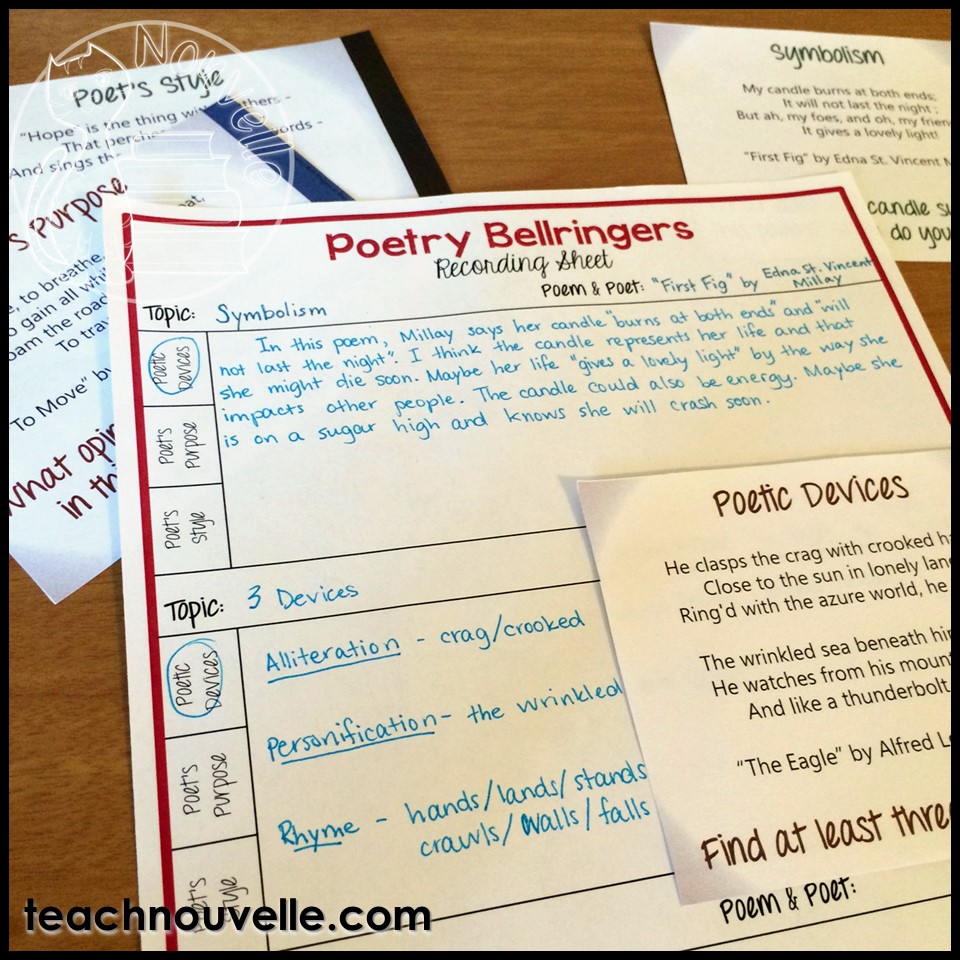 You can have students record these in their notebooks, leaving room for three Poetry Bellringers per page. You can also print out this FREE RECORDING SHEET. Either way, students will be able to track what poems they've pondered and enjoyed, and thus be able to find their favorites later if you assign an Anthology Project.
Final thoughts:
You can try a sample week of these Poetry Bellringers here. I know your students will enjoy them and find some new poems to love. Once you've played the sample week you can check out volume 1, volume 2, and the special Female Poets edition 🙂
 Check out the rest of these BEST EVER resources from these talented teachers: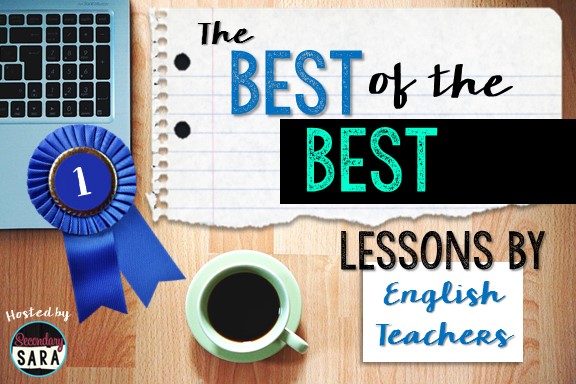 Thanks so much for reading! Happy teaching!