Need a digital lesson for a snow day? Fun emergency middle school sub plans? Or an enrichment session to review basic skills?
This independent writing activity bundle has got you (and your students) covered!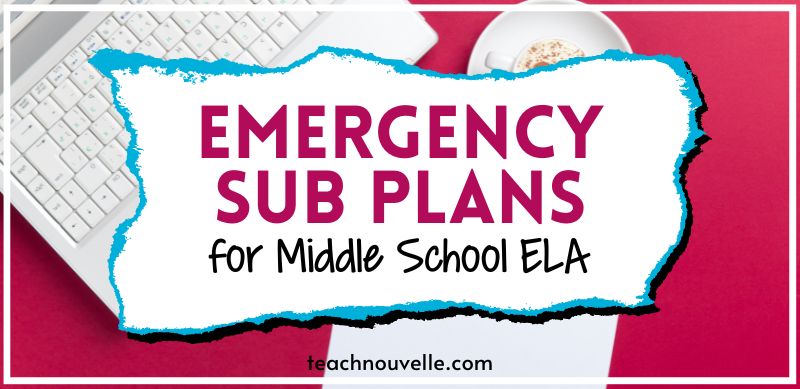 It's THAT time of year again when us teachers are facing the perfect storm:
Endless colds
Snowy, rainy, or weird weather days
Students forgetting learned skills over the winter break.
If you're anything like me, these teaching days feel like survival mode.
The best part is these ELA middle school sub plans require ZERO planning needed on the teacher's end.
What Each Activity Includes
I want to ensure my students are using classroom time efficiently, even if I am buried in too many tissues to create middle school sub plans myself. Provide them with engaging activities they want to do to ensure this.
With each of the activities in this resource, students have the opportunity to tap into their interests: TV episodes, songs, and other media literacy. Additionally, students become an expert on their given task in order to create and design a polished product at the end.
Having students create a product provides students with an authentic way to practice accountability for their learning in a creative and engaging way! These activities also promote student self-evaluation while providing teachers with a quick and easy way to assess their learning.
Let's be real, no teacher wants to be buried in senseless grading upon their return, so see how these activities ensure that your middle school sub plans are meaningful and purposeful.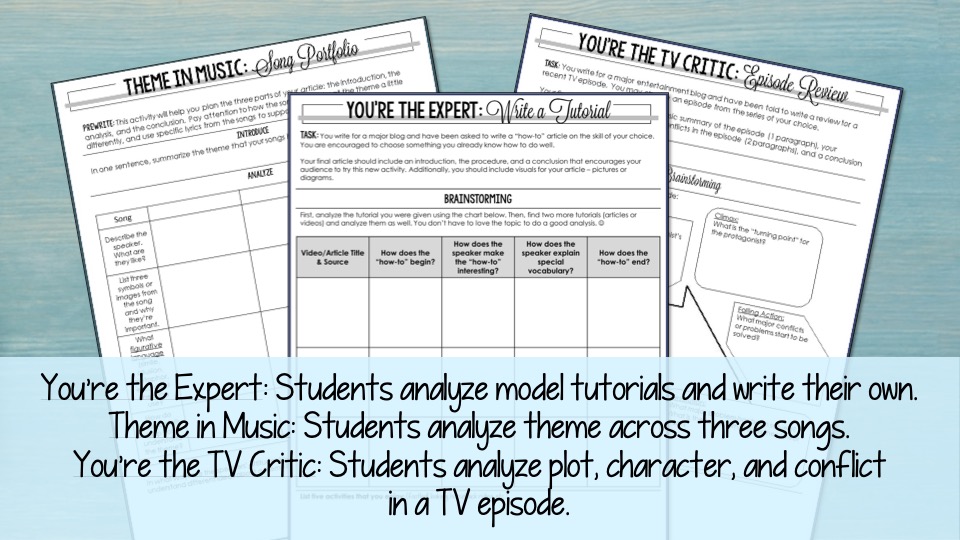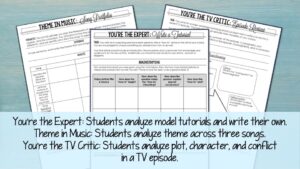 1. TV Episode Review
My students love nothing more than when they take on a specific role. Detective? Character? Performer? With this activity, students will BECOME a TV critic by conducting an episode review.
Students will…
Engage in pre-writing activities
Identify and analyze the plot structure
Identify and analyze type (s) of conflict
Identify and analyze characters
Write a summary
Design a polished review
The activity suggests a few TV episodes, but you can find more here and here.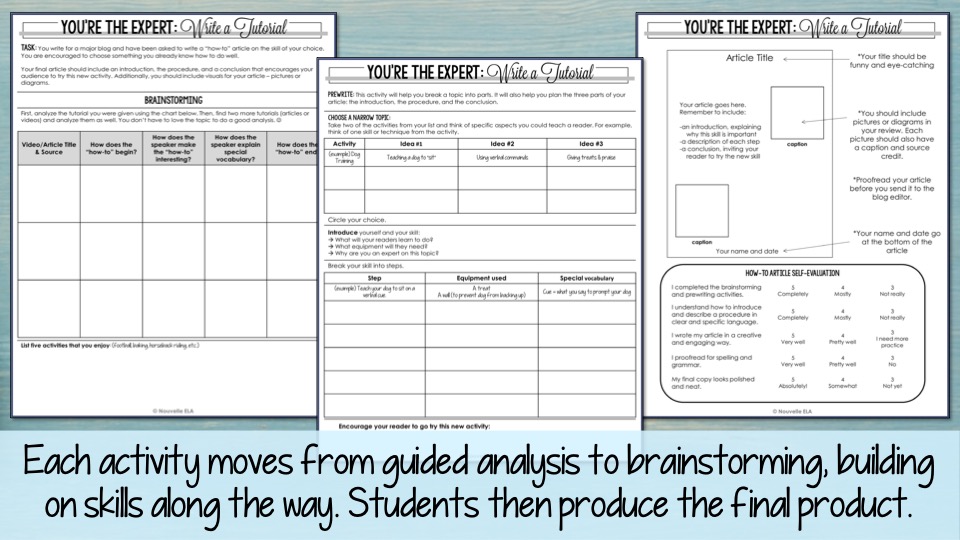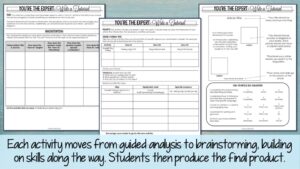 2. Song Portfolio
Using music in your curriculum boosts student engagement in the classroom. This song portfolio activity is certain to do so!
Students will…
Engage in pre-writing activities
Analyze theme in various songs
Determine and analyze the speaker's attitude (s)
Analyze symbols and/or images
Analyze figurative language
Design a polished song portfolio
You will find 3 song recommendations within the resource, but you can find more selections here and here!
Looking for an even more inclusive lesson? Use this activity in February and pair it with one of these six songs inspired by Black History Month.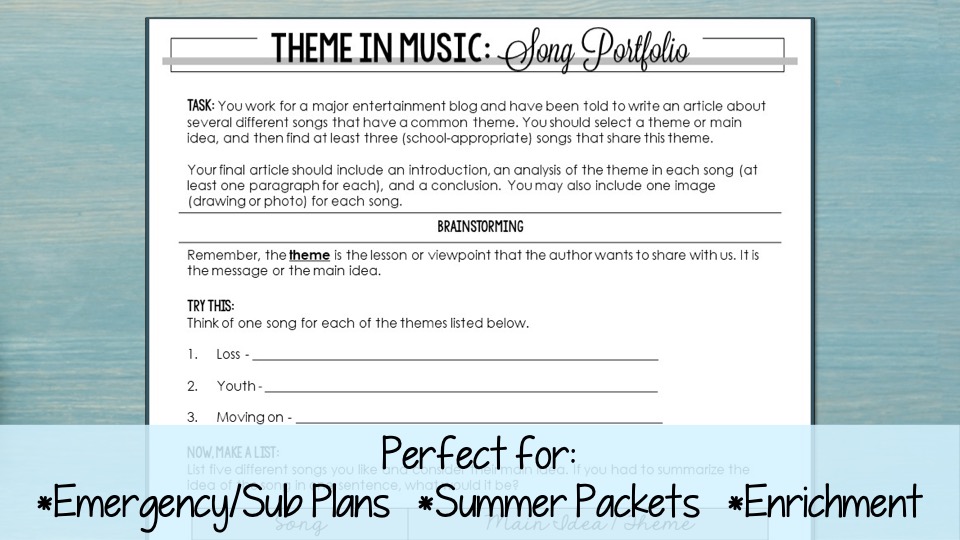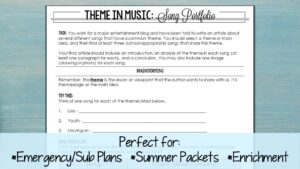 3. How-to Article
Did you know you can implement procedural writing activities that help build a healthy classroom community? In the age of aspiring vloggers and bloggers, students become an expert and tap into their interests to write a tutorial.
Students will…
Engage in pre-writing activities
Analyze a provided tutorial exemplar
Analyze two tutorials of their choosing
Analyze the speaker
Develop a draft of their tutorial (through scaffolded steps)
Design a polished how-to tutorial article
Need more procedural writing activities? Follow up using this lesson or these low-prep media literacy activities.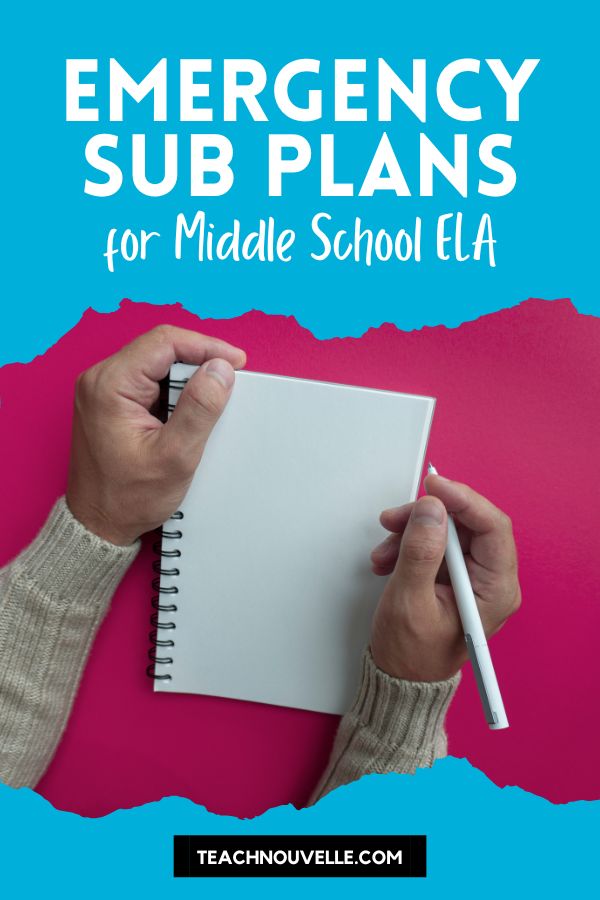 Final Advice
If you're anything like me, I never want my students to feel that the learning they do on a sub day is done in isolation merely because I am not there to help facilitate their learning. I love that each of these activities is adaptable for small group presentations or larger projects, so you can extend the learning upon your return!
Even if you don't need them right now, they are handy as emergency sub plans for later.
Want more last minute ELA middle school sub plans? Check out this post on The Secondary English Coffee Shop!