Last fall, I did a Writer's Workshop with my 9th graders to help them write their own short stories. We did this as part of our Dystopian unit, but the process works with any genre. In this post, I'll cover the Writer's Workshop process in my classroom, how I manage the reading load, and things I am still trying to improve.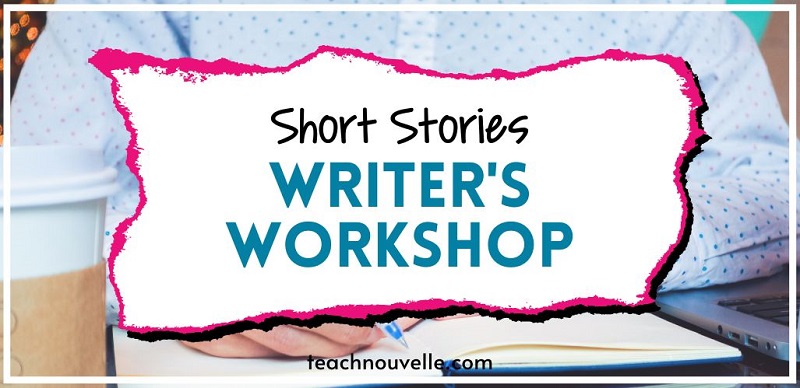 First of all, I combined my Writer's Workshop with Dystopian Lit Circles last year and basically designed the unit to be a reading/discussion day and then a writing day. I thought I was breaking it up for the students and that they'd appreciate the break, but they told me that they felt like they couldn't completely focus on one or the other. I think the solution would be to have students mostly finished with Lit Circles (if you choose to do a combo) before introducing the writing assignment.
1. Preparing for a Writer's Workshop
We begin our Writer's Workshop with an overview of Story Elements as writers see them, particularly in terms of making each scene count and building moments of conflict. Then, we apply this to a model text. Last year, we analyzed Kurt Vonnegut's "Harrison Bergeron" for these moments. HB was a great model text for us since it's short and in-genre. Additionally, the students had read it in 8th grade, so they could analyze it with some distance.
We also complete Quickwrites as a warm-up. I provide a handful of story starters, or first lines students could use for a story. Then, they write the first paragraph or two. They share them with other students and get feedback on what grabbed the reader. Last year, a few students even used the resulting Quickwrites as inspiration for their final short story.
Psst, my Poetry & Song Lyric Writing Prompts resource is perfect for this activity. Click here to download a free version of this resource!
What to Improve: In my next workshop, I will encourage students to just get started. So many students dragged their feet before actually writing anything and lost valuable workshop time. I will do even more Quickwrites before we start our stories.
2. Writing Days
We have several in-class workdays, which I think is the point of a Writer's Workshop. I put students into writing groups based on a "help" formula. To prepare, I have students tell me if they'd like to a) be helped by their classmates, b) help their classmates, or c) work alone. Then, I group the "work alones" at a table and mixed the helpers and help-ees. The workdays become very productive and self-sustaining – I see a lot of students exchanging ideas about a particular section of their story, which is an amazing writer-ly thing to see. I also let students listen to music while they write. I want to listen to music while I write, so why shouldn't they?
I do a few minilessons during the workshop days. Minilessons are 5-10 minutes (for our 45-minute class periods) and focus on a very specific skill. For example, during this unit, we work on formatting dialogue.
What to Improve: Last year, I gave students a minimum word count. This was a huuuge mistake because there are many examples of successful, very short stories. I had some students who had creative ideas but forewent them in order to "make the word count".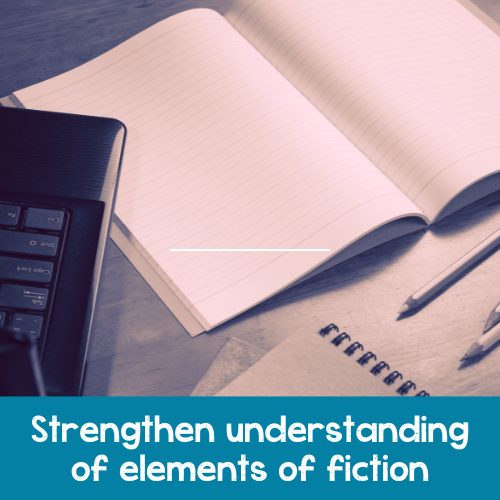 3. TAG feedback
On a designated day, students bring in rough drafts. Our school is 1:1, so they bring them on their laptops. Then, students rotate in small groups (you can make these new groups or keep them the same) and write down TAG feedback for the writer:
T – Tell the writer something you like
A – Ask the writer a question
G – Give the writer a piece of helpful criticism
Last year, we had already worked on TAG feedback for essays, and students knew what "good feedback" looks like. If this isn't the case for your workshop, this is a perfect Minilesson topic!
I have students get feedback from three others, and they keep all of these on one piece of paper. That paper is part of the final portfolio. You can grab this TAG feedback form at my TeachersPayTeachers store.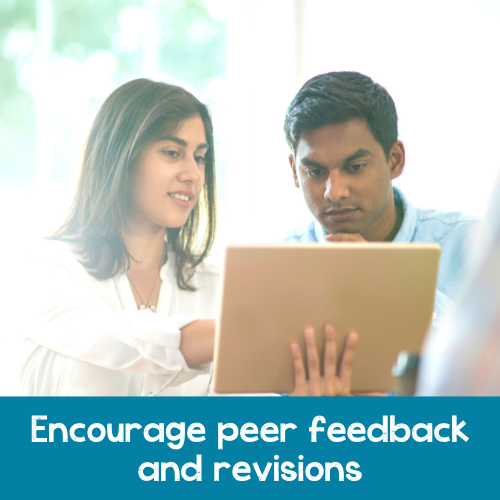 4. Conferencing and Teacher Feedback
During Writer's Workshop days, I conference with the students. They really direct the conference with their questions, or if they have a portion of the short story they'd like me to read. I always make sure to read the first few paragraphs of the story, particularly as I notice that students take so long to get to any action in their stories. I urge students to design around this story structure, introduced by Anne Lamott:
Action
Conflict
Background
Development
Ending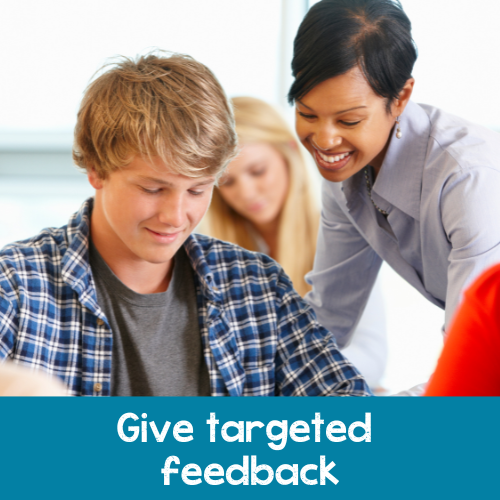 What to Improve: Last year, I also read all of the rough drafts. I had 40 students working on this project with an average of five-page drafts, for a total of 200 pages. I am a very fast reader, but it still ended up being a lot more work than I'd like to do every year. In the future, I will have students fill out an outline sheet and I'll give feedback on that instead.
Enjoying this post on hosting a writer's workshop in your classroom? Sign up for my weekly Teaching Tips Newsletter to receive tips like these delivered right to your inbox!
5. The Final Portfolio
Students turn in a Final Portfolio with all of their drafts, feedback, a final Story Elements worksheet, and their rubric. The final drafts are actually easy to read because I've seen so many of the stories in workshops at that point. Last year, I graded on use of class time, revision efforts, and the use of Dystopian elements in the story.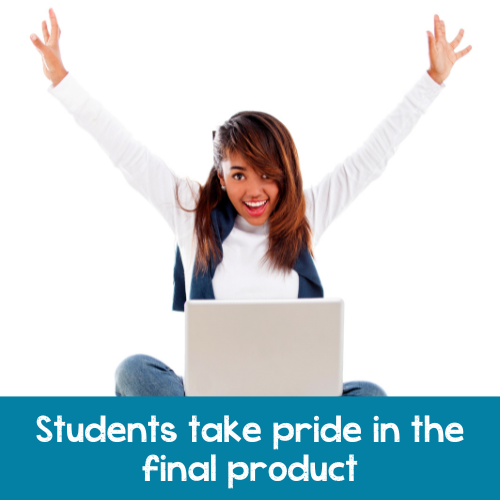 What to Improve: I believe student reflection and analysis is so important, so in future workshops, I will have students complete a self-evaluation rubric and explain what grade they think they deserve. This will inform my grading and really meet my final goal of developing independent writers, readers, and thinkers.
Some other short story tips & tricks:
What do you teach in a short story unit?
In my short story unit, I want to make sure that students understand plot, characterization, setting, conflict, irony, symbolism, and mood. These are the big concepts that set us up for success for the rest of the year. I also like to introduce students to multimodal analysis early: analyzing songs, short films, and TV episodes just like we do with short stories.
It is NOT necessary to hit every concept in every short story. I spend 1-2 days per text or concept, and then we move on. I want students to experience a wide range of texts and practice applying this understanding.

The other goal of my short story unit is to expose students to as many authors as possible. There are a ton of excellent YA short story anthologies that can lead students to find authors' full-length novels.
Make it DIY
Another fun way to inspire your students is through "story starters." I have a resource of poetry and song-lyric creative writing prompts that is perfect for inspiring flash fiction. You can use them to model a specific literary device that you want students to practice, or you can let students run wild. This resource is also a good fit for distance learning.
An alternative to having students start their story "from scratch" would be to engage in some creative reading to inspire "rewrites" of a particular short story.
Ditch the classics
"The Necklace" and "The Lottery" are great stories, with tons of literary merits. But do you ever find your students falling asleep when you try to get them to read the classics? Well, we all need a change sometimes. Sometimes all students need is a fresh story. Something that feels relevant to them and their peers. We can revitalize our content, without sacrificing our standards. I have two blog posts dedicated to new short stories, one for middle school and one for high school.
Below, I have listed my 14 favorite short story anthologies using affiliate links for your convenience. If you decide to purchase, please consider doing so through these links at no additional cost to you! Your support makes this blog possible.
These titles are all filled with great choices for teaching short stories, and provide some fresh additions to the classroom library.
1. Fresh Ink edited by Lamar Giles
Fresh Ink is a collection of short stories for high school, a graphic novella, and a never-before-published play by the legendary Walter Dean Myers. Thirteen voices, (including YA authors Nicola Yoon, Jason Reynolds, and Malinda Lo) come together to share their perspectives.
I was fortunate enough to get to discuss this book with its editor, Lamar Giles, in episode 26 of the YA Cafe Podcast. In our chat, Lamar shared about the experience of putting this collection together, and they shout out some of their favorite stories.
Statistically, you will have a student with disabilities in your class at some point. Remember, not all disabilities are visible! It's so vital for ALL students to them to see themselves represented in literature. By putting these stories in front of your students, you are literally changing their life. Maybe they have never read a book with a protagonist "like them".
Get ready to make classic American literature like Poe more accessible to today's students! They will LOVE this fresh take on his timeless stories. I'm so thrilled to have gotten an ARC from Flatiron Books. Isn't it such an eye-catching cover? I'm a big Edgar Allan Poe fan, and I find the whole concept of the re-imaginings so captivating.
This would be a spooktacular paired reading activity for the Halloween season 🙂 Students could compare and contrast an original Poe story with one from the retelling, or students could write a retelling of their own.
4. (Don't) Call Me Crazy edited by Kelly Jensen
One of the most talked-about (and talked around) issues in America right now is mental health. Teen suicide rates are the highest they have been in 20 years, and although mental health "awareness" is rising, many negative stereotypes remain.
You are doing SO much for your students, just by being in their life. Through your words and your actions, you are showing your students you accept them and empowering them to seek help if they need it. One way to make your classroom a "safe space" for students with mental health issues is to provide them with some much-needed positive representation.
5. The Radical Element edited by Jessica Spotswood
In episode 8 of the YA Cafe Podcast, we talk about The Radical Element: 12 Stories of Daredevils, Debutantes & Other Dauntless Girls. It's a follow-up to Spotswood's 2016 collection, A Tyranny of Petticoats: 15 Stories of Belles, Bank Robbers & Other Badass Girls. Once again, she presents a diverse collection of historical fiction pieces with brave young women who tackle questions of identity, ambition, and justice.
6. Black Enough: Stories of Being Young and Black in America edited by Ibi Zboi
Some of the best short stories assembled by National Book Award Winner, Ibi Zboi, are a must-have for every classroom library. Representation matters and this book provides a vital mirror, or window for students. The point of view of black kids on every spectrum, be it socio-economic, gender, sexuality, or environment, are celebrated in these 17 stories.
7. A Thousand Beginnings and Endings edited by Ellen Oh and Elsie Chapman
Fifteen bestselling and acclaimed authors reimagine the folklore and mythology of East and South Asia in classic short stories that are by turns enchanting, heartbreaking, romantic, and passionate. Each classic short story in this collection has a unique way of engaging students who love folklore and mythology.
Even though these stories have classic roots, the storytellers have re-imagined the plots and characters. Sometimes, characters are given modern technology, or they have moved the stories to a new setting (like space!). These are true re-imaginings by some of today's most popular authors. Students will love what they read and be inspired to craft their own re-imaginings.
8. My True Love Gave to Me: 12 Holiday Stories edited by Stephanie Perkins
With rockstar contributors like Holly Black, Rainbow Rowell, and Jenny Han this is sure to fly off your bookshelves. And most importantly, this collection of stories has something for each student, no matter what winter holiday they celebrate.
9. Here We Are: Feminism for the Real World edited by Kelly Jensen
"Forty-four writers, dancers, actors, and artists contribute essays, lists, poems, comics, and illustrations about everything from body positivity to romance to gender identity to intersectionality to the greatest girl friendships in fiction. Together, they share diverse perspectives on and insights into what feminism means and what it looks like. Come on in, turn the pages, and be inspired to find your own path to feminism by the awesome individuals in Here We Are." (from Goodreads.com)
This book is jam-packed with intersectional goodness. Students of all ages will laugh, cry, and feel seen in ways they may never have before.
10. How I Resist edited by Maureen Johnson
This is an anthology of essays, poems, art, interviews, and short fiction all centered around the idea of activism. Editor Maureen Johnson calls it a "resistance book for teens". The contributor list is jaw-dropping, and each contributor finds their own way and means to answer the question, "how do you resist?"
We featured this book in episode 16 of the YA Cafe Podcast, with our guest, teacher/activist Chris Peck. He and Danielle highlighted their favorite stories from the collection and shared some ideas for how to use this book in the classroom.
11. Toil & Trouble: 15 Tales of Women & Witchcraft edited by Jessica Spotswood and Tess Sharpe
Hey, I told you we are Jessica Spotswood super fans! 😉 We featured Toil & Trouble in episode 28 of the YA Cafe Podcast and remain utterly enthralled with all the wonderful stories it contains.
A few months after the T&T episode we had the chance to chat with Jessica Spotswood herself! She joined us in episode 56 to discuss another great witchy book, These Witches Don't Burn by Isabel Sterling.
12. It's a Whole Spiel: Love, Latkes, and Other Jewish Stories edited by Katherine Locke
An introduction by Mayim Bialik? Stories from Nova Ren Suma, Alex London, David Leviathan, and more? Yes, please! I love this positive representation and celebration of Jewish pride. It's truly a unique and much-needed anthology short story collection for high school students.
13. Meet Cute edited by Jennifer Armentrout
This suggestion comes from our friend H.D. Hunter. He took part in the End of Year Round-Up on the YA Cafe Podcast where we asked teachers, authors, and writers for their recommendations. His pick was Meet Cute, and his favorite story was The Department of Dead Love by Nicola Yoon.
In that episode, he says, "I think anytime you have an anthology or a collection, there are always stories that stick with you more than others. And I have a little bit of a bias leaning towards Sci-Fi… So, Department of Dead Love, it almost reminds me of Eternal Sunshine of the Spotless Mind. You have this, sort of speculative, contemporary environment where there are excavators and autopsy people who can look into the reasons the relationships ended, and they can also help counsel the people who are a part of the relationships into having better closure with what happened."
14. All Out: The No-Longer-Secret Stories of Queer Teens throughout the Ages edited by Saundra Mitchell
This book features such an incredible line-up of contributors! It's a "who's who" of our podcast favorites, such as; Natalie C. Parker (Seafire), Robin Talley (Pulp), Tehlor Kay Mejia (We Set the Dark on Fire), Mackenzi Lee (The Gentleman's Guide to Vice and Virtue), and Anna Marie-McLemore (Blanca & Roja).
The unique thing about this collection is that all 17 stories are period pieces. It's so vital to see these historical representations of queer identity. Too often queer stories have been "straight-washed", or completely excluded from history.
Celebrating Pride month is wonderful, but remember, students need LGBTQ+ voices year-round. Your students will feel so seen and safe knowing that you are an ally.
How do you assess Short Stories?
Okay, so you know how I said I focused on one concept in each short story? Once you get to assessment, it's time to have students apply everything they've learned to a brand-new short story.
In this differentiated Short Story assessment bundle, I have three leveled tests that all do this. Because I will have done short stories with Honors, Regular, and Enrichment sections, I need three different tests.
On test day, students read a brand-new short story that is VERY SHORT. One to two pages is ideal. Students need the bulk of the period to work on identifying and analyzing the elements of literature.
In my experience, students like that this short story assessment isn't just recall – it's on-the-spot analysis. And because I include short response questions, the questions aren't "all or nothing" – they can get answers partially correct.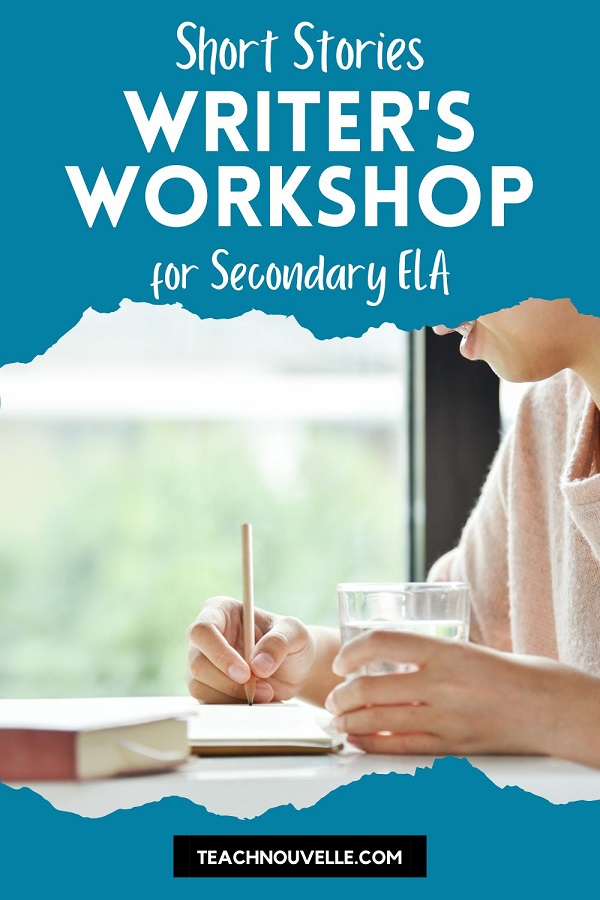 Do you use a Writer's Workshop model in your classroom? What is your favorite tip or trick? I'd love to hear from you in the comments, or reach out on IG @nouvelle_ela 🙂
Happy teaching!