A low-stress (and low-cost!) way to help students build their public speaking skills is by using children's books. Learn how in this post!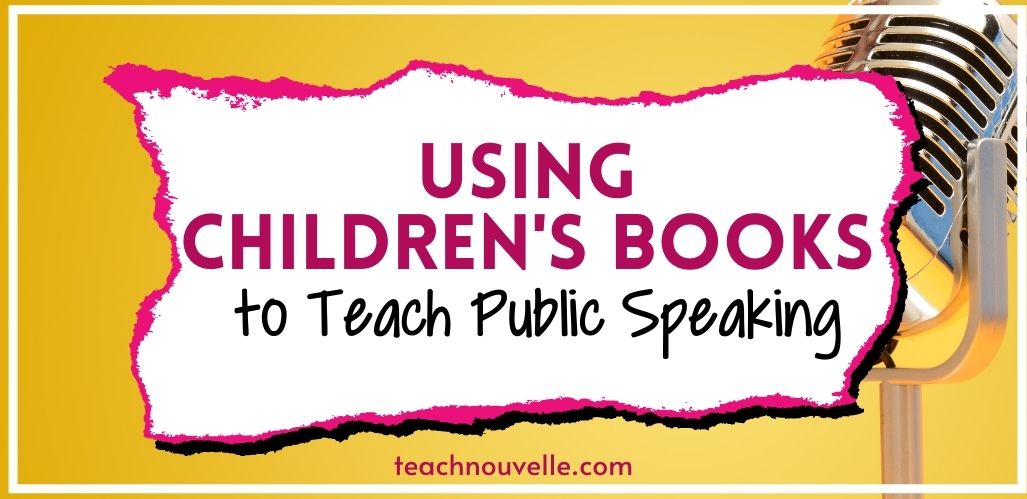 One way to lower the pressure of teaching public speaking skills online or in the classroom is by using children's books as inspiration. Middle and high schoolers will become much more confident with this approach to public speaking.
Why are children's books great for middle and high schoolers?
Students can read them in a class period and get to work
If they want to choose a different text, there's not a ton of lost time
Students can connect to the story AND to the artwork
Teaching Public Speaking Skills
I've been teaching public speaking to 8th and 9th graders for a long time now, and I can tell you that the number one thing they need is CONFIDENCE. Therefore, I always look for ways to build confidence. Here are some key ideas to build confidence and how children's books fit into the equation.
1. Students need a lot of opportunities to practice public their public speaking skills.
Short, frequent, low-stakes practice is key.
You could choose one day a week where you'll focus on teaching public speaking, one skill at a time. Perhaps one week is "making eye contact with the audience" and another week is "speaking without note cards. If all of their public speaking eggs aren't in one Major Project basket, they'll feel more successful.
Idea: Have students read a children's book of their choice and present it to a small group (4-5) in a short Book Talk. What did they love? Which page had their favorite artwork? You can give students questions and help them brainstorm and practice a 3-4 minute Book Talk they'll share with their small groups. I have a free resource for Book Talk Brainstorming to make your life easier 🙂 You can repeat this activity several weeks in a row with different books or the same book with different groups.
If you're teaching public speaking online, students can practice these skills in breakout rooms.
2. Students need to feel relaxed.
One of the best tools I've found for teaching public speaking is by using improv games in ELA. These drama games help students think on their feet and connect with their costars. Best of all, the gamification of it lowers the stakes and helps students feel relaxed.
Idea: Have students work in small groups to read a children's book. Then, they'll recreate that children's book in a short skit in front of the class. This is a great way to help students relax since they aren't inventing the story – they're retelling. They also have the comfort of being part of a team as they practice their public speaking skills.
3. Students need to hear what they're doing well.
Part of building student confidence with public speaking is giving a lot of positive feedback. And it doesn't just have to be from you, the teacher. Students should be ready to share what their peers are doing well. (The laughter students get from improv games is also a form of positive feedback)
One resource I recommend is this bundle of Peer Feedback forms. These are short and easy and focused on the positive. 🙂 Students can complete these in small groups, too, so you don't have to subject students to the terror of talking in front of 29 peers as they hone their skills.
Idea: Students choose a children's book to read aloud in small groups. This provides them an opportunity to practice pacing, adding vocal interest, and even "looking up from their notes." This is a task that they can rehearse at home or in class a few times without a huge time commitment. Plus, it's a fun day of class!
If you're teaching public speaking online, you can easily record this activity and share it via Flipgrid or another platform.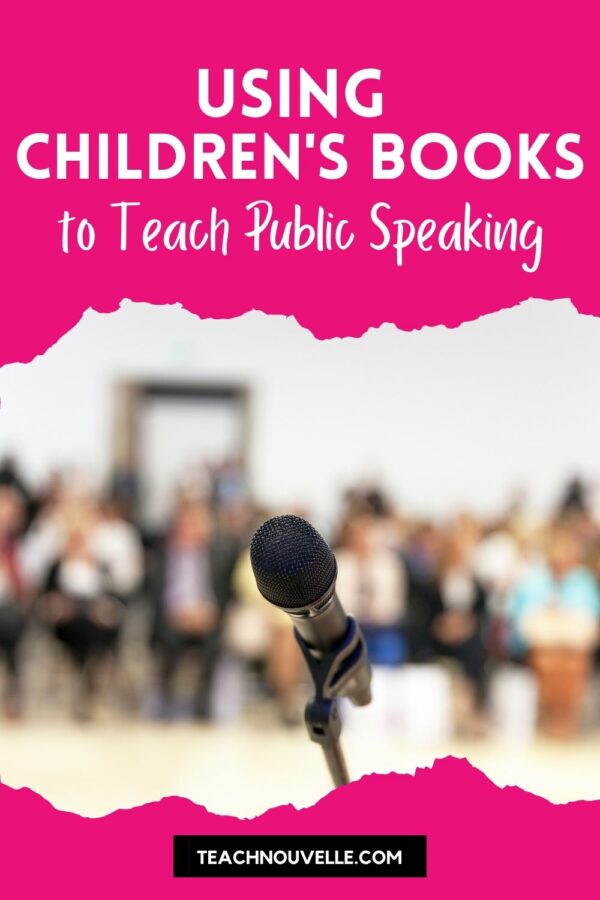 Final Thoughts
I hope you try some of these ideas! I love teaching public speaking and watching students' confidence grow. And down the road, when they have to present for high-stakes projects, they come back and thank me for the practice we did.
Happy teaching!