So, like you, I spend a lot of time thinking about how to get my teenage students to love reading and writing. I spend a lot of time recommending books to teachers to help get their teenage students to love reading. I even started a podcast to help teachers, librarians, and students find new YA titles they'll love. In short, I think about book recommendations a lot.
But sometimes, a book is unrecommendable.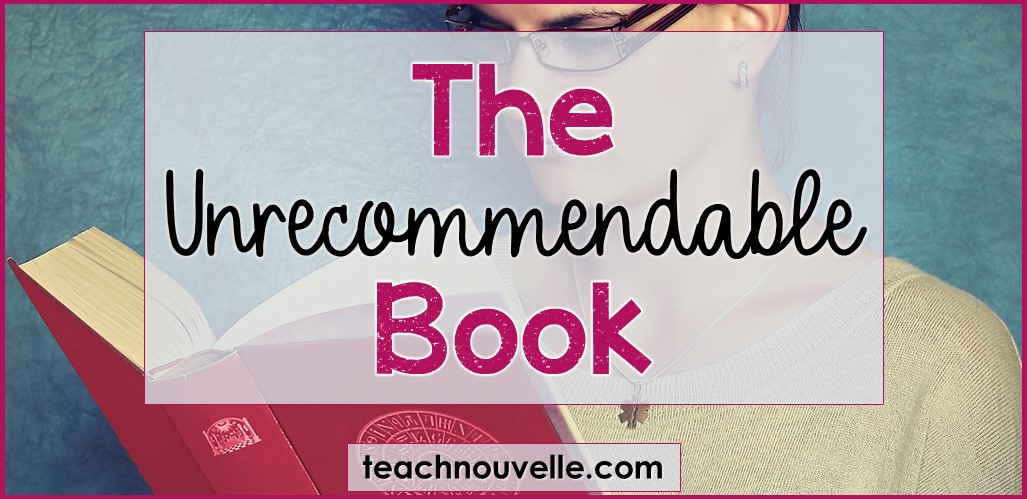 This post contains Amazon Affiliate links.
If you choose to purchase this book through one of these links,
I'll get a small commission from Amazon.
This will help support the maintenance of this blog so that I can bring you more great content!
Our original plan for this week's podcast episode was to read the new book Ship It
by Britta Lundin. She's amazingly talented and currently writes on Riverdale. She and her wife live on the Oregon Coast (I have a wife! I'm from Oregon! I want to live on the coast!), so of course she resonated with me before ever reading a word of her book.
But as I started to read Ship It, I got the feeling that this would be a difficult book recommendation. I needed to figure out how to articulate why.
Because, here's the thing: I loved Ship It! I finished it today, and I laughed, I cried… I saw myself in the characters and in the major arcs of the story. But just because you love a book and a book is written for teens, doesn't necessarily mean that you can put a book into a teenager's hands.
Let me back up.
A Book I WISH I Could Recommend (but can't)
Ship It
 is about a genre television show that feels a lot like Supernatural. It features two main characters, a demon named Heart and a demon hunter named Smokey. Even though it follows these two men, the audience is primarily teenage girls. There's action, there's humor, and there's chemistry between the two dudes. Claire, a fanfiction writer, shows up at a convention and asks about the potential of a gay romance for these two characters. One of the actors, Forest (who plays the demon hunter), blows up and calls her crazy. The whole story kind of goes from there – Claire, arguing for more queer representation, and Forest, trying to shut her down at every turn.
It's a great book.
But I could never recommend it to a student, and here's why.
Among all of its great qualities, this book is, at its core, about fanfiction, fan ownership of content, and fans' abilities to get creative with their reading of a text or show. Claire writes homoerotic fanfiction, and there's no skirting around this fact.
Subversive Literature & Fandom Culture
And here's where we get into the weeds. Our teenage students are fans of tv shows and movies and books. They'll find the fandoms if they look. They'll ship pairings if they feel like it. They will read and write fanfiction of all shapes and colors, if they want. I spent a lot of time in the Harry Potter fandom when I was in high school. Most of what I read and wrote was about the Marauders' era, but I also read everything Cassandra Clare was writing before she became uber-famous. I made up characters and added them into the HP universe, and I spent hours and hours reading, writing, and commenting in a totally extracurricular way. No teacher told me to do it.
There are books that are subversive in one way or another, and the book becomes "less cool" somehow if a teacher recommends it. These are the books that get passed around in secret, as if we don't know they're out there. This might be because of a steamy romance, all-too real depictions of drug use and violence, or even politically commentary that the students are exploring for the first time. It's an amazing feat of literature to be able to teach us so much about the world and its natural that we want to offer this to our students…
…but sometimes, we can't.
Sometimes, a book is unrecommendable.
In addition to a book losing its "coolness" factor if the book recommendation comes from an adult, recommending the "wrong" book could lose you your job. You still teach teenagers. It's one thing if they're reading subversive literature, and another if you recommend them.
And so, I cannot tell you to add Ship It by Britta Lundin. Even if it depicts a teenage reality that resonated with me (fanfiction, conventions, issues of representation), I cannot tell you to place it in a student's hands. Perhaps this is one that you add to your school library. Maybe you leave it in a disorganized stack in the corner of your classroom. Perhaps this is one that you just buy a few copies and leave them on a park bench or in the cafeteria. It's hard to know how to share subversive fiction.
Instead
Here's what you can do instead. Teach your students how to love characters and how to imagine different storylines for them. Teach your students how to think critically about a work's representation of women, LGBTQ+ people, people of color, and people with disabilities. Teach your students how to read creatively and how to dream big for the fiction they love. And, at the end of the day, perhaps encourage them to seek others who love the fiction as much as they do.
Want book recommendations delivered to your inbox?
Sign up for the YA Reads Monthly Newsletter!