This content has been archived. It may no longer be relevant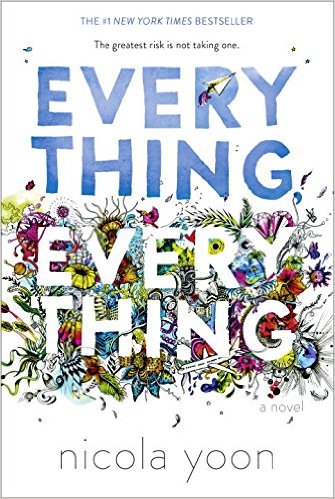 Everything, Everything
Madeline, who can't leave her Clean House for fear of dying from an allergy to an unknown trigger, wants more. She wants to feel the ocean in between her toes and smell the musty old spines in a used bookstore. She reads thousands of pages to escape the confines of a white-on-white filtered-air house, but knows in her heart of hearts that nothing can compare to the real thing.
And then, Olly moves in next door. Madeline feels that everything, everything has changed.
—
I feel that the most rewarding part of this book, as a reader, was seeing that not everything had changed. Madeline states on several occasions that she can't go back to how things were before Olly, but we know that she wasn't fully content before him, either. His presence spurs on her wanting, but it doesn't *incite* it.
I also appreciated the depth of relationships in this book. Madeline and her mother have a loving relationship that is complicated by the burden of SCID and the lengths that Pauline must go to to ensure Maddy's safety. Madeline's relationship with her nurse, Carla, adds a lot of balance to the story as well.
And then, of course, there's Olly. But here's the thing: this isn't "just another YA romance" in my opinion, because the story focuses on Madeline and her ability to learn, love, and live. Olly is cute, sure, but he's dealing with his own problems. Even though Madeline feels like he's become the center of her universe, he hasn't really. I love this balance.
This story is captivating, poetic, and layered, and I believe that we will come to understand it differently each time we read it.
In the Classroom
I am teaching this book in the 4th quarter, tied to a research project about diseases and medical innovations. We will also be studying poetry, and this book presents several model poems. You could also tie in some non-fiction accounts of people who have lived with life-altering chronic diseases – students always love reading about people who live very different sorts of lives!
You could also readily recommend this book for independent reading, particularly to those students who loved The Fault in Our Stars by John Green. Maddy is a similarly plucky sort of narrator as Hazel, so students will enjoy her voice as well.
If you would like to purchase the book, you may do so here at Amazon: Everything, Everything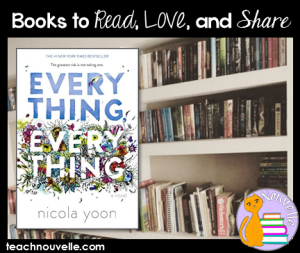 Best,
Danielle @ Nouvelle
Note: Danielle @ TeachNouvelle.com is a participant in the Amazon Services LLC Associates Program, an affiliate advertising program designed to provide a means for sites to earn advertising fees by advertising and linking to amazon.com.