The Radical Element is a new anthology of historical YA fiction short stories edited by Jessica Spotswood. This anthology moves chronologically through American History. We'll dive in to these stories on today's episode of the YA Cafe, the podcast for teachers, readers, and caffeine addicts everywhere.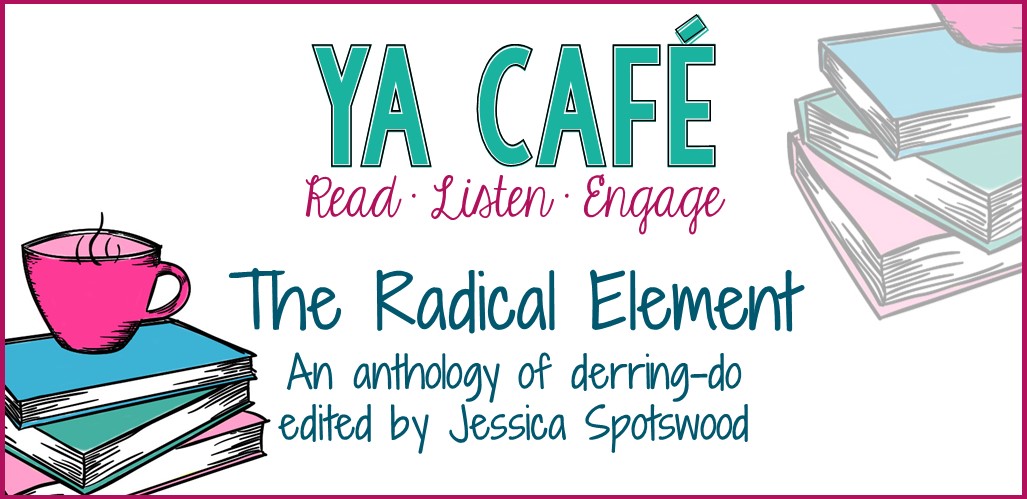 In today's episode…
The Radical Element: 12 Stories of Daredevils, Debutantes & Other Dauntless Girls
is a follow-up to Spotswood's 2016 collection, A Tyranny of Petticoats: 15 Stories of Belles, Bank Robbers & Other Badass Girls
. Once again, she presents a diverse collection of historical fiction pieces with brave young women who tackle questions of identity, ambition, and justice. In Spotswood's words, "they are mundane and they are magical. There is a power – a quiet badassery – in girls taking charge of their own destinies. These girls will not allow society to define them. Instead, they define themselves, claiming their identities even though it was often not historically safe – and, disappointingly, is not always currently safe – to do so." We find some common themes and motifs in these stories, along with vast differences that help us better appreciate each story's place in American History.
These Show Notes use Amazon Affiliate Links for your convenience.
If you decide to purchase this book, please consider doing so through our affiliate links.
Your support makes this podcast possible.
The Stories…
1838: Savannah, Georgia
"Daughter of the Book" – Dahlia Adler (Just Visiting
)
Rebekah wants to honor her Jewish family and community's traditions, but she also wants to get an education. For that reason, she's hoping the quiet and intelligent Caleb will teach her in secret. 
Themes/topics: Family/community expectations
1844: Nauvoo, Illinois
"You're a Stranger Here" – Mackenzi Lee (The Gentleman's Guide to Vice and Virtue
)
Vilatte doesn't know whether she believes in God, but she loves her community. Above all, she believes in her Mormon community's right to live a free life, unharrassed by people who don't agree with their teachings.
Themes/topics: The importance of community, Religious freedom, Courage
1858: Colorado River, New Mexico Territory
"The Magician" – Erin Bowman (Vengeance Road
)
Ray, who's always passed for a boy and been able to work on freighters in the Colorado River, hopes to make it to San Francisco to mine for gold.
Themes/topics: Familial relationships, Challenging the status quo
1863: Charleston, South Carolina
"Lady Firebrand" – Megan Shepherd (The Madman's Daughter
)
Rose and Pauline visit Rose's family in Charleston in the midst of the Civil War. Even though Rose has used a wheelchair ever since her riding accident, she won't let that stop her fighting against the Confederate cause.
Themes/topics: Family/community expectations, Overcoming adversity, friendship
1905: Tulsa, Indian Territory
"Step Right Up" – Jessica Spotswood (The Cahill Witch Chronicles
, Wild Swans
)
Ruby is a tomboy with circus dreams. She's never wanted anything other than to balance on a wire high above the ground, and it seems like she may just get her shot…
Themes/topics: Overcoming adversity, Pursuing one's dreams
1923: Los Angeles and the Central Valley, California
"Glamour" – Anna Marie McLemore (When the Moon Was Ours
)
Grace dreams of the bright lights of Hollywood, and she's working hard to get noticed. But she's got a secret, and if she continues to use magic to get her way, someone may find out…
Themes/topics: Familial relationships, Living in two cultures, Being true to oneself
1927: Washington, D.C.
"Better for All the World" – Marieke Nijkamp (This Is Where It Ends
)
Carrie wants to study law, and follows one court case with a particular interest – that of Buck vs. Bell, where a woman has been forcibly sterilized because she was deemed mentally unfit to bear children. Even though Carrie is disheartened by the verdict, she still doggedly pursues her goal of practicing law in a society that favors the neurotypical.
Themes/topics: Systemic injustice, Overcoming adversity, Challenging society's expectations
1943: Oak Bluffs, Massachusetts
"When Moonlight Isn't Enough" – Dhonielle Clayton (The Belles
)
Emma loves her family and her small Martha's Vineyard community, but she wants to use their gifts to help the war effort. Maybe she can talk her parents into helping? Or maybe she'll have to strike out on her own. 
Themes/topics: Family/community expectations
1952: Brooklyn, NY
"The Belle of the Ball" – Sarvenaz Tash (The Geek's Guide to Unrequited Love
)
Rosemary has always been the brains behind her friends' class clownery, and now she's got an opportunity to show a producer that women really can be funny. If only her mother weren't so insistent she'd also have a Coming Out Ball…
Themes/topics: Family/community expectations, Pursuing one's dreams
1955: Oakland, California
"Land of the Sweet, Home of the Brave" – Stacey Lee (Under a Painted Sky
)
Lana Lau competes to be Miss Sugar Maiden 1955. It seems only fair that someone like her, whose parents and grandparents actually worked to make the sugar industry successful, should represent the product… if only her competitors weren't out to sabotage her chances.
Themes/topics: Familial relationships, Being true to oneself
1972: Queens, New York
"The Birth of Susi Go-Go" – Meg Medina (Yaqui Delgado Wants to Kick Your Ass
)
Susanna is the daughter of Cuban immigrants, but living life in the United States just fine, thank you very much. When her way of life is about to be upturned, Susanna finds a pair of Go-Go boots on the balcony…
Themes/topics: Family/community expectations, Living in two cultures
1984: Boston, Massachusetts
"Take Me With U" – Sara Farizan (Tell Me Again How a Crush Should Feel
)
Soheila and her brother Amir have just immigrated to the United States to stay with an aunt who resents them and an uncle who doesn't say much. It seems Soheila will just drift along under the radar until a new friend asks her to be in a band.
Themes/topics: Living in two cultures, friendship
Want book recommendations delivered to your inbox?
Sign up for the YA Reads Monthly Newsletter!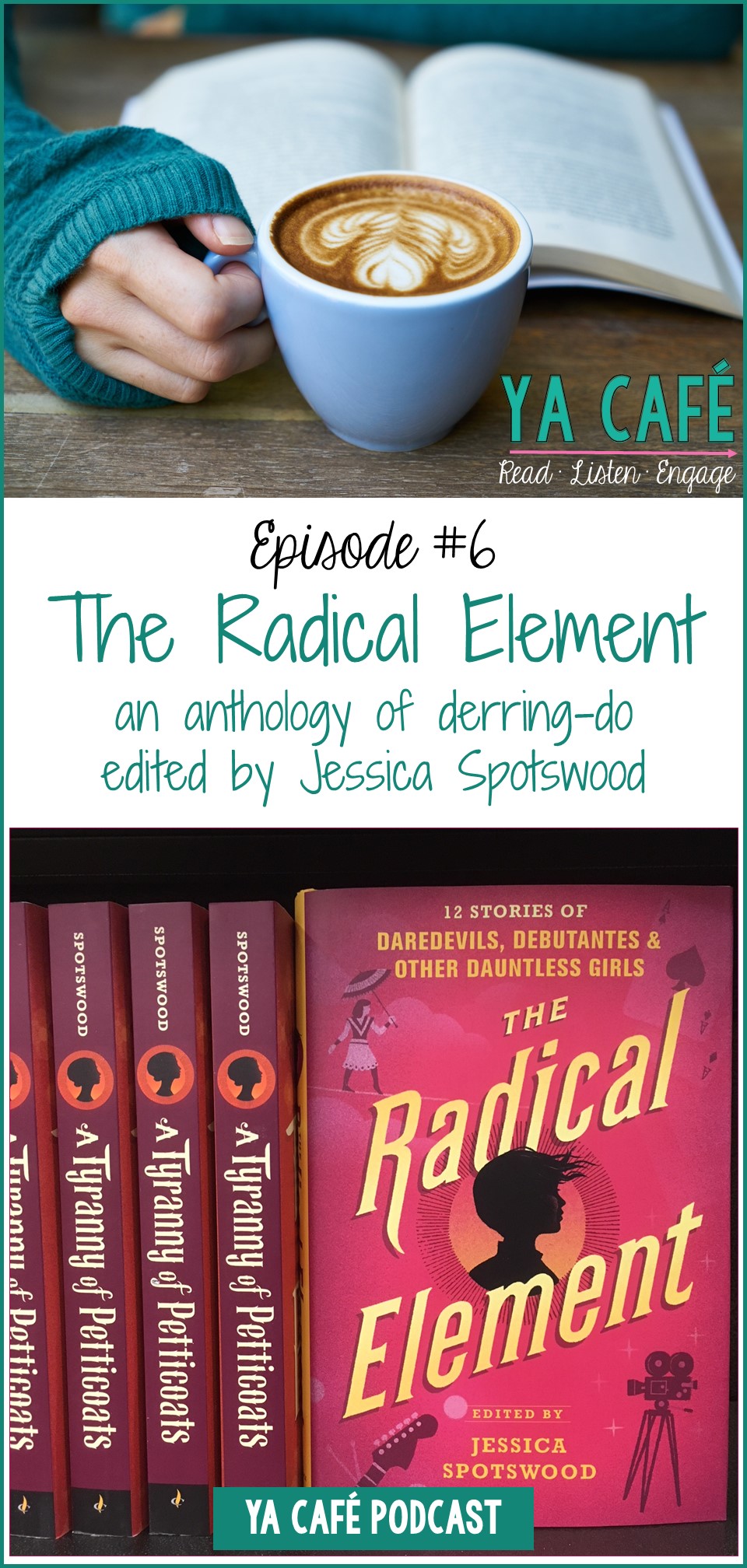 We featured another wonderful Jessica Spotswood anthology in episode 28, Toil & Trouble: 16 Tales of Women and Witchcraft. Be sure to check it out!
Which story in The Radical Element
 was your favorite? Which authors' novels do you plan to go buy right now? Let us know! Get in touch with us on Instagram and Twitter at @yacafepodcast or email us at yacafepodcast@gmail.com. We look forward to hearing from you!
Credits…
Hosts: Danielle Hall (who blogs at teachnouvelle.com)
             &  Amanda Thrasher (a booklover extraordinaire)
Producer: Leila Hobbs
Music: Matt McCammon
Thank you to Candlewick Press for providing us with an ARC of this anthology.