We have something very special for y'all to finish off 2018! In a two-part episode our guests bring 15 recommendations of books that you don't want to miss. (Transcript)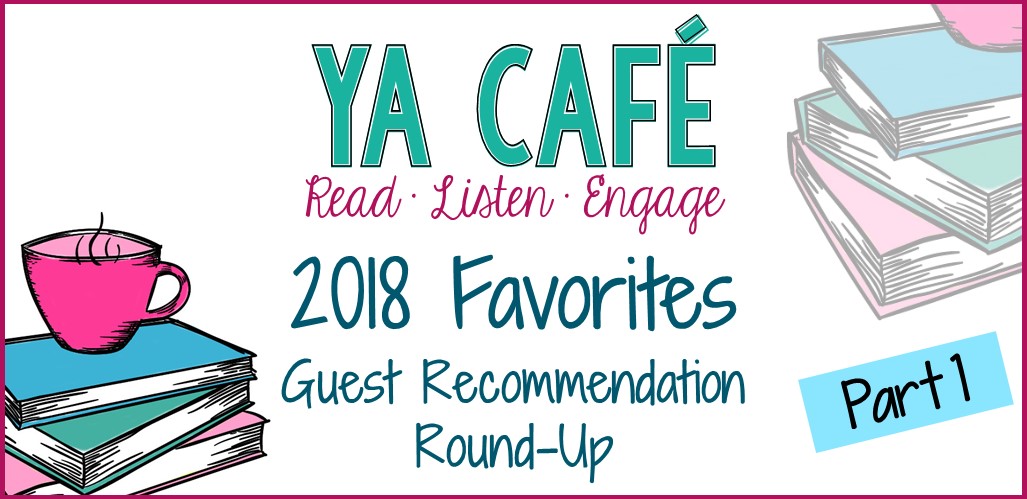 In today's episode…
Today's episode will be a little different, this is part 1 of a two-part year in review. We've called up some of our writer, reader, and teacher friends to make some recommendations of books we didn't cover this year on the podcast.
These Show Notes use Amazon Affiliate Links for your convenience.
If you decide to purchase this book, please consider doing so through our affiliate links.
Your support makes this podcast possible.
Our first recommendation comes from H.D. Hunter, author of Torment: A Novella. He shares a little bit about his writing life, and recommends the HMH anthology Meet Cute.
Our next recommendation comes from Maura Milan, author of Ignite the Stars which you might remember was one of Danielle's Things She Liked A Latte. Maura has great things to say about This Mortal Coil by Emily Suvada, and some really helpful tips for including it in the classroom.
Up next we hear from our friend Staci (@donutlovinteacher) who shares her love of The Wild Robot Escapes by Peter Brown, sequel to The Wild Robot. Middle grade books don't get enough love, so we really appreciate this great suggestion.
 Our friend and three time podcast guest, Courtney (@coco_chasing_adventures), recommends Emergency Contact by Mary H.K. Choi. This book is a sweet romance with a wonderfully diverse cast, 
Don't forget that we have Part 2 coming your way next week! 
We'll have recommendations from authors Lamar Giles, Amanda K. Morgan, Erin Callahan, and Hannah Moskowitz, plus more teachers and readers!
We were thrilled to have author Emily Skrutskie join us. We featured her book Hullmetal Girls and she joined us to chat about Seafire by Natalie C. Parker. She shares some exciting news about an upcoming trilogy she is writing, and recommends Mirage by Somaiya Daud. We were *huge* fans of Mirage! Danielle reviewed it on her blog, so you can check that post out for some ideas on how to include it in the classroom.
Our next recommendation come from from teacher and loyal podcast supporter, Matt (@classicsandcomposition), who is here to chat about Jane Unlimited by Kristin Cashore (author of The Graceling Trilogy which we LOVED).
This recommendation comes from our teacher friend Carissa Peck (@meltingteacher) who brings us very unique YA suggestion, 
All Rights Reserved by Gregory Scott Katsoulis. This is definitely one that will get the students talking, thanks Carissa!
Danielle wraps up the episode with a recommendation on her own, Every Heart A Doorway by Seanan McGuire. We are featuring Seanan McGuire's novel In An Absent Dream on the podcast next year, and it's a companion to the Wayward Children series, and Every Heart A Doorway is the first of that series. Danielle says, "It made me laugh, and cry, and long for Hogwarts and the Tardis and Daemons, in all the right places. Seanan Mcguire has things to say about stories. She understands stories, and she loves stories, and I love this book."
Want book recommendations delivered to your inbox?
Sign up for the YA Reads Monthly Newsletter!
More ideas and resources for teachers and librarians…
In today's episode H.D. Hunter shared some of his experiences going into classrooms and chatting with students. We know that teachers never have as much time as you want to cover the required materials, much less planning and hosting special events, but it can be a really exciting and memorable thing for students, and completely worth the effort! Danielle has a blog post that outlines how she was able to host author chats and create the opportunity for her students to speak with Suzanne Collins, and Betsy Cornwell. How cool is that?
Get in touch with us on Instagram and Twitter at @yacafepodcast or email us at yacafepodcast@gmail.com. We look forward to hearing from you!
Credits…
Hosts: Danielle Hall (who blogs at teachnouvelle.com)
          & Amanda Thrasher (a booklover extraordinaire)
Producer: Leila Hobbs
Music: Matt McCammon