From the 17th Century adventures in Lady's Guide, to the dystopian future predicted in Internment, this list has a book recommendation for every student. Make sure you are subscribed to the podcast so you don't miss all the great diverse YA books and guests we have lined up for our next season! 🙂 And if you aren't already caught up, you can check out the books from our first season!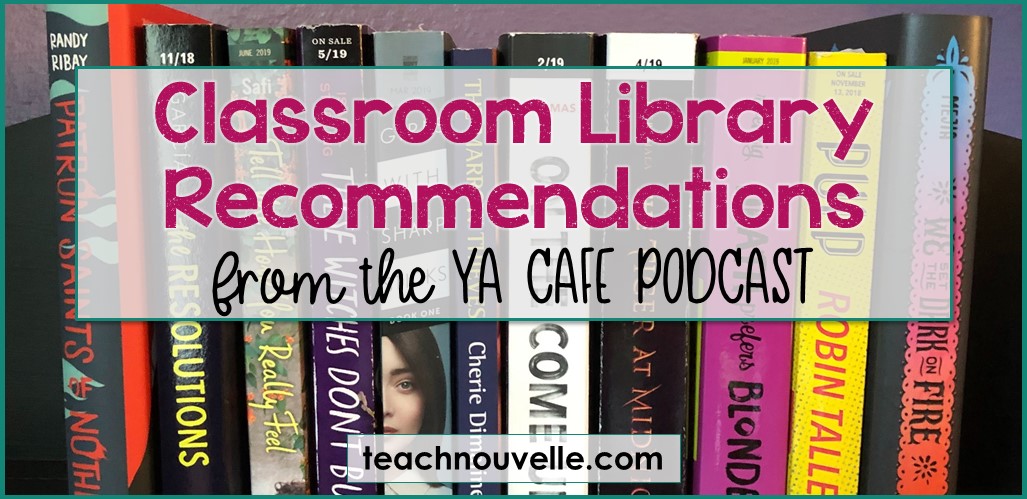 The Lady's Guide to Petticoats and Piracy
 by Mackenzi Lee is the follow-up to her fabulous The Gentleman's Guide to Vice and Virtue. In this new novel, Felicity is off on her own adventures. After struggling to gain admission into any sort of hospital or medical school, Felicity wonders if she'll ever be allowed to study medicine as a woman. Finally, a new opportunity presents itself as one of her idols asks her to work for him on a new expedition. Just as Felicity thinks her hopes have been answered, trouble arises and it's clear that not everyone has sworn to "do no harm."
(This episode was originally recorded as an Instagram live.)
Blanca & Roja
 is a twist on the classic fairytale, Snow White and Rose Red, and shares the tale of a family under a curse. Unto each generation will be born two sisters, and at their coming of age, one of them will be turned into a swan. Blanca is the older, gentler, sweet sister, and Roja is a bit rougher around the edges. The girls must work through a curse that tries to pit them against one another, reaching through the thorns to hold on to their love for each other.
We have discussed McLemore's work on the show before – her story Glamor appeared in the Radical Element anthology discussed in episode 6 and we were obsessed! Her story Love Spell appeared in the Toil & Trouble anthology discussed in episode 28.
In The Hate U Give
by Angie Thomas, sixteen-year-old Starr witnesses the murder of her unarmed friend, Khalil, at the hands of a white police officer. In the aftermath, she must balance the expectations of her Black neighborhood, Garden Heights, with her predominantly white private school, Williamson. Starr wants justice for Khalil, but she's scared that what she might say could bring trouble to her neighborhood or her family. Can Starr overcome her fear and make her voice her most powerful weapon?
When we featured this novel in episode #31 we did a book vs. movie comparison with our bookstagram friends, Anna and Courtney.
In Salt
by Hannah Moskowitz, monster hunting on a wide ocean is all the Indy knows and he knows that he hates it when his parents vanish on a long hunt. His older sister takes control of the family leading Indy and his two younger siblings to continue the fight. Indy has to choose between the siblings he loves desperately and a life of peace on land that feels like all he's ever wanted.
This blog uses affiliate links for your convenience.
If you decide to purchase recommended gifts or books, please consider doing so through our affiliate links (at no additional cost to you).
Your support makes our podcast, The YA Cafe, possible.
In Empress of All Seasons by Emiko Jean, Mari's world is split into two kinds of people—magical creatures and spirits called Yokai, and the humans who oppress and enslave them. Although she is a yokai, Mari has trained her whole life to conquer the four seasons and become the empress, hiding her identity. But leaving her safe mountain town for the capital city has shown her how harsh life truly is for the other yokai, and the prince shows a tenderness that gives her hope for the future. Can Mari conquer the seasons, and if she does, can she betray the prince she's come to care for?
In Robin Talley's new book PULP, senior Abby Zimet becomes obsessed with 1950's lesbian pulp fiction. Though her life is falling apart around her, Abby believes that meeting the mysterious author of a famous novel will help her figure things out. We also read the perspective of Janet Jones, a teenager in 1955 who begins to write her own pulp fiction novel. In her time, living openly as a lesbian is difficult and dangerous, much less writing lesbian fiction. Although living through very different times, Abby and Janet's lives are connected by the sweetness and struggles of first love.
The Resolutions by Mia Garcia.
This new year, Jess has a new plan to keep her four best friends together. The four of them will make New Year's resolutions for each other. She, Nora, Ryan and Lee all have each other's best interest at heart and give resolutions to help them embrace life or get over old relationships. But, those good intentions don't always go as they planned.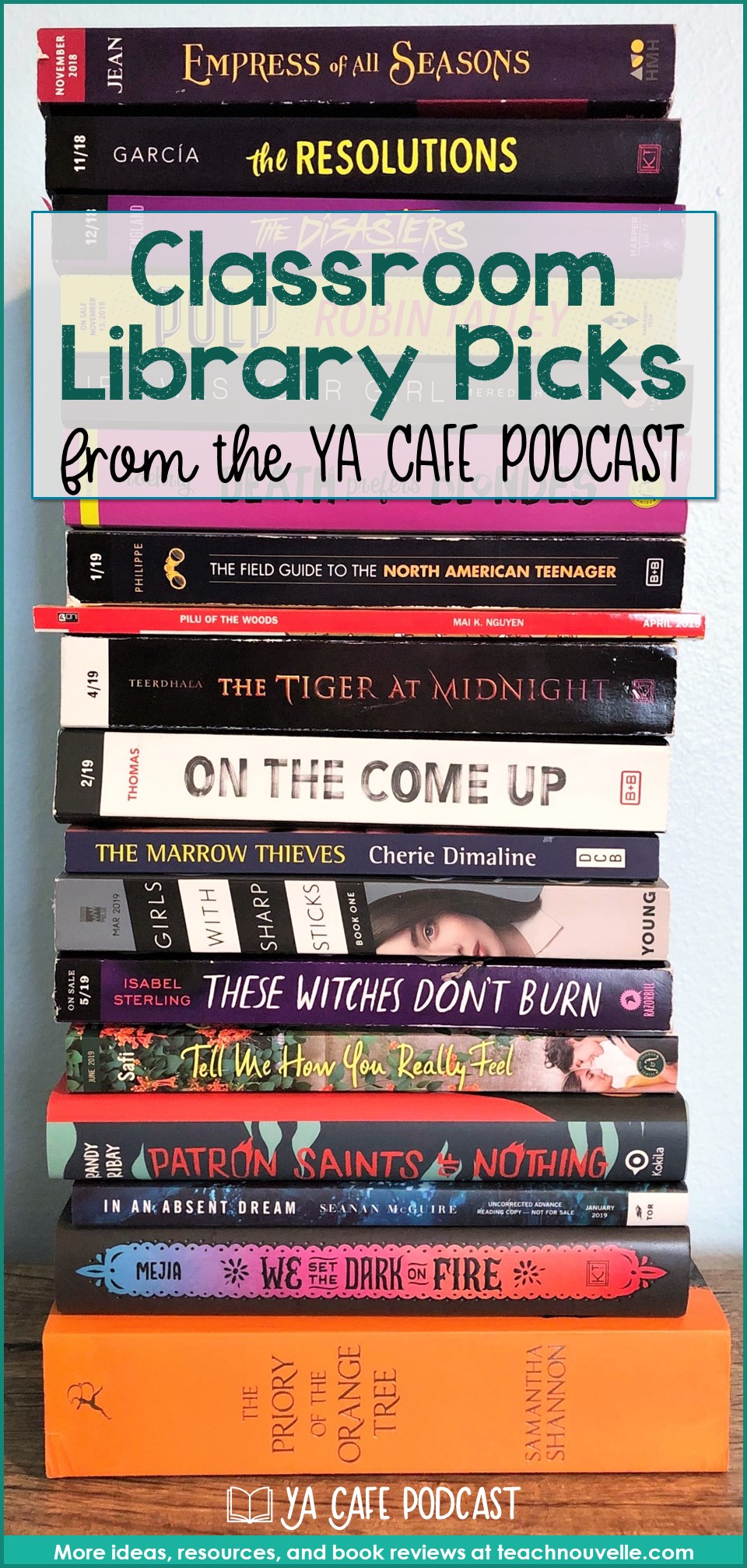 In The Disasters by MK England, wanna-be pilot Nax Hall has washed out of flight school in less than a day, and he's dreading his return to Earth. But when the Academy Space Station is attacked by terrorists, Nax and three other failures escape in a stolen ship to the far-off colonies. Framed for the academy attack, the four of them must scramble to figure out where to hide and how to prevent the powerful terrorist organization from striking again.
This episode was part 1 of our Year in Review in which we assembled recommendations from writers, authors, and readers. In this episode you'll hear from Emily Skrutskie, Maura Milan, H.D. Hunter, and more!
And this is part two of the Year in Review, featuring Lamar Giles, Hannah Moskowitz, Erin Callahan, Amanda K. Morgan, among others.
Katherine Lundy is quiet, serious, and studious. She'd rather be reading a book than playing with her friends, and expects that a wholly ordinary life awaits her in a distant Adulthood. But all that changes when a door appears before her and invites her in to the Goblin Market, where Fairness is the driving force and rules are never made to be broken. It's the perfect world for Lundy to thrive, but Lundy has to choose between growing old and ordinary with her family, or staying in the Goblin Market forever. In An Absent Dream is a standalone novel by Seanan McGuire that exists in the same universe as her Wayward Children series.
Need something else? You can find ALL my recommendation lists for inclusive classroom materials here. Poems, TED talks, short stories, and so much more!
When Norris' mother gets a job as a professor in Austin and his father "can't quite fit a teenager" in the same house as his new wife and baby, Norris knows he's in for a culture shock. After all, he's seen tons of TV shows and movies showing what it's like in American high school, and he knows that a black French Canadian is bound to have a hard time fitting in. He chronicles his anthropological observations of his new classmates in a journal, and is determined to keep his mouth shut. Maaaybe. Will Norris ever make friends in this cultural wilderness? Will he ever get to play hockey again? We'll find out… in The Field Guide to the North American Teenager by Ben Philippe.
In If I Was Your Girl by Meredith Russo, Amanda is a normal high school girl and for the first time she's given the chance to live like one. She's a transgender teen who moves back in with her estranged father after the bullying and attacks at her old school become too much. At her new school no one knows she used to look like a boy, she's just the pretty new girl. And it isn't long before she has a group of good friends, a boyfriend on the football team and something that looks like the life she's always wanted. Amanda's father still struggling with fear for this new daughter, he thought was the son and Amanda tries to come to terms with keeping a secret from her new friends.
By day Margo Manning appears to be your average vapid socialite heiress, but by night she is the leader of a highly skilled group of drag wearing thieves, pulling off notorious heists and making hundreds of thousands of dollars. It's a perfect balance for Margo until a series of disasters causes her two lives to twine together in increasingly dangerous ways. Can Margo keep herself and her friends safe from the threats that her high crime lifestyle has brought into their world? The answers are in Death Prefers Blondes by Caleb Roehrig.
In Angie Thomas' new book, On the Come Up, Bri Jackson isn't interested in the prescribed future of college and career her mother has in mind for her. All she wants to do is follow her passion and talent and become a hip hop artist, like her late father. After a triumphant debut at The Ring, a local venue for rap battles, Bri is ready to rise to the top. Unfortunately, the world has its own ideas about how a teenage Black girl is expected to act. She faces relentless racism and oppression just for being a normal high school girl, even without the reputation she gets for rapping. Will Bri be able to stay true to herself and follow her dream?
We Set the Dark on Fire by Tehlor K. Mejia, provides a dark vision of the island world of Medio where a wall separates the prosperous inner region from the salted, barren earth of the outer island. Every young man of wealth and means negotiates for two wives – a Primera, who is to be his ambitious, intellectual equal, and a Segunda, who will be the lovely and beautiful opposite of everything he is. Daniela has trained as a Primera in Medio, and is set to marry an influential politician's son. When a rebel organization discovers her biggest secret, she must agree to be a spy in her new household or lose everything she's worked for. Can Dani keep her grip on the life she's always wanted, or will the spiderweb of Medio claim another victim?
The Priory of the Orange Tree by Samantha Shannon is an epic fantasy set in a world with sharp divisions. For those in the West, dragons are their most hated enemy, and the only thing keeping them safe is a Queen's dynasty that has lasted 1,000 years. In the east, sea dragons are gods, guarding and guiding the kingdom. When the enemy of humanity begins to stir, every nation must make a choice on how to fight it and what to believe. Told in third person, Priory follows the queen's attendant, a prospective dragon rider, a loyal diplomat, and a disgraced alchemist to tell the story of a world at a crossroad.
In
Liar by Justine Larbalestier, Micah Wilkins is a liar. She'll lie about anything. Not just for personal gain, not just for a good reason, but to see how easily someone falls for the lies that comes easily as breathing. But all that's behind her now. When her maybe-boyfriend Zachary is found dead, her whole life is thrown under a spotlight. This time, she's going to tell the whole truth. Well, almost the whole truth, anyway.
Sign up for our YA Reads Newsletter
for more great recommendations
delivered to your inbox!
In Girls with Sharp Sticks by Suzanne Young, Philomena is the perfect student at a school that makes perfect girls. Behind her school's gated walls, girls are molded to become perfect wives for powerful men–girls who are beautiful to look at and won't ask too many questions. They are constantly told the school has their very best interests at heart, with important financiers invested in each girl's future. Every girl's emotion and reaction is carefully tamped down–until it isn't. On one of their rare trips into the outside world, Philomena encounters a civilian who is horrified at the way they are treated. And that's when the girls realize there is something very, very wrong at Innovations Academy
Internment  by Samira Ahmed is a look at a horrifying near-future United States in which Islamophobia and fear-mongering have won. As their freedoms are stripped away, Muslims are registered and eventually rounded up as the first internment camp is opened. Layla and her family are sent to live at Mobius, passing the site of Manzanar on the way. Layla knows that history has shown us just how much hate and fear can divide the country. And even though her parents want her to keep her head down, Layla wants to find a way to make her voice heard.
In Ms. Marvel Vol. 1: No Normal by G. Willow Wilson, Kamala Khan is your average Pakistani-American teenager living in Jersey City. She feels her parents' expectations of her are too strict, when she's shown them time and time again that she's a good, trustworthy daughter. When she decides to ignore their wishes and sneak out to a party, she and the other party-goers are enveloped in a strange green mist. Kamala finds herself with new, unruly transmorphic powers. Can she use her powers to emulate her favorite superheroes, fighting for justice and good to prevail? Or will her parents find out and ground her forever?
Pilu of the Woods by Mai K. Nguyen is a graphic novel following an episode in Willow's life after the death of her mother. After Willow gets in a fight with her sister, she runs away to the woods to calm down. She meets Pilu, a young tree spirit who feels her mother doesn't love her. Can the two girls help each other find peace among turmoil?
In the Key of Nira Ghani by Natasha Deen
Nira Ghani feels like she doesn't fit in in her mostly-white Canadian school. It's not just that she's Guyanese or so poor her clothes "apologize for their existence", but also that she just can't be herself. At home, she throws herself into playing trumpet, but she knows her parents would never let her join Jazz band. Kids at school pick on her, her father's obnoxious brother and his family look down on her, and she doesn't want the same dreams her mother wants for her. How can she be the perfect daughter they want her to be when they refuse to support her passion?
The Tiger at Midnight by Swati Teerdhala
Esha, the legendary assassin known as the Viper, is on a mission: take down the brutal General Hotha and strike at the heart of the Pretender King's rule. But when she arrives at the General's quarters, he's already dying, and someone has left a fake whip in place to frame Esha. But why? As the General's tenacious nephew, Kunal, pursues Esha, she must untangle the threads of conspiracy and corruption. And as her connection with the soldier deepens, Esha realizes both their lives are at stake.
The Marrow Thieves by Cherie Demaline
In a world wrecked by global warming, most people have lost the ability to dream. The state believes the answer to this loss is inside the bones of Indigenous people, and they try desperately to steal it. This is the world where French and his friends are on the run—they grow as their own family and try to stay away from the "schools" the government has created for their people. And although their government envies and despises them, they work to build a life together. They will stand with, love, and guard each other, no matter the dangers.
With the Fire on High  by Elizabeth Acevedo
Since getting pregnant at fourteen, Emoni has done everything she could for her daughter and her abuela. Between being a full-time mom and a full-time student, Emoni doesn't have time to think about her future. She loves cooking and people say her food is magic, but can she really squeeze in more school? Shouldn't she get a job instead? When her school offers a culinary elective with an immersion trip to Spain in the spring, it feels like a dream to Emoni. Can she find a way to let her talent shine and still keep her family afloat?
In These Witches Don't Burn by Isabel Sterling, Hannah Walsh wants to get through her summer breakup, but sharing a coven with her ex-girlfriend Veronica doesn't make life easy. Hannah is an elemental witch—she's able to control the four elements through magic. But she's still underage and not fully trained, meaning no one believes her when a dangerous Blood Witch comes to town. She thinks it's a Blood Witch. She's pretty sure. Working with Veronica is the only way to convince her family of the threat, but it's hard to focus on the dangers facing them when Veronica keeps trying to hook back up. In spite of the temptation, Hannah tries to focus on the most important questions—who is the new Blood Witch? Does someone want to hurt her and her family? And does the pretty new girl in town maybe want to make out a little?
In Tell Me How You Really Feel
by Aminah Mae Safi, Rachel Recht is the next great filmmaker. At least, she will be as soon as she can get her movie finished. She works hard not to rely on anyone—especially not Sana, the beautiful cheerleader who asked her out freshman year as what had to be some kind of cruel joke. Sana is the picture of the perfect daughter. She may not know what she wants to do next year—does she want to go to Princeton like her family believes, or fly halfway across the world for an internship in India?—but she knows she never quite got over her crush on Rachel. When Sana is the only one who can save Rachel's movie from mediocrity, it's sure sparks will fly—but whether it's hatred or love, neither of them know yet.
In Patron Saints of Nothing by Randy Ribay, we meet Jay Reguero. He's Filipino-American teenager who has mostly maintained his connection to his family in the Philippines through letters to his cousin, Jun. Or did, before they lost touch a few years ago. Now, Jay is just trying to make it through his senior year before heading to college in the fall. When he gets news that Jun has died, no one will give him any details. Jay wants answers, and he travels to the Philippines to get them. As he learns more about President Duterte's drug war and the truth about his own cousin, Jay is forced to reckon with a complex reality and his own role in it.
That's a wrap on our second "Shelf", or 'season' of the podcast, y'all! Which of these diverse YA novels have you read and loved? Have you added any of them to your classroom library? Let us know on social media @yacafepodcast, and happy reading!