Pulp by Robin Talley is a moving split perspective window into the lives of two women – 60 years apart – who both seek refuge in their writing. (Transcript)
In today's episode…
In Robin Talley's new book PULP, senior Abby Zimet becomes obsessed with 1950's lesbian pulp fiction. Though her life is falling apart around her, Abby believes that meeting the mysterious author of a famous novel will help her figure things out. We also read the perspective of Janet Jones, a teenager in 1955 who begins to write her own pulp fiction novel. In her time, living openly as a lesbian is difficult and dangerous, much less writing lesbian fiction. Although living through very different times, Abby and Janet's lives are connected by the sweetness and struggles of first love.
These Show Notes use Amazon Affiliate Links for your convenience.
If you decide to purchase this book, please consider doing so through our affiliate links.
Your support makes this podcast possible.
Episode highlights…
Spoiler-Free
*1:36 We enjoyed the spilt perspectives in this book
*3:51"A warm sizzling sensation settled over her. And Abby realized she was officially obsessed. She knew this feeling well. She'd always believed that falling into a new obsession was like falling in love."
*5:26 "An appropriate end" – the true story of lesbian pulp fiction
*7:21 This is "unapologetically" a lesbian book
Things We Like a Latte
Danielle – Listening to Somaiya Daud speak at Portland Book Festival
Amanda – Woman World
 by Aminder Dhaliwal
COMING UP NEXT WEEK:
OUTRUN THE WIND BY ELIZABETH TAMMI
Spoiler-Informed
*14:44 Abby escaping her fears through her writing
*17:44 Marian Love's story
*19:45 Abby learned a lot, and so did we!
Want book recommendations delivered to your inbox?
Sign up for the YA Reads Monthly Newsletter!
More ideas and resources for teachers and librarians…
The two main characters in Pulp, Abby and Janet, were both teenagers who found strength in their writing. If you are a teacher who is looking for ways to encourage your students in their writing pursuits you can check out Danielle's blog post on how to host a writers workshop.
Most of you are probably familiar with NaNoWriMo, but did you know they have a special program for youth writers? The even have resources for educators, including free downloadable K-12 curriculum materials!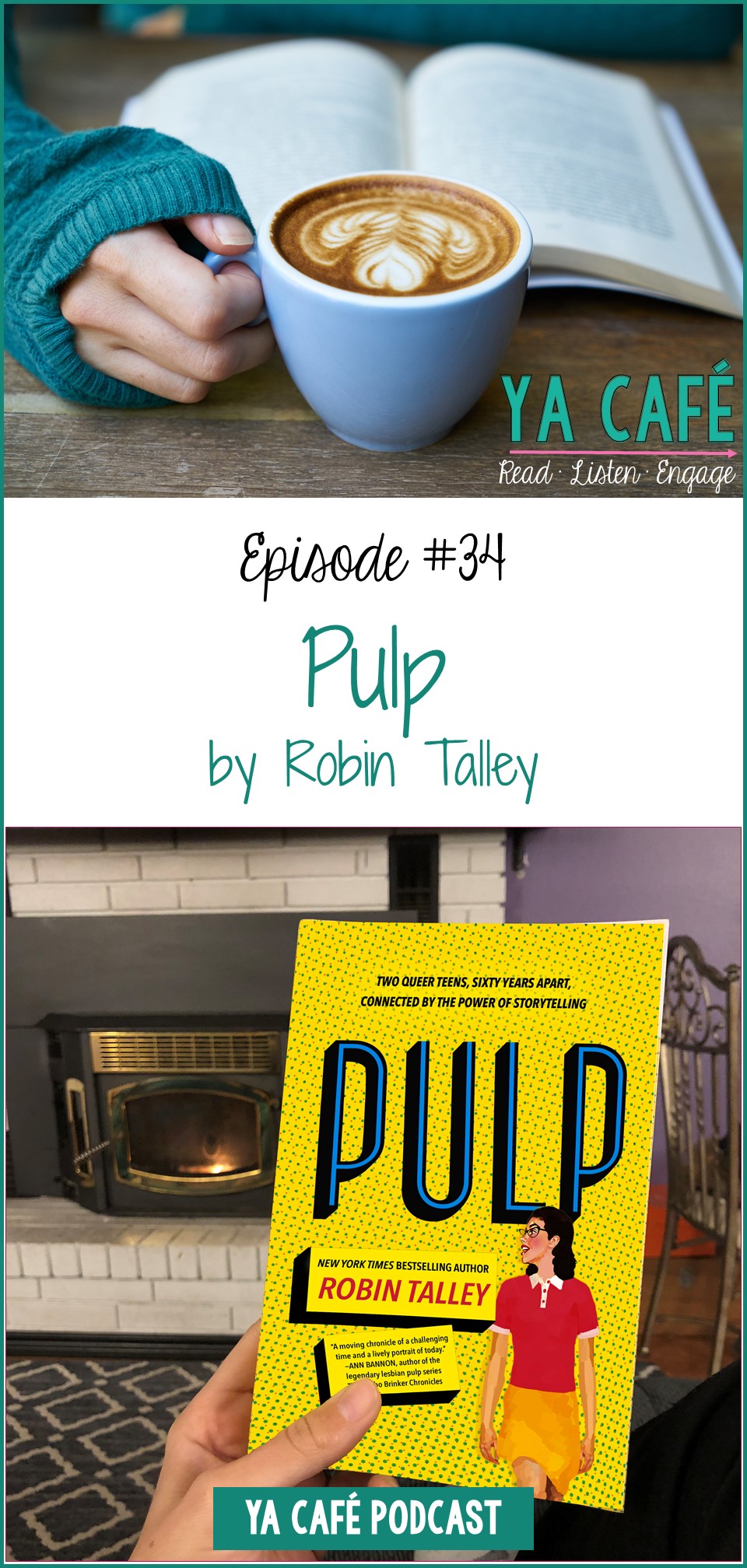 Get in touch with us on Instagram and Twitter at @yacafepodcast or email us at yacafepodcast@gmail.com. We look forward to hearing from you!
Credits…
Hosts: Danielle Hall (who blogs at teachnouvelle.com)
          & Amanda Thrasher (a booklover extraordinaire)
Producer: Leila Hobbs
Music: Matt McCammon
Thank you to Inkyard Press for the review copy!