Today we are joined by our bookstagram friends, Anna & Courtney, for a Book vs Movie breakdown of The Hate U Give by Angie Thomas. (Transcript)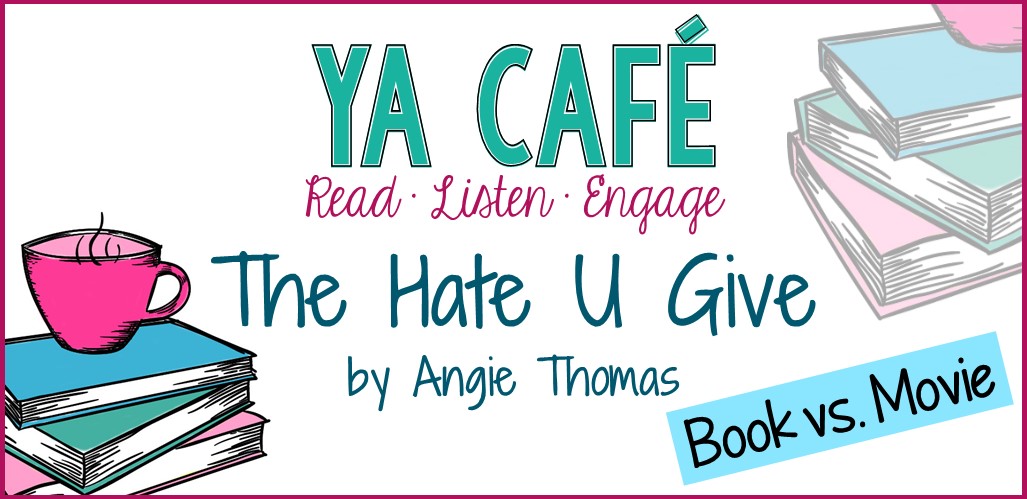 In today's episode…
In The Hate U Give
by Angie Thomas, sixteen-year-old Starr witnesses the murder of her unarmed friend, Khalil, at the hands of a white police officer. In the aftermath, she must balance the expectations of her Black neighborhood, Garden Heights, with her predominantly white private school, Williamson. Starr wants justice for Khalil, but she's scared that what she might say could bring trouble to her neighborhood or her family. Can Starr overcome her fear and make her voice her most powerful weapon?
These Show Notes use Amazon Affiliate Links for your convenience.
If you decide to purchase this book, please consider doing so through our affiliate links.
Your support makes this podcast possible.
Episode highlights…
Spoiler-Free
*1:34 Everyone shares their expectations for the adaptation
*5:51 Our thoughts on how the shooting was portrayed
*9:22 We chat about Amandla Stenburg's radiant performance as Starr
COMING UP NEXT WEEK: Salt
 by Hannah Moskowitz
Pre-order
 your copy today!
Spoiler-Informed
*13:56 What happened to DeVante?
*20:10 Everyone knows a Hailey
*27:00 Courtney & Anna share their perspectives as parents
Want book recommendations delivered to your inbox?
Sign up for the YA Reads Monthly Newsletter!
More ideas and resources for teachers and librarians…
This book and movie are definitely interesting to bring before students on so many levels. This is a book about finding your voice, even within a system that's not interested in hearing it. It would be perfect for inclusion in Literature Circles on this theme, or as a whole-class novel.
It would be even more interesting to examine the Book vs. Movie in terms of the cultural conversation it belongs to. Angie Thomas wrote this book to highlight how police brutality impacts lives (particularly women and girls of color, she has said), and students could research stories behind some of the names they've seen on the news. It would be particularly meaningful to study how the media casts the victims in various cases. We see the police in the book focus a lot more on what Khalil was doing in general (selling drugs) instead of what he was doing at the moment (nothing threatening). Students may not have a well-rounded view of any of the victims over the past ten years – this could be a good moment to help them flesh that out.
We discuss two major changes for the movie in this episode, and it would be interesting to hear what students think about these changes.
DeVante is removed from the narrative. This, with Seven's minimization as a character, serve to narrow the representation of Black boys. Khalil really becomes the only Black boy potentially wrapped up in drugs and gang violence that we see. Since he's gone so soon in the movie, we're really only left with characters who discuss those boys.
Sekani holds a gun at the end. For dramatic effect, a new moment is added to the end of movie in which Sekani (seemingly aged down to 8-9 in the movie, even though he was 12 in the book) pulls a gun on King. This is his father's gun, kept in a shoebox in the closet. Cops are there, Starr steps in front of Sekani, and the cops eventually lower their own guns. This is a big change. First of all, the presence of an armed child muddies the waters in a discussion about police shooting unarmed children. Secondly, we are made to wonder how much these cops hesitate because of Sekani's age, or whether it's the recent actions of their colleague. Research says that Black boys are viewed as older than white boys and Black girls are viewed as less innocent than white girls. This is the implicit bias that leads to deadly discrimination.
For further reading about how implicit bias affects education, I strongly recommend Pushout by Monique Morris and For White Folks Who Teach in the Hood by Christopher Emdin.
Additionally, Tracee Orman has created some activities for The Hate U Give Book vs. Movie on sale in her TeachersPayTeachers store. Danielle owns them, and strongly recommends you check them out. They are absolutely comprehensive and culturally sensitive and will enhance your class discussions.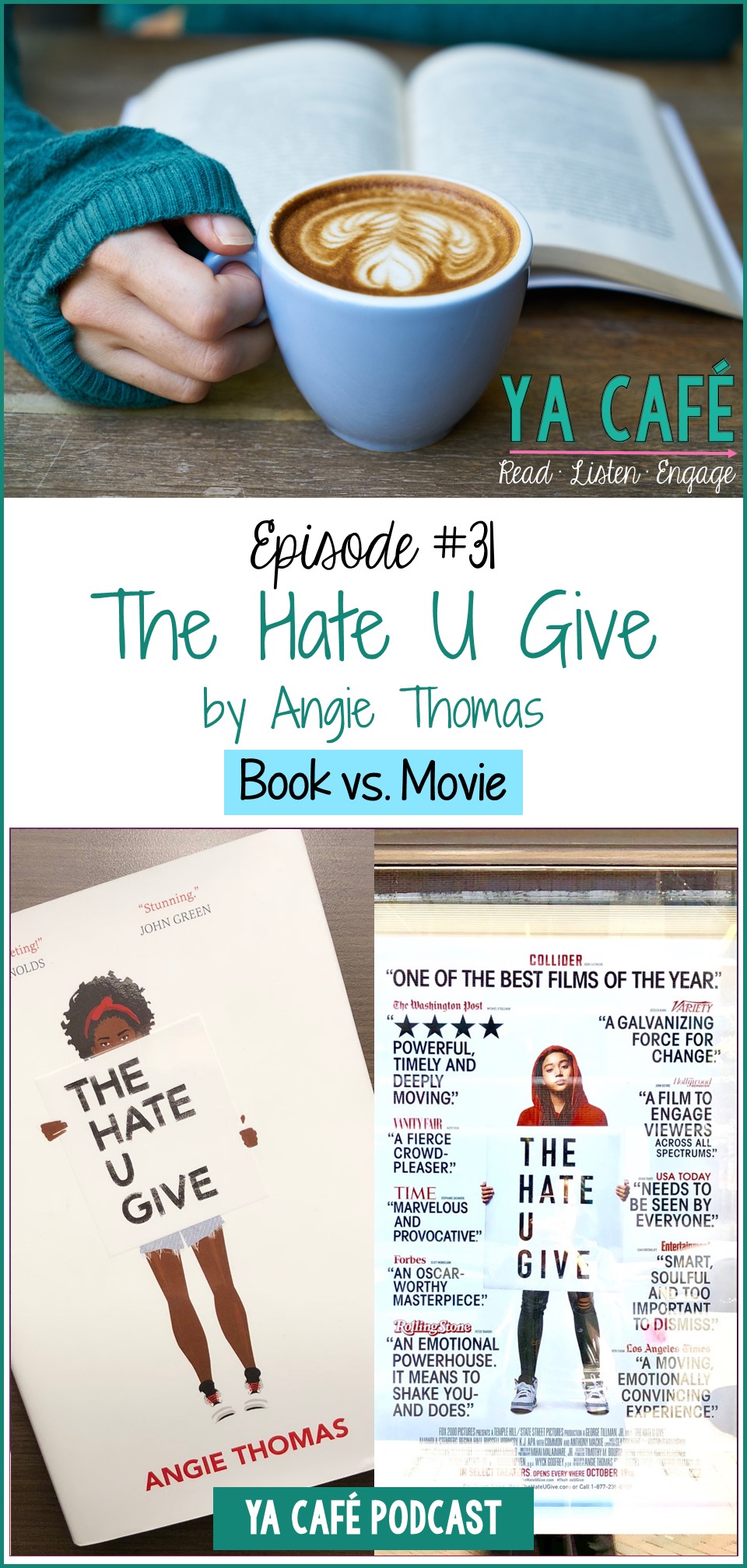 Get in touch with us on Instagram and Twitter at @yacafepodcast or email us at yacafepodcast@gmail.com. We look forward to hearing from you!
Credits…
Hosts: Danielle Hall (who blogs at teachnouvelle.com)
          & Amanda Thrasher (a booklover extraordinaire)
Guests: Anna (@hayinas7) and Courtney (@coco_chasing_adventures)
Producer: Leila Hobbs
Music: Matt McCammon