If your students struggle making deep connections to a text, look no further than this picture analysis teaching strategy. Students analyze each photo as a text. You'll provide students with necessary domain vocabulary and principles, but they'll learn to trust their intuition and develop confidence as analysts.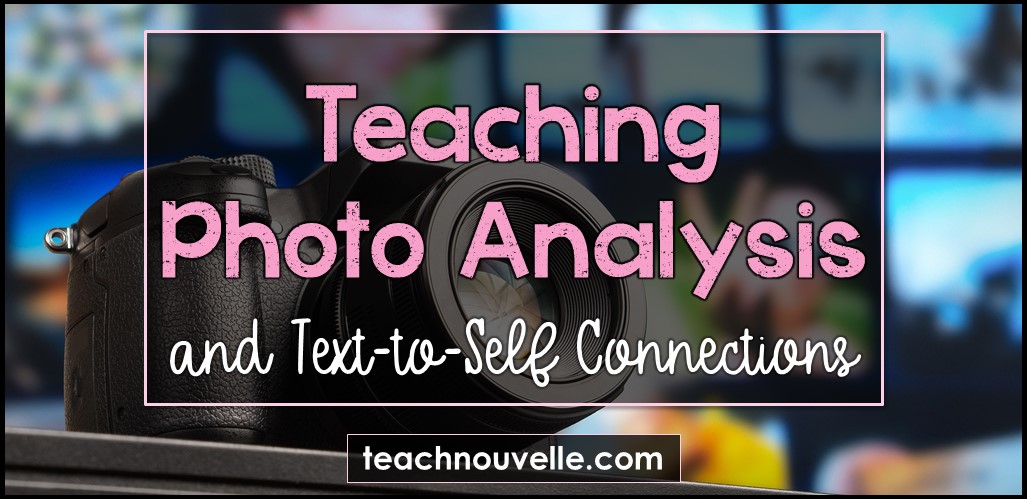 Why Photo Analysis?
Photo Analysis is a great introduction to analyzing a wider range of texts. Its visual nature pulls your visual learners into the game. Just as students analyze literature for conscientious choices made by authors, they approach each photograph with an eye for conscientious choices made by the photographer.
And honestly, I advocate for integrating even more types of text into your curriculum! While we're here, here are 15 Songs and 15 TV Episodes to Use in ELA.
Three Steps to this Picture Analysis Teaching Strategy
Develop background skills and knowledge.
My students take photos every day, but don't "know the lingo." Just as we've studied literary devices, I introduce vocabulary like foreground, hue, saturation, contrast, and pattern. We study Elements of Art and Principles of Design and do group analyses of photos for these concepts.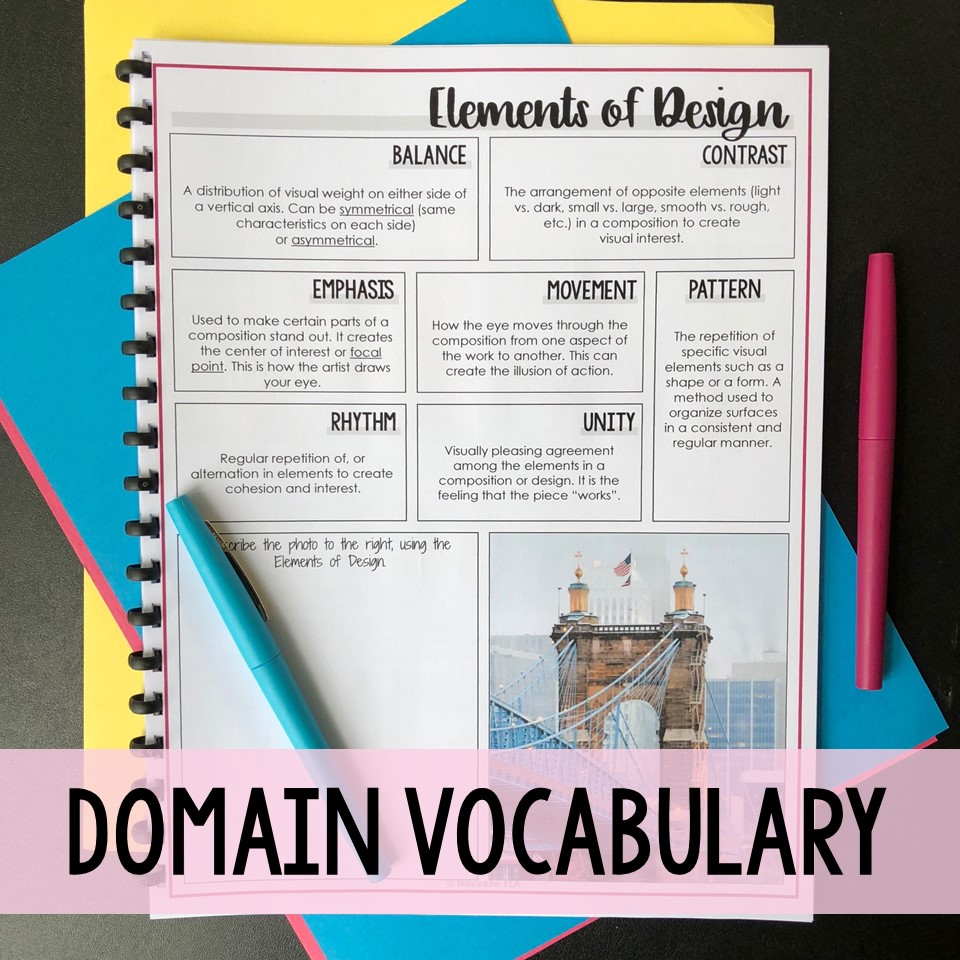 Next, I share two nonfiction readings to build foundational knowledge: The Psychology of Color and The Psychology of Perspective. These two ideas are major components of media literacy. One of my long-term goals is to transition students to analyzing advertising and propaganda, so understanding these ideas is crucial.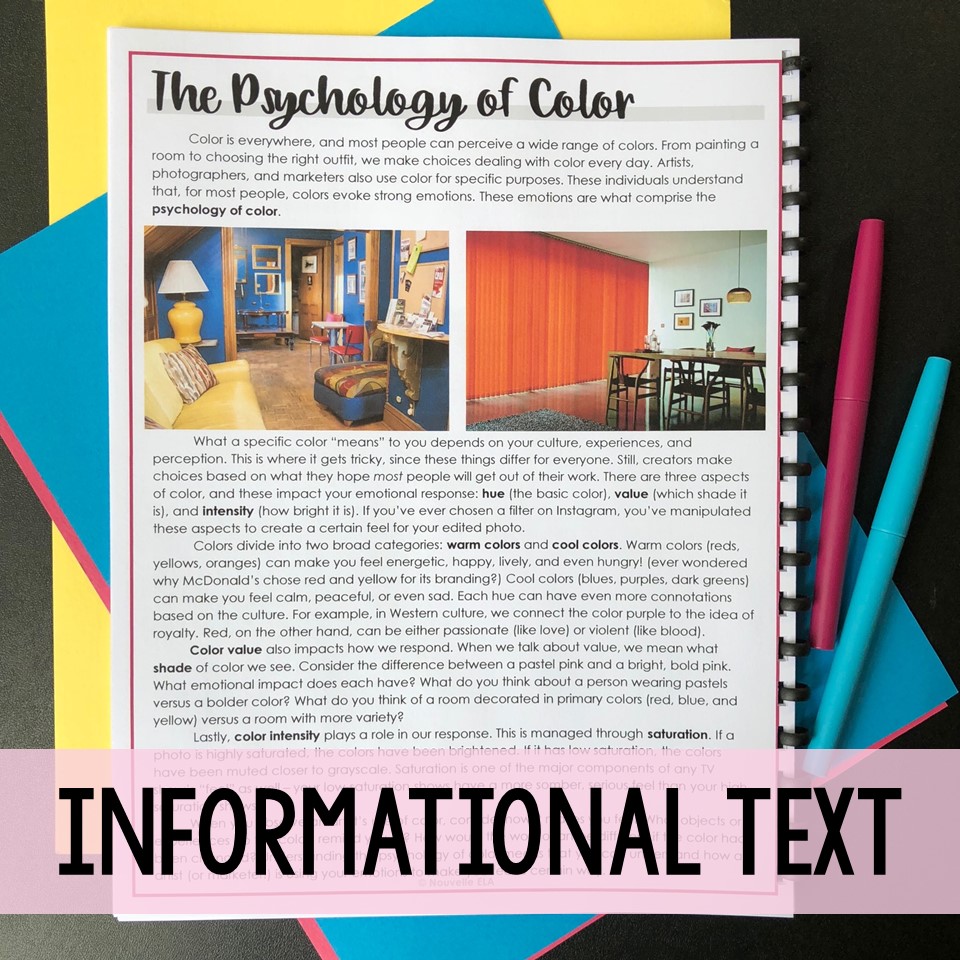 Connect to the process of analysis.
Throughout my Photo Analysis Unit, students write three analyses of individual photos. They brainstorm and draft the first two as a class, and they completely the second independently.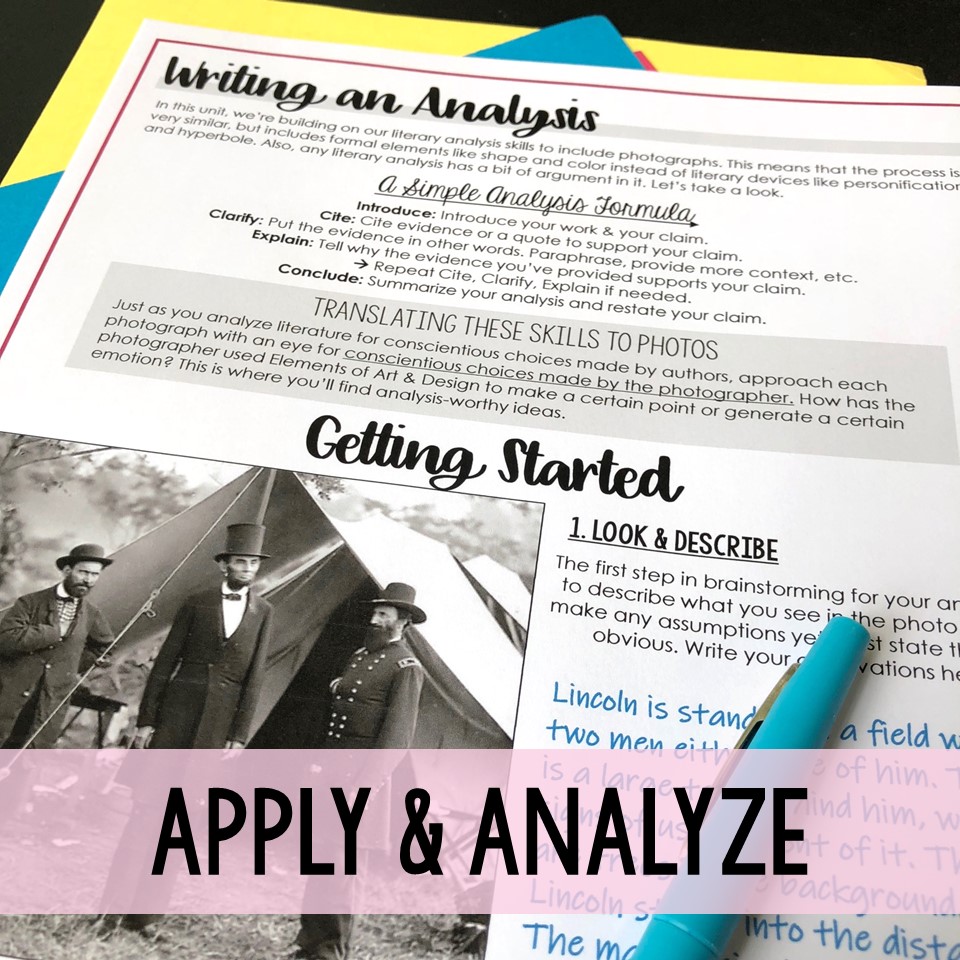 Although I share my chosen structure for an analysis and conference with students, I don't grade the final product. Students improve their structure and content through focused brainstorming and peer conferencing regarding their drafts. One of my core goals is to get students to start trusting their own readings of a piece, so I put more responsibility for a well-developed response in their hands.
Release responsibility and convert analysts to artists.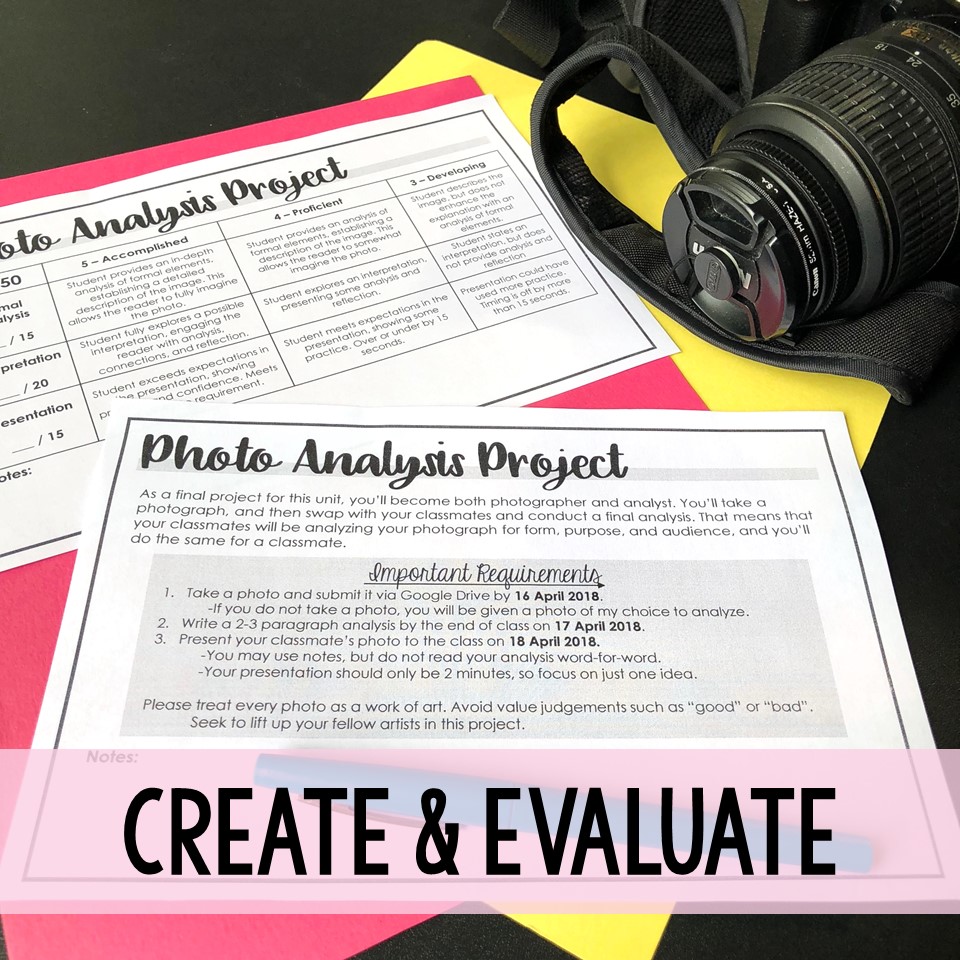 After they practice observing and analyzing photographs in class, students become the photographers. They take photos around the school (or as homework), and then they analyze a classmate's photo. This final analysis is much more in-depth than our practice, and students demonstrate everything they've learned. Finally, I have my students do a short presentation for the class. This highlights each student as an artist (the photographer) AND the audience for art (the reviewer).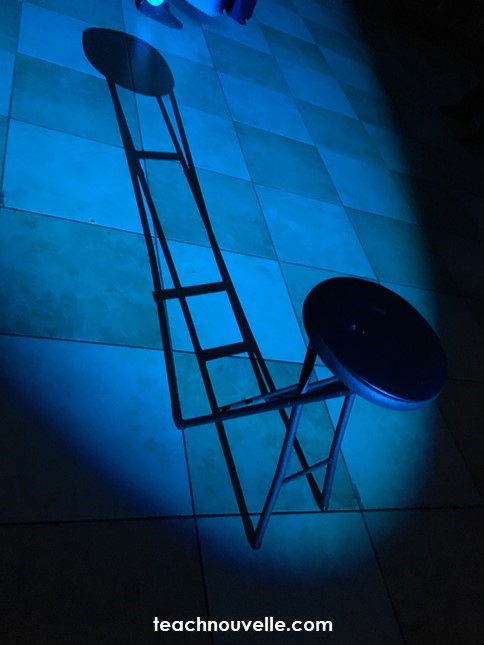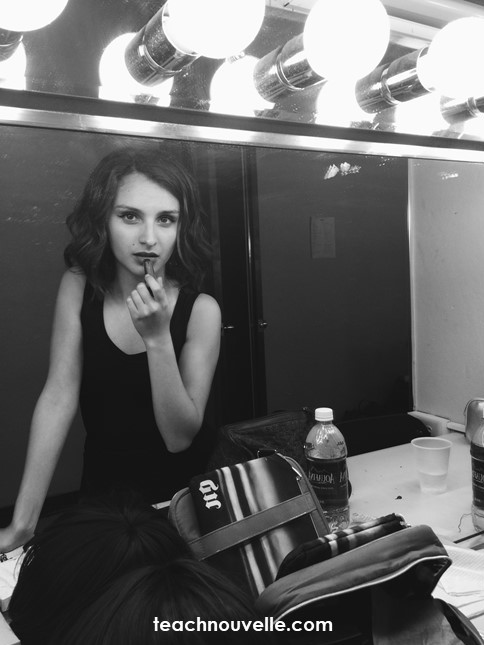 Art Everywhere.
My students took the photos above during the first year I did my Photo Analysis unit. I was directing the school musical, so the auditorium was often open and in-use. This led to amazing photos and analyses! Students went in-depth about the relationship between art and the audience. It was fascinating! The student who analyzed the top photo mentioned how vulnerable the girl in the photo looks even though she's preparing to perform with confidence.
When students write their analyses, they shouldn't aim for the "one right answer". Instead, they seek the intersection of the formal elements they've learned in the unit and the emotional impact of a photograph.
For example, the bottom photograph hits me hard. It makes me remember the expectations placed on any director (especially with the spotlight!), but also how lonely it is. Another viewer will have a different experience. One joy of this unit is not judging a photograph "good" or "bad", but examining its impact.
As students write analyses, steer them away from value judgments and encourage an interaction with the piece. Where does the photograph's design and composition intersect with their personal experiences, or their hopes and dreams? As long as students ground analysis in technical details (elements of art and design), their conclusions are valid.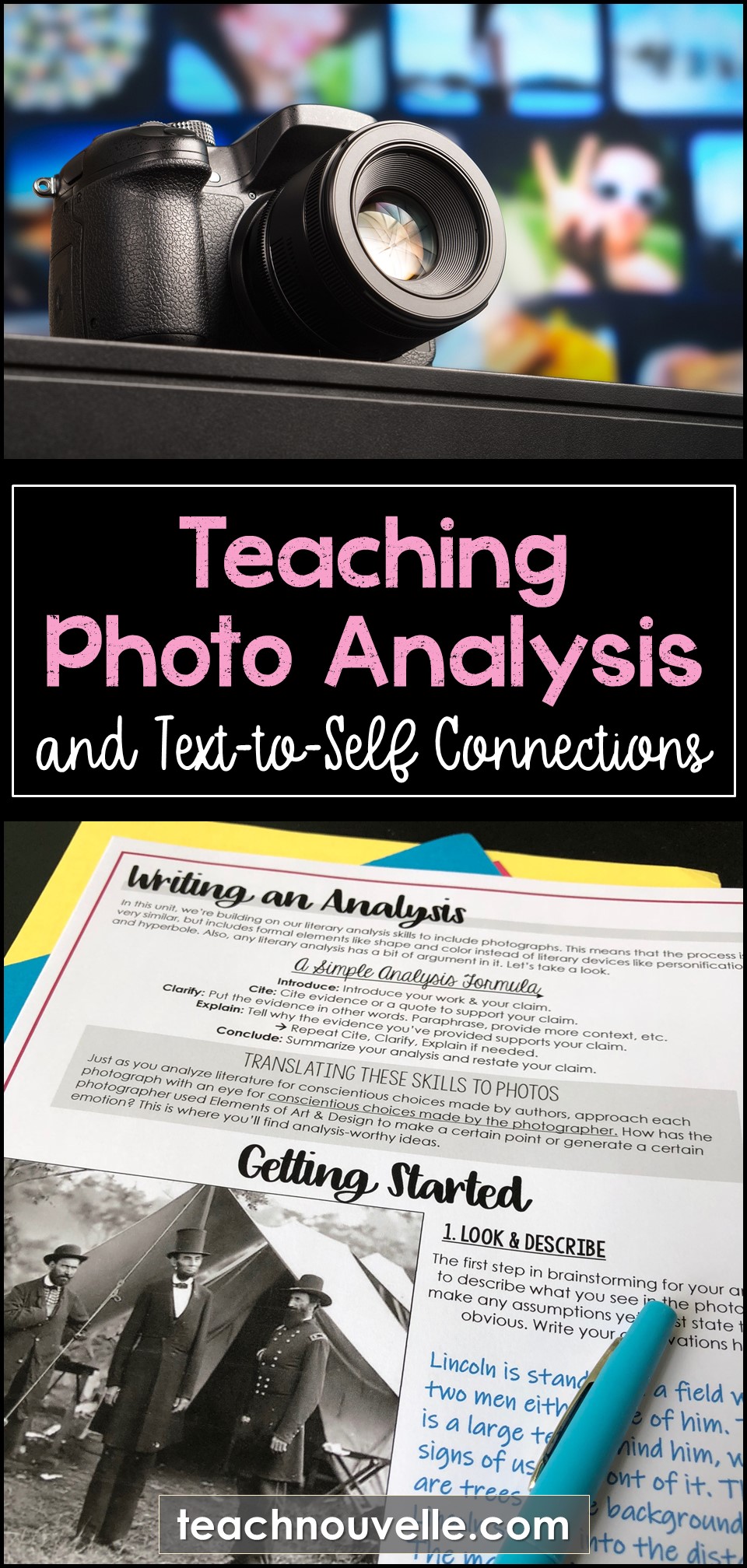 Final Thoughts
I'm positive your students will get as much out of Photo Analysis as mine. It's something you can add to your curriculum as a whole unit, or you can use a few activities to build knowledge and skills. I have Photo Analysis resources available on TpT, including a free introduction to photo analysis. Let me know how it goes!
I also have a new resource (2023) that has 15 lesson plans analyzing pop culture short texts, like photos, TV episodes, songs, short films, and more! Check out the 15 Pop Culture Analysis Activities resource here.