Struggling to engage your reluctant readers? Check out these contemporary short stories for high school ELA.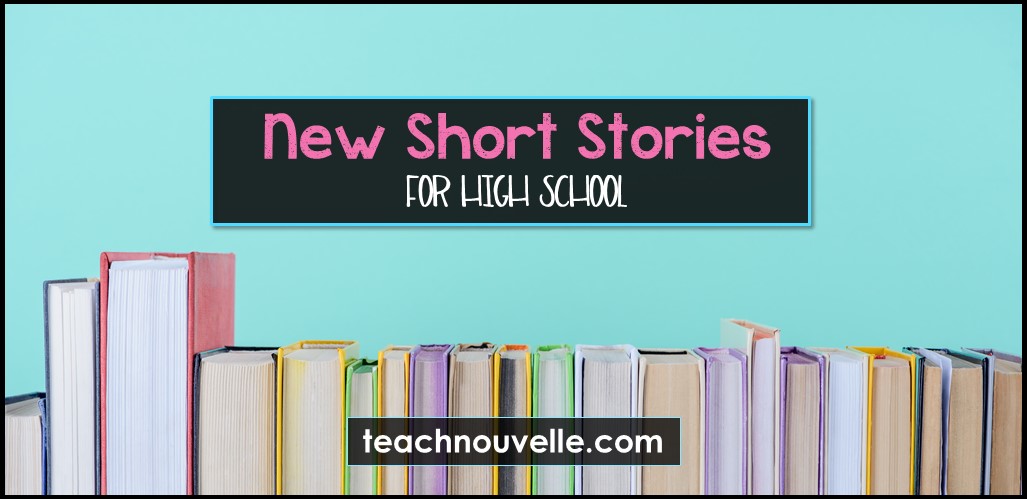 Are you excited to teach short stories, or does the thought of revisiting "The Lottery" and "The Lady of the Tiger" fill you with intense boredom? Well, if you are tired of using the same old dead White guys, I promise your students are tired of reading them.
But don't despair! There are tons of interesting contemporary YA short stories for high schoolers that you can use instead of (or alongside) the classics. Today I'm going to share a few of my favorites.
Contemporary Short Stories for High School:
Puro Amor by Sandra Cisneros
Students may already be familiar with Cisneros' work from her 1984 novel, The House On Mango Street. And you can expect more lush prose from this short story. Pur Amor is a loosely based in-reality exploration of the relationship between Frida Kahlo and Diego Rivera. It alludes to their real life personas, but is fictional, not autobiographical.
It is truly a beautiful read. With phrases like "the sky was the color of pewter and the clouds hurried by like women on their way to the market," Cisneros' words are as evocative as Kahlo and Rivera's art. It would be an excellent mentor text for simile/metaphor and descriptive language.
The story is available for free (online) from the Washington Post.
"Choctaw Bigfoot, Midnight in the Mountains" by Tim Tingle
In this story, Turtle Kid and their dozens of cousins listen to a story from Uncle Kenneth, and everyone knows you can't believe a word Uncle Kenneth says. Uncle Kenneth's tale of the Choctaw Bigfoot, Naloosha Chitto, unfolds with a harrowed tourist family and interventions from the cunning Bohpoli, a race of "little people."
Kenneth's story will keep your students on the edge of their seats, as he uses several red herrings to build suspense. He also uses humor and charm. The frame story can help us have great conversations with students about how stories are told and transformed, and how listeners participate. The dozens of cousins make predictions and ask questions, and our students can, too!
You can find this story in the middle grade anthology Flying Lessons and Other Stories edited by Ellen Oh.
Okay, so why is this story that's great for middle schoolers on a list for high schoolers? Well, hear me out: I think good stories are good stories. If you'd like to challenge your students, you could use this story to introduce a storytelling challenge. Students could take this inspiration to prepare a short story to present to the class. You could have them write super-short stories, or you could have them practice and present them in small groups. Then, listeners could interact with the storytellers. Storytelling takes practice, but it's an excellent speaking and listening activity. If you'd like to do more with storytelling, check out The Moth's Teacher Resources. The Moth is a storytelling contest, and this page has student examples, expectations, and writing prompts.
This captivating short story embodies the notion of making definitive choices in order to change one's life. Set in a futuristic dystopia, a teen named Mandy risks everything to travel back in time to warn people about what life will be like if bees become extinct. "'Why can't we change history?…Maybe I can't change anything – but I know I've got to try.'" Mandy makes clear that free will is a big determinant in whether she will lead a life worth living.
(Since this story explores free will, it's a perfect addition to your Romeo & Juliet unit. You can check out other ideas to supplement your unit here.)
Non-traditional short-form texts for ELA:
Song: For Women by Talib Kweli
"She tried to get it where she fit in,

On that American Dream mission paid tuition,

For the receipt to find out her history was missing and started flippin',

Seeing the world through very different eyes."
In this song, Kweli pulls inspiration from "Four Women" by Nina Simone. In Simone's original work, she created four women from different backgrounds and walks of life, united by a common cause: to be 'named' in a society that overlooks them. Kweli expands on this, giving each woman a verse that tells a vivid story. This song is perfect for helping students explore unifying themes and character development (CCSS. RL.9-10.3). Kweli and Simone both rely on characters that span generations, so each develops their story using flashbacks and allusions (CCSS. RL.9-10.5). You could also bring in Sojourner Truth's speech, "Ain't I a Woman?" to tie in some nonfiction.
A word of caution:
This song has some strong imagery that you'll want to preview. There is use of the n-word in a careful and intentional way that reflects on the changing rights and enfranchisement of African Americans. However, you know your students and community best. You'll want to prepare yourself to prepare them to talk about this content with maturity.
Want more suggestions for song lyrics to use in ELA? Click here!
TV episode: "My First Day" from Scrubs (Season 1, Episode 1)
This is the pilot episode for Scrubs, a medical dramedy that follows a group of interns. Scrubs is just good TV, since it continually strikes the perfect balance between a laugh-out-loud sitcom and a heart-warming medical drama. In this episode, we meet our narrator JD and the cast of characters in his life at the hospital. We see JD's first impressions (he's convinced that the chief of medicine is a great guy who'll always have his back and that Dr. Cox is a jaded jerk) slowly subverted over the course of the episode, setting the tone for the rest of the show.
The primary drive of this show is the collision between JD's fantasy world (in this episode, he imagines he's in an 80s sitcom on live TV at one point) and reality. You can definitely discuss JD's unreliability as a narrator and what his fantasies add to the show. Heads up that "My First Day" contains a quick shot of Elliot in her bra, but it's played for a laugh and moves on. This is also an excellent show for characterization and has an amazing cast.
Need more tips and ideas for using TV in ELA?
I've got you covered 🙂
More Resources for Finding Short Stories:
Anthologies:
I have an entire blog post dedicated to short story anthologies for high schoolers. It features 14 collections of short stories with a wide range of topics. Some are more "issues" focused and some are just for fun, so you'll find whatever you're looking for.
Magazines:
Periodicals can be a superb choice for finding new short stories for highschool ELA. Apex Magazine has a lot of short fiction available in its online archives. They specialize in fantasy and sci-fi, and while it's geared towards adults, many of the stories would work for teens. I especially recommend "The Tomato Thief" by Ursula Vernon.
The now defunct Cicada magazine (published by Cricket) was a wonderful trove of flash fiction, poems, and art, for teens and sometimes even by teens. While new issues aren't being published, the back issues are available for purchase on the Cricket media website.
Final Thoughts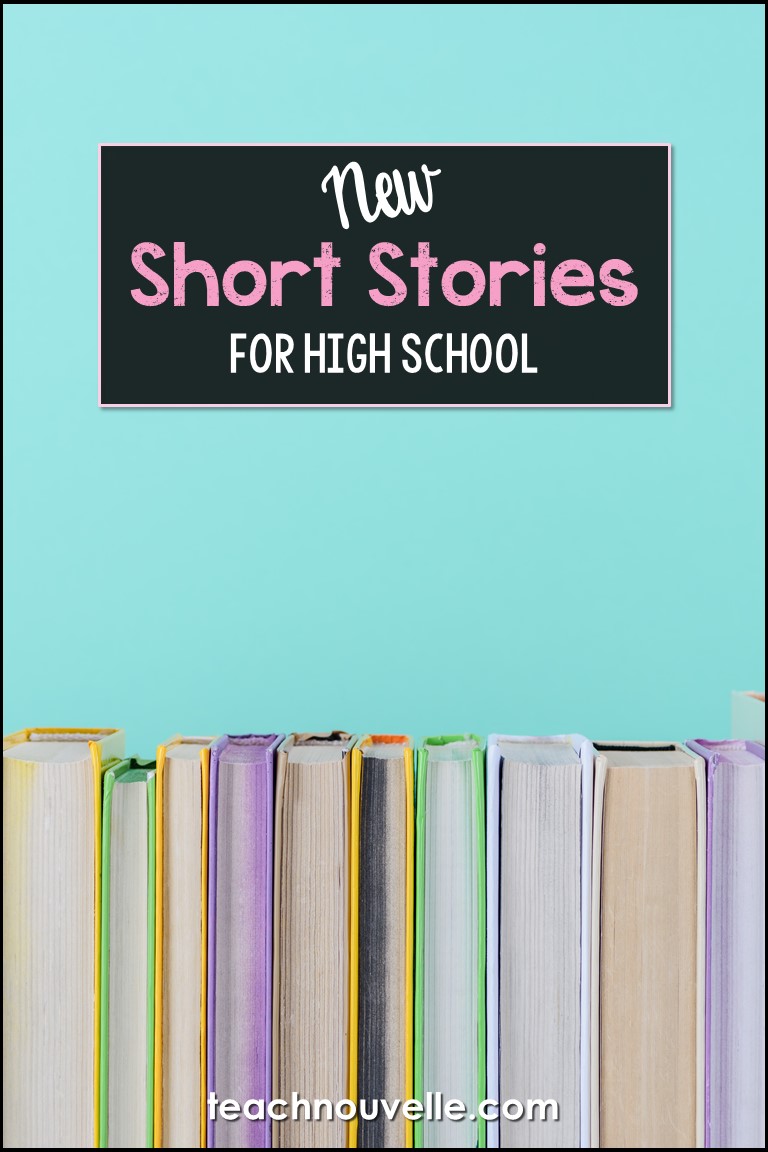 I hope you're excited to read and share these new short stories for high school, and that this post gave you some ideas to make your lessons more engaging and inclusive. I've been working with Dr. Sheila Frye (from Teaching Literacy) on a project called "Rethinking the Classics" to help teachers find supplemental texts and curriculum updates. So far, we have covered several high-school titles like Romeo & Juliet, The Odyssey, and The Great Gatsby, To Kill A Mockingbird, The Outsiders, The Giver, and we have many more to come.
Let me know which story you're most excited to try in class. Do you have a favorite contemporary short story that your students connect with? Shout it out in the comments!