Whew! This year is already flying by, amiright? It feels like just yesterday we were returning from winter break, and now it's time to get excited about teaching Black History Month.
Maybe you are looking to make your BHM lessons feel more "current" or update your materials from last year. Maybe you're a first-year teacher who needs to develop their lessons. Or maybe you're a white educator worried about "getting it right". If you are any of those people, I'm writing this post for you. (If you're not any of these people, I'm still here for you. Hiiii!)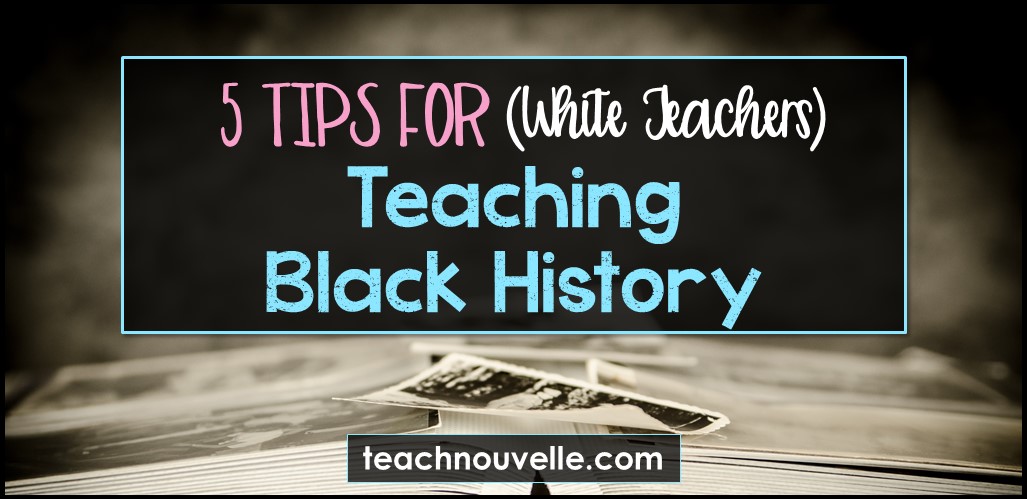 Here are 5 Tips for (White Teachers) Teaching Black History. I am one of these "White Teachers", and my goal is to share the takeaways I've learned from awesome educators and my own experiences. I've made every mistake in the book, folks, so I am coming at you from a place of humility. #knowbetterdobetter.
When we share a variety of stories in our classrooms, we serve all of our students better. Black History is important to your Black students, to be sure, but it's also important for your other students. Teaching Black History is teaching American History and World History, and learning it helps everyone develop a sense of empathy, community, and empowerment. It places values on all individuals, ideas, and accomplishments. We owe our students more than a single story.
Celebrate Accomplishments of African Americans
Do your Black History Month lessons center African Americans as the heroes of their own stories? #MoreOfThis. We have to give an honest picture of the injustices that have been/are being waged against Black Americans, but be careful not to position them as the victim in every story.
And remember, Black History doesn't start at slavery and end at the Civil Rights movement. All throughout history and on different continents, Black people have accomplished great things. Incorporating an international Black narrative can help students understand the connectedness of Black people globally and celebrate cultural achievements beyond a narrowed Western view. Highlight the contributions of Black soldiers, scientists, artists, activists etc. who lived in different time periods. You could also incorporate features from your own community.
"Many Rivers to Cross" is a mini-series with Henry Louis Gates, Jr. from PBS. You could show portions of this throughout your school year, particularly if your students are studying American History in Social Studies. This mini-series is an excellent collection of primary and secondary stories that will engage and inspire your students.
The National Museum of African American History and Culture also offers some great resources for both educators and students. This Smithsonian museum is working hard to tell stories of celebration and triumph for all Americans.
Do Now: Choose one accomplishment to highlight with your students this week. For example, Mari Copeny is an inspirational figure students will love. She's a young person working hard to end the water crisis in Flint, Michigan.
Include Black Voices Year-Round
Black History Month is a wonderful chance to focus on stories that are too often ignored, and you can further this impact by having an inclusive curriculum year-round.
One way to make that happen is by giving your students a diverse classroom library. I teamed up with Dr. Sheila Frye from Teaching Literacy to create this thorough, step-by-step blog post on how to make your classroom library more inclusive.
And y'all, I know buying books is a big ask for teachers on a budget, but don't give up!
There are many ways to get books that won't break the bank. I have a blog post on how to get free books for your classroom library and make sure you are following We Need Diverse Books for updates on their book giveaways. They have donated over 14,000 books to low-income schools across 42 states, and they are constantly doing great work to support Black authors and publishers.
You can also bring visitors into your classrooms. Remember those local features I mentioned in the last section? You could ask them to talk with your class, lead a workshop, or even Skype in and read a chapter of their favorite book for First Chapter Friday. 100 Black Men is just one service organization that has chapters across the nation and could be a great leadership resource for your students.
Do Now: Follow @weneeddiversebooks and @diversereads on Instagram for great recommendations. You can also check out our recommendation lists, arranged by genre:
Teaching Black History means teaching Black present/Black Lives Matter
While it's important to celebrate the achievements and legacies of Black Americans from all walks of life, it's also important to recognize that we have not yet realized Dr. King's dream of equality. Teaching Black history means taking an honest look at how far we've come, and how far we still have to go.
I think that many kids instinctively get the concept of fairness, and with our support they can tackle tough issues like systemic racism. Using a Lit Circle is a great way to dig into a complex issue, and I have some tips and resources for how to have a Social Justice Lit Circle with your students.
February 3rd-7th is Black Lives Matter in Schools Week of Action. It's not too late to get involved! You can take part in a variety of ways, and they offer a ton of free resources on their site such as lesson plans and classroom posters. This week is about creating a more supportive environment for all learners. Check out this Starter Kit to see the campaign's mission.
Maybe you're thinking, "Well, my students are too young for these sorts of conversations."
This article by a first-grade teacher shows how he connects the dots from Civil Rights era history all the way up to BLM's mission today. Naomi O'Brien from @readlikearockstar has an amazing video about teaching elementary students about racism. Students aren't "too young", as long as our approaches are developmentally-appropriate.
If you're thinking "I don't have time for any of this… I have to teach the standards," I'd challenge you to remember that standards don't dictate content. Once again referring to Naomi's video, you can challenge your students to think, write, and read deeply about any topic and still hit your standards.
Do Now: Ask students to share their thoughts on how Dr. King would view racial inequality in America today. You can move from small to large discussion groups to make sure everyone gets to share (SL.8.1).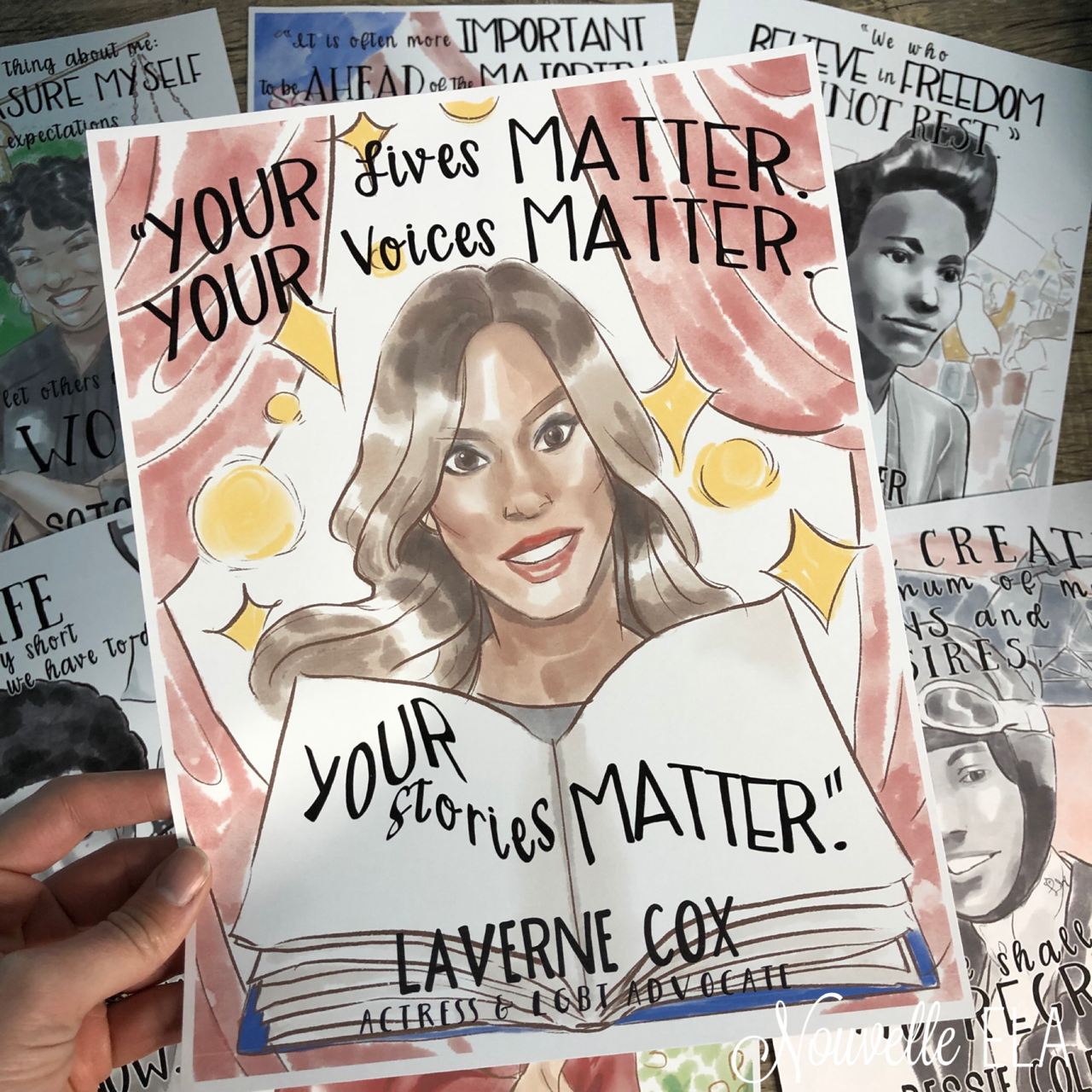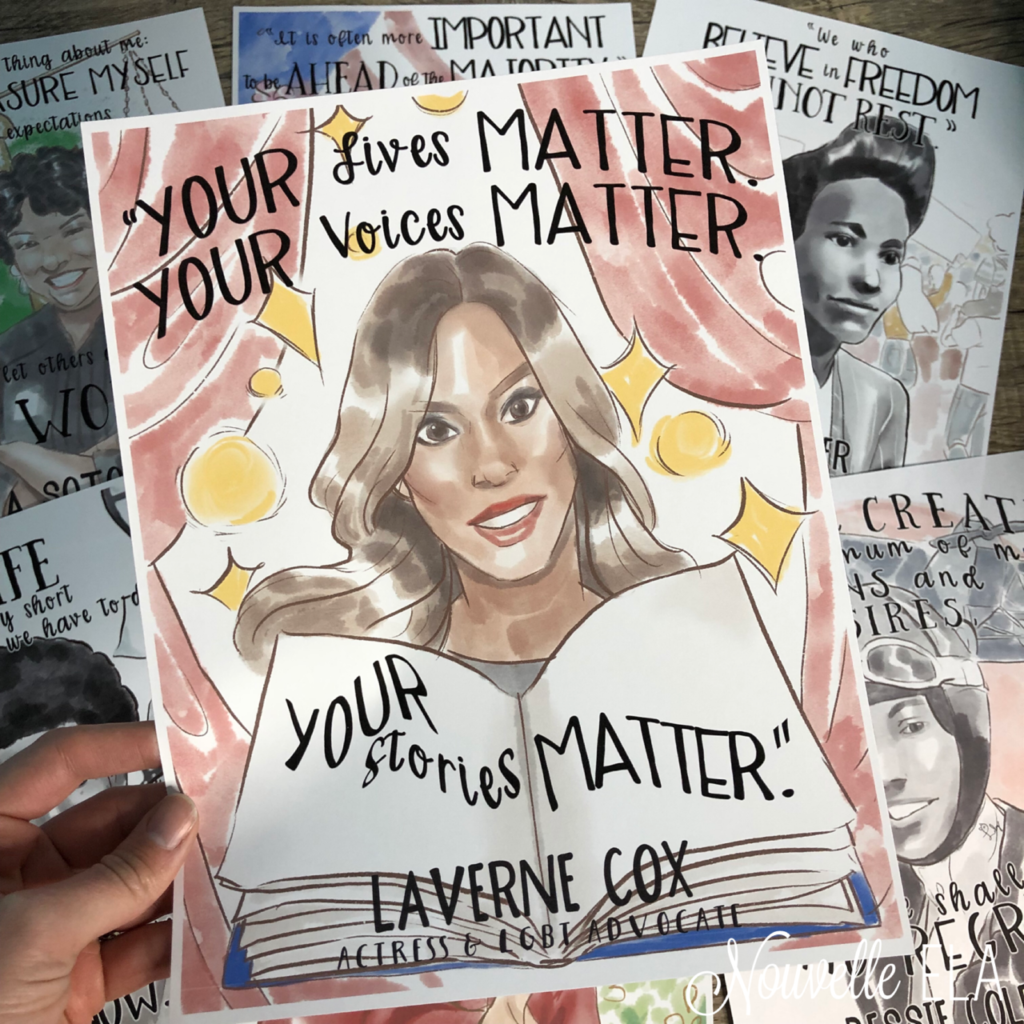 Black Transgender folx are facing an epidemic of violence.
You can help by including Transgender voices in your curriculum.
Present the Whole Picture of Dr. Martin Luther King, Jr.
Dr. Martin Luther King was a revolutionary. He worked tirelessly, even as he was threatened, beaten, and jailed. The FBI even wrote him a letter trying to get him to commit suicide. Teach students that Dr. King was more than a dreamer… he was passionate about justice. It's easy to share a quote like "I believe that… unconditional love will have the final word in reality" and call it a day.
But this is not the whole story.
Sharing this platitude isn't enough.
Black scholars have described this action as the "whitewashing" or "gentrification" of Dr. King. A 2018 think-piece in Essence describes it as a "willful decision to mis-characterize his person and work."
Compare the above quote with this one, from "Letter from a Birmingham Jail":
"First, I must confess that over the last few years I have been gravely disappointed with the white moderate. I have almost reached the regrettable conclusion that the Negro's great stumbling block in the stride toward freedom is not the White Citizen's Council-er or the Ku Klux Klanner, but the white moderate who is more devoted to 'order' than to justice; who prefers a negative peace which is the absence of tension to a positive peace which is the presence of justice; who constantly says 'I agree with you in the goal you seek, but I can't agree with your methods of direct action.'"
I encourage you to reflect on the image of Dr. King that we are portraying to our students. As often as he mentioned loving and hoping, he spoke of struggling and fighting for justice. In "Letter from a Birmingham Jail," he wrote, "We know through painful experience that freedom is never voluntarily given by the oppressor; it must be demanded by the oppressed." If you're ready to dig deeper, check out this piece from Medium.
Do Now: Check out this clip from Dr. King's "We're Coming to Get Our Check." (1:21) Ask your students how the bootstrap argument is still waged against communities of color today. (Dr. King's comparison is great for practicing RI.8.3)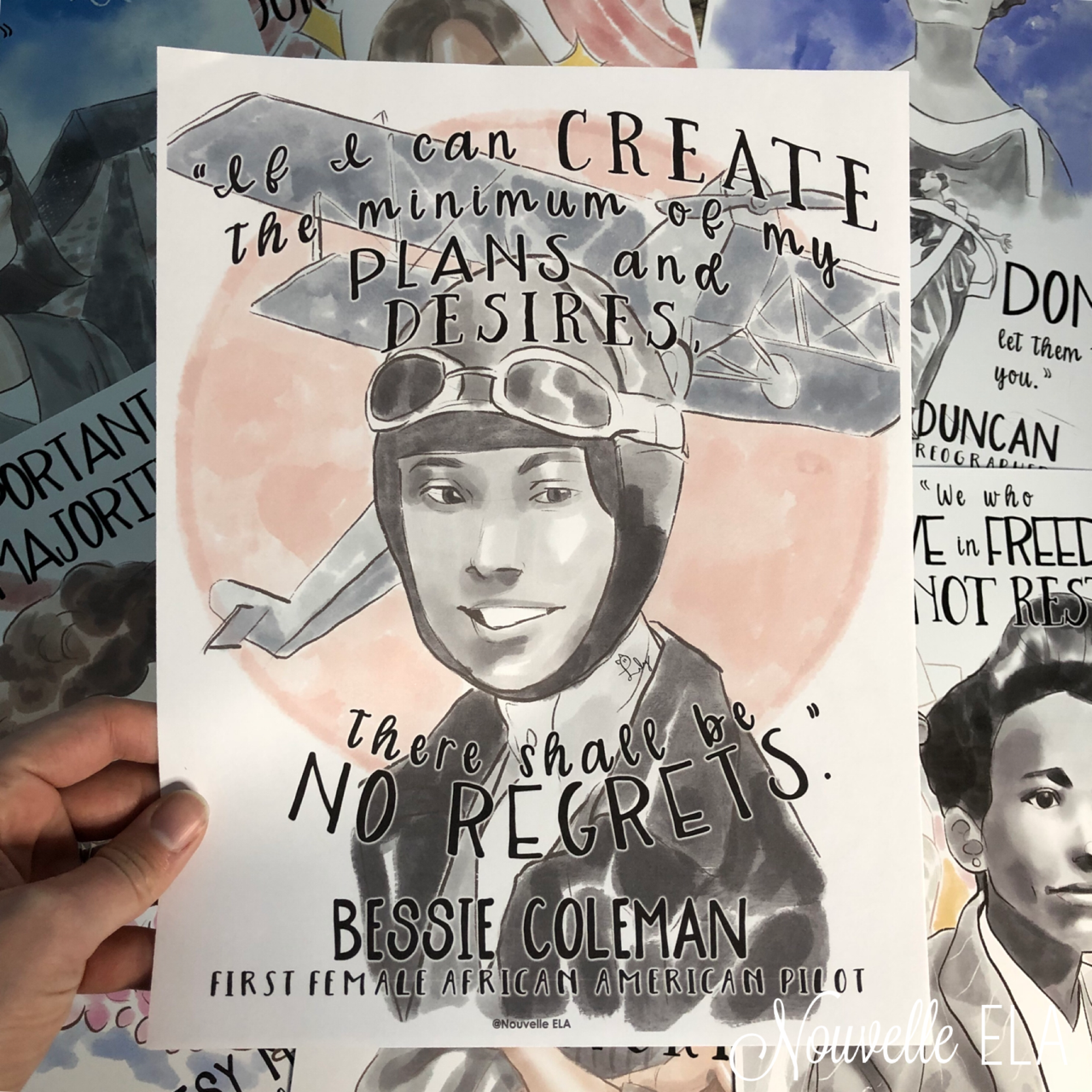 Classroom posters are a great way to
recognize Black heroes all year long!
Show examples of Black scholars disagreeing
When teaching Black history to our students, it's important to show that scholars, activists, and creators are not always united in their views. To suggest otherwise would portray a monolith that doesn't exist.
Famously, Marcus Garvey and WEB DuBois disagreed on how (when, and why) to fight for civil rights. Don't leave this nuance behind, even if you feel rushed by your curriculum and pacing. I include these men's perspectives on their Biography Cards in my Harlem Renaissance Escape Room to introduce students to this ideological conflict. Where can you acknowledge opposing viewpoints in your lessons?
Some current examples? Consider Michael Eric Dyson and Cornel West. Or Spike Lee and Tyler Perry. They are arguably two of the most famous Black filmmakers, but they (and their art) are very different, and these differences have led to some verbal sparring in the press.
For even more quotes and examples you can check this piece "A History Of Beef Between Black Writers, Artists, and Intellectuals" by NPR writer Karen Grigsby Bates.
Do Now: The key takeaway here for students is that there is not one universal "black opinion" or "black experience". Pick a few specific examples for students to choose from (the NPR article might be helpful in starting your research) and then have students analyze two opposing viewpoints (RI.8.9).
Conclusion:
You're so ready. These five tips for teaching Black History Month are just a starting place for making your classroom reflective of all learners. Your kiddos are so lucky to have a teacher like you who is willing to do the hard work of confronting the racial bias in education. I know that this might seem overwhelming, but even picking just one of these five aspects to focus on would be a great starting place.
Feel free to reach out to me via email or IG @nouvelle_ela if you want to chat about any of these points. If you have a great resource, you're excited to use, let me know in comments.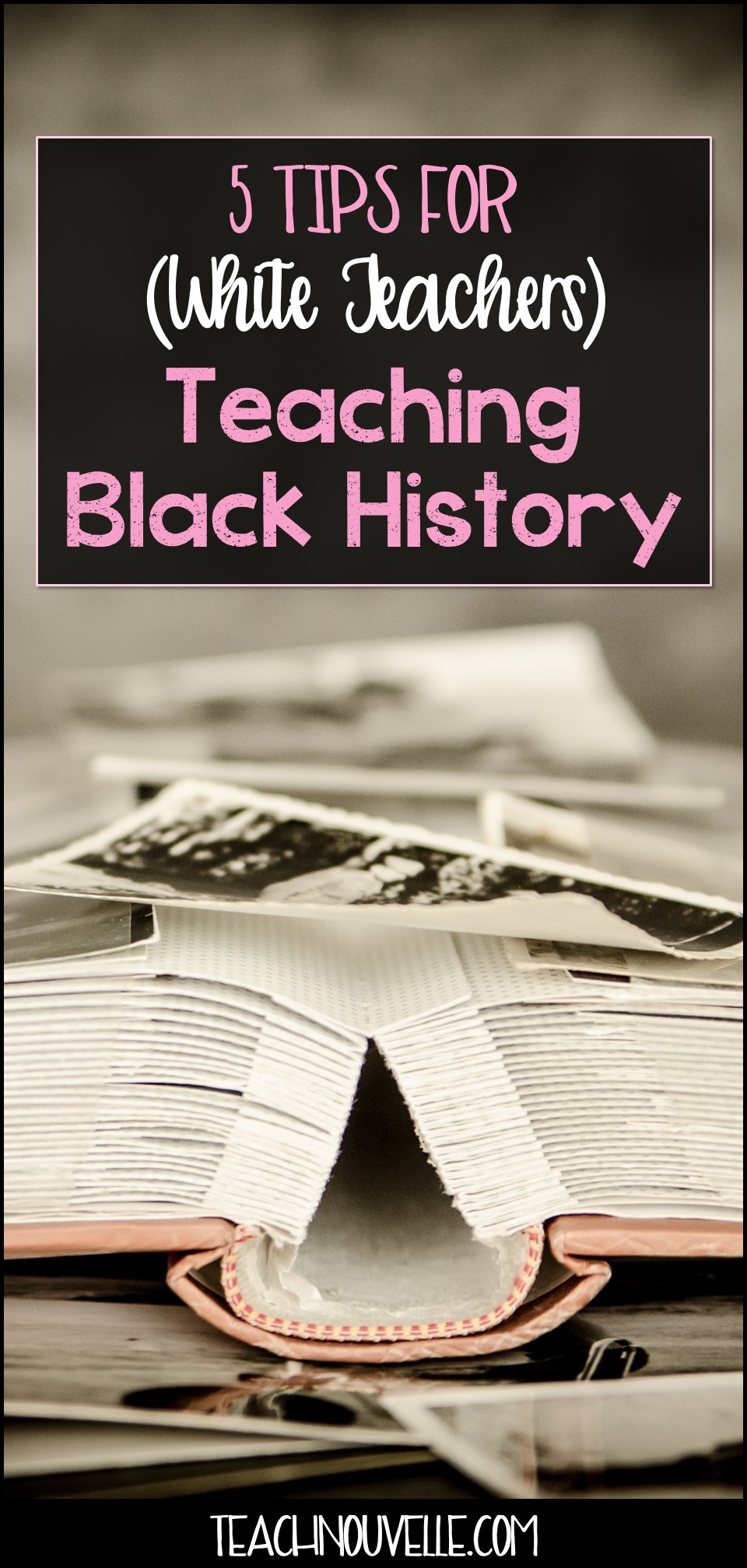 Happy teaching!