Do you want to be teaching social justice in ELA but you don't know where to start? Check out these tips, resources, and low-prep projects.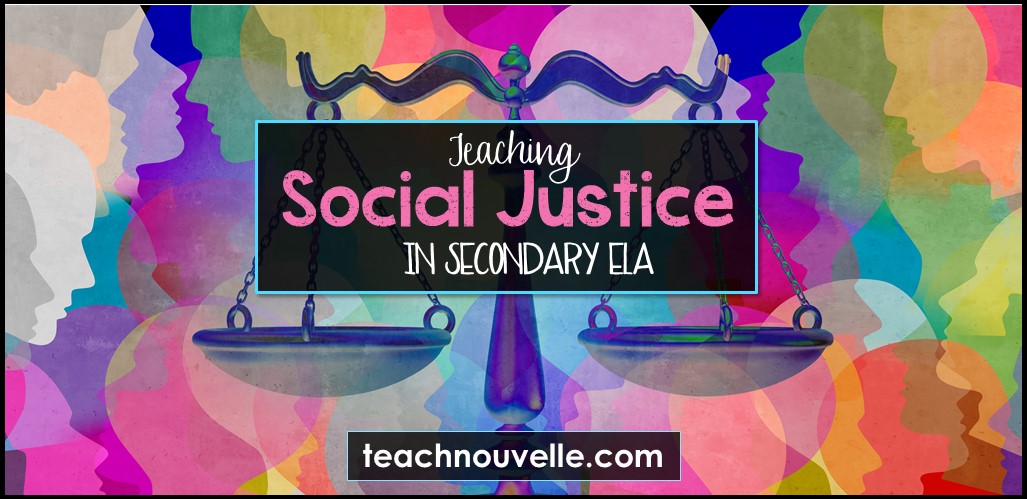 The title of this post is a bit misleading. Social Justice is part of teaching about our society and culture, and that is our principal work as ELA teachers. Our tools of choice are stories and communication, and we can interweave those in the goals of social justice.
What is Social Justice?
Social Justice is the acknowledgement of disparities in wealth and opportunities in our society based on race, class, gender, sexuality, and ability and an engagement in the effort to decrease those disparities. Therefore, developing an ad campaign to raise awareness about childhood poverty? Social justice. Writing an argumentative essay about why the town library should be wheelchair accessible? Social justice. This is political, but not partisan, and it is absolutely the domain of ELA teachers to share it with students.
Tips for Teaching Social Justice in ELA: 
Justice is in your standards.
The biggest message I want to send today is that this is not an either/or situation. It's not standards vs. diversity, or analyzing literature vs. talking about the issues. We can do both. Teaching Social Justice can be just as rigorous as teaching a "classic text." Many Common Core standards are foundational to teaching Social Justice. Additionally, many students will find it easier to connect to read issues than fictional ones.
Reading a nonfiction article about an important issue? You can apply any standard from CCSS. ELA-LITERACY. RI.9-10.1 through CCSS. ELA-LITERACY. RI.9-10.6.  Watching/listening to a political debate? CCSS. ELA-LITERACY. SL.9-10.3. Discussing issues with their peers? CCSS. ELA-LITERACY. SL.9-10.1.
Another incredible tool is Teaching Tolerance's Social Justice Standards. They provide straightforward ways to measure student's ability to understand and react to injustice. From K-2 ("I know everyone has feelings, and I want to get along with people similar to and different from me.") to high school ("I can explain the short and long-term impact of biased words and behaviors and unjust practices, laws and institutions that limit the rights and freedoms of people based on their identity groups.")
Integrate different perspectives and voices throughout your curriculum
Representation matters, y'all. According to projected numbers from the 2020 Census Bureau, most children living in the United States are students of color. In order to best meet the needs of all learners, it's critical that students see themselves reflected in the works presented to them. Research shows readers make meaning and build knowledge when engaging with texts that they can relate to. Students have their very existence affirmed when they read texts written by and about people from their own culture, religion, orientation, etc. They learn their voices matter and that their stories secure an important place within the larger human experience. Books also have the power to serve as windows, exposing students to lives that may differ from their own, leading to increased empathy instead of increased apathy.
Find more actionable steps towards diversifying your curriculum here.
Even if your list of required texts is 100% dead White guys (more on that later!) you can provide supplemental materials to bring in some diversity. Many teachers are working to diversify their curriculum to include more voices. I've been working with Dr. Sheila Frye (from Teaching Literacy) on a project called "Rethinking the Classics" to help teachers find supplemental texts and curriculum updates. So far, we have covered The Giver, The Odyssey, The Outsiders, Romeo & Juliet, To Kill a Mockingbird, and The Great Gatsby, and we have many more to come.
Do you have a specific required text that you'd like to make more inclusive? Reach out to me @nouvelle_ela and I'll see if I can help  🙂
Teach students to look for justice everywhere

Teach students to think critically about the media they consume. You can start with the list of required reading for your school. Whose voices are being heard? What perspectives are missing? Have students brainstorm a list of books that could replace core texts and make the curriculum more inclusive.
Based on this, students will learn to apply a critical lens to news stories, television, movies, etc. You might be familiar with the Bechdel-Wallace Test, a measure of the characterization of women in fiction. Different groups have proposed or developed other tests inspired by the Bechdel Test, like the Native Bechdel Test and the Race Bechdel Test. (These are just tools. No single test can determine something's total worth, and a piece of media can "pass" a test while still being problematic.)
I also recommend sharing the Every Single Word project with your students. Its creator Dylan Marron produces supercuts of blockbuster movies, but only the words spoken by actors of color. The entire Harry Potter franchise video is 6:18, ET is seven seconds, and Jaws is even worse.
Include intentional discussion about Social Justice
When teaching Social Justice in ELA, it's vital to carve out time for students to dialogue. One way to do this is through a Social Justice Lit Circle. Students will probably have some powerful reactions to the content. Black and POC students might feel triggered, and White students might experience White fragility when confronted with the harsh realities of racial injustice. Worried about the discussion staying calm and civil? You can check out these 10 tips for facilitating a respectful classroom on sensitive issues. Then, you and your students can work together to set out rules and expectations for classroom discussions (CCSS. ELA-LITERACY. SL.9-10.1. B)
You could also make time for these kinds of discussions in response to current events. On the blog myself and nine other ELA teachers share our tips for covering current events in the classroom.
Give students a platform
Part of teaching your students that their voice matters is teaching them how to amplify that voice. Depending on what grade(s) you teach, your students are likely active on social media. Gen Z is already using social media to influence politics in ways that are groundbreaking and surprising. But that doesn't mean they can't learn from you. Have your students explore other ways expressing themselves, like writing to their elected officials. You could even have a "letter writing workshop" in your classroom! Have students find their elected officials and then read these tips from the ACLU on writing an effective letter or email.
Composing an op-ed, or a letter to an editor can be a great way to practice argumentative writing. It's also a great way to get students thinking locally. Brainstorm some local issues students are concerned about. Do they have a potential solution? Is there an issue they feel isn't getting enough attention? Have them share their concerns with the local paper instead (or in addition to!) posting about it on social media. (CCSS. ELA-LITERACY. SL.9-10.4) Remind them that if they expand their medium, they will broaden their audience.
Bonus tip: Boost your students media literacy
Media literacy is vital for everyone. Your students might see themselves as masters of social media, but they can still fall prey to "fake news" and bot accounts posing as real people. I recommend having students take the Clemson University quiz, Spot the Troll, after you've taken it yourself, of course! This can be an individual activity, or you and your students can share your results and have a classroom discussion about it. What tactics were the troll accounts using? Were you more likely to trust an account that was posting views you agreed with? How are these false stories and bot accounts influencing the social media experience? (CCSS. ELA-LITERACY. SL.9-10.3)
Final thoughts: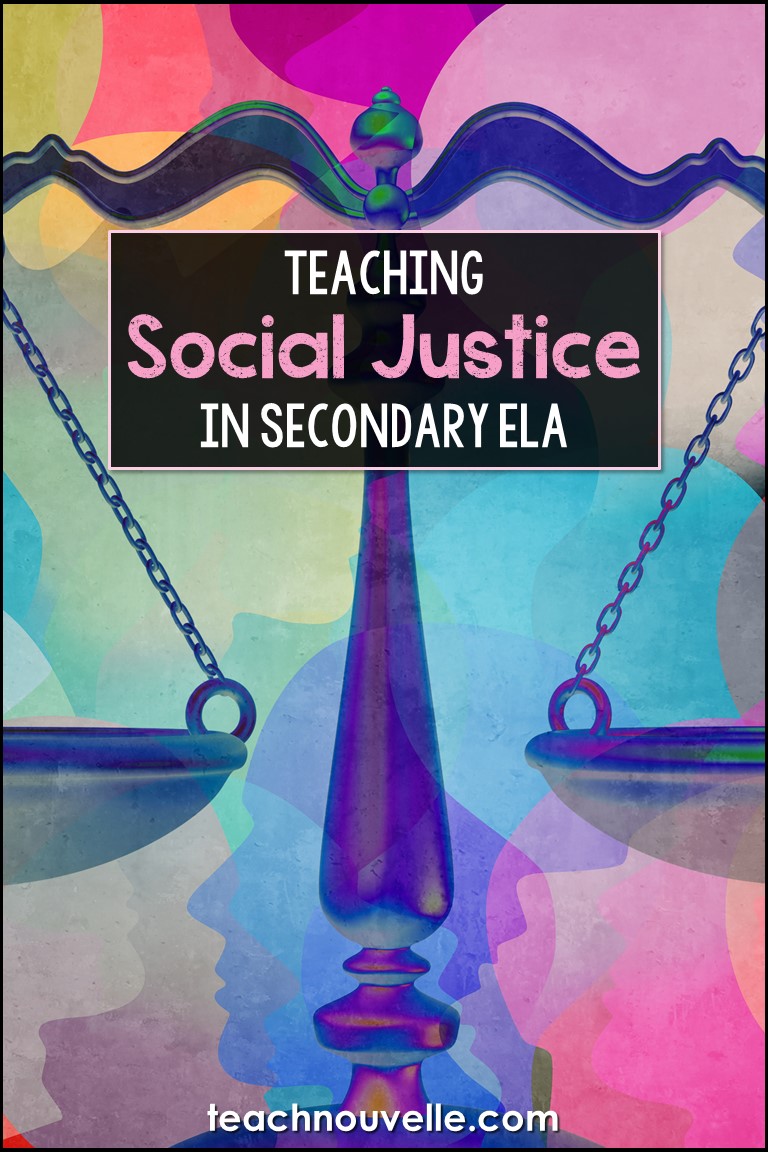 I hope this post has left you feeling excited and prepared for teaching social justice in ELA. How do you talk to your students about the tough topics? Do you have any favorite books or resources for addressing social justice issues? Comment below so we can all learn!
Stay connected with me on Instagram @nouvelle_ela. I'm constantly sharing tips and ideas from myself and other amazing members of "Teachergram."