Teaching classic literature doesn't have to be boring! These tips, lesson plans, and low-prep resources will help engage every student.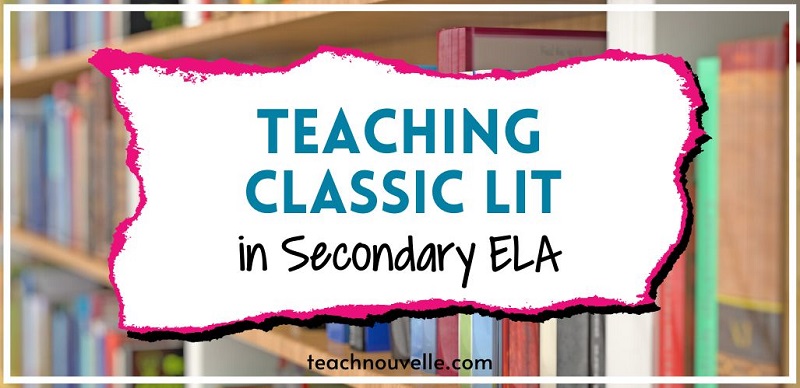 Does your required reading have even *you* yawning? Chances are your students are getting bored too. I'm here to help!
Should classic literature still be taught?
With only a few exceptions, my answer is yes! Or more accurately, "yes, and…" I absolutely believe classic literature still has a place in the Secondary ELA classroom, and I think we can make it even more impactful to our students by pairing it with other, modern texts.
Many teachers are working to diversify their curriculum to include more voices, and it's been a big focus for me this year. I've been working with Dr. Sheila Frye (from Teaching Literacy) on a project called "Rethinking the Classics" to help teachers find supplemental texts and curriculum updates. So far we've covered, To Kill a Mockingbird, Shakespeare (resources for any play), The Giver, The Odyssey, The Outsiders, Romeo & Juliet, and The Great Gatsby, and we still have more to come.
"Escape" the classics
I love teaching classic literature with escape rooms! Escape rooms are a great way to strengthen students' executive functioning skills, and it's a fun way to get students more invested in the text.
My other escape rooms for teaching classic literature include:
P.S. Want to turn your favorite classic novel into an escape room? This template kit makes it easy!
Teaching classic literature during distance learning
Check out these posts on how to make teaching the classics like The Odyssey, The Great Gatsby, and The Giver easier during distance learning.
Why is this still important? Even though it seems that most of us will return to classroom learning in the fall, digital learning isn't going anywhere. Many districts speculate that they will continue to utilize virtual classwork when students cannot join in person (sick days, sub plans, weather concerns, etc). I hope we never see another pandemic in our lifetimes, but we'll still need to hang onto all those skills we learned from being thrown into e-learning during 2020.
Teaching Shakespeare in Secondary ELA
Blog post: Teaching Shakespeare w/David Rickert
This is an interview with an amazing teacher and artist, David Rickert. We talk about his comics, his process, and how they fit into the classroom.
Blog post: Teaching Shakespeare's Language: Thou & You
Are your students getting stuck on those antiquated personal pronouns used in Shakespeare and other Elizabethan lit? This post will help!
Blog post: Teaching Shakespeare's Language
This blog post is a more general overview of how to introduce students to Shakespeare's language, and activities to get them comfortable with it.
I also have a resource for teaching Shakespeare's language with [interactive notebooks] 🙂
Blog post: Tips for Teaching Shakespeare
This post will be especially useful to anyone who's doing a staged reading, or drama production of a Shakespeare play
Blog post: Teaching Shakespeare in ESL
Shakespeare isn't something we should reserve for Honors students. Teaching Shakespeare to ESL students with appropriate supports is key to making them feel like part of the academic conversation at your school.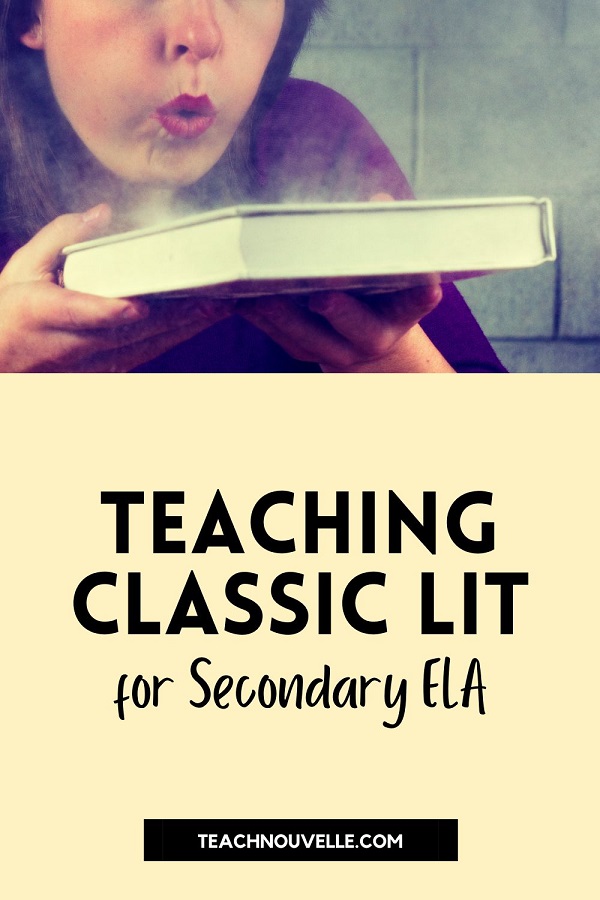 Even more resources for teaching classic literature
Lamb to the Slaughter resources
Didn't find what you were looking for? Comment below or reach on on IG if you need inspiration for the classic text you're teaching and I'll brainstorm with you 🙂
Happy teaching!