I love teaching Shakespeare, and I LOVE discovering new and innovative ways to engage students in the material. I've talked before about teaching Shakespeare's language or using abridged versions for in-class productions. I've even shared how my 9th graders put on a full production for the middle school! Today, I'm so excited to share about one more way I get my students' total buy-in – Shakespeare comics! – AND share a conversation with the comics' creator, David Rickert.
If you don't know David yet, you are in for a treat! He's an amazing artist with a keen sense of humor, and he has over twenty years of classroom experience. He's also a kind and generous guy! We decided to swap some tips for teaching Shakespeare, so let's get started.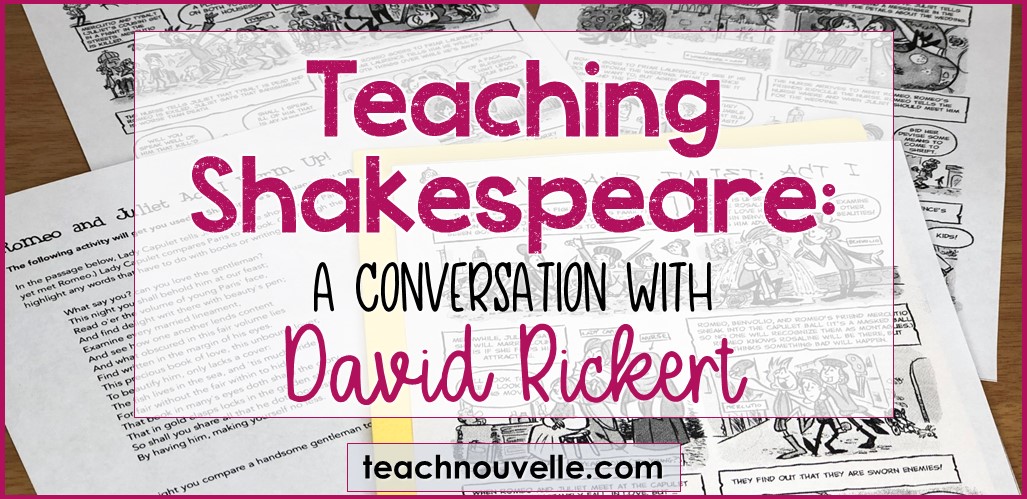 David's Work
I use your Romeo & Juliet comics, and my students love them! I see a huge increase in engagement because of them. One of the biggest benefits has been subtle scaffolding for my below-level students. Once they have an understanding of plot, we can layer word work and character development on top of that. When did it first occur to you to use art in this way?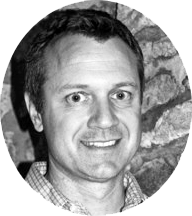 I have always been a cartoonist, but struggled to find a way to put them in front of an audience. One year for my birthday my sister-in-law got me a book called The Education of a Comics Artist by Michael Dooley and that's when it finally hit me that I could combine two of my interests – comics and education – to teach students difficult concepts. It just so happens that I started right when TeachersPayTeachers was getting going and I posted them there and they quickly found an audience. The first thing I posted was my series on commas, which I've recently updated, and my best selling Grammar Comics.
The Shakespeare comics were not my idea – it was a suggestion from my friend Britt Wheaton who saw the potential for them to be used in the classroom. I knew that there were graphic novel versions out there already, but they took the source material way too seriously. I'm much more inspired by MAD Magazine than comic books, and I wanted to bring that sense of irreverence to the plays. I want to make Shakespeare fun, which is why I hide things in there for students to find. And I'm not above putting people like Sponge Bob in there as well.
I started with Romeo and Juliet and have been working steadily on them ever since. I've done Macbeth, A Midsummer Night's Dream, Hamlet, and Othello in that order. Since I don't have time to dive deep into making them during the school year, they end up being my summer project. I do character designs in the spring in my spare time and then do the drawing when school isn't on my plate.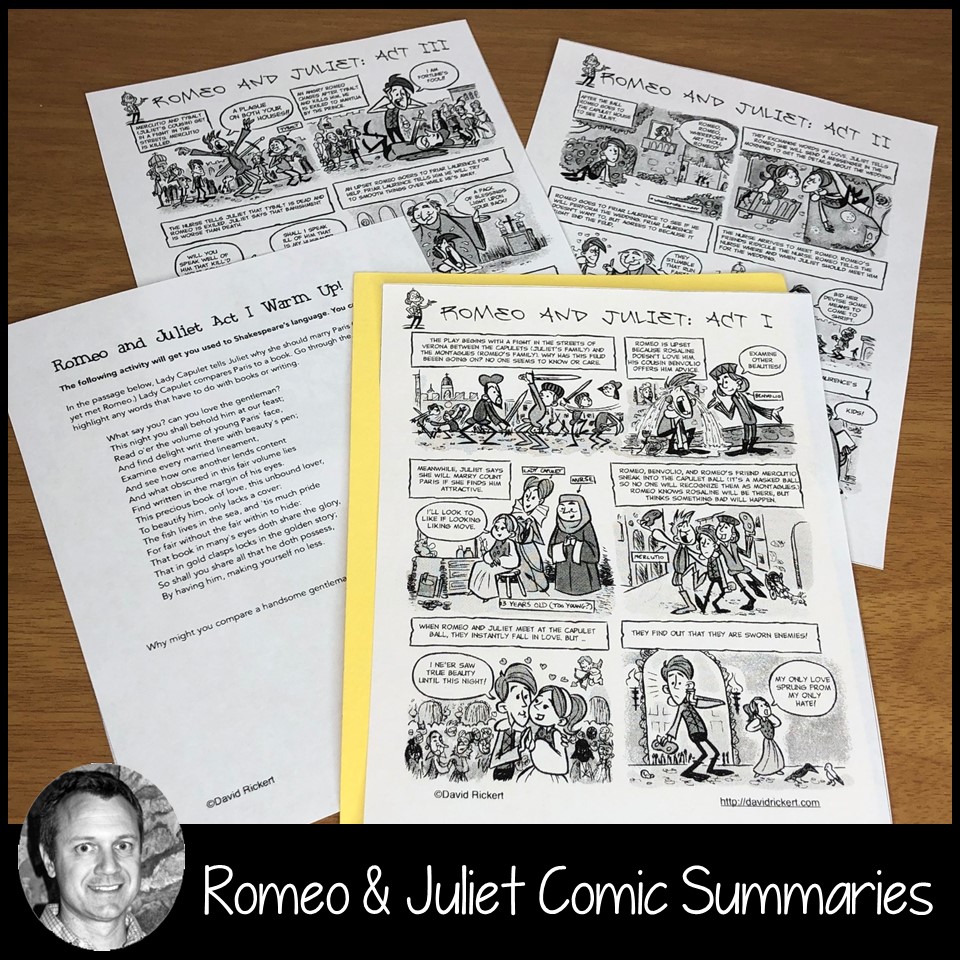 The Process
Oooo, a summer project! I think I heard you say at some point that inking the panels took you like 20 hours. That's a true labor of love. What does your process look like from start to finish?
I start with character design. I spend a decent amount of time coming up with what the characters will look like and drawing them in a series of poses. This part takes the most time. I can fill pages with bad drawings until I come up with one that I like.
The next thing that I do is go over the play and create the script for each act. I decide what the caption will be and what the visual might look like. The most I can do is nine panels per comic, so I have to cut it down to nine scenes at the most. I also go through and select the quotes I'm going to use-it's very important to me that I use text from the actual play. During this part I'm also thinking of how I can make it entertaining for students, so I'm trying to add humor and little hidden things in there. If I can come up with something that the students will get but the teachers won't, that's my favorite. I put the Fortnite Battle Bus in a recent comic. I'm sure a lot of teachers missed that one.
Then the drawing process begins. By the time I get the this stage I have a good grasp on what I want to do. I use a blue pencil to sketch everything out on a large sheet of Bristol board. I can ink over top and the blue won't show up when I scan it. Once I scan the inked page, I put it into Photoshop and add the text and the shading. This last part really is the easy part – it's the planning and designing that takes the longest.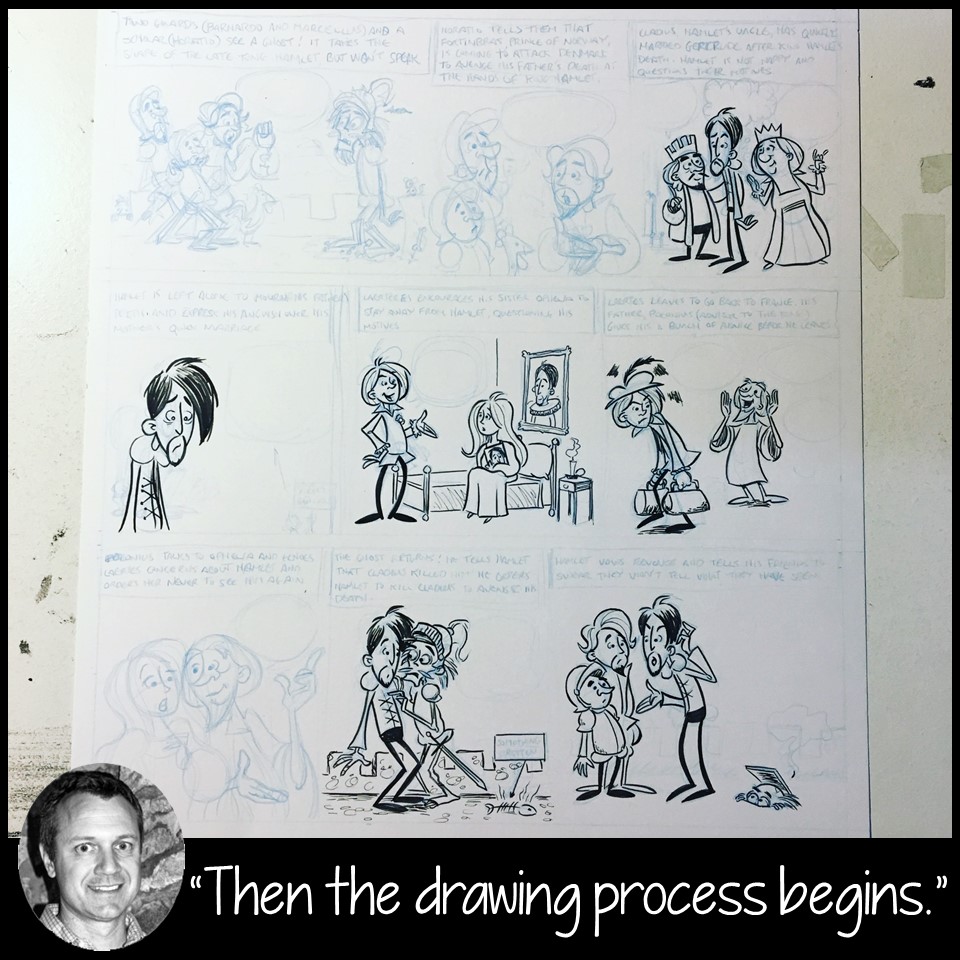 However, occasionally I run into problems that take me awhile to solve. I couldn't figure out how to draw the scene in Othello where Othello kills Desdemona. It just always looked way too graphic. I ran it past some teachers who said that I could do two versions of the comic – one with the murder and one without. I opted not to include the murder in the final drawing- It happened between panels.
Using these Resources
What difference have these lessons made in your own classes?
I know this will surprise some people, but I don't use them in my classroom because I'm too shy. My students always happen to find them anyway because I'm pretty easy to track down online (why they are doing this is another story.)
What I didn't expect but am really proud of is that they appeal to teachers with students who are reluctant readers or have some sort of learning disability. They seem to work really well with learning stations for review or to quickly catch kids up who missed a few days of school. I wasn't sure exactly how people would use them, but I'm happy that people are finding ways to bring them into the classroom in ways that I hadn't expected.
I notice my students always want to refer back to the comics and look for Easter eggs and the humor you've infused, like the Fortnite Battle Bus you mentioned. What are some other ways that you add humor and levity to your Shakespeare units?
I tend to be a light hearted teacher to begin with. Shakespeare isn't something I take too seriously, especially with Romeo and Juliet. It's fun to read these plays aloud if you approach them the right way. I don't know if I use humor as much as I use creativity. I like to have them drawing. My students did a Sketchnotes assignment this year that was a lot of fun.
What's Next?
Do you have anything new and exciting in the works? What play will get the David Rickert treatment next?
Right now I'm working on Julius Caesar, which a lot of people have asked for so I'm finally going to do it. I'm picked up a bunch of books on Ancient Rome so I can get the architecture right, and I'll probably read a biography on Julius Caesar too. I can get pretty far down the rabbit hole with this stuff, way more than I need to be. Also, I haven't taught this play before, so that makes the process take longer because I haven't envisioned the play as much as I would have if I taught it (plus, I haven't seen any performances.) After that I'm going to start work on The Odyssey and see what I can do with that.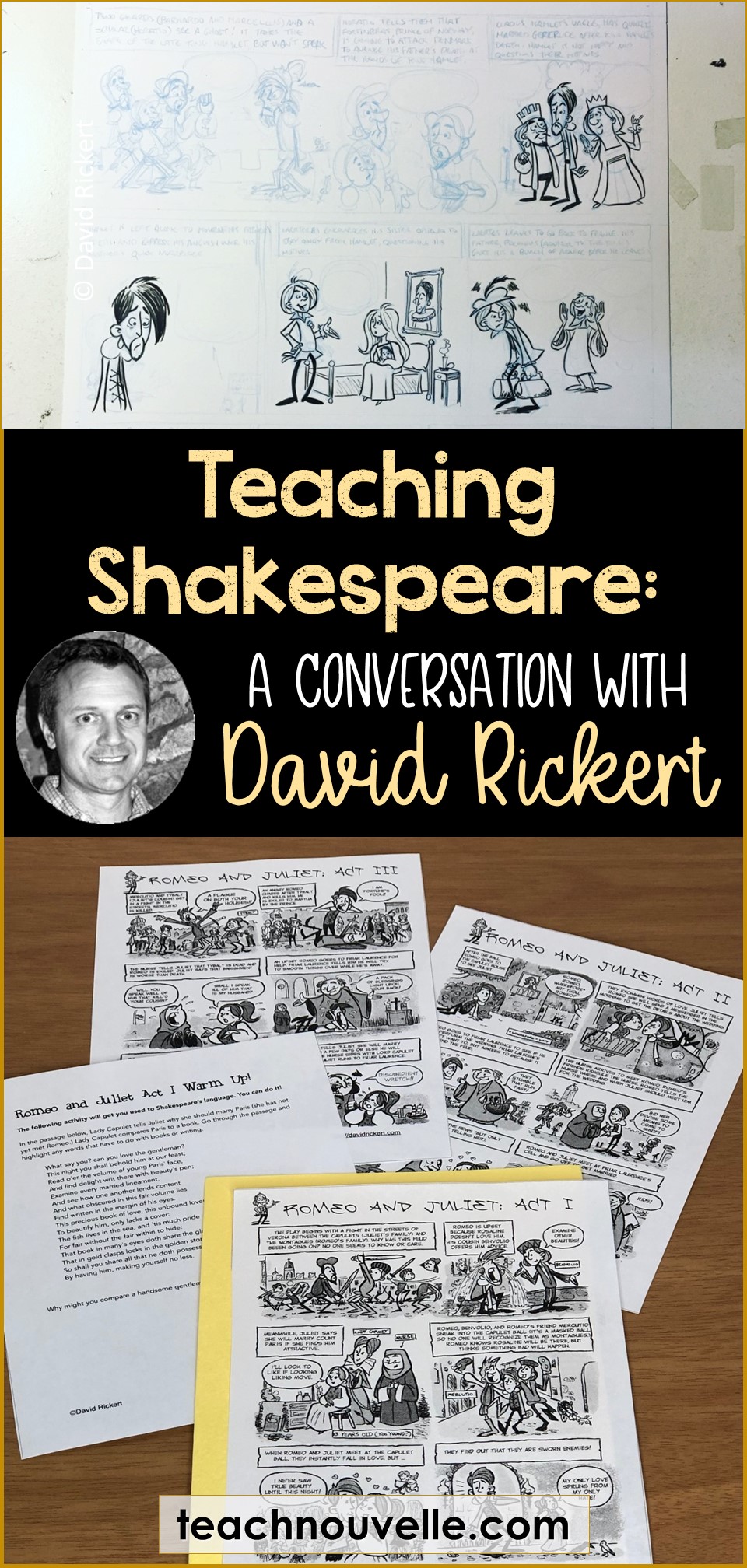 Thanks for reading!
Be sure to check out all of David's great resources for teaching Shakespeare. He is so creative! Also, you can read my interview on his blog, "Escape Rooms in Literature". It's been so great chatting with David, and I'm so excited to see what he comes up with next.
Happy teaching!