Are your students struggling to connect with The Odyssey? I get it. Somehow "It's over 3000 years old!" isn't a significant selling point for teens and tweens. Today I am going to be sharing resources to help with teaching The Odyssey during distance learning.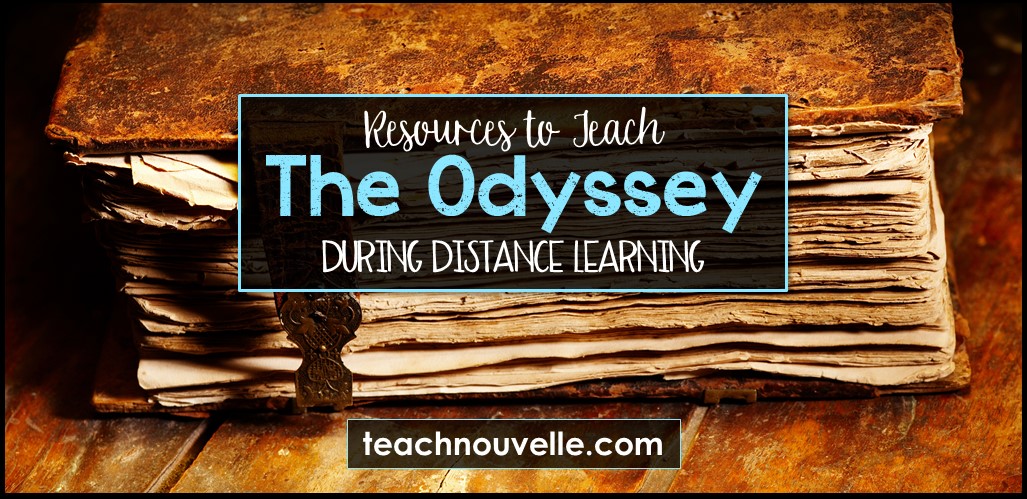 Teaching The Odyssey during distance learning
While the literary merits of The Odyssey are timeless, it's not very inclusive. I'm not suggesting that you remove it from your curriculum, but that you bring in some additional voices. Contemporary supplemental texts will not only make your lessons more inclusive, they will help students to connect with the original story.
Many teachers are working to diversify their curriculum to include more voices. I've been working with Dr. Sheila Frye (from Teaching Literacy) on a project called "Rethinking the Classics" to help teachers find supplemental texts and curriculum updates. So far, we have covered The Giver, To Kill a Mockingbird, The Outsiders, Romeo & Juliet, and The Great Gatsby, and we have many more to come. (Do you have a specific required text that you'd like to make more inclusive? Reach out to me @nouvelle_ela and I'll see if I can help 🙂
Here are some ideas to get started, and you can find many more ideas in our full Rethinking The Odyssey resource.
Play a game!
I recently redesigned my Odyssey escape room and created a digital version that is perfect for teaching the Odyssey during distance learning!
Note: If you decide to purchase this resource, you will get both the paper version of the escape room, and the digital breakout.
Explore "What makes a hero?" in two steps
Y'all, I love teaching about superheroes so much that I dedicated a whole blog post to it! It's such a engaging topic for students.
Step 1.
You can begin your discussion on superheroes by having students watch this short video from TED. It provides a quick introduction to the hero archetype as outlined by Joseph Campbell.
After viewing this video, students could map out Odysseus' journey and compare it to Campbell's framework.
Step 2. Compare and Contrast With a Contemporary Hero
Another way to help students connect to The Odyssey is by comparing it to the "hero's journey" of a text that they already know and love. After they have completed step 1, they could take their favorite superhero origin story and see how well it lines up with that of Odysseus.
Here are some of my favorite superheroes to share with students:
Teenager Kamala Khan is the first Muslim-American superhero. But she really doesn't think she should be one… this comic book is great for igniting a discussion on what makes a hero. You can listen to the YA Cafe Podcast episode on book 1 for teaching ideas and learn more about incorporating superheroes in ELA at this blog post.
America Vol. 1: The Life & Times of America Chavez
Chavez is Marvel's first queer, Latina superhero, so she has a unique story. The graphic novels also feature stunning artwork by Joe Quinones, which is sure to engage even the most reluctant readers.
I highly recommend Gabby Rivera's TED Talk, which I included in my TED Talks for Young Writers blog post. Rivera talks about how as a child she had a hard time identifying with superheroes, saying, "I looked at them, and I saw everything I wasn't. They had big muscles, supermodel good looks, and phenomenal cosmic powers. And me?… I never felt powerful."
Miles Morales: Spider-Man by Jason Reynolds
Miles Morales, part of Marvel's "Spider-Verse," is an Afro-Latinx Spider-Man. The character appears in the movie Spiderman: Into the Spider Verse, but my favorite iteration of Morales is in this graphic novel by Jason Reynolds.
In this short PBS appearance, Reynolds talks about how he created Morales' rich, culturally diverse backstory, and what it means to be a superhero "without privilege."
Explore the imagery in The Odyssey
This RadioLab episode explores whether Ancient Greeks had the color blue. After all, a famous epithet in Homer's work is "the wine-dark sea." No wine that I know of is blue! Beyond the literal question of the perception of blue, this episode seeks to draw out connections between language and culture. Students will be utterly fascinated.
Have a Writer's Workshop
This video tutorial and blog post from Zara Rizwan Malik from PowerPoetry make a great mini-lesson before a poetry writing activity. Students can write about a hero from their own lives or even a famous person they idolize. This activity is a lot of fun, and students can share their odes out loud, or submit it in writing. This is also an excellent opportunity for an appreciation activity: students can write about a teacher, friend, family member, celebrity, or fictional character, anyone who they feel has helped them weather the challenges of 2020.
Note: If you're going to have students read their work aloud, consider allowing them to submit a video, rather than asking them to read it live on your video platform. During distance learning many students are experiencing a noisy and unpredictable home life, and the extra pressure of having to "perform" on camera can be a burden.
Final thoughts: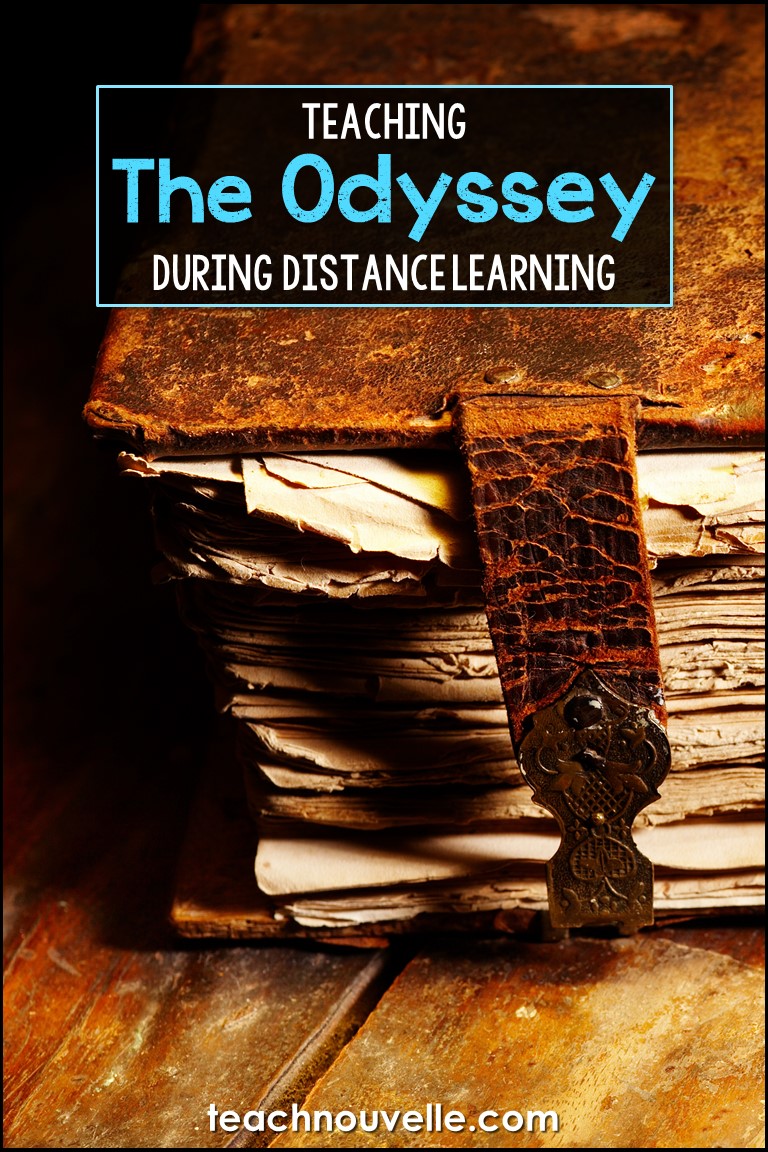 I hope that this post gave you some helpful tips and resources for teaching The Odyssey during distance learning! If you try any of my resources or ideas in your classroom, let me know! I'd love to hear how your students responded. Comment below, or reach out to me on Instagram, @nouvelle_ela.
Happy teaching!