High-interest, standards-aligned Halloween activities that your students will love (and you'll love all the time you saved!).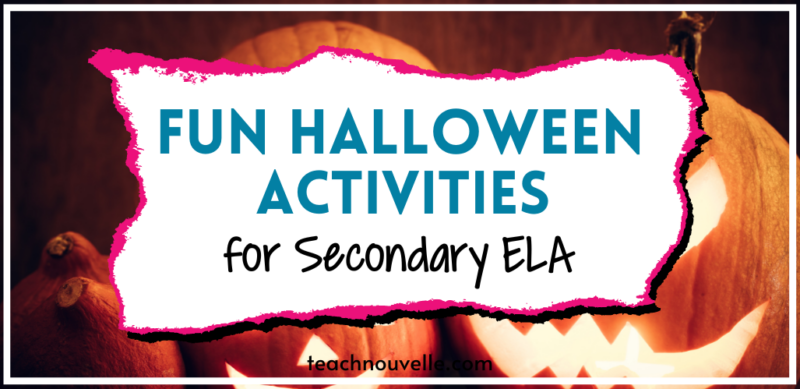 Y'all, I love Halloween! I love the creativity, the traditions, the stories, and as a crafty person (and Project Runway aficionado) I love making my own costumes.
I've blogged before about Halloween activities for Secondary ELA, and this year I'm at it again with seven new ideas that will help you embrace the spirit of the season, without sacrificing the standards.
7 Halloween Activities for Secondary ELA
Watch the short film Lock Up (8th grade + up)
This short film is very effective at demonstrating and teaching suspense. I don't want to spoil the plot, but it's only 3:34, so you can easily find out for yourself.
Here are some ideas for post-viewing discussion questions: What do we learn about the protagonist in the first 45 seconds, and how does that information help increase the suspense? What is the effect of cutting back and forth to the surveillance camera footage? What visual and audio effects did the filmmaker use to create suspense?
Content warning: This film doesn't show any blood or weapons, but it is highly suspenseful and features some startling (but brief) jump cuts at the end. I think this film is great for teaching suspense with short films for 8th grade and up, but you know your students best.
Learn how I use short films to teach literary elements, here.
Play a "haunted" escape room!
This game, The Haunted Mansion, is part of my escape room series, Burnbridge Breakouts, a digital escape room series that provides reading intervention for 8th and 9th-grade students who read at a 4th-5th grade reading level. Each game is a reading adventure with puzzles and riddles that engage students in collaboration and critical thinking. Students practice making inferences, sequencing, and prioritizing information. You also get thematically-related nonfiction readings, creative writing, vocabulary, and research activities at the target grade level.
The Haunted Mansion follows teens Jude and Mica as they explore the Wellsby Mansion, a rite of passage in their town. This game introduces students to the main mystery of the game, and for the first time, our characters get the sense that someone is sending them messages. It's spooky, but not scary. (Think Scooby Doo, not Saw.)
Are you enjoying these suggestions for fun Halloween activities? Want to receive teaching tips like these delivered right to your inbox? Sign up for my weekly Teaching Tips Newsletter and immediately receive a free, creative writing Halloween activity.
Read some scary stories
"The Girl Without a Face" by Marie Lu (HS)
CW: rape, suicide
You can find this story in the YA horror anthology, Slasher Boys and Monster Girls.
Our main character, Richard, isn't sleeping. His closet door is the only door in his family's new house that won't open, and no one knows why. It's only as Richard's anxiety and terror deepens that we get a flashback to an experience he had at a party. Even though we get the flashback from Richard's perspective and he doesn't think he did anything wrong, it's clear that he raped a girl and locked her in a closet. She later died by suicide.
This is a terrifying revenge story, but it is as artful as any Poe tale. We empathize with Richard at first – he's a bright boy, and we're initially worried for him. It's only as we get to know him we discover that he's not the hero, but the villain.
Teaching Ideas: This is an excellent text for teaching characterization. How does Lu build sympathy for Richard before the story's turning point? How does Richard's lack of remorse impact the reading of the second half?
Check out this post to find more short horror stories for teens and learn how I use them for Halloween activities in the classroom.
Listen to a spooky song!
Okay so, this is less of a song and more of a spoken word piece, accompanied by bizarre sound effects. The audio works on its own, but I recommend showing the video as well, if possible.
In this piece, an increasingly anxious narrator describes the actions of his neighbor, punctuated with the repeated question, "What's he building in there?" As the narrator's suspicion heightens, even seemingly innocuous actions he is describing take on a sinister appearance. With each repetition of "What's he building in there?" the listener might begin to wonder who is more threatening, the neighbor, or the narrator?
This "song" might work well paired with a Poe poem that also features repetition, such as "The Raven" or "The Bells". I have more ideas for teaching suspense in this post, and more song suggestions for ELA here.
Write a spooky short story!
In my Abandoned Places activity, students read about ten abandoned places from across the world. Then, they use one of them as the setting for a piece of Flash Fiction, a very short low-stakes writing activity. Stories are short enough that students can do a gallery walk to read others' work or share them in small groups.
You can receive a FREE version of this Halloween activity by signing up for my weekly Teaching Tips Newsletter.
Play some Halloween classroom games
Play "Monster Mash"–A Halloween improv game (a variation on "Party Quirks")
A new monster hunter in town hosts a party to get to know some local monsters. Three actors receive scary characters or classic monsters from audience suggestions while the host waits outside. The host reenters and starts setting up the party. One by one, the doorbell rings and each monster enters, joining the party. Now, the monsters won't come right out and say who they are, but they must use dialogue and reactions true to their character. The monster hunter is gauging all of this information and trying to come to a conclusion. Once the monster hunter can successfully identify each monster (and be met with audience applause), they can slay the monster (what a terrible party host!).
The host wins when they have defeated all the guests. This fun Halloween activity is sure to be a BIG hit with your students 🙂
I share more of my student's favorite Halloween-themed classroom games in this post!
Let students "show & tell" about their favorite monster
Monsters Through Time – a middle school research project
In this fun and unique resource, students research and create a digital magazine or PowerPoint about the history of a monster, its representation in literature and pop culture, and potential metaphorical analysis.
This resource has so many applications! It's obviously great for strengthening students' understanding of literary devices like symbolism, metaphor, and characterization, and you can even use it to practice public speaking, or as an enrichment activity for a spooky class novel.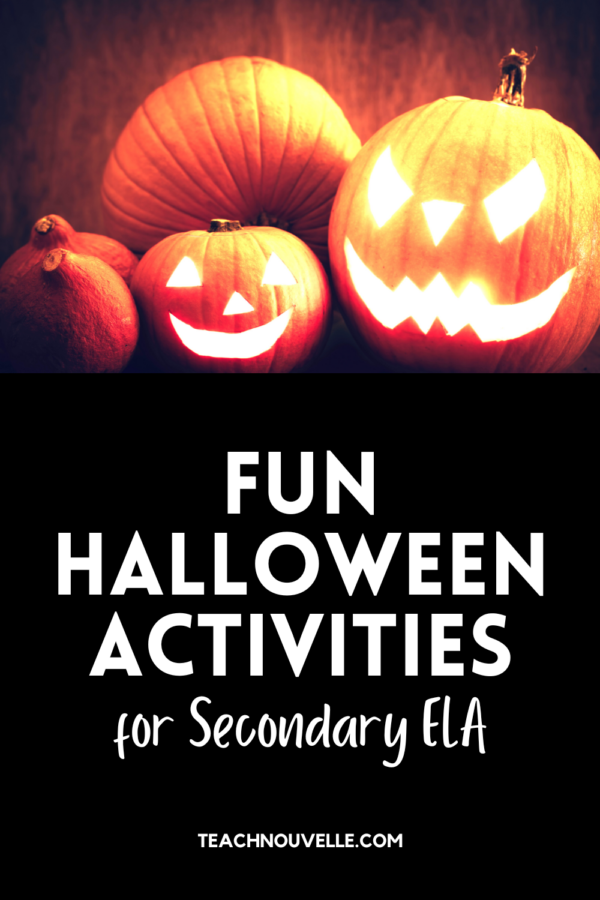 I hope this post gave you some ideas for fun Halloween activities that you can use in your middle or high school ELA classroom. Don't forget to download your free creative writing activity! If you try Abandoned Places, or any of these activities with your students, reach out on IG @nouvelle_ela and let me know how it went 🙂
How do YOU celebrate Halloween in the classroom? Do you have any Halloween traditions or go-to Halloween activities? Leave me a comment below!