Here are five short horror stories to share with your students! If you're looking for some seriously psychological stuff, this is it. These short horror stories for teenagers are fantastic stories in general, and also great model texts for writing horror fiction.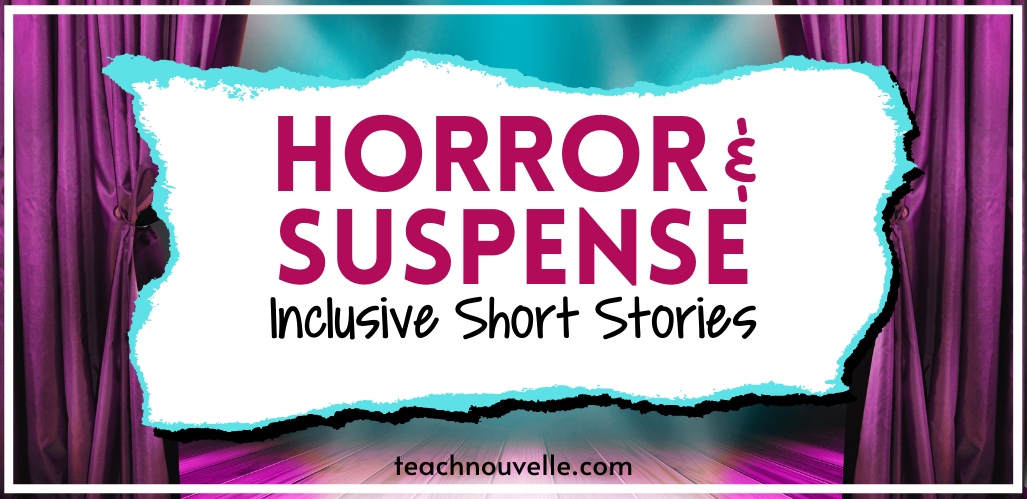 Inclusive Short Horror Stories
This is a coming-of-age story about a young Black girl named Myop. While picking flowers and blissfully exploring the woods around her home, she uncovers chilling evidence of a lynching. Since this story broaches a heavy topic, I wouldn't use this short story without being prepared to engage in a larger discussion of racially motivated violence and the history of lynching in America.
Summer as a symbol for youthful innocence is a well trod literary path, but this is an especially effective example. Walker creates, and then shatters, an idyllic setting in only two pages! Loss of innocence for Black children is also a uniquely complex issue. Many studies show that we, as a society, perceive both Black boys and girls as being older. This subjects them to higher expectations and less nurturing than their White peers. It might not be necessary to have student-facing materials about the loss of Black innocence, but it's important for teachers to be aware of our own implicit biases.
Are you enjoying these creepy YA suggestions? Sign up for the YA Reads Newsletter and get ideas delivered straight to your inbox.
"The Girl Without a Face" by Marie Lu (HS)
CW: rape, suicide
This story and the recommendation below are both found in the YA horror anthology, Slasher Boys and Monster Girls.
Our main character, Richard, isn't sleeping. His closet door is the only door in his family's new house that won't open, and no one knows why. It's only as Richard's anxiety and terror deepens that we get a flashback to an experience he had at a party. Even though we get the flashback from Richard's perspective and he doesn't think he did anything wrong, it's clear that he raped a girl and locked her in a closet. She later died by suicide.
This is another terrifying revenge story, but it is as artful as any Poe tale. We empathize with Richard at first – he's a bright boy, and we're initially worried for him. It's only as we get to know him we discover that he's not the hero, but the villain.
Teaching Ideas: This is an excellent text for teaching characterization. How does Lu build sympathy for Richard before the story's turning point? How does Richard's lack of remorse impact the reading of the second half?
Students who love dystopian and adventure will love Lu's Legend series.
Are you using these stories for Halloween? Check out these spooky drama games and Halloween ELA activities!
"On the I-5" by Kendare Blake (HS)
CW: rape & sexual assault
This story opens on EmmaRae, a young girl sitting in a truck stop diner alone. Kendare Blake is a genius at developing suspense, so even as this girl is looking at a salt shaker, we suspect something is not as it seems. The server humors her presence, claiming to be waiting on her daddy. When EmmaRae helps a busboy take out the trash, the story takes a turn. EmmaRae calmly addresses a dead girl in the dumpster and promises her she'll be back later.
This story is about revenge. In this magical horror setting, girls can bring one another back to help get revenge on their "beasts" – men who preyed on them.
Teaching Ideas: Use this as a model text for teaching suspense writing or teaching students how to develop a narrator. Even though the reader knows nothing about EmmaRae, we know more than the server or the busboy. We have access to her thoughts, so we know she's lying when she claims her daddy will be there in a few minutes. And, more than anything, we understand it's an under-reaction to talk to a corpse in a dumpster.
Students will also enjoy Blake's full-length novels mixing fantasy and horror. When I saw Blake speak at the Portland Book Festival, teen fans of the Three Dark Crowns series filled the room.
Check out my recommendations for YA short story anthologies. Perfect for the classroom library and beyond!
"Changeling" by Marieke Nijkamp (HS)
This story, found in the His Hideous Heart anthology, is a retelling of "Hop-Frog" by Edgar Allan Poe. Our protagonist is Jester, who tries to help other changelings get revenge on the ignorant townspeople who have hurt them.
This story is a perfect companion to either Lu or Blake's story because Jester and the narrator discuss the value of revenge. When is revenge useful? Does it make you feel better? And these are the sorts of questions our students love to engage in, too.
Students will also enjoy Marieke Nijkamp's anthology, Unbroken: 13 Stories of Disabled Teens.
This blog uses affiliate links for your convenience.
If you decide to purchase recommended gifts or books, please consider doing so through our affiliate links (at no additional cost to you).
Your support helps keep the blog running 🙂
"Happy Days, Sweetheart" by Stephanie Kuehn (HS)
Psychologist and author Stephanie Kuehn tackles this retelling of "The Tell-Tale Heart" by Edgar Allan Poe. Her high-achieving narrator is tired of playing second viola to Jonah Prescott – second-chair when she was obviously the better player, losing the race for class president even though she'd run a better campaign, and now, her position as valedictorian is at stake.
Kuehn maintains the pedantic narrative voice from the original. Still, it's jarring when the narrator moves from describing an intimate scene to a cold and calm description of murder. The juxtaposition is so well-crafted!
Students will also enjoy Kuehn's award-winning psychological thriller, Charm & Strange.
Want story recommendations and teaching ideas for your short story unit? Check out this resource in my shop!
Teaching Suspense and Horror
It's tricky to get all students on board with the horror genre, but here are some general tips.
I am not a fan of horror, but I enjoy psychological thrillers. If I think I'll like a movie with some horror elements, I always read a full summary first. Removing the terror of "what's next?" helps me focus on the storytelling and the elements I enjoy. If teaching craft is your goal, you can offer students a summary of the story upfront, including content warnings for sensitive topics.
You can also provide student choice. Have students break into groups and have each group read one of the stories above. Marie Nijkamp and Stephanie Kuehn's stories are not scary, whereas Marie Lu and Kendare Blake's stories are. Allowing students to self-select will yield better results in this genre.
Final Thoughts: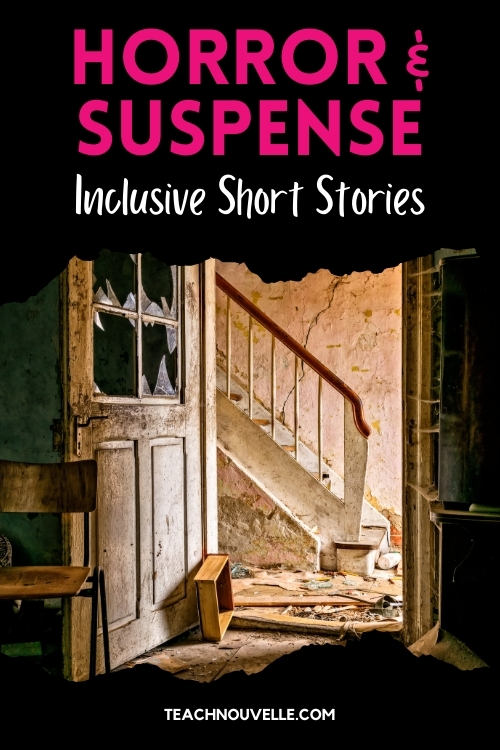 I hope this post gave you some ideas for age-appropriate and inclusive short horror stories that you can share with your students! If you want suggestions for short stories that aren't in the horror genre, check out my posts for middle and high school.
I've blogged before about teaching setting, metaphor, symbolism, and suspense, and scary stories can be great for finding examples of those literary elements.
Happy teaching!