Are you looking for new digital breakouts for ELA? Look no further! I'd like to introduce you to my newest game series, Terminus.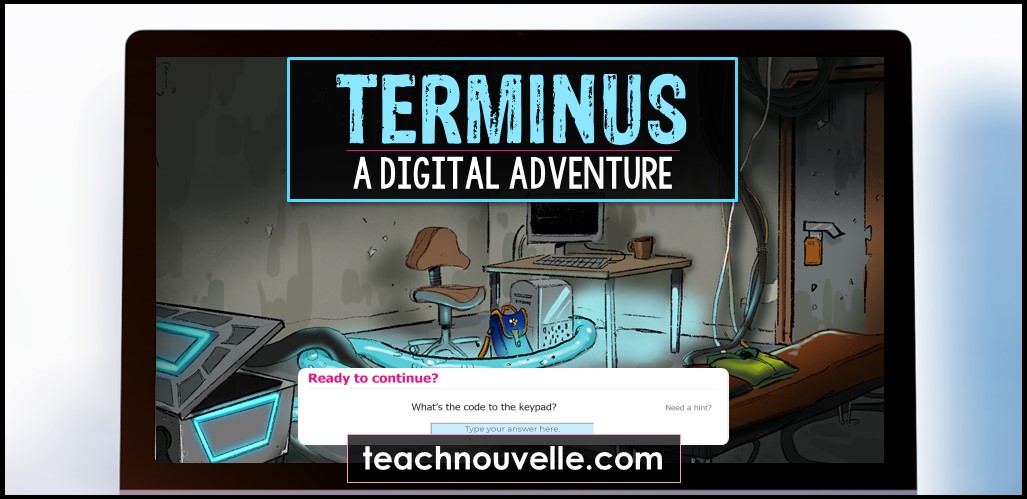 Terminus is a four-part digital adventure series geared towards 8th and 9th grade students who read below level. This story is a post-pandemic, found-text adventure. Playing as Rania, students work to solve the mystery of the MILSA outbreak by reading letters, memos, manuals, and emails left behind.
Behind the game 
This game was a labor of love by myself and my wife Amanda Thrasher. Amanda wrote the storyline, and I designed the puzzles. Then, we combined it all with incredible original art by Lily Chan.
Amanda began writing Terminus in the summer of 2019 (while I was at the TPT conference!) and finished it later that year. Little did we know that 2020 would bring a real-life pandemic. The timing couldn't have been worse, I thought to myself. Now, with 2020 drawing to a close, I feel differently. Sadly, we have over 200,000 people dead from COVID in the US, and this year I watched misinformation about COVID spreading as fast as the disease itself. No, I do not believe it's appropriate to "gamify" struggle, but I don't believe that's what Terminus does. I think that through its many nonfiction activities, Terminus gives students a much needed way to understand and contextualize pandemics, both historical, current, and yet to come.
Students will learn about the CDC, learn about vaccine developers, and learn to separate "fact from fiction" by comparing real life pandemics to their portrayal in books and movies. And most importantly, students (playing as Rania) will get a happy ending. That's something we all need right now.
Escape rooms help promote executive functions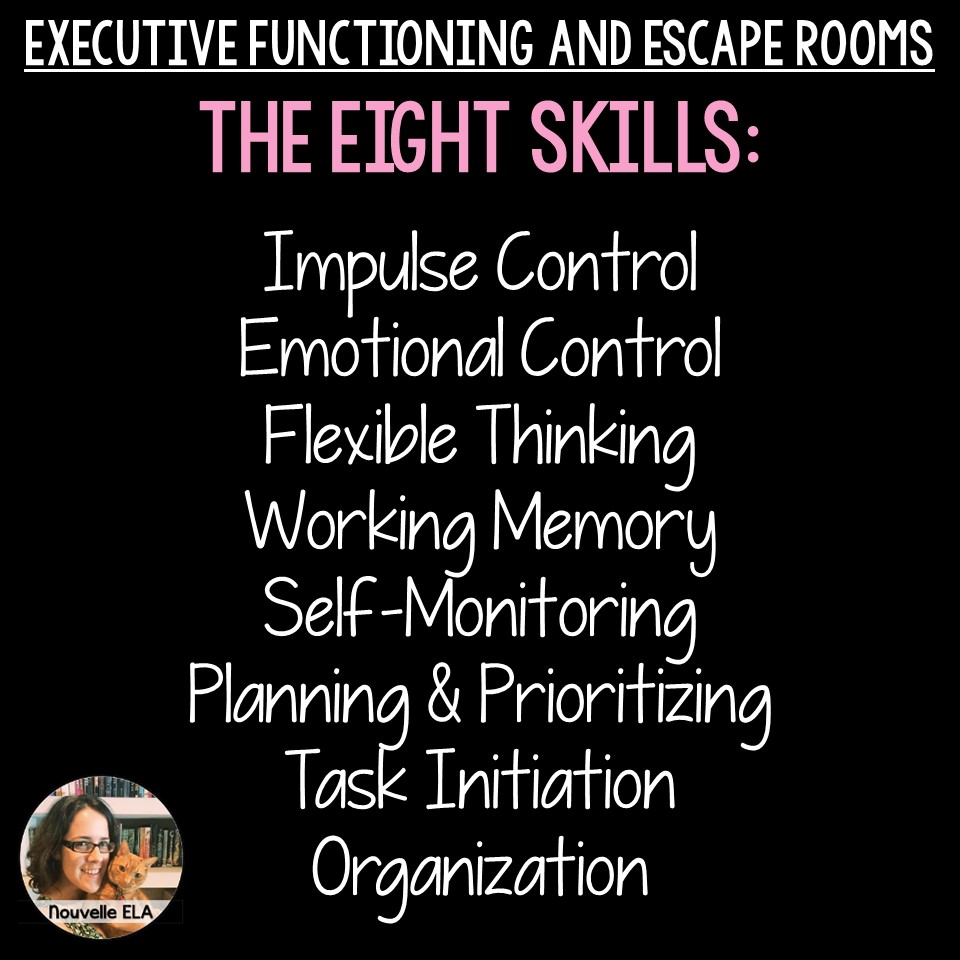 I have a whole blog post on this subject! But essentially, Executive Functioning is the complex way the brain 'works'. We use these skills to make decisions, choices, and plans. When we use strong executive functioning, we work smarter. We can delay gratification when working towards a goal, plan for the future, and avoid feeling stuck when our plan hits a snag. A lack of executive function skills leads to impulsive/reckless behavior, poor planning/time management, and an inability to stick with a task from start to finish. Sound familiar? You probably have a student (or students) with poor executive function skills. The good news? You can help them build those skills, which will have a positive impact in all areas of their life. 
Escape rooms require tenacity, complex problem solving, and time management. So besides practicing literary skills like close reading, making inferences, sequencing, and building vocabulary, Terminus helps students practice executive functions.
Key features and extension activities
Each one of the four Terminus games has puzzles and riddles that engage students in collaboration and critical thinking. Four different nonfiction articles were custom written for the games, each with a relevant topic (like "What is the CDC?") and each modeling a different type of information text. Students practice making inferences, sequencing, and prioritizing information. You also get thematically related nonfiction readings, creative writing, vocabulary, and research activities at the target grade level. You can use the Terminus digital breakouts for ELA, Science, or Reading Intervention.
I have designed each game alone to take students 45-60 minutes. If you have them complete any of the accompanying assignments, you could make this last several days. Since I designed this game for students who are struggling at their grade level, the text of the games themselves is easy to read, but with high-interest content. This helps boost students' confidence in their reading abilities and prepares them for the nonfiction reading and writing activities. Thus, the game acts as a 'bridge' to the on-level assignments.
Final Thoughts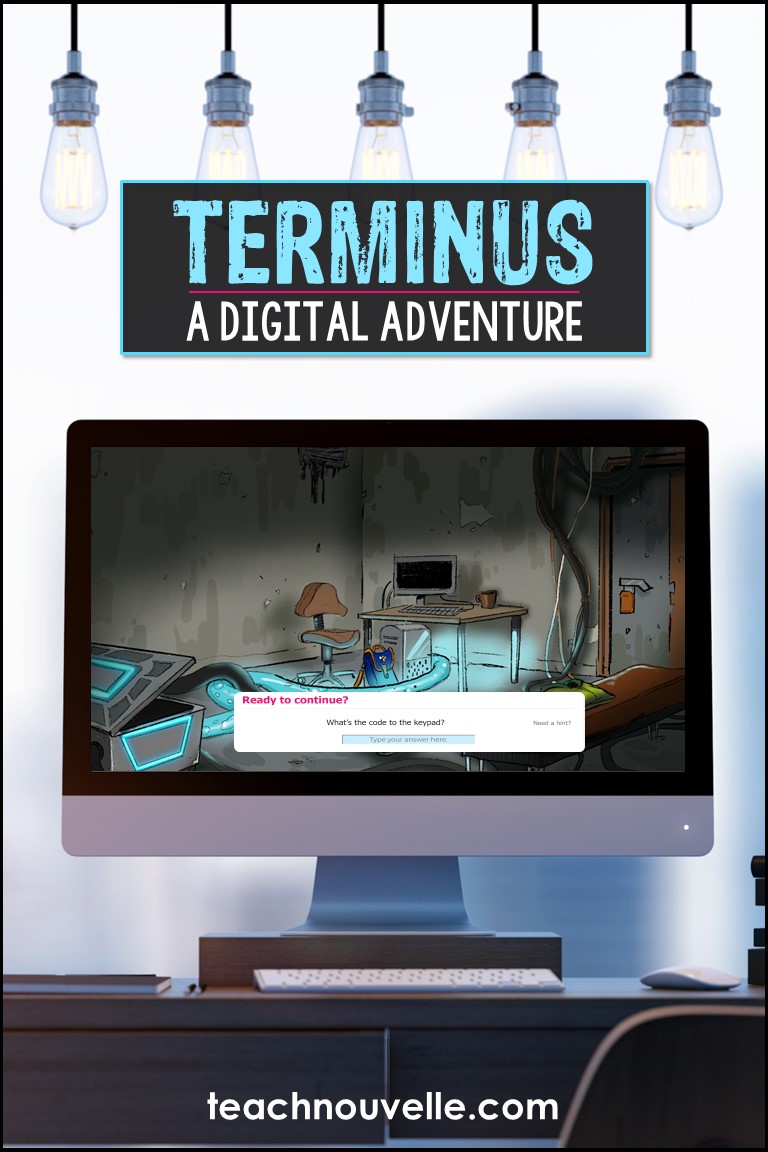 I hope you'll play and LOVE Terminus. I believe it's the happy ending we all need right now. You can play game one here, or buy the entire series. I can't wait to hear what you think!
Happy teaching!