What a year 2020 has been, am I right? Well, amid everything, some amazing new books joined the shelves. Here are my top five recommendations for the classroom library.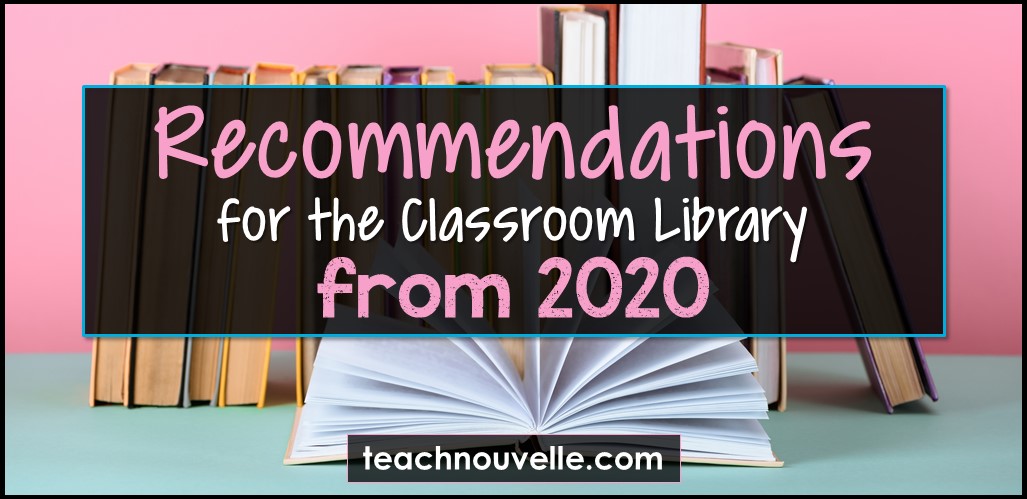 I know that, as English teachers, we can sometimes have a book-buying problem. I've narrowed my picks down to five books that will give you a lot of mileage. I made a list on Bookshop.org so you can easily purchase these books guilt-free. Bookshop.org gives 100% of the profits on every sale to the brick & mortar store of YOUR choice. For example, when I shop there, I choose my local bookstore here in Astoria, OR. You could choose your favorite Indie in your hometown. (I get a small commission of every sale, and I put those pennies right back into maintaining this blog for you.)
2020 Recommendations for the Classroom Library
We Want to Do More Than Survive by Bettina Love
Professional Development
This book came out in 2019, but it gained traction this year as more and more teachers turned their attention to being anti-racist educators.
Love takes on notions of educational reform and outlines what she sees as the educational survival complex that manifests itself in superficial programs like grit, testing, and "character education." She describes the for-profit systematic oppression of students of color and shows us a path forward.
One of my biggest takeaways from this book was the need for sharing Community Cultural Wealth with students. That means including representation in my curriculum that doesn't just share the truth about historic trauma of marginalized groups, but also shares celebrations and successes, linguistic riches, an entrepreneurial spirit, and more. When Sheila Frye from TeachingLiteracy and I made our Rethinking the Classics resources, we used Love's framework for integration widespread representation in our curriculum.
Cemetery Boys (MS/HS)
Sci-Fi/Fantasy
Yadriel wants nothing more than to carry on his Latinx family's legacy as brujx. However, his family won't accept his gender identity and keep trying to steer him towards bruja traditions for the upcoming Día de los Muertos. With his cousin and best friend Maritza, Yadriel sets out to perform a ritual that will prove to them he's meant to be a brujo. When the ritual goes sideways, Yadriel summons Julián Díaz by accident. In life, Julián had a terrible reputation and looks to kill… in death, he wants to figure out who killed him. Can Yadriel help Julián, set the ritual right, and make his family see his truth once and for all?
Students will adore this book. It is heartfelt and funny. There's honest conversation about sexuality and gender identity that sounds like it's written for teens, not at them. This is a book written "by, for, and about" Trans Latinx kids AND for others to enjoy, too. I feel so lucky to be alive in a world in which this book exists, and y'all need it for your classroom libraries, stat.
Elatsoe by Darcie Little Badger (MS/HS)
Sci-Fi/Fantasy
This book also appears in Victoria's recommendations for teaching Indigenous Literature. Here are her words:
"Elatsoe by Darcie Little Badger is a nearly perfect YA fantasy. It's set in a world similar to ours, but there's magic and it's well acknowledged — but it's also a murder mystery. The main character, Ellie, who is Lipan Apache and asexual, is the fierce young protagonist that everyone needs in their life. She's got a ghost dog as a sidekick and her ability to raise the dead — never humans, though — has been passed down for generations. Additionally, the story deals beautifully with grief, and how family and friends come together to support one another.
One of my main gripes with YA in general is how relationships are handled — I have found a strong character gets watered down when the author brings in a romantic element. What I particularly loved about "Elatsoe", though,  is that Ellie is asexual. It's intentional representation – Little Badger says,
"It's rare to see asexual characters in general. And when they do appear, they tend to fall into certain categories. Like, they're robotic or they're trying to come to terms with their asexuality, and that's the entire focus of the book. I wanted to write a fantasy adventure with an asexual main character 'cause I myself am asexual, and I'm getting married to another asexual Native, and we're both big nerds who play tabletop roleplaying games on the weekend. So, we're out there!"
She grew up as a voracious reader, but never read a book with a character like her, so she wrote her own.
Ellie is truly the perfect role model.  She's got a cool best friend, too, and when it gets tough, they go out for ice cream — her for pistachio and him for rocky road. They've always got each other's back, showing the power of a platonic relationship.
You could use this novel in several places in the curriculum, but I would use it in my fantasy genre unit. The way I structure my class is mythology in the fall semester and sci-fi/ fantasy in the spring. We spend the fall exploring myths from many cultures and then the spring talking about archetypes and pop culture mythology. "Elatsoe" is perfect for exploring how Little Badger draws upon Lipan Apache myths to craft a modern tale (CCSS. ELA-LITERACY. RL.9-10.9). It would also be a great exploration of how the Hero's Journey appears across texts – for use instead of or alongside The Odyssey.
Stamped by Jason Reynolds & Ibram X. Kendi (MS/HS)
Anti-Racism
THIS is a masterful YA edition! If you've read Stamped from the Beginning, you know that it's thorough and weighty. It's full of important information, but it isn't accessible to middle schoolers, for example. Stamped is a "remix" that pulls the facts and energy from the original and transforms them for a new audience with Reynolds' narrative power. I've never read a YA edition as good as this one.
Stamped shows the evolution of ideas of racism and oppression and outlines their ties to capitalism. It is like macro and microeconomics, but for racism, and it's really an eye-opening read. Students will come away looking at systems in a whole new light. The book paves the way for action, so students will feel empowered to make positive changes in their schools and communities.
Miss Meteor by Anna-Marie McLemore & Tehlor Kay Mejia (HS)
Contemporary
When Lita Perez asks her ex-best friend to help her win the Miss Meteor beauty pageant, Chicky knows that this is an underdog story for the ages. Never in the history of their small-town pageant have the judges picked a winner who looks like Lita and Chicky. But for Lita, being in the Miss Meteor pageant has been a lifelong dream, and she's running out of time. Can both girls show the town who their true selves?
This book is a GEM, and I expected nothing else from this powerhouse duo. The characters are so full of heart. Most importantly, this book is a romp for ALL students. I know from loving Mejía's We Set the Dark on Fire and McLemore's Blanca y Roja that representation matters so much to these authors. Their books are about more than Queer kids being queer or Latinx kids being Latinx, and Miss Meteor rises to that challenge. These teens have adventures, aspirations, and laughs that far exceed one label.
*I consider this book magical realism because of the way the authors carefully sprinkle the magical element onto our world.
I also feature this book on my YA Books by Latinx Authors post.
Final Thoughts: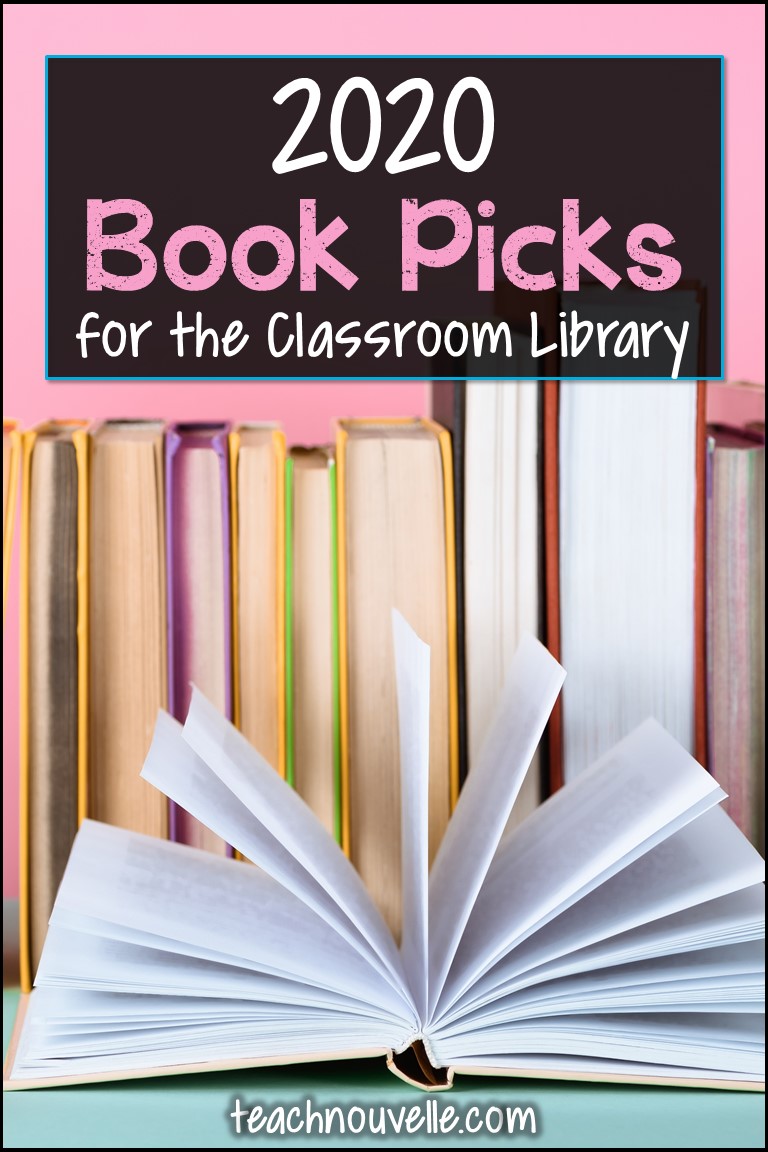 What are your favorite new book recommendations for the classroom library? Let me know in comments or over on IG @nouvelle_ela!
Just a reminder: you can shop for these books on Bookshop.org and choose the brick & mortar bookstore you'd like to support. Here's the shopping list!
Happy teaching!