Have you ever used videos to inspire your students to write? Here are some TED talks for young writers you'll be able to use at different moments in your curriculum.
As I've mentioned before on this blog, I love the Writer's Workshop model! Each day includes a focusing mini-lesson, time to write and ponder, and time to share or conference. Videos can be an excellent opportunity for students to choose a concept they'll focus on in their writing that day.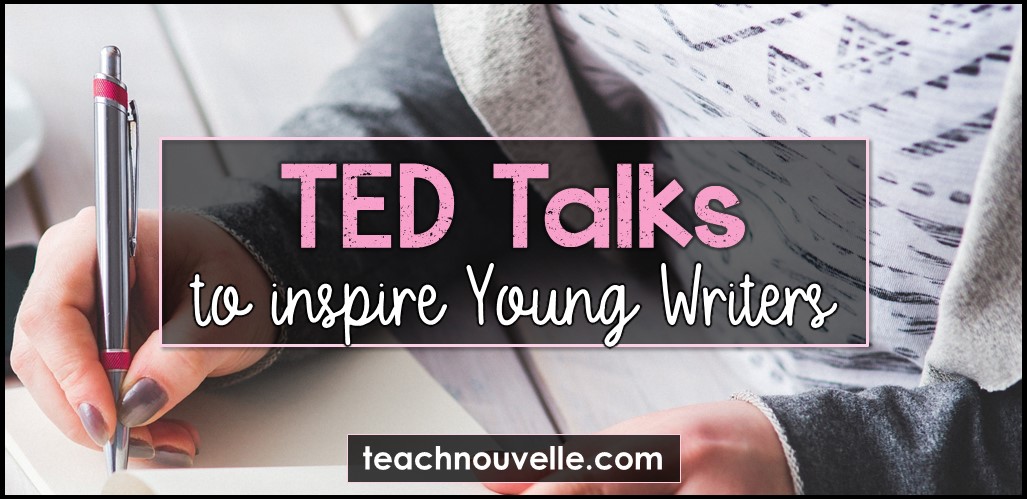 TED Talks for Young Writers
Nigerian-American author Nnedi Okorafor didn't grow up reading science fiction. As a child, she says, it didn't appeal to her. She wasn't able to 'see' herself in the characters. But now, by writing Afro-futuristic science fiction, she creates new worlds inspired by her childhood trips to Africa. In this talk, she reads excerpts from her 'Binti' series, and her novel 'Lagoon'. Although grounded in West African symbolism and mythology her stories imagine a future Africa, they open (as she calls them) "strange doors". Because of this, they will connect with readers excluded from the traditional Sci-fi canon (written predominately by white men). This talk would be great to pair with Black Panther, or Children of Blood and Bone.
"As a reporter and as a foreigner, I've learned that neutrality, silence and fear aren't the best options — not in journalism, nor in life. Neutrality is often an excuse we journalists use to hide from our true responsibility. What is that responsibility? It is to question and to challenge those in positions of power. That's what journalism is for… But neutrality won't necessarily lead me to the truth."
In his talk Jorge Ramos shares how he left Mexico after being censored for his report criticizing the president. He came to America for the freedom to follow his passion, journalism. This talk centers on the idea of speaking truth to power, but it's also a touching view of the immigrant experience. This video applies to journalism, politics, and social justice. Ramos' talk will undoubtedly inspire your students to act. They could even write letters to local elected officials! Mayor, city councilors, school superintendent, county commissioners, etc. Students could argue for a cause that is important to them. They could ask a question. Or they could offer potential solutions to a problem their area is facing.
This blog uses affiliate links for your convenience.
If you decide to purchase recommended gifts or books, please consider doing so through our affiliate links (at no additional cost to you).
Your support makes our podcast, The YA Cafe, possible.
In this talk, Erin McKean, a lexicographer explores what makes a word 'real', and posits that the rules of grammar and usage were made to be broken. She outlines six commonly used methods for inventing new words and gives humorous and engaging examples for each one. This could kick-start a fun, quick creative writing assignment; have students create and define their own new word.
This video summarizes the two schools of thought on grammar, prescriptivism and descriptivism. Prescriptivism is the belief that established we should follow linguistic rules, and descriptivism is the belief that language should grow and change with its speakers. Calude outlines the pros and cons of each position. It also explores differences between written and spoken grammar.
Focusing mainly on Elvish, created by Lord of the Rings author J. R. R. Tolkien, this talk muses on what makes a 'conlang' or constructed language 'real'. With engaging animation and appearances from Dothraki, Na'vi, and Klingon this talk will keep students interested, especially any who might be aspiring fantasy writers.
How can I talk about writing without talking about writer's block? Many people have trouble meeting deadlines at work, but in this amusing talk Tim Urban, founder of the blog Wait, But Why? examines how procrastination can sneak into every aspect of our lives. Urban's gentle teasing manner and comical drawings take the feelings of shame out of the conversation. This talk will inspire students to seize the day, without making them feel guilty.
Using examples of fantasy worlds like Lord of the Rings and sci-fi worlds like The Matrix, Kate Messner narrates (over whimsical animation) some basic ground-work for how to create a fictional world. Watching this talk is a great starting place for students to create their own fictional world by answering the questions she asks in the video. "What rules are in place here? Who has power, and who doesn't? What does this society value most? What kind of technology exists?" (We want to point out that this video incorrectly refers to the filmmakers Lana and Lilly Wachowski as "the Wachowski brothers")
Your students will love learning about writing from one of the most celebrated authors of kid-lit and YA. In her talk, Woodson recalls how the many long hours of her childhood spent reading, slowly, have informed her writing style. Too often we push kids to read more, with a metric based on page count and grade level. Woodson urges the listener to understand more.
"As a child, I knew that stories were meant to be savored, that stories wanted to be slow, and that some author had spent months, maybe years, writing them. And my job as the reader — especially as the reader who wanted to one day become a writer — was to respect that narrative." 
This short talk gives a helpful outline of the 'Hero's Journey'. Outlined by Joseph Campbell in The Hero with a Thousand Faces, this video also provides modern examples like Katniss Everdeen from The Hunger Games. This talk would be excellent in a unit on heroes and myths and might be helpful at getting students to recognize themes in fiction. You could even have your students pick their favorite book or movie and see how well it follows the 'Hero's Journey' template outlined in this video. (Speaking of heros and myths, you might want to check out this blog post on including superheros when teaching American Lit.)
"At no point did I think superheroes would become such a huge part of my life. As a kid, I looked at them, and I saw everything I wasn't."
In her two graphic novels, America 1: The Life & Times of America Chavez, and America 2:  Fast and Fuertona, Gabby Rivera has brought the superhero narrative to a new audience. America Chavez is Marvel's first lesbian, Latina superhero, and Rivera is the perfect author to write her story. I think this talk is great for young writers because Rivera gives so much insight into her inspirations and the choices she made for America's character.
Fitzgerald, a writer and former Twitter employee, looks at how the internet has created a new medium for storytelling. Similar to the way that radio created the serial format for fiction. Using specific Twitter accounts as examples he shows how 'microblogging' has opened up a new world of creativity. Of course, most students understand and conquer the 240 character limit. But using it to create a poem or a short story might be a new and exciting challenge. This could even be a semester-long project! With students writing one 'tweet' per week and putting them into their final form at the end.
Need something else? You can find ALL my recommendation lists for inclusive classroom materials here. Poems, novels, TV episodes, short stories, and so much more!
As a child in Africa, Adichie was an avid reader and a budding writer. She says, "I wrote exactly the kind of stories I was reading.  All my characters were white and blue-eyed, they played in the snow, they ate apples… this despite the fact that I lived in Nigeria. I had never been outside Nigeria. We didn't have snow, we ate mangoes." In this incredible and moving talk she shares many more examples of how she has fallen prey to thinking only of what she calls 'the single story' and how she is often negatively stereotyped due to the 'single story' worldview of others. In addition to creative writing, this talk would make an excellent addition to any unit on world literature, social studies, journalism, or anthropology.
In this talk, Gilbert explores our notions of the "creative process". How we talk about it, and especially how we talk about failure. She pushes back on the notion that art *must* come from pain and self-destruction, a message that is so important for students to hear.
Gilbert describes how the ancient Greeks and Romans viewed creativity as something that came from an outside source, rather than from inside the artist. In fact, the word 'genius' originally referred to a "magical divine entity" that lived in an artists' studio and helped them with their work. She argues that when our cultural viewpoint shifted to make 'genius' something that came from within, it put even more pressure on the artist. She also gives a window into her own creative process, as well as those of other writers. Anyone who puts pen to paper (or fingers to keyboard) has experienced the dreaded 'writers block' and know the pain of being 'stuck'. This talk will help students keep those feelings of desperation and worthlessness at bay.
Inspired by seeing the original Vermeer at age 19, Chevalier wrote the bestselling novel Girl With a Pearl Earring, a fictional account of the painter and his subject. In this talk she shares about what aspects of paintings draw her in and inspire her, giving examples of what she sees in specific paintings. In closing she reads a short story she wrote inspired by a Tudor era painting. I would pair this talk with a creative writing assignment in which students choose a painting to write their own story about. (We should be note that Chevalier alludes to sex and attraction in this talk, so teachers should read the transcript first to ensure it is appropriate for their class)
I love sharing the poems of Billy Collins with my students, and his dry wit makes him a very amusing speaker. The way he tackles, head on, the apprehension that many people feel to the phrase 'poetry reading' makes him a great choice for connecting with teens. In this video, he reads six of his poems, 5 of which accompany different styles of animation. It would be a great choice for a poetry unit, or National Poetry Month in April. Check out more posts about teaching poetry here.
I couldn't resist sharing another talk from John McWhorter in this list, I just love his lingustic insights! I think that students will be very receptive to this talk from the get-go because it's likely not what they expect from their ELA class; a celebration of texting. But I think this talk will be of particular interest to aspiring fiction writers. We've all had the experience of reading a novel and being frustrated with the dialogue. Maybe you've thrown up your hands and shouted "That is NOT how people talk!" Well, dialogue can be especially challenging for students. Especially if they are trying to follow all the grammer rules that they've been taught. McWhorter breaks down some of the differences between how we write and how we speak. This is vital for students to understand, and will help them create characters that feel and sound "real."
Using clips from films he has worked on, Toy Story and Wall-E, as well as classic movies, Stanton explores what makes us connect with a story. What makes us care about a character? What keeps us interested in their journey? Films are a great way to nurture an interest in storytelling among reluctant readers. After seeing this video, you could ask students to write a short story involving the characters of their favorite movie, or write an alternate ending to a well known film? (If you are showing this video in a classroom we recommend starting it at 1:19 to avoid some adult language in the opening joke.)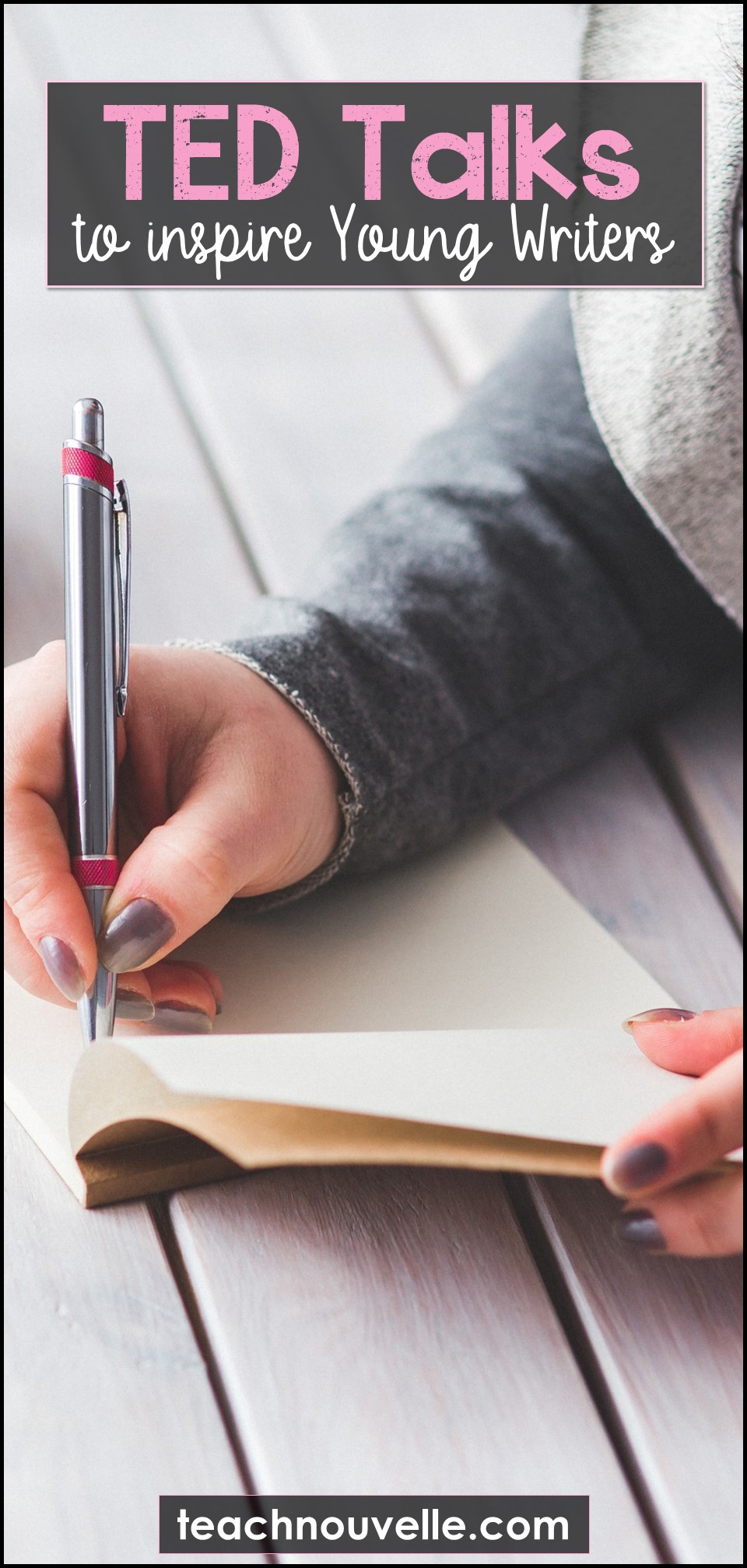 What are some other TED talks for young writers that you use in the classroom? Let me know in comments!
Happy teaching!