This content has been archived. It may no longer be relevant
Looking for a book rec for your sports loving students? I recently read (and loved) After the Shot Drops by Randy Ribay. Here's my review & teaching ideas.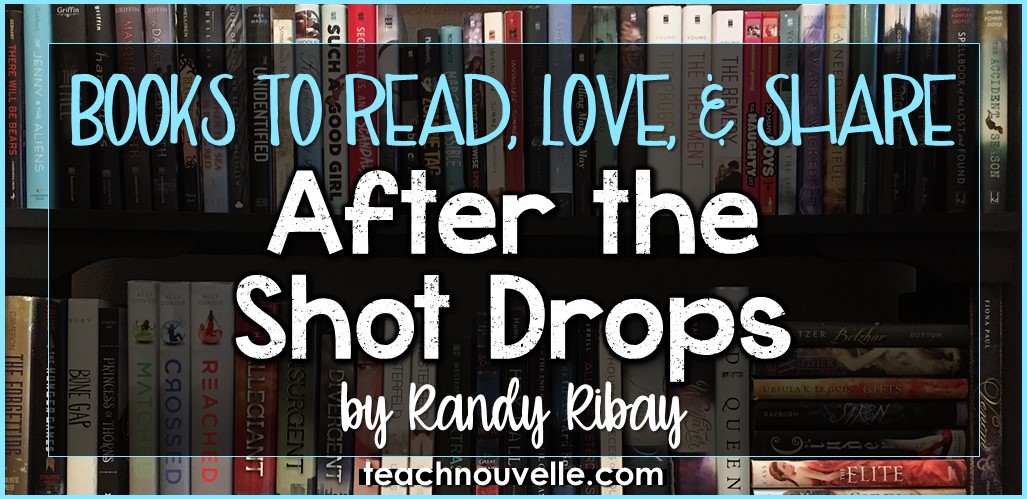 After the Shot Drops by Randy Ribay 
Summary (from Goodreads):
Bunny and Nasir have been best friends forever, but when Bunny accepts an athletic scholarship across town, Nasir feels betrayed. While Bunny tries to fit in with his new, privileged peers, Nasir spends more time with his cousin, Wallace, who is being evicted. Nasir can't help but wonder why the neighborhood is falling over itself to help Bunny when Wallace is in trouble.
When Wallace makes a bet against Bunny, Nasir faces an impossible decision—maybe a dangerous one.
Told from alternating perspectives, After the Shot Drops by Randy Ribay is a heart-pounding story about the responsibilities of great talent and the importance of compassion.
What I Loved
Last year, we had the pleasure of reading Patron Saints of Nothing for the YA Cafe Podcast and it was one of our 2019 favorites. I picked up a copy of After the Shot Drops (2018), knowing it would be awesome, too. It didn't disappoint.
The perfect alternating perspectives book makes you root for both characters and understand their perspectives. Because Nasir and Bunny spend most of this book at odds, the reader develops strong empathy for opposing views. That is an epic accomplishment!
As a person who knows next-to-nothing about basketball, I had to Google terms like "double double". I love when a book makes me do this for two reasons. First, it helps expand my knowledge and horizons. Second, I can tell that it's written for those kids in my class who love basketball. They can truly immerse themselves in the narrative voices, because of course these narrators will use jargon.
I also noticed that Ribay built characterization through Bunny's playing style. That is incredible.
Check out more recommendations
of YA books about sports!
I also loved the supporting cast in this novel. Both kids have families who support them in very different ways, and both feel strong obligations to their families. This is such a good reminder of the weight our students shoulder. Additionally, there is this rug-pulling moment with a girl from Bunny's new private school that really impressed me. I thought things were going one way (and so did Bunny!), and bam. Wrong. People are complex. Great job, Randy Ribay.
Nonfiction & Research
This book presents some topics near-and-dear to Bunny and Nasir that students can investigate. These could be used for writing research papers, argumentative essays, classroom discussions, group-brainstorming, etc. I have some suggested activities under each topic 🙂
Payment of college athletes
The NCAA has been on the receiving end of a lot of criticism for refusing to permit college athletes to be paid. This refusal comes despite the NCAA making billions off March Madness TV rights alone. In October 2019 the NCAA announced plans to allow college athletes to receive compensation for the use of their names and likeness. While they have yet to announce a timeline or provide details on their plan, this is a huge step. This change was prompted by a recent California law that has started a trend among other states with a big college athletic presence. Athletes will still not receive "pay-for-play", but many believe this deal is "a step in the right direction".
Activity: Should student athletes be paid? Have students work in groups (some groups pro/some con) to find articles that support their opinion.
Budget issues
Not paying athletes isn't the only controversy surrounding college sports programs. Many departments are spending more money than they take in. In a Washington Post article athletic directors defend this, saying "Their programs benefit universities in ways that don't show on athletics financial statements… like media exposure that can cause increased applicants and help fundraising." Critics say that "the persistent inability of programs to profit despite continually rising income is evidence of systemic, wasteful spending."
Men's college basketball coaches earn up to 9 million dollars per year. In some states college coaches are the highest paid public employees, earning far more than their academic colleagues. The pay gap between coaches and teachers also exists in grade school.
Activity: Should there be a cap on coaches' salaries for public universities? Ask students to write a paragraph on why/why not.
Age requirements
Currently the NBA requires that potential draft picks be at least 19 years of age and have completed at least one year of college. But this wasn't always the case. Prior to 2005 players were eligible to enter the NBA after high school. In fact, when basketball legend Kobe Bryant went to play for the LA Lakers his parents had to cosign on his draft papers since he was only 17.
Activity: The NBA is considering lowering the draft age from 19 to 18. Would this be a good or bad thing? Have students write an argumentative essay on whether they agree with this decision.
Lack of equity in women's sports
Criticisms of adequate compensations for athletes don't always stop when a student reaches the professional level. Women, even those at the top of their game, are often significantly underpaid compared to their male counterparts. This TeenVogue article is an extensive look at the pay disparity is many sports from soccer, tennis, hockey, and even cheerleading. Did you know that professional NFL cheerleaders are barely making minimum wage?
Activity: Ask students what steps they would take to ensure that female athletes are being treated as equals.
Sign up for our YA Reads Newsletter
for more great recommendations
delivered to your inbox!
Writing & Talking about Writing
Randy Ribay is an excellent writer, so you'll have plenty of opportunity for mentor sentences from this book. Here's one I love:
"So I let the silence build until it's like a third person walking between us."
Isn't this a beautiful simile? Here's a metaphor:
"If this school were a kid, it'd be one of those kids so spoiled you want to punch him in the face to toughen him up a little bit."
Both sentences use figurative language to reveal elements of Nasir's character. You could use these to inspire students to write their own similes and metaphors… for example, even though Bunny isn't prone to metaphor in this novel, what would he observe if he were? Or, perhaps students could write from a non-perspective character. What metaphors and similes would Wallace or Keyona create about their worlds? This gives students a great opportunity for Creative Reading.
You could also use this book as a mentor text for creating stakes. Nasir observes:
"Why does one person's win always mean another person's loss?"
Ribay does an excellent job of creating high stakes in this novel. In the very first scene, the boys attend a vigil for a kid from their neighborhood caught in a crossfire. We know that they live in a neighborhood where danger is a reality. As soon as Wallace gets into betting, we understand that the stakes are high.
This book is also a good opportunity to have students put themselves in the characters' shoes. If they were Bunny, would they have told Nasir they were transferring? If they were Nasir, would they have taken Bunny's phone?
Final Thoughts:
I strongly recommend After the Shot Drops by Randy Ribay. Be sure to grab this freebie for your students to use with independent reading.
I got this book for free from @HMHTeen in exchange for an honest review. Here's more information about how you can get free books for your classroom library.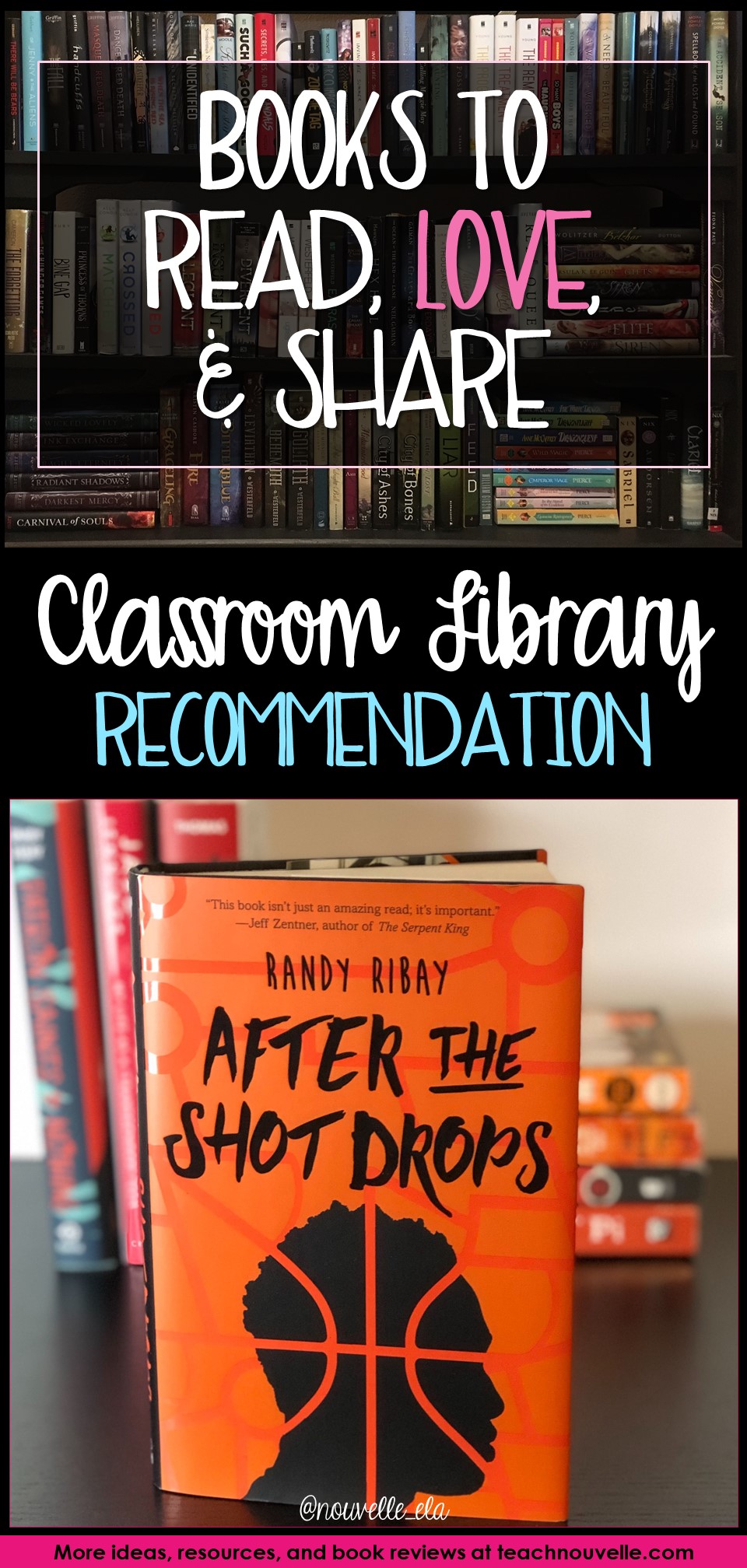 Happy reading!