When I say that I give my students time for independent reading or that I believe there's a book for every kid, people invariably ask me for a list of books about sports. Well, here it is, folks! Here are 15 YA books about sports to engage your most reluctant readers!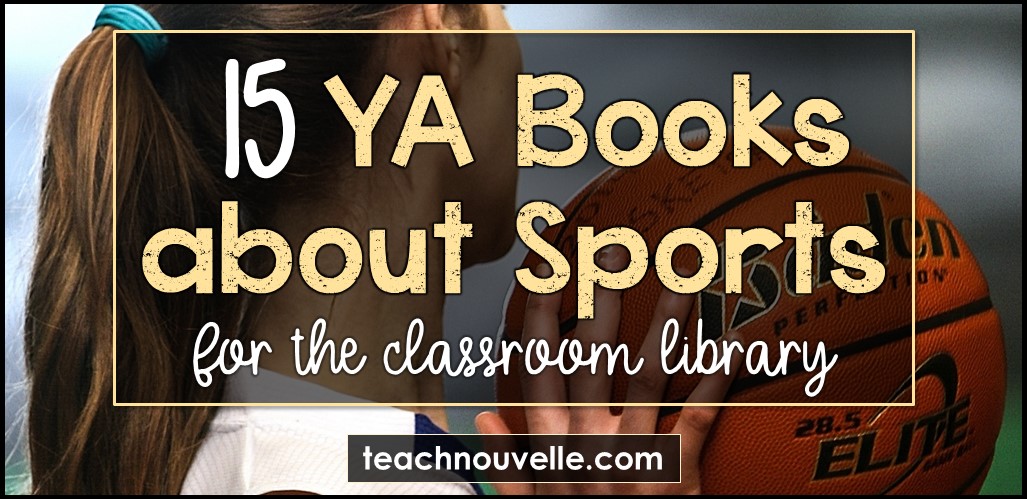 1. Swing by Kwame Alexander & Mary Rand Hess (2018) – Basketball
Noah and his best friend Walt, aka Swing, plan to make their junior year the best year of their lives. Noah hopes to make the basketball team and maybe, finally!, express his feelings for his childhood friend, Sam. In the midst of their personal dramas, someone has been planting American flags around town and no knows who or why. Then, after witnessing a divisive event in a community they've always loved, Noah and Walt's friendship will be put to the test.
To honor her deceased boyfriend Kyle, Annie Winters is training for a Marathon. While training, she meets Jeremiah who coaches her and gives her the encouragement to make it across the finish line. As Annie continues to train, she soon feels the burden of guilt for breaking up with Kyle before his death and falling in love again so soon. Can Annie resolve her inner conflict, or will the race leave her empty?
3. Here to Stay by Sara Farizan (2018) – Basketball
For most of high school, Bijan Majidi has flown under the radar. But when he's called off the bench to make the winning shot at the buzzer, everything changes in an instant. Bijan's success and newfound fame is amazing. Not everyone is on his side, though. When an anonymous cyberbully sends out a photoshopped picture of Bijan looking like a terrorist, he quickly finds out where his classmates' loyalties lie. While his family and school administration search for the culprit, Bijan just wants his life to go back to normal…
This blog uses affiliate links for your convenience.
If you decide to purchase recommended gifts or books, please consider doing so through our affiliate links (at no additional cost to you).
Your support makes our podcast, The YA Cafe, possible.
 4. Exit, Pursued by a Bear by E.K. Johnston (2016) – Cheerleading
Hermione Winters is captain of her cheerleading team at Palermo Heights. Her life flips upside down after someone slips something in her drink at the team's summer training camp party. As Hermione struggles to regain control of her life and move past the incident, she questions the loyalty of her friends and classmates and wonder if anything will ever be the same.
Ryan is a star swimmer on the school swim team and gearing up for a trip to Comicon with his best friend Cody. He's never had a real girlfriend and his little brother's the typical pest. One day, as he wheels to the river like usual, his life completely changes – he rescues Jack from drowning. Now, he's the town hero (the boy in the wheelchair saves someone's life!), but what if Jack didn't want to be saved? Ryan must navigate a new friendship and a dark truth.
(This is one of the first YA books about sports that I loved, so even your non-athletes will enjoy this!)
A non-fiction pick. Olympic gymnast Laurie Hernandez tells her story of going for the gold. After growing up in New Jersey, her life took a turn when she was chosen to be a part of the 2016 US Olympic gymnastics team. Laurie's story is one of determination, courage, and always having your eyes on the prize.
7. Racing Savannah by Miranda Kenneally (2013) – Horseback Riding
Savannah Barrow and Jack Goodwin are from two different sides of the track. He's the son of Cedar Hills Farm and she the daughter of the horse trainer. After stopping a prized horse that was spooked, Savannah meets Jack and they are instantly attracted to each other. Although Savannah understand the rules of not mixing with staff and the Goodwins, she's secretly begins to date Jack. Will their budding love withstand the strict boundaries of class, or will they get the taste of freedom they each desire?
Fourteen-year-old Ryan Dean West is attending Pacific Northwest boarding school for rich kids. With the help of his rugby teammates, Ryan survives his complicated life and finds love in the process. But when his world turns upside down, Ryan has to focus on what's most important to him. Filled with hand drawn illustrations, the book fully captures the teenage struggle for self-confidence and a sense of belonging.
Need something else? You can find ALL my recommendation lists for inclusive classroom materials here. Poems, novels, TED talks, short stories, and so much more!
This is a story of two teens Nasir and Bunny growing up in the inner-city neighborhood of Camden, New Jersey. The two are inseparable until Bunny is recruited to attend and play at a private school, St. Sebastian's. Now that Bunny is St. Sebastian's star basketball player, Nasir and his former classmates question whether Bunny is preparing to leave them and the neighborhood for good. Read my full review here.
Jill Cafferty, star pitcher of her high school team, is the first woman drafted by a major league baseball team, the Pittsburgh Pirates. With all the hype, joy and the pressure of being the only female in an all-male sport, Jill is determined to shine and be a role model for girls everywhere. As she faces growing pressures and expectations, Jill wonders if success has to mean losing her love of the game.
11. Spinning by Tillie Walden (2017) – Figure Skating
A graphic memoir with compelling and beautiful illustrations. For figure skater Tillie Walden, early morning lessons, group practices after school, and weekend completions have been a way of life. But, as she switches schools, gets into art, and falls in love with her first girlfriend, Tillie questions how figure skating fits into her new life. Has Tillie outgrown her passion? What will this next chapter hold for her?
12. Hooper by Geoff Herbach (2018) – Basketball
Basketball means the world to Adam Reed. His skills have taken him from an orphanage in Poland to a loving adoptive family in Minnesota. When he gets an opportunity to play on a AAU team, Adam sees basketball as his ticket to a better life: new friendships, and the girl of his dreams. But off court things are complicated. After a lifetime of struggle, Adam must choose between his new family and the sport that's given him everything.
For Kate's entire life, her father has pressured her to be perfect in everything she does, especially swimming. When Kate finds out her dad has been cheating on her mom, the women must leave everything they love and start over. With her life in shambles, Kate isn't so sure that swimming is what she wants anymore. But then she meets Michael. And just when it seems that everything is looking up for Kate, she finds out that Michael has a girlfriend. Since someone cheating wrecked Kate's life once, she must confront her own feelings and her sense of what's right.
14. Running with Lions by Julian Winters (2018) – Soccer
Bloomington High School Lions' star goalie, Sebastian Hughes, is excited about his senior year: Great teammates and coach, what can go wrong? But one day, Sebastian's estranged childhood friend, Emir Shah, shows up to summer training camp. Sebastian immediately develops a crush on Emir, but realizes this could jeopardize the team's success. Now, Sebastian and Emir must figure out how to be teammates first, and then maybe something more…
15. Out of Left Field by Kris Hui Lee (2018) – Baseball
Marnie has always been "just one of the guys", and playing baseball in the neighborhood sandlot is her favorite thing to do. But when her best friend and team's star pitcher, Cody, is nailed in the arm by a bone-fracturing pitch, Marnie becomes the team's best chance at the playoffs. The only problem is, the other guys question her ability as a girl… Now, Marnie must balance her desire to succeed with her now-rocky relationship with her teammates.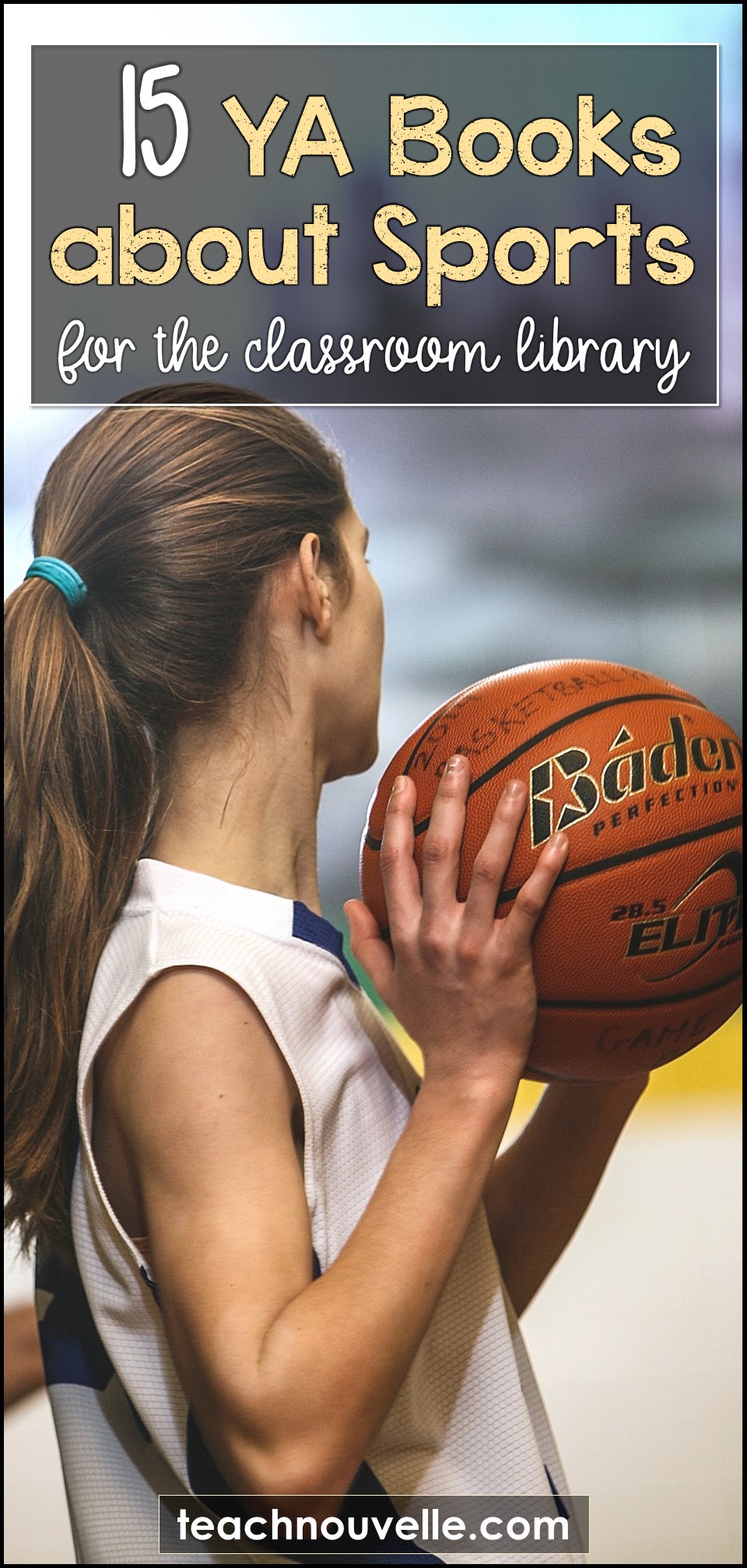 What other YA books about sports do you love? Share your recommendations in comments! Happy teaching!