BookTuber, Nikea JaLynn (cohost of the series #BlackGirlLit), joins us to chat about The Revolution of Birdie Randolph by Brandy Colbert. (Transcript)
In today's episode…
The Revolution of Birdie Randolph by Brandy Colbert
Dove "Birdie" Randolph has tried hard to live up to her parents' expectations: she's at the top of her class, she works hard, and she even quit playing soccer to make more time for schoolwork. She seems to be the perfect daughter. But Birdie has a secret: she's seeing a boy named Booker, a boy who's been in Juvie, and Birdie's sure her parents won't approve. When her estranged aunt Carlene comes to town, Birdie's life gets even more complicated. Carlene's in recovery, but Birdie's mother still braces herself for the moment when it will all come crashing down. Can Birdie help her mother and her aunt come back together? Can she find a way to make her parents understand Booker? And can she cope with the truths she uncovers along the way?
These Show Notes use Amazon Affiliate Links for your convenience.
If you decide to purchase this book, please consider doing so through our affiliate links.
Your support makes this podcast possible.
Episode highlights…
Spoiler-Free
*1:01 Nikea shares about her YouTube series, #BlackGirlLit
*5:54 We loved the Chicago setting, especially her mother's salon
*9:36 The "revolution" that's hinted at in the title
*12:03 Birdie's relationship with her aunt
Things We Like a Latte
Danielle – This video of a dog watching Mufasa's death scene from The Lion King
Nikea – Libby, an app that allows you to download ebooks and audiobooks for free, with only a library card!
Amanda – Stamped from the Beginning: The Definitive History of Racist Ideas in America by Ibram X. Kendi
COMING UP NEXT TIME: PET BY AKWAEKE EMEZI

PRE-ORDER YOUR COPY TODAY!
Spoiler-Informed
*19:54 This book is "full of queer", and we love that!
*23:43 We discuss the character of Booker
*27:03 The big reveal – some of us did not see it coming
Want book recommendations delivered to your inbox?
Sign up for the YA Reads Monthly Newsletter!
More ideas and resources for teachers and librarians…
One of the things we really enjoyed about this novel, aside from it's Chicago setting, was the characterization of Birdie's father. He is a Dr. specializing in sports medicine who works for the Chicago Bulls. How cool is that? Unique, nuanced supporting characters can help a book appeal to more readers. If you have students who would rather be playing sports than sitting down with a book, this list will help!
And if you loved The Revolution of Birdie Randolph, be sure to check out Brandy's other books! Nikea has reviews of Pointe and Little & Lion on her hilarious and insightful YouTube series, #BlackGirlLit
If you are already familiar with Brandy's other books you'll know that she always features well developed queer characters. We love her for that! If you are trying to make your classroom library more inclusive, check out this list of YA Novels with LGBTQ+ protagonists.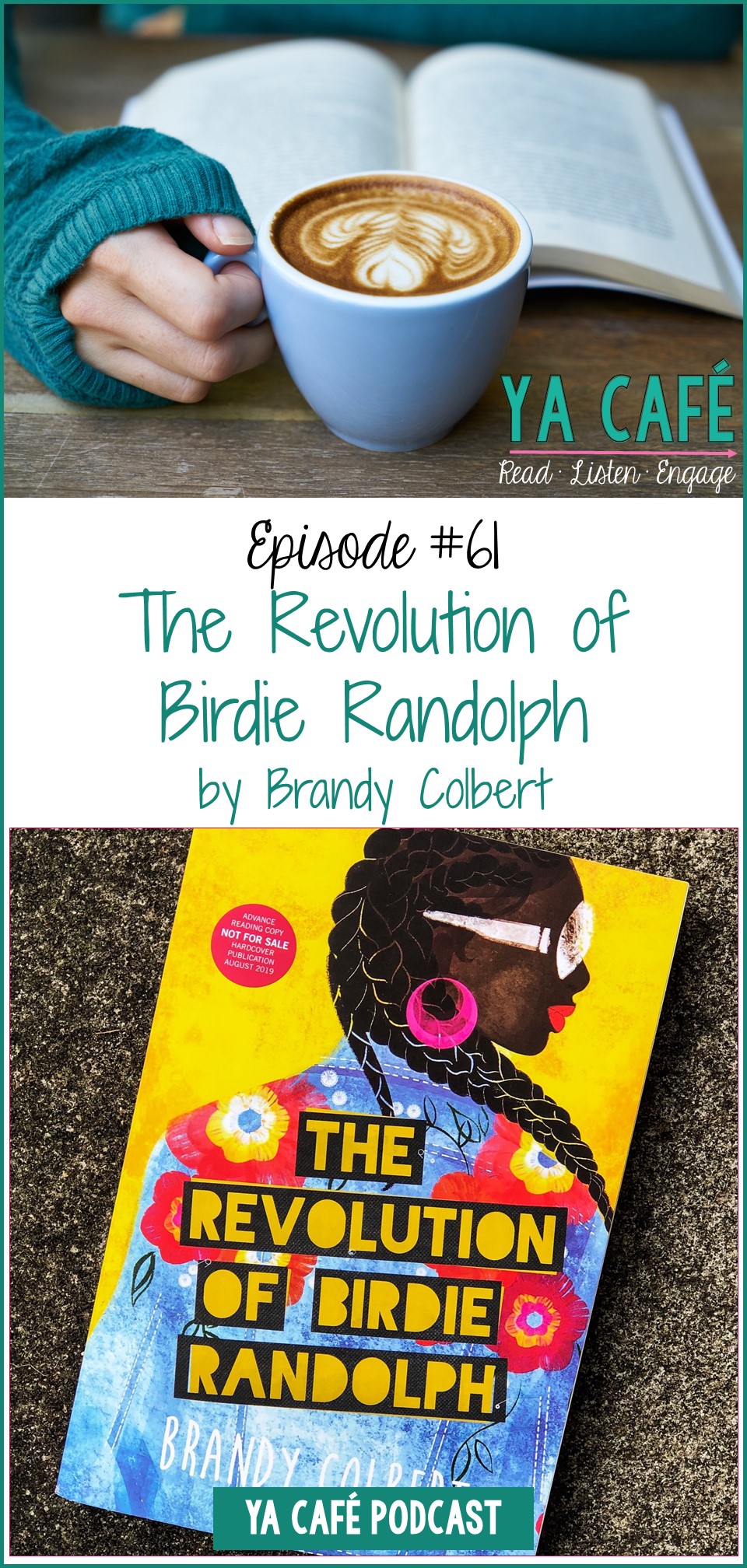 Get in touch with us on Instagram and Twitter at @yacafepodcast or email us at yacafepodcast@gmail.com. We look forward to hearing from you!
Credits…
Hosts: Danielle Hall (who blogs at teachnouvelle.com)
          & Amanda Thrasher (a booklover extraordinaire)
Guests: Nikea JayLynn
Producer: Leila Hobbs
Music: Matt McCammon
Thank you to Little, Brown Young Readers for the ARC!