This week we feature the Fresh Ink anthology, a collection of diverse short stories for a YA audience. Joining us is editor and YA author Lamar Giles. (transcript)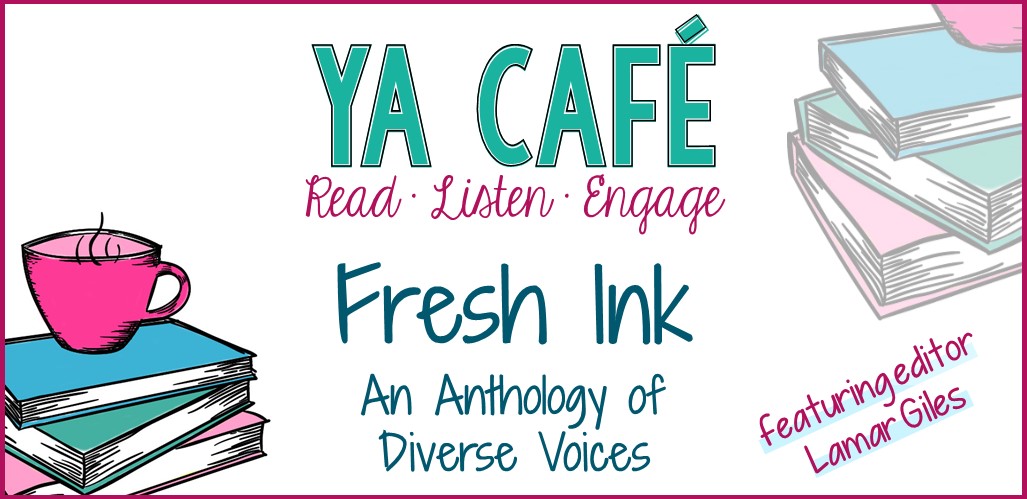 In today's episode…
Fresh Ink: An Anthology
is a collection of short stories, a graphic novella, and a never before published play by the legendary Walter Dean Meyers. Thirteen voices, some brand new and some you already know and love (including YA authors Nicola Yoon, Jason Reynolds, and Malinda Lo) come together to share their perspectives. This incredible anthology was edited by Lamar Giles, YA author and co-founder of We Need Diverse Books.
These Show Notes use Amazon Affiliate Links for your convenience.
If you decide to purchase this book, please consider doing so through our affiliate links.
Your support makes this podcast possible.
Episode highlights…
Spoiler-Free
*1:22 Lamar shares about researching and writing his novel, Overturned
, a YA thriller set in Las Vegas.
*3:57 "All white authors, and a cat": The founding of We Need Diverse Books
*8:32 What makes a short story "work"?
*11:36 Decoding the "explanatory comma."
Things We Like a Latte
Lamar – The Hate U Give
by Angie Thomas, and All American Boys
by Jason Reynolds and Brendan Kiely
Danielle – Unlock! Mystery Adventure games. Danielle's favorite is The Tonipal's Treasure
COMING UP NEXT WEEK: Seafire
by Natalie C. Parker

Pre-order your copy today!
Spoiler-Informed
In the second-half of todays episode, Danielle and Lamar shout-out some of their favorite stories from the collection.
*20:30 Meet Cute by Malinda Lo
*21:12 Superhuman by Nicola Yoon
*22:26 Catch, Pull, Drive by Shuyler Bailar (check out his interview with Ellen DeGeneres )
*24:15 A Boy's Duty by Sharon G. Flake
Want book recommendations delivered to your inbox?
Sign up for the YA Reads Monthly Newsletter!
More ideas and resources for teachers and librarians…
We truly believe that Fresh Ink belongs in every high school classroom library. It's vital for our students to see characters who look like them and share their cultural identities. Right now so many different groups are not being adequately represented, but the Fresh Ink anthology is a celebration of those voices
We Need Diverse Books is a non-profit aimed at changing the face of publishing by supporting diverse authors and illustrators. Their program WNDB in the Classroom has put 10,000 books into the hands of kids across the country, and their website is full of resources and information, including a great list of diverse book recommendations.
Danielle wrote a blog post recently about incorporating diverse thrillers into the ELA classroom, and our episode on the anthology How I Resist is also a great listen for teachers and librarians who want to make a difference.
Get in touch with us on Instagram and Twitter at @yacafepodcast or email us at yacafepodcast@gmail.com. We look forward to hearing from you!
Credits…
Hosts: Danielle Hall (who blogs at teachnouvelle.com)
& Amanda Thrasher (a booklover extraordinaire)
Guests: Lamar Giles, YA author, and editor of Fresh Ink
Producer: Leila Hobbs
Music: Matt McCammon
Thank you to Crown Publishing for the review copy!